Every product is carefully selected by our editors. If you buy from a link, we may earn a commission.
The Best Chore Coats for Men
Go beyond utility with these takes on a traditional workwear staple.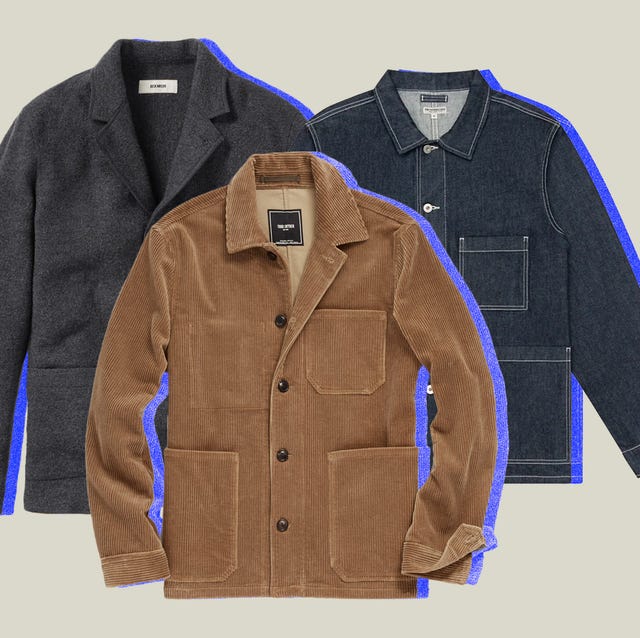 The resurgence of workwear pervading global menswear has inspired no shortage of familiar, utility-driven garments — Red Wing boots, selvedge chinos. One you may not not have heard of is the chore coat, which emerged in the early 20th century, worn by the blue-collar classes of American farmers and factory workers. The archetype, with a boxy, loose-fitting silhouette, is adorned with four pockets (two on the breast, two near the hip); an extended collar, sometimes flipped to protect the neck from sunburn; and a front-buttoned enclosure.
The sum of these parts falls somewhere under the "anti-style" category of stylish. But today, manufacturers old and new are bringing this iconic template forward, making chore coats slimmer, sleeker and more distinct, producing them in a variety of different fabrics, from denim to canvas to wool. Layer one through the colder season, or drape it over a white T-shirt during cool summer nights.
Why Wear a Chore Coat?
I've long dubbed the Chore Coat the ideal blazer replacer. The style lends itself to casual and classier settings alike, while giving you true function in the form of a bunch of pockets and solid range of motion. You shouldn't fuss much over getting dirty, because it is a chore coat after all. Use it to your advantage. Tow tools in the pockets near your hips. Or, free up your pant pockets and put your phone, wallet and keys in there. (That's what I do.) Place sunglasses and other valuables — a joint, maybe? — in the chest pocket, and trust that they won't fall out. That's the true perk of a chore coat over an oxford or an overshirt: the whole thing has a bit more rigidity, meaning the pockets are sturdier and stiffer, the shoulders more defined and the collar easier to pop — but for sun protection only.
The chore coat is also an easy garment to transition from work to dinner or evening drinks in. It can live unbuttoned during the day with a T-shirt underneath and be buttoned up by day's end, producing an entirely silhouette — you'll barely recognize the thing.
The Best Chore Coats for Men
---
This content is created and maintained by a third party, and imported onto this page to help users provide their email addresses. You may be able to find more information about this and similar content at piano.io