Every product is carefully selected by our editors. If you buy from a link, we may earn a commission.
An American Classic: Get to Know Carhartt
The brand's been making burly workwear since 1889.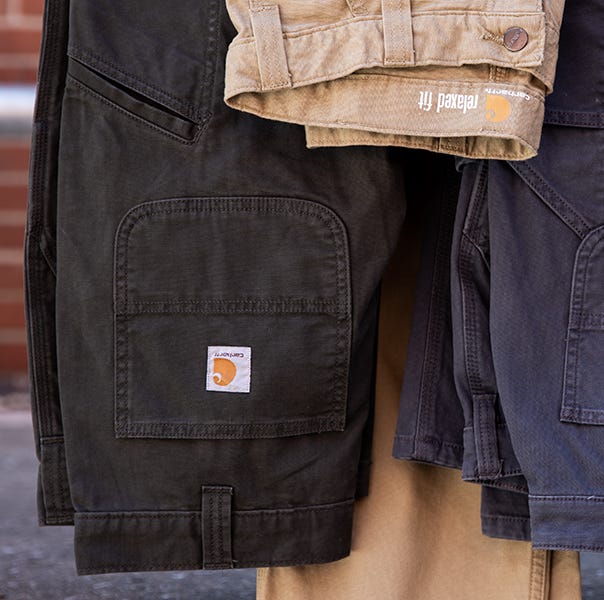 Carhartt, a classic Detroit clothier, was established in 1889, when Hamilton Carhartt founded Hamilton Carhartt & Company. He initially set forth making bib overalls for railroad workers. By 1910, his operation expanded south to South Carolina, Georgia, Texas, and California, and abroad to France, Canada, and the UK. In two decades he'd established Carhartt as the go-to garment maker for industrial workers.
The company's focus shifted to soldiers, though, during WWI. Carhartt found success making uniforms and other textiles for US servicemen, but by the time the stock market crashed in 1929, the brand was nearly put out of business. The second WW2 gave them another jolt, but it didn't give the company the steady growth it needed to survive. And the brand's chore coat and B01 pants, launched in 1917 and 1939 respectively, were popular but not big enough to propel the brand forward on their own.
In 1954, Carhartt debuted its Detroit Jacket, the foundation for workwear style as we know it. But still, the brand struggled. However, in the '70s, orders placed for workers building the Alaskan Pipeline and private label work for big box stores like Sears and J.C. Penney, contributed to Carhartt's resurgence.
The Active Jac, Carhartt's top-selling product today — although the beanie is gaining fast — launched soon thereafter. Through the '80s, Carhartt became an attractive option for all types of blue collar workers. Then, as workwear slowly seeped into fashion circles, celebrities, musicians and other entertainers, even models, started wearing Carhartt, too. Rappers galore separated the company's garments from the context of work. Quality over durability became the emphasis, even if they're essentially one and the same.
Today, with Carhartt WIP, the popularity of vintage workwear, and the collective widening of our clothes, Carhartt's more popular than ever — for many of the reasons it was successful in the first place. Learn more about its pillar products below.