Every product is carefully selected by our editors. If you buy from a link, we may earn a commission.
Hands On With Carhartt's Hard-Wearing B01 Pants
Are the Duck Double-Knee Pants tough enough to stop a chainsaw? Supposedly. Are they a surefire hit with every customer? Not so much.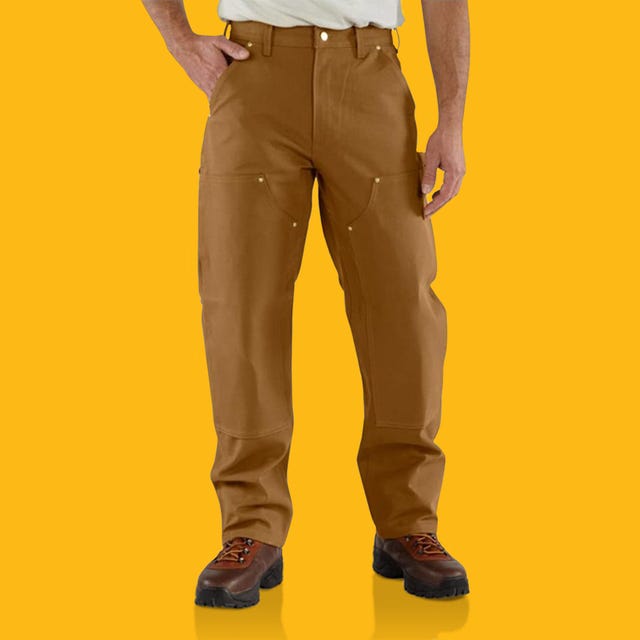 Carhartt was founded in Detroit in 1889, when Hamilton Carhartt established Hamilton Carhartt & Company with plans to manufacture bib overalls for railroad workers. By 1910, the operation expanded into several states (South Carolina, Georgia, Texas, and California) and three different countries (France, Canada, and the UK). Through WWI and WWII Carhartt produced uniforms and other essentials for US servicemen, but the stock market collapse in-between (in 1929) nearly put the company out of business.
Instead, Carhartt ideated with his two sons, Hamilton Jr. and Wylie. In 1939, the B01 Duck Double-Front Pants were born. Because Carhartt fielded complaints about current uniforms from rail workers directly, they fulfilled their needs perfectly. Durable and protective, comfortable yet functional, the B01s became the quintessential work pant, stretching across several industries and a million jobs. Nowadays, though, with workwear trending unlike ever before, pedestrian folks are wearing work pants, too. And not for extreme jobs but rather the aesthetics.
No matter whether you'll wear them to the construction site or to the trendy restaurant around the corner, here's our hands-on review of the revered trousers.
The Good
The weight: Compared to usual pair of trousers, even other work pants, Carhartt's Double-Knee dungarees are hefty. Not in an iron knight suit kind of way, but to the point where you think to yourself, "OK, these are kind of heavy." Far from flimsy, every pair is constructed from 28 pieces of 12-ounce, firm-hand, 100-percent cotton ringspun duck canvas, meaning they're abrasion resistant, windproof, and ultra-tough.
The look: Compared to Dickies' work pants, Carhartt's look far more shift-ready. But, they also lend themselves to the workwear aesthetic more authentically. Straight through the legs with a roomy crotch, wide hips and a sizable seat, there's no mistaking them for skinny- or even slim-fit. That's good, in my opinion. Whether you're experimenting with the workwear look or a seasoned veteran of the aesthetic, you're sure to find something you like about the B01s — whether it be the shape, the higher waist, the look of a double-front, the carpenter loops or the open leg.
The reinforcements: Not only are there eight rivets on each pair of BO1s, but the plain, tightly-woven cotton duck canvas construction promises the pants won't rip, fray, snag or pill. Don't believe me? The top review on Amazon details a customer's chainsaw accident...and how double-knee Carhartt's saved his leg. "I was cutting trees on a hill on my property, lost my footing and the saw caught me in the leg... That could have been my knee all i got was a small cut. Just put a new chain on and it was sharp. Thank you Carhartt!" BEER_ME_in_CT writes. The saw, albeit sharp, barely made it through both layers of fabric. In fact, you can see where the second one stopped it. I wouldn't go around testing this to see if yours can withstand a chainsaw, too, but clearly they can...at least occasionally.
The Bad
The sizing: A handful of reviews on both Carhartt's site and Amazon are filled with complaints about inconsistent or recently changed sizing standards. What they ordered (a 34, for example's sake) arrives two sizes too long and too tight in the waist. Whether it's quality control issues or inconsistencies between factories — roughly 10-percent of Carhartt products are made stateside while the rest are manufactured abroad — these complaints were too prevalent to ignore. Personally, although my pair came straight from Carhartt's corporate team, I found no issues with the sizing. The inseam was perhaps a tad too long — a nearly a 33" instead of a 32" — but the waist fit well, albeit high. There isn't much give, though, so if you're between waist sizes go up. Some customers complained that the 28" inseam was no longer available on Amazon. It is, however, still sold on Carhartt's site.
The feel: Because they're made from tightly woven duck canvas, Carhartt B01s can be a tad too rough for some people. They have absolutely zero stretch but plenty of room, if that helps? With typical undergarments there's minimal chafing, especially so since the legs and hips are intentionally wide. When you bend your knees or fold yourself to sit down the pants give at usual crease points, proving neither inhibitive nor too tight. Just don't hike them up any higher than they're supposed to go. These are a bit high-waisted to begin with and embellishing the waistline will only cause pain.
The quality: It's hard to argue against the quality of Carhartt's B01 pants. The double knee, the reinforced stress points, the rivets, the tight weave construction, everything alludes to a pair of pants that'll forever. However, breaking them in takes quite a bit of time, they shrink with every wash, and plenty of online reviewers have cited concerns over tearing seams and
The Verdict
The Carhartt Double-Knee Work Pants are one-of-a-kind. Not quite literally, but think of the lore: the company was founded in 1889, it's American-born, and the B01 pants are 82 years old. But what's bad, you ask? Well, a few things. For starters, these probably prove to be a bit too much pant for someone new to workwear. For real industrial workers, Carhartt still holds the crown but that could change with a subtle update to the style — although there have been few, if any, since 1939.
If you're looking for something sleek and sensible to pair with vintage tees or an oversized sweatshirt, there are probably pairs of pants that will look and feel more natural for you. Think: vintage Carhartt pants that have been broken in and distressed for you, softer styles from new brands, or even a pair from Carhartt WIP.
But, as evident by the pants' 9,000+ reviews on Amazon, of which 90-percent are four stars or higher, these are still plenty popular. Plus, at a mere $50, why not buy a pair? You'll know right away if they're for you, and if not you can return them immediately. If you're on the fence about them, keep 'em, and if you're enthusiastically on board, buy them in both colors (black and Carhartt brown).