Every product is carefully selected by our editors. If you buy from a link, we may earn a commission.
If They're Lined, You Can Wear Your Favorite Jeans All Winter Long
Flannel lining turns a timeless style into bottoms built for subzero temperatures.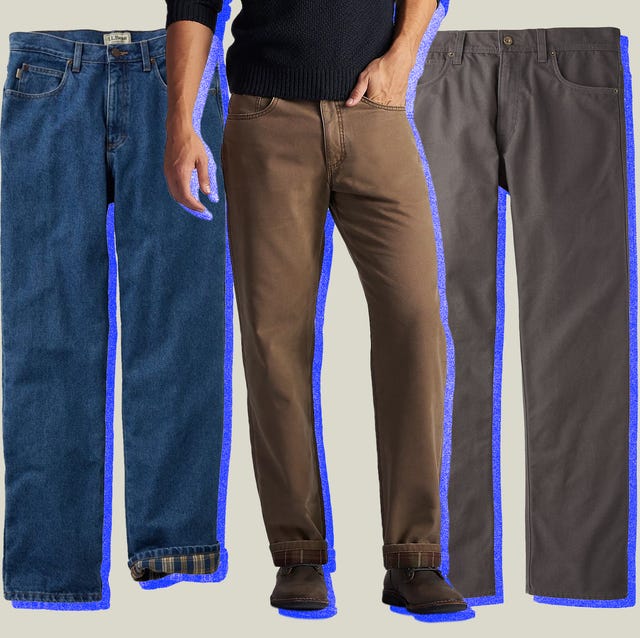 There are few garments more ubiquitous than a pair of jeans. Built to handle rigorous workplaces, rock shows and everything in between, a solid pair of denim five-pocket dungarees can withstand most everything while being, especially once broken in, pretty damn comfortable. Maybe that's why people still wear jeans almost 150 years after they were invented. (Hint: It is.) As pervasive as the pants are, however, you'd find it difficult to spot a pair in the dead of winter — at least on a sensible dresser.
Why Regular Jeans Won't Work
The fabric is far too breathable. But, there's hope. Ever heard of flannel-lined jeans? They're just what the name implies: jeans lined with soft, comfortable flannel that you can wear through winter. Simply put, they're winter jeans.
The fabric offers insulation between your body (and its warmth) and the outside world, keeping you warm even when it's subzero outside. But how did flannel-lined jeans come to be? Did some just get tired of putting on long johns and jeans? Maybe, but the history stretches pretty far back.
The History of Flannel-Lined Pants
According to the Wall Street Journal's Jacob Gallagher, L.L. Bean's "lined pants date to the mid-1900s, when founder Leon Leonwood Bean needed something warm enough to wear outside in frigid northern Maine while camping." Sounds like how Leonwood Bean came up with most other L.L. products — like the Boat and Tote, for example; he saw a need and fulfilled it.
Ever since, though, even though L.L. Bean invented them, plenty of brands have jumped in with their own iterations: Carhartt, Dickies, Filson — essentially every single workwear brand. But others are doing them, too.
The Best Flannel-Lined Jeans for Men
Seeking a pair of winter jeans? You know, jeans you'll actually stay warm in? Find a few of our favorite pairs — ones we promise will do the trick — below.