Every product is carefully selected by our editors. If you buy from a link, we may earn a commission.
This Sustainable New Denim Is Made From a Surprising Material
PANGAIA's material innovation mission meets a new category of clothing.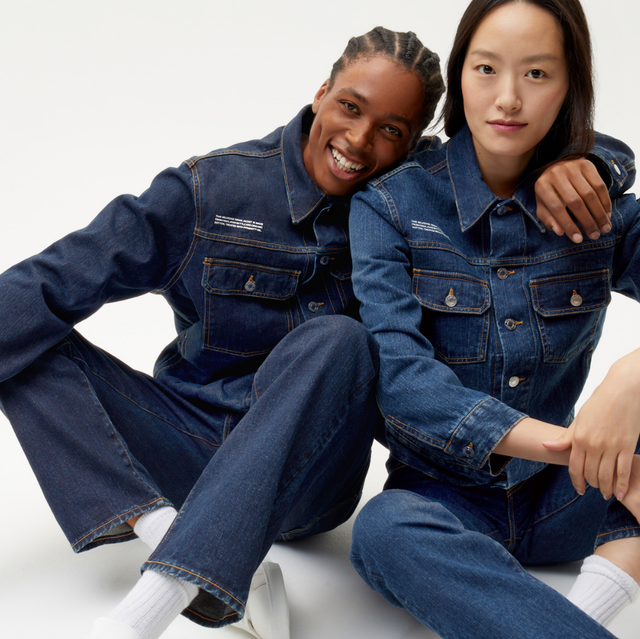 PANGAIA has pushed for foundational transformation since its inception in 2018. The material innovation company, which moonlights as a clothing brand, wants to reshape several apparel categories with an emphasis on "high-tech naturalism," a model that calls for using materials naturally abundant instead of those we've over industrialized.
So, where's the tech come in, you're asking? PANGAIA creates all of the processes and chemistries required to transform these raw materials into functional textiles. Instead of using cotton alone for their new line of denim, for example, they sourced naturally strong Himalayan nettle instead, a material traditionally used for rugs, and blended it with cotton for the new PANGAIA jeans (and jean jacket), which are out now.
"Pangaia is a material science company, so we're very much driven by innovation," says Dr. Amanda Parkes, PANGAIA's chief innovation officer and lead scientist. "We have chosen lifestyle basics for the core of the brand, and we're motivated to move into different categories more on what innovations are ready and what categories do they belong in, and less like a top down approach."
Dr. Parkes is talking about sweatpants, T-shirts and sweatshirts — soft, plush basics made from organic cotton primarily. But PANGAIA's piloted plenty more new materials, too, on a plethora of products: T-shirts made from banana and pineapple waste, graphic inks made from air pollution, sneakers made from grape leather, down jackets filled with wildflowers, to name a few. The jeans, available in two styles, high-rise straight leg and mid-rise straight leg, are just another notch in the company's metaphorical belt. But why? Aren't there enough stabs at sustainable jeans already out there?
Fashion-forward yet free from petroleum-based materials.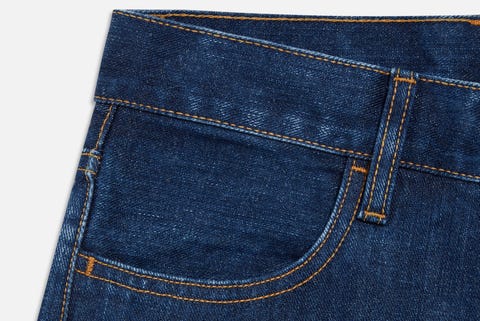 "We definitely live in this realm of 'What are the basic essentials?' and making sustainable versions of those," Dr. Parkes explains. "The idea of moving into denim was always part of our core brand value system." The launch was always penciled into their calendar and could come once the innovation was cleared and tested and the design hashed out by someone with experience working in the denim world — cue ex-Levi's SVP of design, Jonathan Cheung.
He's an industry veteran — stints at Levi's, Unspun, Bolt Threads, Gap and now PANGAIA included — with a clear focus on designing for the future; that means creating products that are both better-wearing and better for the planet. PANGAIA's new jeans, the denim design director explains, improve upon current options by avoiding elastane and spandex, employing nettle, a fabric roughly 10 times stronger than hemp (which is already significantly stronger than cotton), and sticking to a traditional design theory.
Both pairs of PANGAIA's debut jeans are "straight-leg pants, basically," as Cheung puts it. But there are finer details that reference the ins and outs of denim manufacturing. Made on a loom with a left-hand denim twill construction to counteract the rigidity of the nettle, these have a soft hand-feel and what Cheung calls a "left-hand design language." The coin pocket's on the left and there's a text block tag on the left, too — two features historically saved for the right side of the pants.
Selvedge jeans made sustainably.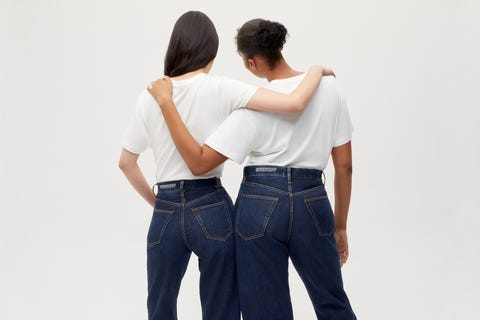 The nettle also forced PANGAIA to use selvedge denim. Too tough for newer machines, they went on older shuttle looms, in collaboration with Italy's Candiani Denim. Complete with their own signature irregularities, what Cheung says experts refer to as "loom chatter," the jeans show signs of being made slowly — and, of course, with sustainability front of mind.
The jeans are finished on Candiani's state-of-the-art dying machines, which save both water and dye. Because the fiber's hollow — like a squished straw, Cheung analogizes — it proves breathable in the summer and insulating in the winter, making it more wearable than most 13-ounce jeans. And that's what's most important: You can wear them, and for a long time. In a category rife with greenwashing, PANGAIA made transparently sustainable and super durable denim approachable. Each pair costs $225, while the jacket costs $295. And although demand may outmatch supply at first, there's plenty more nettle to transform into denim — and PANGAIA's overseeing the process into the future.
"The denim jean is the most democratic, inclusive, hard-wearing, long-lasting, and culturally influential piece of clothing in all human history," Cheung explains. "No other piece of clothing has been worn for so long, by so many people and I'd argue that a simple pair of jeans is the coolest piece of clothing you can own, too. Our work has been like farm-to-table, starting at the plant level to make even better, unique denim. This is just the beginning. We're literally growing our future jeans right now."