Every product is carefully selected by our editors. If you buy from a link, we may earn a commission.
The Best Coveralls for Men
Like overalls, this style protects wearers from the day's dirt and grime. However, coveralls come all the way up, creating a barrier between you and whatever you're working on.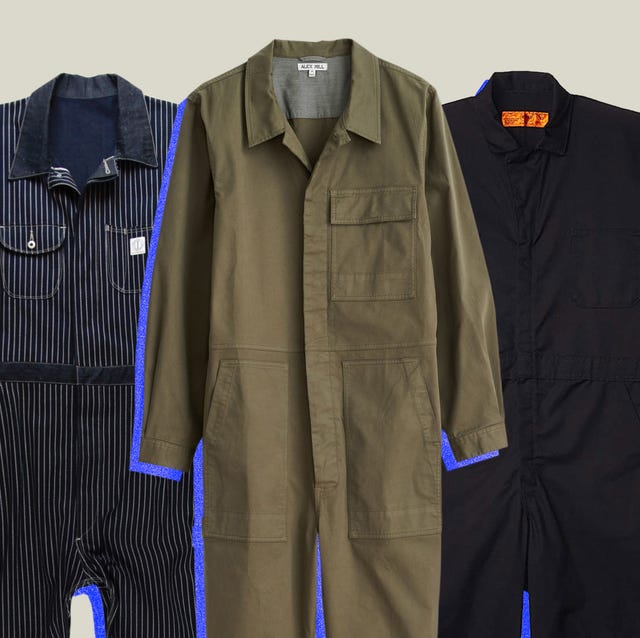 Coveralls, a boiler suit, jumpsuit or onesie: No matter what you call this kind of garment — a one-piece top and trouser combo with a collar — there is a nearly endless list of uses for one. Tending to your garden? Great. Playing with your grown-up toys (cars, furniture, even art)? Perfect. Tired of taking the time to find pants that match the shirt you want to wear? Amazing. Coveralls can do it all. Never worry about whether your outfit looks put together ever again, because a coverall literally covers all of the bases.
And that's what it was invented to do, first for factory workers then for everyone else. It's a rather democratic get-up — one that's generally unisex, oftentimes cheap and incredibly hard-wearing. Early boiler suits — called this because workers tending to locomotive boilers wore them — were made from canvas or denim, came with big pockets for tools and a cinched or belt waist so that loose-fitting fabric didn't catch on anything or interfere with the wearer's field of view.
You see, coveralls are generally the same as a jumpsuit or a onesie or a boiler suit, but there are, I must add before you go searching for your own, subtle differences only a trained eye will notice: Jumpsuits are slimmer and trimmer, which is why one-piece women's garments usually claim this name. The boiler suit is merely earlier nomenclature for the coverall. They're one and the same. Truly. And a onesie? Well, it's something slouchy and comfortable — like a kid would wear — and you should steer clear of wearing one in public. (Save, perhaps, for pyjama days at work or school.)
Modern renditions range from old-timey and true to the past to smart and economical. (Who needs two dozen shirts and pants when you could have four sets of coveralls?) Find one that's right for you below. But first, read our tips for pulling them off.
How to Style Coveralls
Stick to darker colors. They hide extra fabric better, making your silhouette trimmer.
Avoid extra pockets or tool loops if you don't actually need them.
Elasticated waistbands might feel right, but they don't look it. Get used to a freer, flowing garment.
Short-sleeved ones are cool (literally) in the summer, but they look out of place in real-life work scenarios.
Rarely should you button or zip your coveralls all the way up. Wear a T-shirt or thermal (but never a tank top) underneath.
If you go a size up, you'll risk adding extra bulk through the body and around the waist, but the room makes layering easier.
Think of the extremes: Boots go best with rugged, dark-colored coveralls. Sandals or slip-on leather shoes work best with cream or white ones.
Embrace the blemishes. If you spill paint on your coveralls, who cares? Only address stains that stink.
Care less. Truly! If the work you're doing calls for getting dirty, put on coveralls. They'll protect your skin and body hair from the brunt of a brush stroke or a stray spray.
The Best Coveralls for Men
This content is created and maintained by a third party, and imported onto this page to help users provide their email addresses. You may be able to find more information about this and similar content at piano.io