Every product is carefully selected by our editors. If you buy from a link, we may earn a commission.
The Best Waxed Canvas Jackets for Wet Weather
Protect yourself with one of these water-repellent options.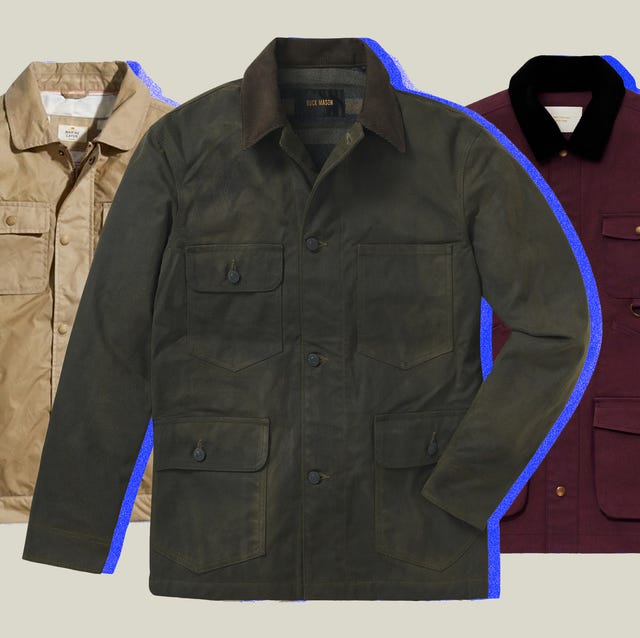 Waxed canvas jackets are readily associated with rugged outdoorsmen and skilled tradesmen. It makes sense. The fabric used in this outerwear was inspired by jackets made early sailors, who originally crafted jackets from oiled sailcloth. In the early 20th century, textile mills developed a process for finishing cotton with paraffin wax, creating fabric that was flexible, warm, durable and weatherproof.
What Is Waxed Canvas?
Though many brands have adopted lightweight waterproofing technologies like Gore-Tex, countless companies still produce hard-wearing waxed-canvas outerwear. It's tough, water-resistant and has gone largely unchanged over the past century. Although it's occasionally been adapted to suit to newer silhouettes, the trusty treatment still works well to this day, in spite of new, synthetic materials and membranes.
Because long before there were synthetic fabrics, before Gore-Tex and "weatherproof breathability," there was thick cotton and a can of wax. Early sailors realized that wet sails caught the wind better than dry sails, but wet sails were too heavy and slowed the ships down. The solution was rubbing oil into the sailcloths, making them more efficient and also water repellent so they stayed light in the rain. The sailors started cutting jackets out of the oiled sailcloth for themselves, wearing early editions of the rain jacket, but these primitive designs, made with linseed oil, became stiff in the cold and faded in color.
In the early 20th century, manufacturers developed a process for impregnating cotton with paraffin wax. The new material made for flexible, warm, durable and waterproof clothing that was quickly adopted by soldiers, outdoorsmen and sailors. Since then a slew of synthetic, breathable and waterproof fabrics have been developed — and used in those lightweight Arc'teryx jackets everybody wears. But a few companies have stuck with waxed cotton, which remains much more suited to workwear and carries the look and history of a real outdoorsman.
These are our favorite examples, old and new, available now.
The Best Waxed Canvas Jackets for Men
---
This content is created and maintained by a third party, and imported onto this page to help users provide their email addresses. You may be able to find more information about this and similar content at piano.io