Every product is carefully selected by our editors. If you buy from a link, we may earn a commission.
13 Stylish Bucket Hats to Wear This Summer
Whether it's in a classic cotton twill, an indigo iteration or rip-resistant nylon, a bucket hat is a great way to top off your outfit.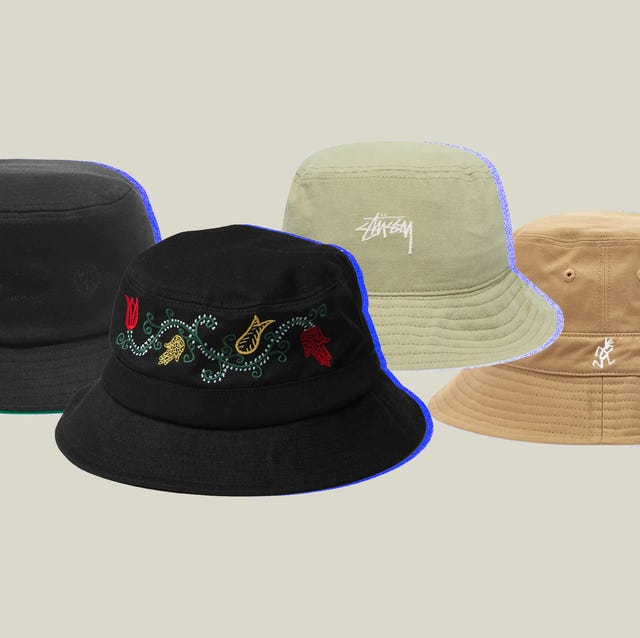 With summer in full swing, it's hard to think of sunny days without bucket hats. Early on, however, the bucket hat was meant for more inclement weather. First seen on the heads of fishermen in the early 1900s, the bucket was originally embodied in woolen tweed fabrics which were naturally water-repellent. From there, the hat moved ashore as the Irish walking hat and became a staple piece of the country's style through the mid-1900s.
When to Wear a Bucket Hat
Today, thanks to tropical military uniforms, bucket hats have more of a warm-weather connotation and are usually seen in a canvas or twill fabric. But like their predecessor, they still come with a wide, downward-sloping brim that spans the entire perimeter of the crown.
That makes the accessory an ideal add when the sun is super sweltering. It'll protect your face, especially your forehead, but also extend that coverage to the back of your neck. Plus, unlike a trucker hat, it protects the scalp, too — which can definitely get sunburnt.
How to Pick the Right One
Try one that's noticeably textural. Seriously. If you pick a plain cotton one, that's fine, but it won't look nearly as cool as a corduroy, ventile, seersucker or soft terry one. The visible texture distracts the eye from asking the brain why the hell you're wearing a bucket hat. But, all kidding aside, everyone should feel confident in one. The only time anyone, in my opinion, looks off or odd in one is when the bucket hat is either too big or too small. The brim shouldn't hang below your eyes and the crown shouldn't sit atop your head like a tiara.
---