Every product is carefully selected by our editors. If you buy from a link, we may earn a commission.
Stop Stressing Over Lost Sunglasses. Order Cheaper Ones
Don't stress if yours go missing. These are all under $60 dollars.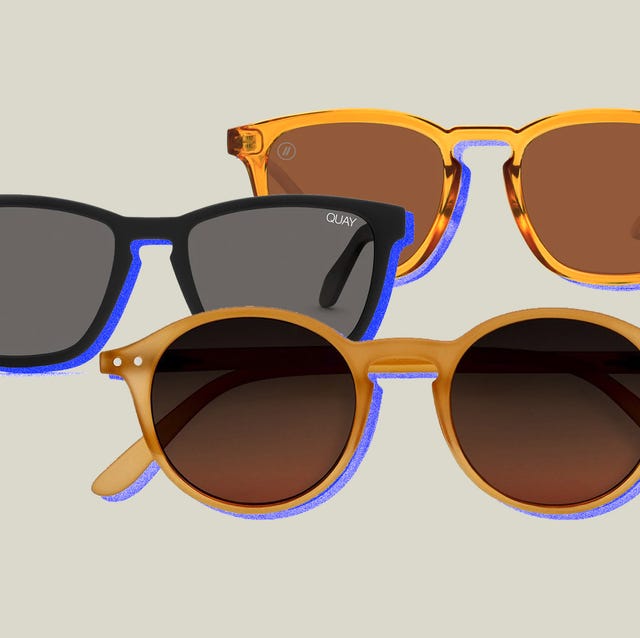 As warmer weather settles in and days in the sun become more abundant, we've rounded up inexpensive eyewear — all under $60 (or just above) — that exude style while still keeping your retinas safe from the scorching sun. And if they disappear into shuffled sand, at least you're only out around half (sometimes a little more) a hundred bucks.
Cheap vs. Expensive
Sure, cheap is subjective. If your sunglasses go missing, it's still money out of your pocket. As such, it's OK to lament the minor loss. But then, grab a new pair, and summer on. The sunglasses listed below are rarely above $60 bucks, making them fairly easy to replace and forget.
Truthfully, I wore cheap sunglasses exclusively back when I wore contacts because I could wear any, with my vision being reliant on small circular films inside my eye instead of the frames on my face. If you do wear prescription glasses, though, I'd argue a pricier pair is more worth your money. That way you get to see even when you're being protected by the sun. And, as a contacts-to-glasses convert, who really wants to wear contacts after all?
12 Pairs of Cheap Sunglasses
More Sunglasses for Men
---
Best Overall Cheap Sunglasses
Le Specs Teen Spirit Deux Sunglasses
Le Specs is a vintage brand revived. Their current selection of styles references European ones popular in the late '70s and early '80s but with tweaks to their construction for improved comfort and durability. And for just $63.00, they're a steal. Polarized lenses and a plastic frame done in a luxe tortoiseshell arrive in a branded soft case for safe carrying.
Best Upgrade Cheap Sunglasses
IZIPIZI D Sunglasses
Polycarbonate frames and tined PVC lenses — in burnt orange and brown, respectively — make these round frames a home run in even the most raging hot weather. 100 percent UV protection shields the eyes and a durable rubber-like feel to the frames deters dings and reduces scratches.
Best Budget Cheap Sunglasses
SOJOS Retro Semi Rimless Polarized Sunglasses
This is a classic look done at a fraction of the cost of more popular brands' designs. Put 'em on and envision it: '50s, jazz clubs (hence the Ray-Ban's Clubmaster). Made from metal, these are polarized and feature soft, adjustable silicone nose pads.
This is another one of Huckberry's in-house products. The Weekenders, a sibling of the Cruiser, have a different shape, with a more rectangular frame and bigger lenses. They come in the same array of colors, though.
Blenders' bold orange sunglasses, dubbed Amber Coast, pass for a far more expensive pair. They're colorful, compact and comfortable.
Sometimes when a cheap pair tries super hard to appear expensive, it only looks cheaper. This isn't the case with AJ Morgan's simple sunglasses. They're sleek, shiny and the right shape.
Quay's Hardwire could pass for Ray-Ban's Wayfarer. But it's not a straight up imitation. It has different arms and a key-shaped nose bridge.
Huckberry's in-house eyewear line features hardy frames matched with scratch-resistant, polarized lenses. At under $40 dollars, they're well worth it for whenever you want to put a pair through the wringer — without the guilt of getting a nicer pair grimy.
Black acetate and metal accents give these Spitfire frames an edge over other cheap options. They definitely reference higher-end designer pairs but present the wearer, aka you, I hope, a less painful price tag. Wear these when you want to look good but can't guarantee they get home, too.
Carfia Polarized Sunglasses
It's easy to be let down by budget buys off Amazon. (There are almost too many options.) Carfia's, on the other hand, are unexpectedly nice for their price. Typically, sub$-25 dollar sunglasses don't make through a week-long vacation, but these, which are made from corrosion-resistant acetate, withstand usual wear and then some.
Goodr makes sunglasses for specific sports — biking, running, golf, lifting and, yes, gaming — but also basic pairs for everyday wear. The Back 9 Blackout is designed for the green, but it's plenty practical elsewhere.
Knockaround Paso Robles My Oh My
Knockaround makes a number of cheap frames based on iconic designs: sub-$40 dollar aviators, Ray-Ban-looking riffs for $24 bucks and beyond. The Paso Robles frame, in a color called My Oh My, references a number of other frames, but proves the cheapest of them — by far.
This content is created and maintained by a third party, and imported onto this page to help users provide their email addresses. You may be able to find more information about this and similar content at piano.io