Every product is carefully selected by our editors. If you buy from a link, we may earn a commission.
Everything You Need to Know Before You Buy Ray-Ban Sunglasses
The shapes, styles, terms to know, and more.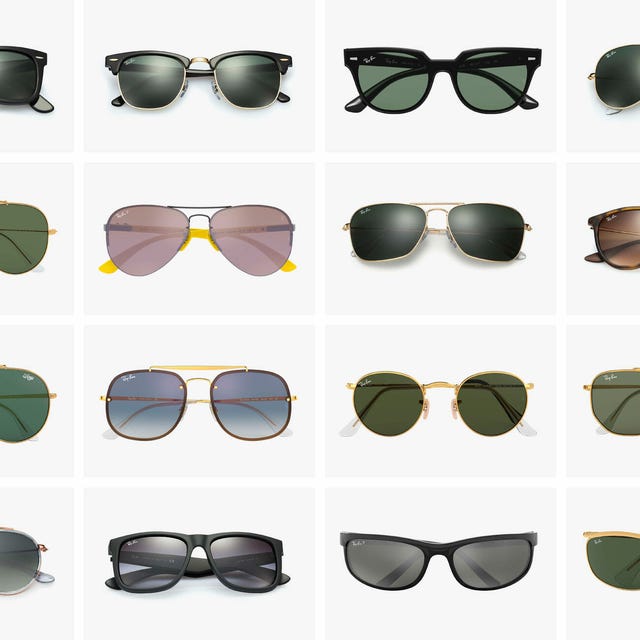 Welcome to Brand Breakdown, a series of comprehensive yet easy-to-digest guides to your favorite companies, with insights and information you won't find on the average About page.
---
Founded in 1936 by the Bausch and Lomb Company in Rochester, New York, Ray-Ban is an iconic eyewear brand integral to classic Americana and retro style. The company's sunglasses have graced some of the most famous faces of the past 100 years, from mirrored aviators on General Douglas Macarthur (incidentally, the first mirrored sunglasses ever put into production) to black Wayfarers on the Blues Brothers to the brand's classic Aviators on practically everyone in the movie Top Gun.
Today, Ray-Ban operates from within the international eyewear conglomerate Luxottica in Milan, Italy. Luxottica also owns several other famous brands like Persol, Oliver Peoples, Arnette and Prada Eyewear, as well as the retailers LensCrafters, Sunglass Hut and Pearl Vision, among others. Thanks to such a robust backing, Ray-Ban is able to offer a wider variety of stylish sunglasses than ever before, including nearly one hundred models for men and women and enough color and material options to make you dizzy. But if you just want some classic shades and the spins are starting to set in, you're in luck — this buying guide is meant to help you pick the right shades for your style and eye-protection needs. This isn't every pair Ray-Ban sells, but it's a hell of a start.
Find The Right Model For You
This content is created and maintained by a third party, and imported onto this page to help users provide their email addresses. You may be able to find more information about this and similar content at piano.io