Every product is carefully selected by our editors. If you buy from a link, we may earn a commission.
Where to Buy or Rent Wedding Suits
Whether you're the best man or the groom, ordering matching suits is a tedious task. These stores make it easy.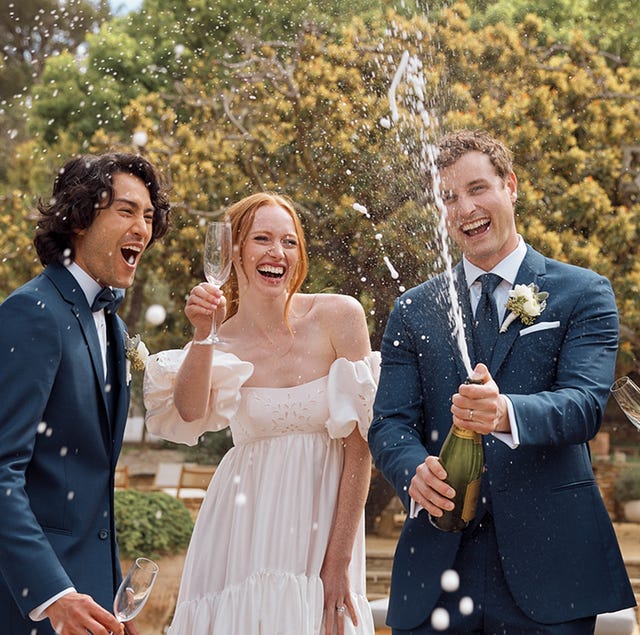 Nowadays, weddings are generally way less traditional than they used to be — except when they're deeply religious. They're a personal moment, an occasion designed to celebrate union but dictated by individual preferences. As such, there's no real code governing what the groom or groomsmen wear. Sure, a suit or a tuxedo is a start, but the colors, fit and finer details are all up to those in charge.
As such, so too is deciding which suit it is the groomsmen must wear. It's best to offer directions as early as possible, because although brands have gotten better at supplying suits last minute, you don't want a single groomsmen to stand out because theirs didn't arrive in time.
What to Know
Rent or Buy?
Although it might seem lazy or a waste of money, my advice is to always rent the groomsmen's suits. Asking your close friends to spend a couple hundred bucks on a suit they'll wear once is a quite the ask. Although you could choose a suit they'd get more mileage out of, it's easiest to order one that really works for your wedding — and your wedding only.
Renting the suit gives you more flexibility to adhere to a theme or color scheme without worrying about whether or not everyone involved will wear theirs again. Renting is generally cheaper, too, and brands often make shipping the suit back as easy as possible by providing boxes, prepaid labels and even bags to drop them into. (They don't care about wrinkles or stains, I swear.)
Who Pays?
Who foots the bill? While the bride and groom might cover the best man and maid of honor, typically groomsmen get their own suits. However, no matter which route you go, try ordering all of the suits in bulk. Some stores offer group discounts.
When to Order
As mentioned earlier, most wedding-dedicated suiting brands offer rush delivery. Weddings are a momentous occasion, so they're almost always approached with urgency. However, you should get your order in as soon as you can to accommodate shipping delays, size issues and other order errors.
Add Accessories
Socks are a common addition to most groomsmen suits — and not just because you shouldn't wear dress shoes without them. They're a method of self expression, a way of incorporating something important to the group into their wedding attire.
More Wedding Info
The Best Places to Buy or Rent Wedding Suits