Every product is carefully selected by our editors. If you buy from a link, we may earn a commission.
Everything You Need to Know About Tecovas' Boots
Tecovas has only been around since 2014, but the brand's become must-know. Here's why.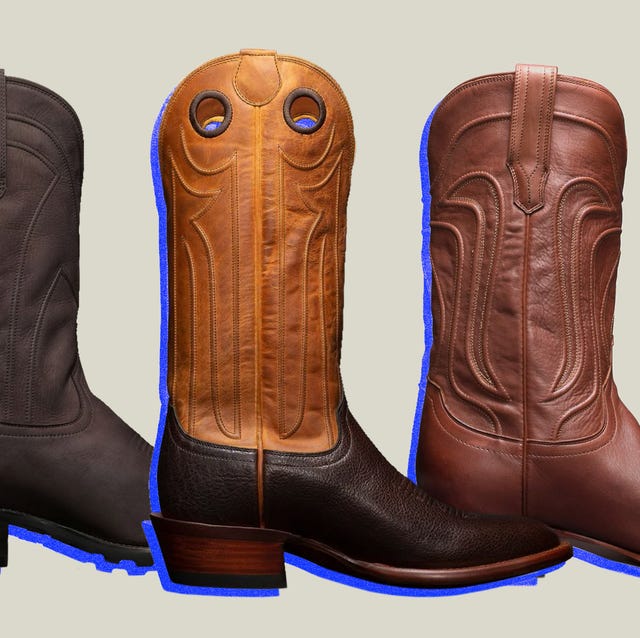 Once you spot them, they're nearly impossible to miss. We're talking about Western boots, a surging footwear trend (and simultaneous staple) among guys everywhere. Perhaps you've noticed cowboy boots at hip coffee shops or on city streets, not to mention their intended place of use: the Western United States.
Western boots are now an industry worth billions globally, if you can believe it, and your favorite retailers have probably embraced the trend with Western shirting, accessories and, although more rare, hard-working Western boots. If you want to dip your toes into the style, we're big fans of brands that literally walk the walk: Tecovas is a standout source for all things Western. Saddle up and take the ride with us.
About Tecovas
Others have likened the brand to consumer product start-ups like Warby Parker and Allbirds.
Tecovas is young as far as Western boot brands go. (Brands like Lucchese and Rio of Mercedes are much older.) It was founded in 2014 by boot lover Paul Hedrick. Texas-born Hedrick brought his love of boots to his Connecticut private-equity gig years ago, rocking the sturdy footwear in place of commonplace penny loafers. His "eureka" moment came when he looked down at his feet during a meeting one day, the story goes.

Tecovas launched not long thereafter, and now counts 20 retail stores from Arizona to Virginia, each stocked with Western boots made from exotic and non-exotic leathers, shirts, accessories and outerwear. The business has expanded by approaching consumers directly, cutting out middlemen and the associated shipping and production costs. You'll see a "traditional retail" price alongside every Tecovas price, proving you're getting a hell of a boot for a bargain.
Why We Like Them
They're a young company that centers the modern cowboy boot wearer.
Tecovas checks the right boxes as far as quality footwear is concerned, let alone Western boots. As it should be with the other boots in your collection, handmade craftsmanship is paramount. Master crafters in footwear hubs like Leon, Mexico (plus Texas) fashion each of Tecovas pair using 200-plus steps.

Tecovas also offers remarkable leather variety, as you might expect from a brand built on boots. (Hedrick used to favor Ostrich leather boots himself.) Traditionalists looking for the real thing will love Tecovas, too: These styles, from side-zip boots to ranch-ready roper boots, are built with authenticity in mind.

At every level, Tecovas delivers: Newbies to the world of cowboy boots will find traditional square-toe designs, while style aficionados can blend the worlds of "downtown cool" and Western workwear through understated zip boots. They even make a pair of uniquely sturdy Chelsea boots. Work boots, or rather, cowboy boots with a hybrid work boot edge, are also a Tecovas staple.
Whether you're just getting started on your journey into the world of cowboy boots or have saddled up for a long time now, you'll find something for your wardrobe at Tecovas.
How to Pick the Right Pair
Take note of the differences in heel, shaft, sole and toe between pairs.
In short, look for boots that fit best with your lifestyle and how you see yourself wearing them (probably more casually, with jeans, chinos or canvas work pants, yet plenty of Tecovas styles skew dressy and sleek). With their Western boots of all sorts, the leather will be durable and tough yet supple, made to break in over time.

A sturdy heel and sole design goes a long way towards the longevity of your boots. Tecovas uses ¾ Goodyear welt construction and various stacked heel designs. Take a close look, too, at the variety offered. You'll find wedge roper boots, studded ostrich boots and a plain-toe Chelsea boot, for instance.

All of these boots have different shaft heights for more or less coverage. Your typical Tecovas cowboy boots will feature a 12-inch shaft height, plus different heel designs. Cowboy boot heels use an angled design, and they vary in height by decimal points.
---