Every product is carefully selected by our editors. If you buy from a link, we may earn a commission.
The Best Outdoor Speakers for Your Backyard and Summer Parties
The best outdoor speakers are loud, weather resistant and have features that make them fit for a backyard party.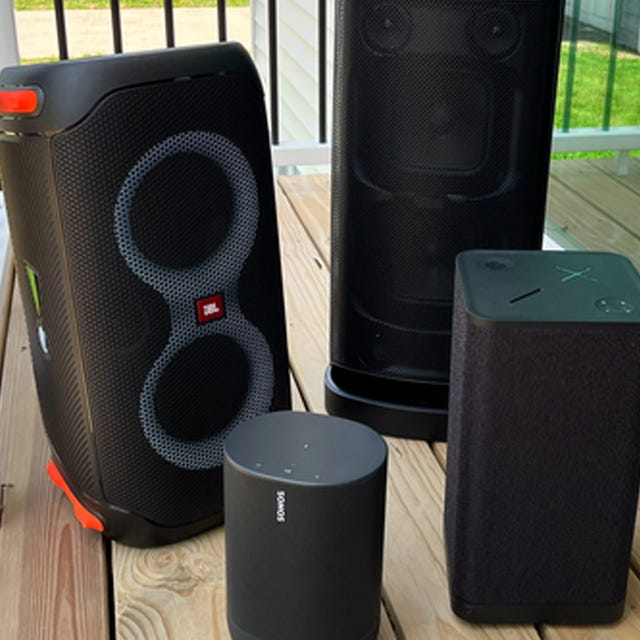 Warmer days are upon us (if they're not already here) and that means spending more time outside — even when at home. We're throwing pool parties and hosting backyard barbecues, playing lawn sports and just hanging out on the back deck — all the situations where you want to bring the music and the energy outside. And thus, you need a speaker that fits those needs.
There is a wide variety of speakers that are fit for the outdoors. The most common are ultra-portable Bluetooth speakers, which are small and water-resistant, the type of speakers you take to the beach or strap to your backpack. However, such speakers aren't the best option for a backyard party because they don't get very loud. So you end up playing music that only one party of the party can hear.
The two best types of speakers for outdoor parties, in our opinion, are either permanent outdoor speakers or larger portable speakers. Both deliver the best sound with the widest soundstage so that it reaches more area. Also, many of these speakers are able to sync with other speakers in a multi-room-like system so you can really play sound throughout your backyard.
The argument against permanent outdoor speakers
Permanent outdoor speakers, or speakers that are installed in your house and can't be moved, have been around for years and years — and they're great. However, in this new wireless age, they might not be the best option for you. They're often unsightly, unless you get in-wall or in-ceiling speakers that hide in plain sight (but that adds a high installation cost), and most require you an analog connection to amp or receiver. So they can be pricey, complicated to install, and they're not versatile.
There's a new breed of portable outdoor speakers that are powerful enough to fill a backyard with sound and rugged enough to survive a mild rainstorm. They also are super versatile thanks to Wi-Fi and advanced Bluetooth connectivity that supports multi-room audio; so you can get several speakers, pair them together and spread them though-out your backyard. Then, when you're done, you can hide them out of sight so they don't look odd chilling in your backyard.
What to look For
Size: These are all technically "portable" outdoor speakers. They are battery powered and you can move them around your backyard or patio depending on where you want sound to come from. However, some portable speakers are bigger than others and that is very much the case here. Bigger speakers are generally more expensive and more difficult to move.
Connectivity: Most outdoor speakers support Bluetooth connectivity. Others can also support Wi-Fi, which allows you to stream generally high-resolution audio as well as group multiple speakers in a multi-room sound system (a la Sonos). Some outdoors speakers can do both. And various speakers also have analog connectivity options, which allows you to wire your laptop or smartphone directly to the speaker and start playing music. The most important thing is how you intend to play music — and then finding a speaker that meets those needs.

Ruggedness: These are outdoor speakers and thus they need to be able to withstand the sun, rain, bump and occasional spilled drink. The bare minimum for an outdoor speaker should be having an IPX4 rating, meaning that it can resistant to water splashes from any direction, and thus it can survive a little time the rain.
Battery Life: This is vitally important as outdoor speakers have a finite amount of time that they can play music before they need to be returned to a charger. Generally, the larger the speaker, the bigger its battery, and the longer it will be able to play before recharging. The biggest of speakers also are able to act as portable batteries, so they can supply charge to your other devices (like your smartphone).
Special features: A large portable outdoor speaker is effectively a party speaker — and thus, many of them come with party features like RGB lighting, jacks for microphones (for karaoke) and guitars, and buttons that increase the bass of the speaker.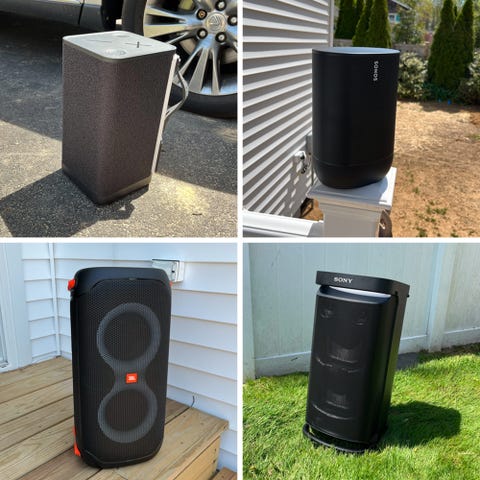 We tested all of the below portable speakers in indoor environments and playing a wide-variety of music (but definitely a lot of Taylor Swift). Admittedly, all the portable outdoor speakers are a little bit different in size, features and prices — but that's because they're all designed for different types of outdoor situations around the house. We evaluate them based on sound quality, easy of use, versatility and cool features that no other speaker has.
Drivers: 2 total (downward-firing tweeter, mid-woofer)
Connectivity(wireless): Wi-Fi and Bluetooth
Connectivity (wired): No
Multi-room: Yes (via Wi-Fi)
Water-resistance: IP56
Battery Life: 10 hours per charge
Size: 6.6 pounds

The Move is the largest portable speaker that Sonos makes, but it's also the smallest and least powerful speaker on this list. While it's not the loudest speaker, it's supports advanced technologies, like Automatic TruePlay, so it is able to adjust it's sound for the space it is in and it's actually one of the best sounding outdoor speakers you can buy. It delivers crisp highs, clear midrange and the bass cause you shake just a little.
What separates the Move over basically every other outdoor speaker is its versatility. It's small enough to carry around your house or take outside. And it supports Bluetooth and Wi-Fi connectivity means it easily works as a traditional portable speaker or as another Sonos speaker in a multi-room system. It is hands down the best option for anyone with other Sonos speakers in their home.
Drivers: 6 total (two tweeters, two woofers and two passive radiators)
Connectivity (wireless): Bluetooth
Connectivity (wired): AUX and optical
Multi-room: Yes (via Boom app)
Water-resistance: IPX4
Battery Life: 24 hours
Size: 13 pounds
Ultimate Ears is best known for its ultra-portable speakers, the Boom and Megaboom lines, and the Hyperboom is basically those speakers on steroids. It's quite large, standing 14-inches tall and weighing roughly 13 pounds, and it's rectangle-shape can play 270-degrees of bass-heavy sound — it's ideal for placing in the corner of an outdoor party. It also has a concealed rubber handle, making it a little more portable than you'd think.
The Hyperboom is a Bluetooth-only speaker, however it can play in a multi-room system with other Boom, Megaboom and Hyperboom speakers —just pair them together via UE's Boom app. The other thing that sets the Hyperboom apart is its incredible 24-hour battery and its ability to act as a portable battery for your other devices; it packs two USB-A ports on its spine.
Drivers: 4 total (two tweeters, two woofers)
Connectivity (wireless): Bluetooth
Connectivity (wired): AUX, USB-A, mic and guitar jacks
Multi-room: No
Water-resistance: IPX4
Battery Life: up to 12 hours
Size: 23 pounds
JBL makes quite a few portable speakers in its PartyBox line that are fit for outdoor parties, with the PartyBox 110 being one its most popular. It's about twice the size of the UE Hyperboom (above), yet comes in at slightly less expensive and it's actually a little more fit for outdoor parties. It gets slightly louder in our opinion, boasts RGB lighting (which you can customize in the PartyBox app) and have jacks for a microphone and guitar. It also can act as a portable battery for your other devices via a USB-A jack.
The JBL PartyBox 110 is admittedly a little more limited than the other outdoor speakers on this list in that it's a Bluetooth-only speaker that can't do multi-room. It works with an app, which allows you to do things like adjust its EQ settings and the RGB lighting. You can, however, use an AUX cable or the TWS (True Wireless Stereo) button on the back of the speaker to configure it with another PartyBox 110 speaker in a stereo pair. Overall, the PartyBox 110 feels like a great budget option for people who want big sound and a color speaker.
Drivers: 6 total (two woofers and three front-facing tweeters, one tweeter)
Connectivity (wireless): Bluetooth
Connectivity (wired): AUX, USB-A, mic and guitar jacks
Multi-room: Yes (via Sony app)
Water-resistance: IPX4
Battery Life: 25 hours
Size: 37 pounds
The Sony SRS-XP700 is the largest and most powerful outdoor speaker we've tested — it's a monster. It weighs 37 pounds, stands over two-feet tall and flirts with the very edge of what it means to be a "portable" Bluetooth speaker. What it really is, is a full-blown party speaker. It packs RGB lights which you can adjust via Sony's Fiestable app. It packs a number of analog connections, meaning it doesn't completely rely on Bluetooth. And it has jacks for a guitar and microphone, so you can use it as a karaoke machine.
As for its sound quality, it's really loud and really bass-heavy — exactly what you want for a party. You can place it horizontally or vertically, but we found the sound to be a little more crisp and carry further when the speaker is vertical. A cool thing is that even though it's a Bluetooth speaker, it can sync with many other Sony SRS speakers (even ones that are significantly smaller than the SRS-XP700). You can even get their LED lights to all match up. The only semi-frustration is that you need to switch between Sony's Music Center app and Sony's Fiestable app to get the range of what this speaker can do.
The Best Portable Bluetooth Speakers for Spring and Summer (Updated for 2022)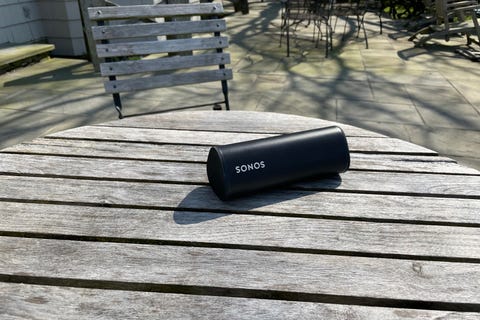 A guide to the best portable Bluetooth speakers from the most affordable speakers, to the best sounding speakers, to waterproof speakers, and more.
This content is created and maintained by a third party, and imported onto this page to help users provide their email addresses. You may be able to find more information about this and similar content at piano.io