The Best New Cars Under $50,000 for People Who Love Driving
The new car market is crammed with vehicles these days. Instead of wasting your time, trust us: these are the best ones you'll find for less than $50K for driving enthusiasts.
The number of different vehicles on sale today can seem mind-numbingly high. That's why narrowing your search by price is smarter now than ever. Though the average MSRP for a car hovers around $38,000 these days, we raised our price ceiling to add in some of the wonderful cars just above that median price — and pulled together the best cars on sale today for less than $50,000 for those of us who really love cars, be it for backroad fun or off-roading joy. Believe us: No matter what style you're shopping for, you can't go wrong with any choice on this list.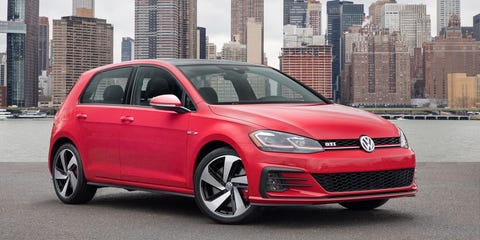 Best Compact Cars Under $50,000: Volkswagen Golf GTI
We may suffer from slim pickings in the US when it comes to hatchbacks, but at least one of the few options we do have ranks highly. This legend from Volkswagen has been the benchmark for hot hatches since it first rolled off the assembly line in 1976, and the current VW GTI has been ranked highly the world over. A taut suspension and bountiful low-end torque from the lively 2.0-liter turbo engine translate to performance figures that punch well above the GTI's weight.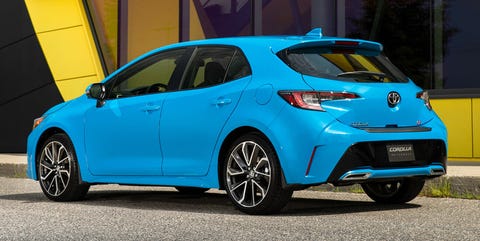 Best Compact Cars Under $50,000: Toyota Corolla Hatchback
The new Corolla Hatchback marks a pivotal moment in Toyota's push to ditch its reputation as a builder of bland econo-cars. The new Corolla hatchback is one of the best-handling front-wheel-drive compacts on the market; it's wildly fun to pitch around a corner. But, instead of marketing the hatch as an enthusiast's car and scaring off average Joes, Toyota simply promoted the refreshed hatch as it's done in the past and let the masses who would've bought the car anyway discover what a well-tuned chassis feels like. The Corolla's approachability, affordability, and mid-corner poise will likely have it remembered much the way we look back on the BMW 2002 or Datsun 510.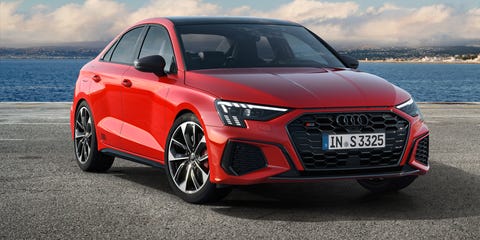 Best Compact Cars Under $50,000: Audi S3
Since the S4 has put on some weight over the years, the S3 now takes up the mantle of the compact sports sedan in Audi's lineup. With 288 horsepower and 280 lb-ft of torque, the S3 provides just enough performance to deliver an incredible amount of fun, while staying out of trouble on the open road.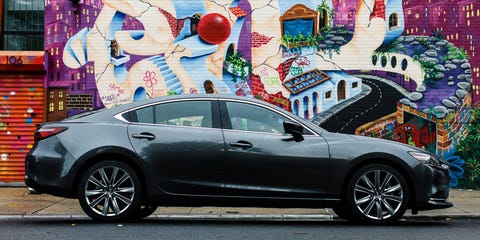 Best Midsized Cars Under $50,000: Mazda6
In the past few years, Mazda has really come into its own in the design department. It's no coincidence that there are several Mazdas on our list: For the price, they're some of the best-handling cars on the road. The Mazda6 offers sharp, flowing design draped over an entertaining chassis, all for a base price below $25,000. However, if you want to really experience the brand's recent move upmarket, the range-topping Signature trim spoils you with turbocharged power and a luxurious interior you'd never see coming from Mazda for just over $35,000.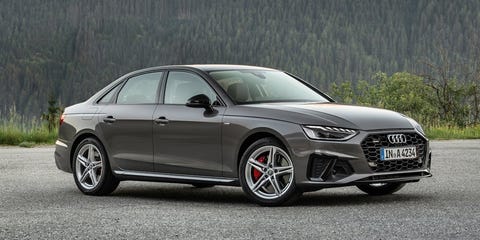 Best Midsized Cars Under $50,000: Audi A4
The Audi A4 went untouched for several years, but it came back in a big way in 2016 when the new model arrived. Though it received only subtle aesthetic tweaks, Audi made huge changes underneath the skin, adding crash avoidance and driver assistance systems also seen on the likes of the top-of-the-line Q7 SUV. After years of living as a glorified Volkswagen Passat, the current generation of the A4 has moved delightfully up-market.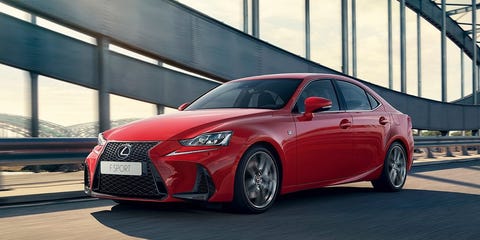 Best Midsized Cars Under $50,000: Lexus IS 350 F Sport
Lexus, believe it or not, does indeed offer a sporty sedan worthy of being mentioned in the same conversation as the Germans. The radical styling works well for it, separating it from the other cookie-cutter luxury four-doors. But it takes more than styling to compete in one of the most contested segments in the market; luckily, the interior's interesting design makes the cockpit a pleasant place to be, and the entertaining naturally-aspirated 3.5-liter V-6 makes it a great place to stay.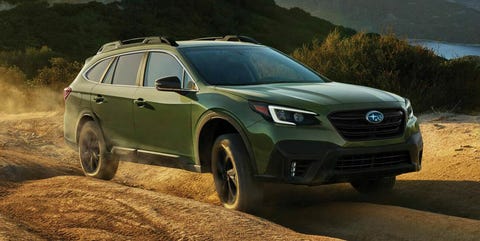 Best Station Wagons Under $50,000: Subaru Outback
The Outback built its reputation on utility, value, and versatility—and the current Outback follows through with that in spades. In a world where SUVs and crossovers run rampant, the Outback has stood strong as a reliable family vehicle with a healthy dose of off-road performance. The new Outback that arrived for 2020 may not look all that different, but beneath the skin, it's been thoroughly enhanced and improved. Those seeking driving thrills may not fall in love, but everyone else is liable to be charmed.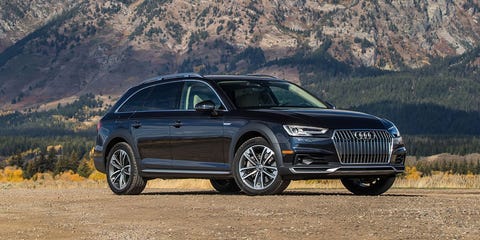 Best Station Wagons Under $50,000: Audi A4 Allroad
Audi made a name for itself tackling dirt roads with its quattro AWD system, and the A4 Allroad brings that legendary ability to the average family in need of a little extra ground clearance. The A4 Allroad's impressive cargo space and off-road ability lends itself beautifully to those who would rather gather around a campfire under the stars than a flat-screen TV in the living room.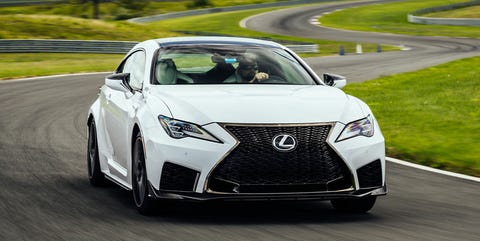 Best Coupes Under $50,000: Lexus RC 300 F Sport
The RC's design offers a sportier take on the same looks as the IS, while still catering to customers who want that Lexus luxury. The exterior is by far the best expression of Lexus's edgy design language, and the interior is awash with rich materials like Playa upholstery, aluminum pedals, and deep bucket seats. The RC 300 F Sport drives incredibly well thanks to its adaptive suspension and available Variable Gear Ratio Steering — which, despite being on the heavier side, gives the driver impressive feedback.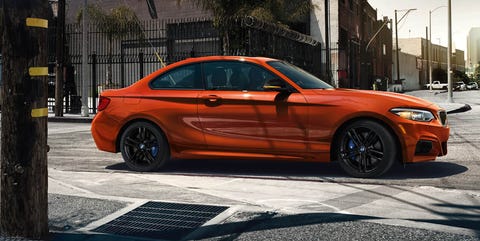 Best Coupes Under $50,000: BMW M240i
Since the BMW M2 casts a very large shadow, you could be forgiven for forgetting about the M240i, but it would be a mistake to dismiss it altogether. The M2's price point puts it out of reach for this list, but the M240i isn't exactly a letdown; it offers more approachable performance, thanks to a beefier torque curve, as well as a more forgiving suspension for everyday driving on roads that aren't racetrack-smooth.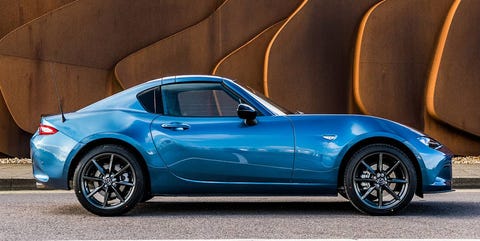 Best Convertibles Under $50,000: Mazda MX-5
Ignore the Miata's incredibly low price for a second and focus on its performance: There's nothing in its weight class that can compare. And you'd have to go pretty far upmarket to find anything that delivers the experience and excitement that the new Miata does. The RF's retractable, targa-style roof only adds to the newest Miata's good looks. Now factor in the MSRP, and the argument to buy anything else pretty much dissolves.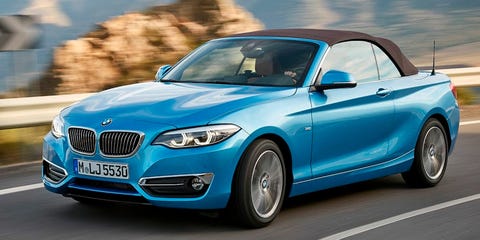 Best Convertibles Under $50,000: BMW 230i Convertible
Now that the 3 Series and 4 Series have moved upmarket, the 2 Series has become BMW's prime player in the attainable sports car bracket. The convertible version earned a place on this list by being a pretty drop-top than can still handle a curve. The 2 Series convertible eschews a retractable hardtop, going with a soft top in order to save weight and space. The classic convertible looks are a nice bonus.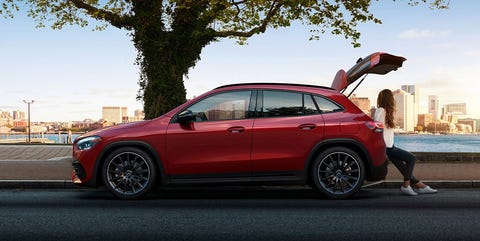 Best SUVs & Crossovers Under $50,000: Mercedes-Benz GLA250
Mercedes-Benz has an uncanny ability to make every one of its cars seem luxurious, no matter the price. The new-for-2020 GLA-Class is a prime example of that. At $33,950, you'll find a high-quality interior and design language that possesses the air of a car that costs far more.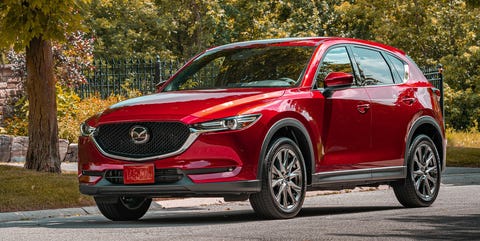 Best SUVs & Crossovers Under $50,000: Mazda CX-5 Signature
As much as we praise Mazda for the handling baked into its sedans and sports cars, equal praise must be given for the mid-corner poise the brand imbues into the CX-5. It's not often an SUV is applauded for its handling, but somehow Mazda has transferred its signature sportiness to its high-riding vehicles. And as part of Mazda's recent push to move upmarket, the Signature trim elevates the CX-5's interior to match a class of SUV well above its $36,890 price tag.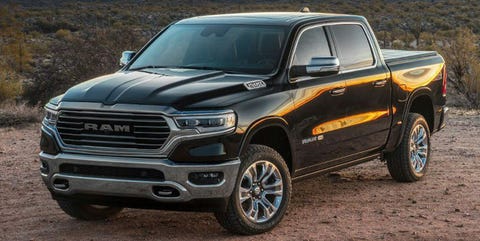 Best Trucks Under $50,000: Ram 1500
Given the giant budgets the Big Three allocate to developing their full-size pickup trucks, it's hard to find a truly bad one these days. But the king of the hill right now remains the Ram 1500, still riding high off its 2019 model year redesign. Combining car-like convenience and comfort with truck capability, it better than anything makes clear why Americans buy big rigs by the hundreds of thousands every year. The luxury car-spec Limited may be out of your price range at the $50K mark, but you can still score a great one for less than that.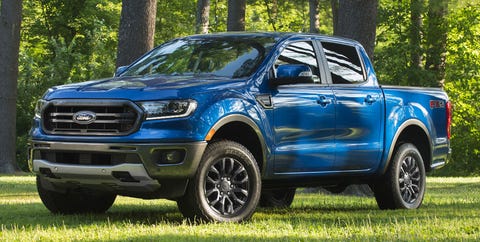 Best Trucks Under $50,000: Ford Ranger
Ford did more than re-enter the mid-size truck segment when it brought back the Ford Ranger for 2019; it made a statement of intent. The Ranger is aggressively going after the adventure lifestyle and overlanding crowds. The latest iteration of the mid-sized truck brings a compact silhouette that's perfect for tight mountain trails on the way to campsites, and a laundry list of camping-focused accessories from Yakima, such as bed racks and rooftop tents.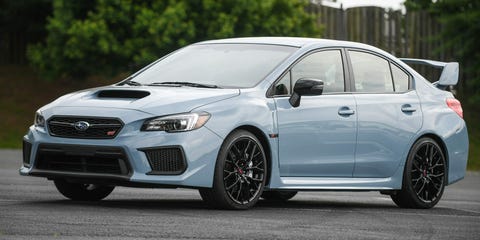 Best Sports Cars Under $50,000: Subaru WRX STI
The Subaru WRX STI is a little long in the tooth, but it's hardly showing its age. As one of the few compact sport sedans out there with AWD — the pricier Audi RS3 and Golf R are the only real competition — its affordability factor makes it a hit with enthusiasts year after year. What the newest WRX STI lacks in power versus newer competitors, it makes up for with refined, incredibly precise handling and direct, communicative steering.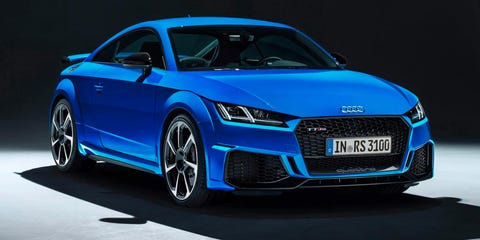 Best Sports Cars Under $50,000: Audi TT
Audi is synonymous with good handling, and cars like the TT are a shining example of why. With its low-slung architecture and all four wheels pushed to the corners of the car, the TT feels like a go-kart through corners. It's just a shame Audi might be axing it in the near future.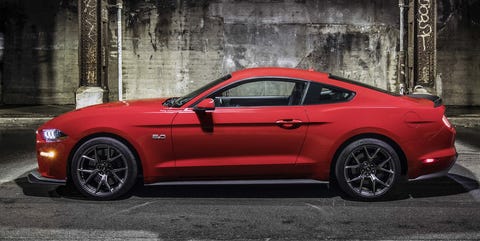 Best Sports Cars Under $50,000: Ford Mustang GT
Ford ditched the old muscle car stereotypes years ago, when it started to pour more energy into the Mustang's cornering abilities—and the company hasn't looked back since. For 2018, Ford redesigned the Mustang's looks a little, but rather than settling for a superficial mid-cycle refresh, the Blue Oval bumped the power up as well, giving the GT's V-8 460 horsepower. The classic American pony car is now a certified modern sports car…and it's a hell of a bargain at a starting price of $35,355.
The Best Used Car Bargains from 2010–2019
Now that we're into the third decade of the 2000s, we thought it was worth taking a peek back at some of the cars that were on sale in the last decade that still make for good rides today. Don't be afraid to check back every so often, either; we'll likely add more vehicles as time goes by. Read the story