A Diesel Cadillac? It's Not as Strange As It Sounds When It's the 2021 Escalade
Oil-burning power under a Caddy's hood provides some pleasing benefits.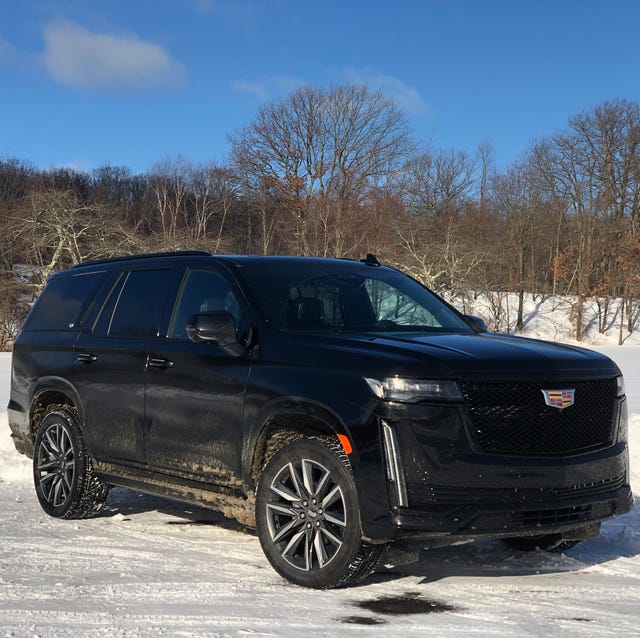 Cadillac hasn't had much history with diesel-powered vehicles, and the little history the brand has had with oil-burning engines has been rather ignominious. During the Malaise Era, General Motors sought refuge from fuel crisis-inspired shocks in diesel powertrains that found their way into Cadillacs for a hot moment, but those asthmatic, overly complicated motors were, for lack of a better term, pathetic; their horsepower figures barely broke into triple digits, and they broke so often, GM was slapped with a class-action lawsuit over the cost of replacing the motors.
Luckily for Cadillac, most of the people who remember driving cars with those engines aren't looking at buying Escalades in 2021. Even more luckily, diesel powerplants in general and GM's powertrain development has come a loooooong way since the 1980s. For the first time in years, GM has seen fit to plop an oil-burning powertrain in its non-heavy duty pickups and SUVs — and Cadillac's biggest vehicle is no exception.
So how well do diesel power and Caddy's giant flagship mesh? We took one out for a day to find out.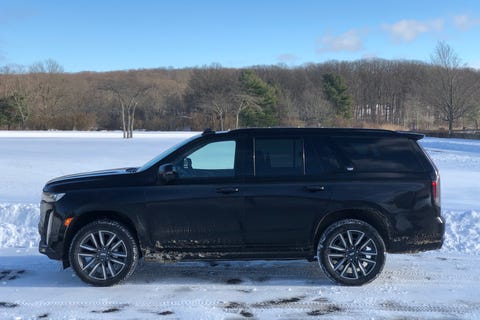 The 2021 Escalade's case for diesel power isn't obvious at first
At first blush, it seems a little tricky to string together a good argument for choosing the 3.0-liter turbodiesel inline-six. The Escalade comes standard with the stellar 6.2-liter V8 that's the bigger option in the full-size Chevy/GMC pickup-and-SUV lineup, which is closely related to the motor found in the Camaro SS and C8 Corvette; it's a smallblock delight, ginning up 420 horsepower and 460 lb-ft of torque and emitting an all-American roar all the way to redline.
The diesel is a no-cost option at Cadillac — as opposed to at Chevrolet, where it adds $995 to the price of a Tahoe — but it doesn't make a strong case for itself based on the spec sheet. Torque, a diesel forte, is equal to the V8's 460 lb-ft, though it arrives at 1,500 rpm versus 4,100. Horsepower is down by 143, coming in at 277 ponies. And while those who like to tow often prefer diesels, the oil-burning Caddy actually tows less than the gas-powered one — though it's only by a matter of 200 pounds, compared with roughly four tons of towing capacity for.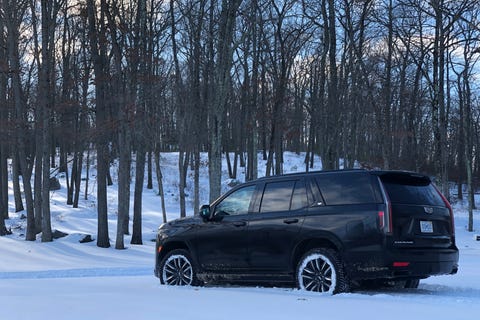 It's ideal for avoiding the pump
There is one area of performance where diesel almost always beats gasoline, though: fuel economy, in particular the highway kind. The EPA rates diesel all-wheel-drive Escalades at 20 mpg city / 26 mpg highway, versus 14 city / 19 hwy for the gas-powered model.
A day of driving around New York and the surrounding suburban and rural environs proved those numbers are very achievable, too. I saw a bit over 26 mpg, according to the trip computer, on a roughly 100-mile route that included crawling through city traffic, hauling along at 75-mph-plus on the highway and winding through back roads at as close to the limit as I dared, given, y'know, it's an Escalade.
There is a dark side to opting for diesel, however: the price of fuel. Even assuming you can find easy access to the stickier fuel — not every gas station carries it, though it's still much easier to find than EV fast chargers — diesel fuel usually costs about 30¢–40¢ more per gallon than gas.
That said, that's on par with (or even cheaper than) the premium fuel Cadillac recommends for V8-powered Escalades. And besides, with a range of 600-plus highway miles on a tank, you won't need to stop as often as those other Escalade drivers.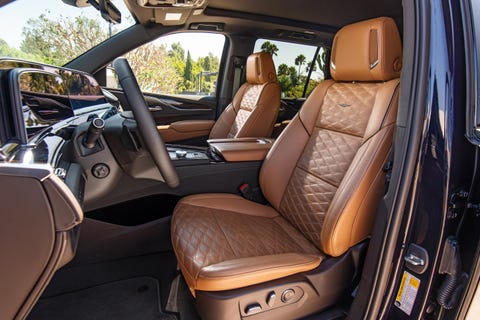 An Escalade like any other from the cabin
From the cabin, you'd be hard-pressed to know there was a diesel under the hood by sound or feel. Of course, given the Escalade's sheer mass and amount of sound deadening, you'd be hard-pressed to know if there was a matter/antimatter reactor under the hood, but the point still stands: you don't sacrifice any of the Cadillac experience with the inline-six.
Indeed, the diesel is arguably better-suited to the way most people drive, especially with giant beasts like this. There's an old cliché that says Americans buy horsepower but drive torque, and this Escalade shows why; with all 460 lb-ft available just above idle, the rig moves ahead smartly with a gentle press of the accelerator. Between the steady shove, the elevated seating position and the sensation of mass, driving a diesel Cadillac almost feels like being the engineer of a locomotive.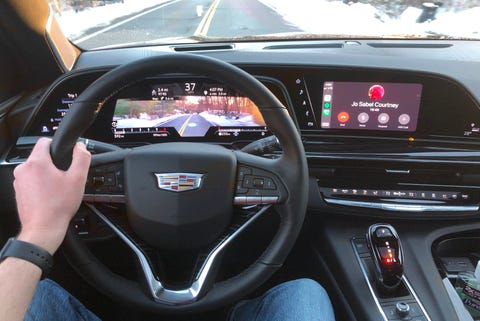 A very, very nice locomotive, that is. The opulent new Lincoln Navigator of 2018 threw down a leather-lined, gem-studded gauntlet in the mega-luxury SUV world, and with the 2021 Escalade, Cadillac has shown they're willing to spend the bucks to compete on the same level.
As with its Chevy and GMC relatives, rejiggering the rear suspension has resulted in far more room in the second and third rows and cargo bay than in previous Escalades, something sure to appreciated by the folks who ride around in the backs of chauffeured units. But the bigger change in other ways comes up near the bow; the elevated center console and tunnel gives the front seats a surprising intimacy you wouldn't expect from a body-on-frame SUV.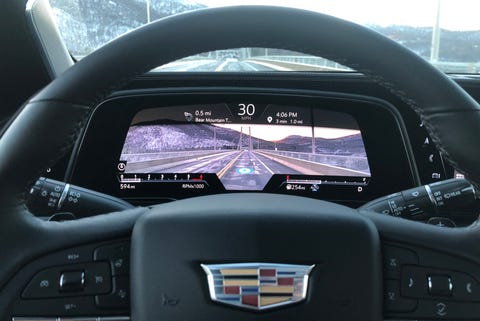 The real marquee feature up front, though, is the dashboard. Cadillac markets it as a 38-inch OLED touchscreen system, but in reality, it's a trio of OLED displays: an all-screen instrument panel behind the wheel, with a small touchscreen for many secondary control to its left and the primary touchscreen infotainment screen to the right.
Asking screens — touch or otherwise — to take over the roles of physical controls and gauges is a tricky proposition, one that most carmakers have just started to get right in the last couple years. Cadillac gets it mostly right; I had no issues with the system once I'd parked and taken the time to learn where all the controls actually were — a longer task than expected, given just how many features are controlled by the screens and the fact that many are partially blocked from view by the steering wheel.
One sweet feature of the glass gauge cluster is worth calling out in particular, though: the navigation system, which offers an augmented reality view of the road ahead with the directions superimposed over a high-def first-person view. Until windshield-wide HUDs reach production, it's about as futuristic — and cool — as in-car navigation gets.
The 11 Pieces of Gear You Absolutely Need for Car Camping
Car camping makes getting away easy as pie. These items will make it even tastier.