The Cadillac CT5-V Blackwing and CT4-V Blackwing Are Everything We Wanted
More power, more performance and manual gearboxes for everyone.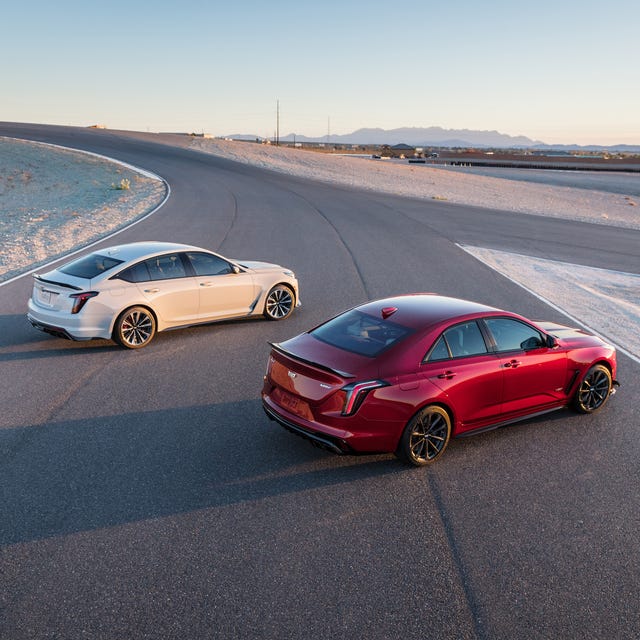 Meet the CT5-V Blackwing, in all its 668-HP glory
You read that right: 668 horsepower. The supercharged 6.2-liter V8 found under the CT5-V Blackwing's hood is an evolution of the one found in the old CTS-V, C7 Corvette Z06 and Camaro ZL1, but thanks to a host of improvements like a more responsive blower, aluminum cylinder heads, titanium intake valves and greater airflow, it cranks out more ponies than any of those. Torque stands at a lofty 659 lb-ft.
A Tremec-sourced six-speed manual gearbox comes standard, while GM's solid 10-speed automatic gearbox is available as an option for those too lazy to move their left foot. Considering this is likely the high-water mark for internal combustion performance at Cadillac...take the stick.
Rear-wheel-drive is the only way to go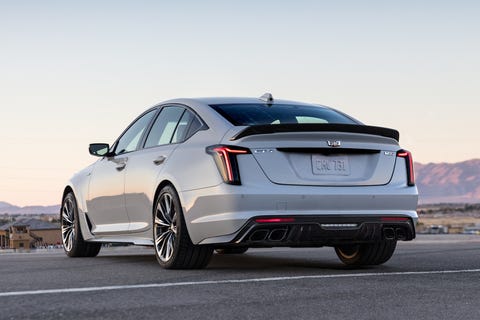 For a hot minute there last month, the rumor mill suggested that we might be able to have the CT5-V Blackwing with all-wheel-drive or rear-wheel-drive. That rumor turns out to be unfounded; this Caddy only comes in rear-wheel-drive. As a result, the claimed 3.7-second 0-60 mile-per-hour dash will likely lag behind AWD foes like the Audi RS 7, but the Caddy's 200-plus-mph top speed helps make up for that.
To make the most of that power, an electronic limited-slip differential helps divy up the flow to the rear wheels, while GM's excellent Performance Traction Management electronic reins decide how much power to let fly many times a second.
This Caddy turns well as well, of course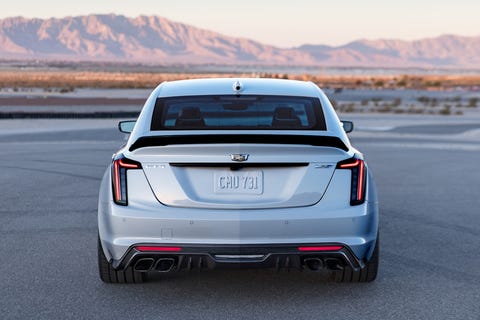 PTM isn't the only technological wizardry brought to bear in the CT5-V Blackwing, however. The car also boasts the latest version of the Magnetic Ride Control dampers that use magnetic fluid to constantly vary their balance between absorption and support. There's a MacPherson strut suspension up front and a five-link independent setup out back, both of which have been retuned versus the lesser CT5 for better control and quicker responses. Suffice it to say, this Caddy will drive nothing like your grandpa's old Deville.
Worried about stopping? Don't be. The CT5-V Blackwing features six-piston Brembo brakes up front and four-piston ones in the rear. The front rotors measure a pizza-sized 15.7 inches in diameter, making them the largest brakes ever put on a Cadillac.
Ready to attack the track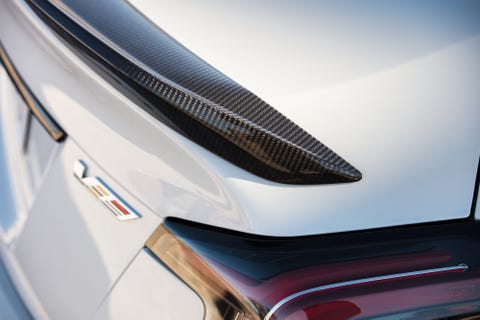 Cadillac's true V-Series models have always taken pride in the ability to deliver on road courses as well as they do on the open road. As such, the CT5-V Blackwing comes boasting a bevy of aerodynamic design elements designed to improve track performance. There's also an available carbon fiber aero package for those who want to shave a few seconds off their lap times on tight courses...or, of course, just look cooler.
It's still a Cadillac inside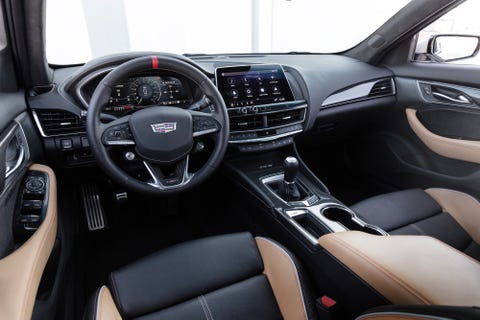 Any car bearing the Wreath & Crest needs a nice interior, of course, so Cadillac made sure the Blackwings live up to the brand's expectations. Like the Ram 1500 TRX, buyers can choose from three different levels of interior fanciness, each offering different trim choices and tech. (Android Auto and wireless Apple CarPlay comes standard regardless, however).
Behind the steering wheel and its handy controls for the PTM system and customizable V-mode for your preferred driving technique lies a 12-inch digital instrument panel, which boasts a unique design and graphics that change based upon drive mode.
Move your feet and keep your seat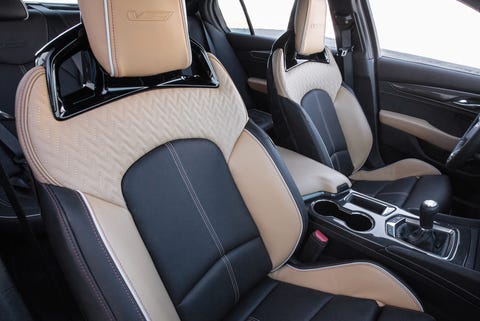 The CT5-V Blackwing's high-performance seats will blow hot or cold air on your back and bottom, as well as deliver a lumbar massage. (There's also a choice of available carbon fiber-accented racing seats.)
While Cadillac hasn't revealed all the details of the options list just yet, they have announced where the CT5-V Blackwing will start: $85,895, which includes destination charge. While that's $15,000 more than the BMW M3 that Cadillac claims is the car's main competitor, that's $18,600 less than the M5 that serves as its actual primary foe. (It's also the exact same starting price as the 2016 CTS-V.)
These Are the 16 Best Cars to Buy in 2021
Kelley Blue Book has released their best cars to buy awards for 2021. The results may surprise you.
The CT4-V Blackwing brings the twin-turbo V6 thunder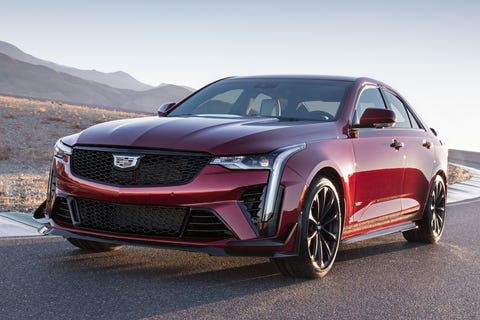 The smaller CT4-V Blackwing is no slouch on the power department, either. It uses a modified version of the twin-turbo V6 from the ATS-V to spit out 472 horsepower and 450 lb-ft of torque. That's enough to push this l'il sedan from 0- 60 mph in a claimed 3.8 seconds on the way to a top speed of 189 mph.
Rear-wheel-drive and an e-LSD is the only choice here, as expected, but you can have your CT4-V Blackwing paired with a six-speed manual or 10-speed automatic gearbox. The standard is standard, of course.
Add carbon fiber aero bits for extra stick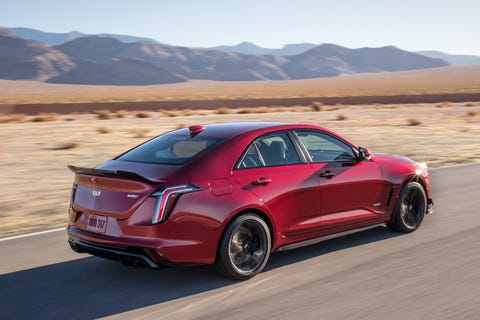 Like the CT5-V Blackwing, the smaller car boasts performance-tuned suspension hardware like Magnetic Ride shocks, PTM stability control and so forth. Anyone who really wants to slay at the track might be interested in the carbon fiber aero package; it reduces lift by a mighty 214 percent.
A small sedan with big performance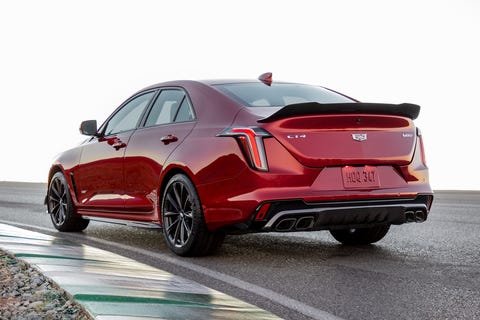 Unlike the ATS that preceded it (and with which it shares much of its architecture), Cadillac's CT4 is aimed down at the Audi A3s and Mercedes-Benz A-Classes of the world. As such, the brand says the CT4-V Blackwing is designed to take the fight to the likes of the Audi RS 3 and Mercedes-AMG CLA45, though surely some people will cross-shop it against the likes of the BMW M2 Competition.
The view we've been waiting for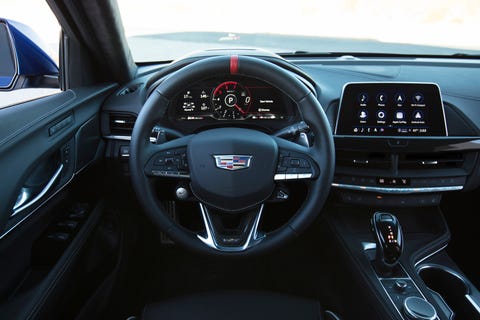 Inside, like the CT5-V Blackwing, the CT4-V Blackwing boasts a digital instrument panel that can be personally configured, much like the V-mode for the drive systems. Three levels of trim and equipment are offered, just like on the larger model.
Just a little gratuitous stick shift imagery for you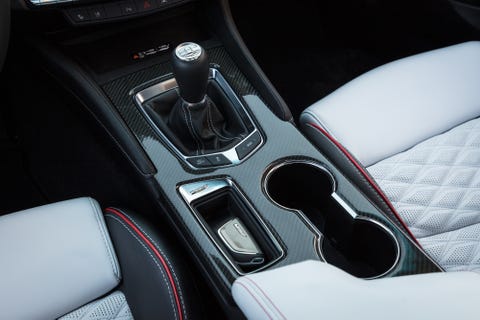 The CT4-V Blackwing starts at $60,895 with the manual gearbox. (The 10-speed automatic is optional, though Cadillac hasn't revealed how much more it'll cost, if anything.) For that money, we'd be hard-pressed to think of a car that can deliver greater bang...but we'll have to wait until we can drive it ourselves to know for sure.
The Best Winter and Snow Tires You Can Buy for 2021
We picked the best tires to help you stay mobile through the winter months.