The New Lexus IS 500 Could Be the Last Small V8-Powered Sport Sedan
Naturally aspirated V8s in teeny, tiny four-doors aren't long for this world.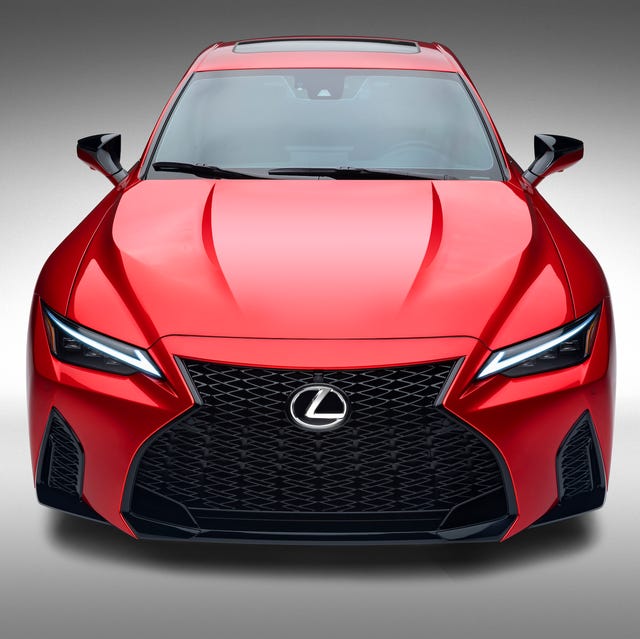 The era of the V8-powered sedan is coming to an end. As if the inbound asteroid of electric vehicle mandates by governments and brand pledges to go all-in on EVs weren't enough of a threat, the fabled eight-pot has been losing ground against ever-more-powerful forced-induction six- and four-cylinder engines, capable of matching or exceeding the performance of many V8s while weighing less.
Some of the first victims of this trend have been small sport sedans. The BMW M3 and Audi S4/RS 4 have all since exchanged their V8s for forced-induction six-pots, while the next-gen Mercedes-AMG C63 expected to arrive any day now will be ditching its explosive twin-turbo V8 for a turbocharged, hybridized inline-four.
But one brand isn't letting the delightful, delightfully outdated idea of jamming a V8 into a teeny, tiny four-door go gently into that good night. Lexus — yes, Lexus — is giving the idea a chance to go out in a blaze of glory worth of William Bonney and Jon Bon Jovi in the form of the 2022 IS 500.
Remember the IS F? Then you'll probably dig the 2022 IS 500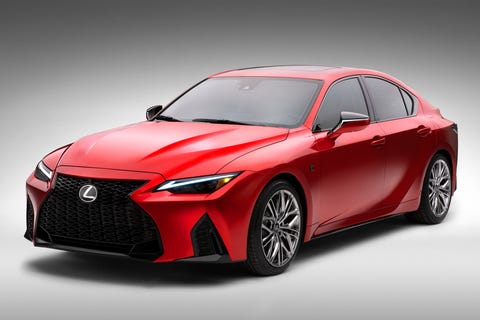 The new IS 500 is a clear successor to the IS F, a beloved niche competitor to the likes of the BMW M3. The IS F used a 5.0-liter V8 that spat out 416 horsepower and 371 lb-ft of torque — fairly ludicrous figures for a car back in 2007, let alone one less than two inches longer than a contemporaneous Corolla.
Well, fans of that old IS F will be glad to hear that same engine is making a return in the new 2022 IS 500. Admittedly, it's been upgraded plenty since the IS F vanished seven years ago; today, it makes 472 horsepower and 395 lb-ft.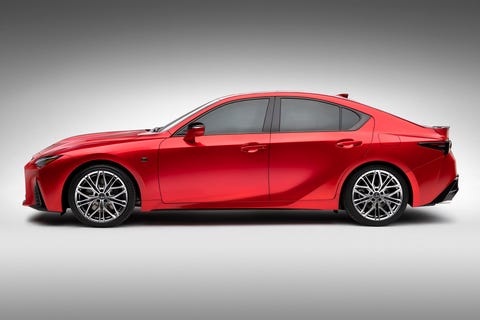 Granted, by the modern standards of automotive performance, those numbers don't sound all that insane. Keep in mind, though, that the IS is among the smaller sedans on the market. At 185 inches and change, it's just a couple inches longer than a Honda Civic. Better yet, the car weighs in at less than 3,900 pounds; it's just 143 lbs heavier than a V6-powered IS 350.
And unlike many a modern speed machine that comes outfitted with superchargers or turbosuperchargers to pump up its power and flatted its torque curve, the old-school naturally-aspirated action of the 5.0 means you'll get to have the fun of savoring the scream of the engine more; peak power comes at 7,100 rpm.
Rear-wheel-drive fun is standard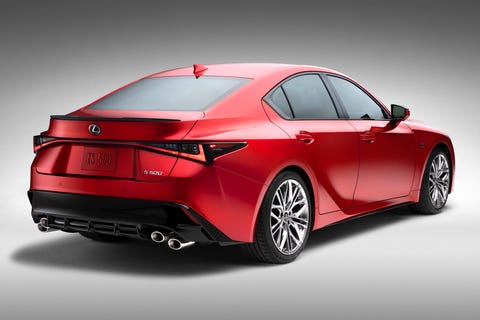 While all-wheel-drive is available on lesser IS models, the V8-powered version only sends its power to the rear wheels, and only through an eight-speed automatic transmission. According to Lexus, the setup lets the IS 500 dash from 0 to 60 miles per hour in 4.5 seconds; while the brand doesn't mention top speed or quarter-mile specs, it does say they expect the car to get around 24 miles per gallon on the highway...in case you're the oddball who makes that the deciding factor in choosing a performance sedan.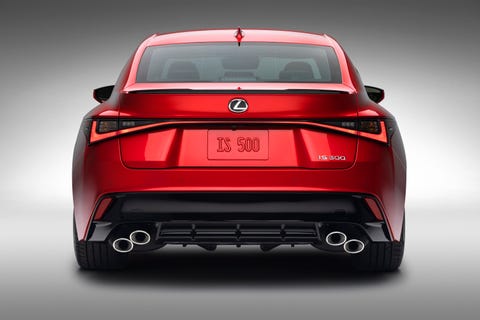 The Is 500 should turn as well as it sprints, too. The IS has long been among the most playful, engaging members of the Lexus family, thanks to its tidy dimensions and well-tuned chassis; the IS 500 is poised to build on that by coming standard with an adaptive suspension, limited-slip differential and Yamaha rear performance damper. 14.0-inch two-piece front rotors and 12.7-inch rear ones are there to haul the car down from hyperspeed.
And yes, you get those sweet stacked tailpipes standard, too.
A V8 doesn't make this a Lexus F model, though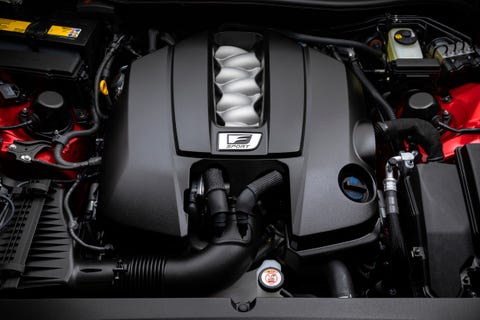 While it may boast many of the traits we've come to expect of the brand's baddest models, Lexus isn't listing the IS 500 as a full F model, like the RC F coupe. Lexus says it's actually the first of the new Lexus F Sport Performance line — which, presumably, is meant to slide between the existing F Sport trims (which are really just a sportier-looking design package for the regular models) and the full-bore F cares (like the expected forthcoming LC F and its alleged twin-turbo V8).
The interior remains a mix of delights and pain points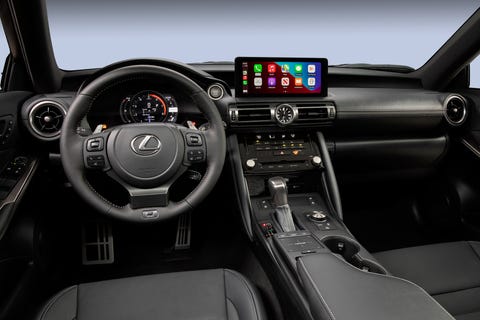 Lexus updated all the IS models for the 2021 model year — you can read about our first spin with the car here — but it still clearly bears the visual cues of a car that entered production in 2013. In some cases, that's a boon; a chunky old-school shift lever and ample control buttons and knobs are the sort of throwback that deserves a renaissance, and the meaty steering wheel feels as substantial as the control yoke of a B-52.
In other ways, it's less ideal. The interior design doesn't live up to the sleek, modern look of the exterior — especially in the case of the IS 500, what with its taller hood and lengthened fenders. And while the infotainment system has certainly been improved by the addition of touchscreen capability on top of the annoying Lexus trackpad, it still has a rather confusing menu structure.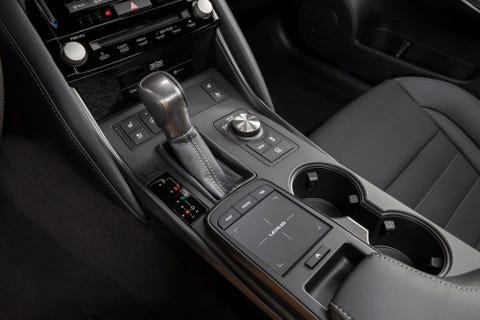 This being a modern-day Toyota product, of course, it comes standard with a whole host of active safety features. Its cameras and radar systems can detect pedestrians, cars and cyclists alike that you might cross paths with and even hit the brakes if you don't. It can let you know if you're drifting out of your lane, or help you stay within it. And the active cruise control works all the way down to a full stop, so you can use it in traffic jams.
The 2022 Lexus IS 500 F Sport Performance, as it's formally known, should go on sale this fall, which seems like an interminably long time away here in late February but is actually just seven months away. The price? Still TBD, but we'd peg it around $70K.
The 16 Best Cars to Buy in 2021
Kelley Blue Book has released their best cars to buy awards for 2021. The results may surprise you.