The Subaru Outback Wilderness Is a Station Wagon Ready to Kick Serious Dirt
Want a Subaru that's ready to blast well past the beaten path? Your car has arrived.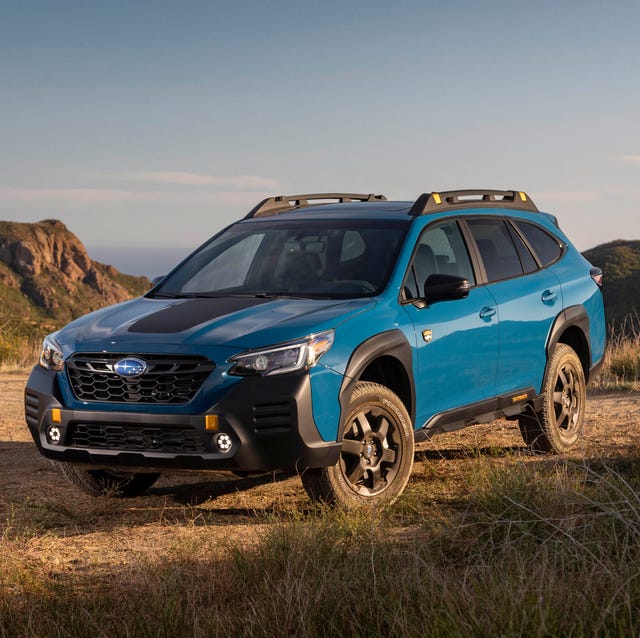 Considering how big a deal crossovers have become for the automotive world, it's honestly a little more surprising that the Subaru Outback doesn't get more credit for pioneering the breed. After all, it basically created the idea of taking a car and turning it into a more appealing family vehicle by jacking it up and adding all-wheel-drive — a recipe that has minted money for everyone from Acura to Volvo in recent decades.
That could in part be due to the fact that, well, the Outback doesn't look much like an SUV. It may offer more capability than many a crossover, but it still looks very much like the station wagon it really is — just one that stands a bit taller.
That's less of an issue with the new (and long-anticipated) 2022 Subaru Outback Wilderness. Thanks to a bevy of changes, this newest version of the car Paul Hogan once convinced American to love stands taller and packs added capabilities that not only make it look more like an SUV, but give it added chops to help it keep up with serious off-road machines when the dirt road turns into no road at all.
The Subaru Outback Wilderness is more prepared to go off-road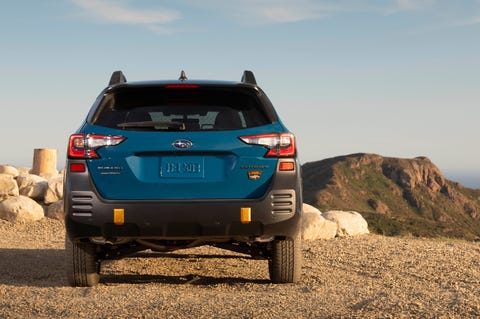 The Outback, of course, is still a good old-fashioned station wagon beneath its body cladding and SUV-esque design cues; it's based on a unibody platform shared with the Legacy family sedan, instead of the sort of heavy body-on-frame skeletons favored by pickup trucks and more traditional SUVs.
Still, the Wilderness packs tweaks and changes that should make it appreciably better for anyone who actually uses their Outback the way people use Subarus in Subaru commercials. Chief among them is a feature that's key for any off-road vehicle: added ground clearance. The Outback Wilderness offers 9.5 inches of space between its lowest point and the ground, almost an inch more than the regular Outback.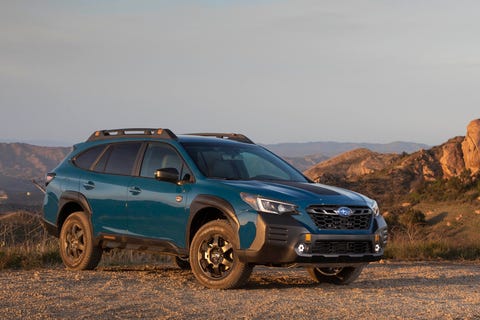 To add that extra clearance, Subaru outfitted the Wilderness with longer shock absorbers and springs, and retuned the suspension overall for better stability on unpaved surfaces.
Ground clearance is only half the story, though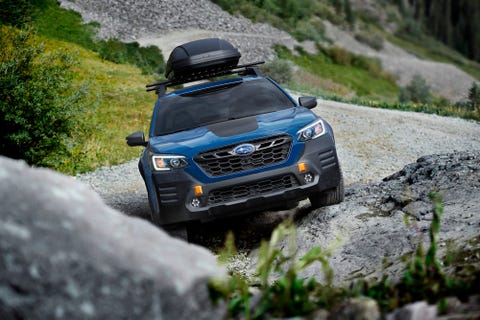 Improving a vehicle's off-road capabilities also requires making sure it won't scrape its nose or butt on the ground when scrambling up or down steep surfaces. To boost that capability (and, of course, to make it look like it belongs out there scrambling over rocks), the Outback Wilderness has revised front and rear ends that improve approach, departure and breakover angles. Approach is up to 20º, breakover to 21.2º and departure to 23.6º.
The Wilderness's grippy tires boast an Outback throwback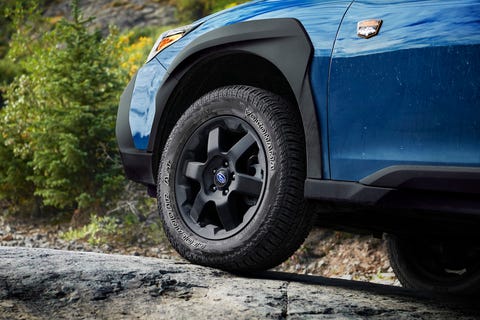 Burly Yokohama Geolandar all-terrain tires on matte black 17-inch wheels come standard on the Outback Wilderness, enabling it to claw over rough terrain with aplomb. The tires also feature a subtle homage to the original Subaru Outback of the 1990s: the name of the tire stands proud in embossed white-outlined words.
It's a Subaru — of course it has AWD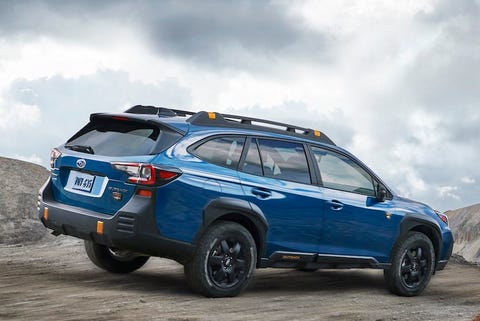 Of course, great tires require a car that knows how to make the most of its power. Like every Subie sold in America except the BRZ, the Outback Wilderness boasts all-wheel-drive; Subaru descrives it as "Active Torque Split AWD with electronically managed variable hydraulic transfer clutch, [which] continuously varies front-to-rear torque split based on inputs from acceleration, steering angle and yaw rate sensors [and] can proactively transfer more torque to rear wheels or in response to wheel slip," but as far as we're concerned, all you need to know is "it'll keep you moving when the going gets tough.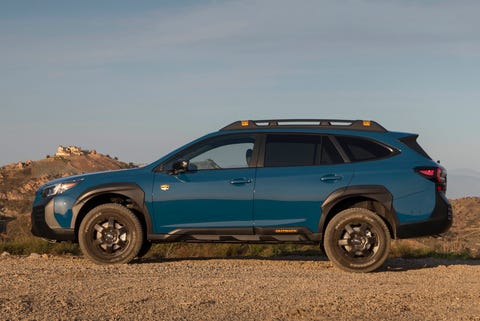 Unfortunately, there's still a continuously-variable transmission feeding power from engine to wheels, but its final drive ratio has been increased to better supply torque to the wheels at low engine speeds. (And if you really get peeved with the CVT — which, admittedly, is one of the better examples of the breed — you can always switch over to manual mode and toggle through eight preset ratios.) Subaru claims the car can now scramble up a 40-degree gravel grade, which is something we look forward to testing for ourselves.
Long live the turbo Subaru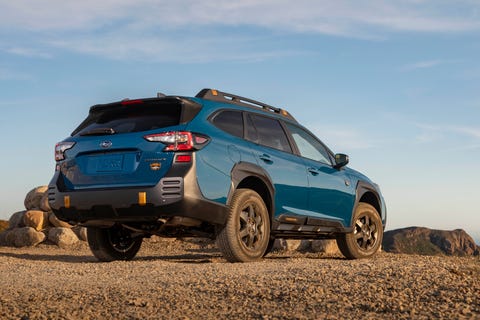 Speaking of power: every Wilderness packs the turbocharged 2.4-liter flat-four, the more potent of the two engines found in the Outback. As in its other uses, it makes 260 horsepower and 277 lb-ft of torque — not enough to blow your hair back, perhaps, but more than enough to push this car-with-SUV-dreams
Going up? You won't be losing power.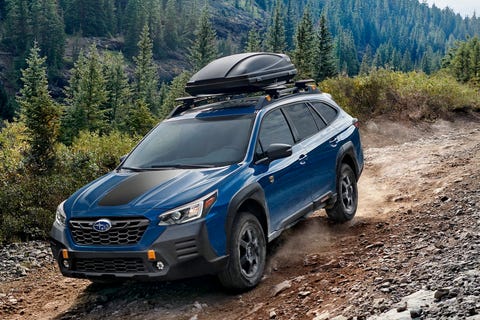 Drivers who plan on taking the Outback Wilderness into the great outdoors at high altitudes — which, let's face it, is probably at least half of the target audience — will appreciate the fact that the turbocharged motor is less susceptible to power loss caused by the thinner air up there. (Electric motors are even better, since they don't need to breathe at all, but an Outback EV is still at least a couple years away.)
And kindly enough, unlike many a turbo motor, Subaru tuned it to make full power on regular ol' 87 octane gasoline, so you can save a little bit of gas money and put it towards some car camping gear instead.

Gear You Absolutely Need for Car Camping
Car camping makes getting away easy as pie.
Comfort meets capability inside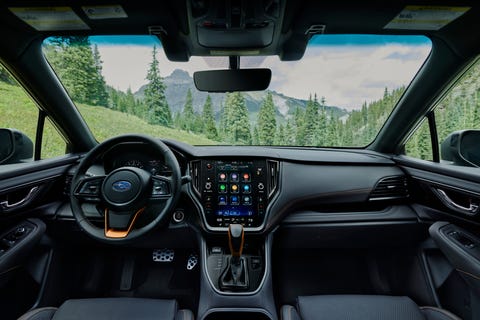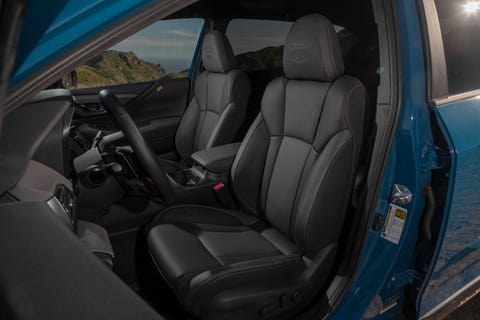 The Outback Wilderness is, obviously, meant to be used in the wilderness, so instead of leather, Subaru outfitted the car with water-repellent StarTex upholstery. Waterproof material also coats the rear seatback and a waterproof cargo mat lies in the stern, to keep whatever wet stuff you throw in back from saturating the interior.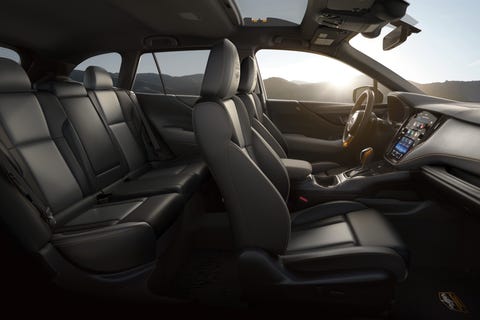 Interior space is like any other new Outback — which is to say, ample. There's room for four or five adults to sit comfortably inside, with leftover space for 32.5 cubic feet of cargo space in the tail; if the car only has one or two occupants, folding down the second row provides up to 75.7 cubes of freedom.
And, if that's still not enough space for you, the Outback Wilderness uses a new ladder-type roof rack system that's better suited to holding a rooftop tent; its static load limit of 700 pounds means even a small family can bunk securely on top of the car.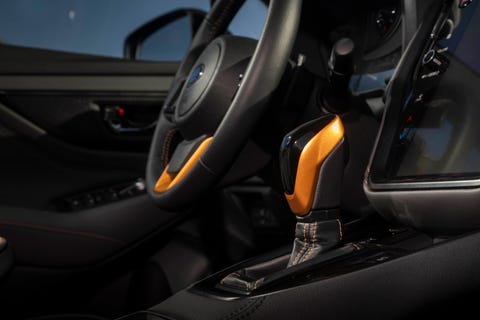 As on the Sport trims of the Forester and Crosstrek, orange trim gets a supporting role in the Outback Wilderness, designed to make the design a bit more eye-catching (and, in the case of the interior, to lighten up the mood a little). In addition to the obvious bits seen here, there's also orange stitching making its way through the interior, and orange metallic finish on the gauges.
It seems we do, in fact, need some stinking badges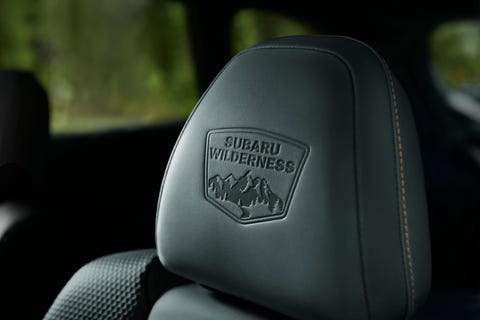 Subaru clearly wants buyers to remember which version of the Outback they bought, as they've dappled the car with "Subaru Wilderness" badges. They can be found on the headrests, the instrument panel at start-up and on the standard all-weather floormats.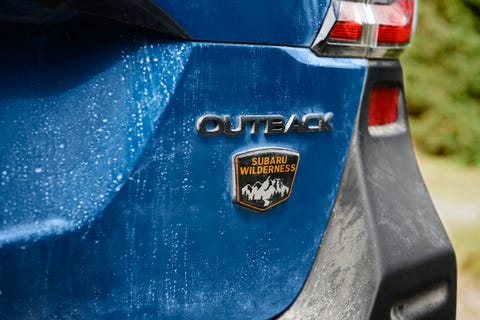 You'll find them on the outside, as well, where they appear as one of several pieces of orange-accented trim that seems meant to evoke a technical gear look.
That paint color, by the way? It's a new one called Geyser Blue, and for now, at least, it's only found on the Outback Wilderness.
The 2022 Subaru Outback Wilderness is coming soon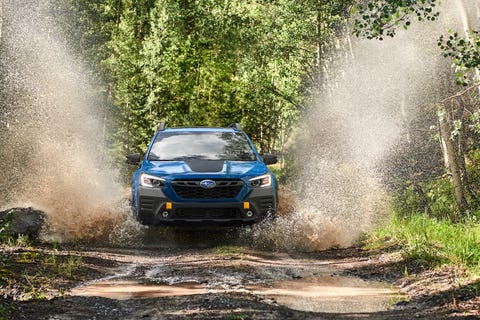 You can't buy one just yet, so if you really want to park an Outback Wilderness in your driveway, the best course of action is to call you your Subaru dealership and tell them to save you a spot for when it arrives later this year.
How much will you have to pay to bring this Subie home? Well, that's not quite clear yet; the carmaker hasn't revealed pricing. That said, considering the added features and capability, we're guessing it'll land around the top of the current Outback model tree — roughly analogous to the Touring XT that starts around $42,000.
The Best Rooftop Tents You Can Buy
If you've always enjoyed the top bunk, you should invest in a rooftop car tent.