You Might Want a Land Cruiser, But This Is the Toyota You Probably Really Need
The Sienna Woodland Edition packs all-wheel-drive and a lift kit, and has more room than you'll ever need.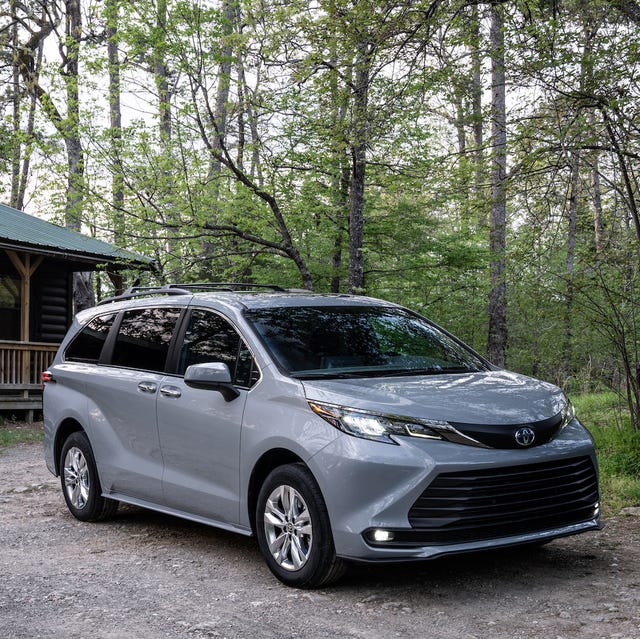 Many of us would absolutely love to have a Land Cruiser parked in our driveway. After all, it's one of the most iconic off-roaders for good reasons: few vehicles can match its blend of capability, comfort and reliability...and, well, it looks pretty damn good, too.
But, well, let's be honest with ourselves for a second: we probably don't need a Land Cruiser. Sure. we need something with plenty of space for friends, family and gear; something with a bit of ground clearance to help scramble over rutted roads, and some way of driving all four wheels when maximum traction is needed. Something with 2021-spec tech would certainly be nice, too. Low-range 4WD and a thirsty V8, though? Probably not.
Which is why, for most of us, Toyota's new outdoors-oriented Sienna Woodland Special Edition might be a better fit than one of those 200-Series Land Cruisers still to be found in showrooms...even if it hurts us to admit it.
The Sienna Woodland is made for outdoor fun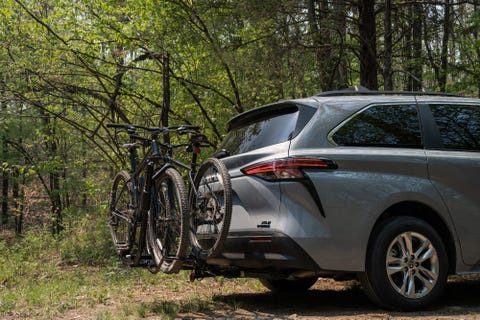 All modern minivans are commodious to a degree that's hard to imagine until you hop inside and see for yourself. The Sienna, for example, packs 193 cubic feet of interior space — enough for it to qualify as an apartment in some parts of the world.
Still, that's not always enough when you're planning to hit the trails or rivers and need to lug the appropriate toys tools along. So, the Sienna Woodland Special Edition packs a standard trailer hitch and 3,500 pounds of towing capacity, enough to lug along a Sea-Doo, an ATV or a couple of dirt bikes. It also has a standard roof rack with cross rails.
A little more ground clearance never hurts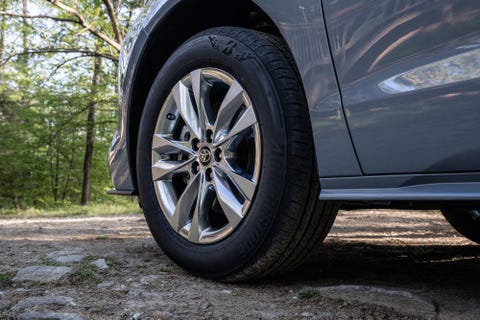 No, this minivan isn't exactly capable of following its fellow hybrid the Jeep Wrangler 4xe up the Rubicon Trail. It does, however, boast a dash of extra ground clearance over the other 6.4 inches found in other Siennas. Combine that with standard all-wheel-drive, and you have a decent soft-roader capable of navigating the gnarliest roads and a few places that don't even qualify as such.
Mixing style with substance inside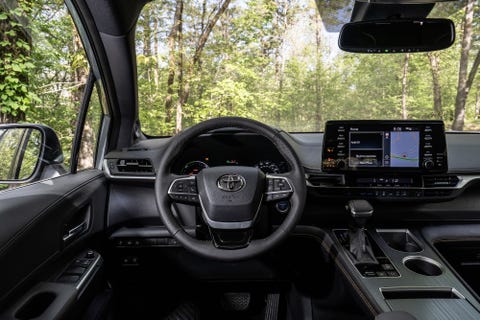 With a 2.5-liter inline-four, a nickel-metal hydride battery pack, a trio of electric motors and a CVT gearbox pushing around more than 4,700 pounds of angular box, the driver's seat of the Sienna isn't exactly motoring nirvana. Still, it takes turns better than, say, a 4Runner — and the standard hybrid system means you can comfortably average close to 35 mpg no matter how you drive. And for when you'd rather just cruise, the Woodland Special Edition comes standard with the 12-speaker, 1200-watt JBL stereo found on other upper-trim Siennas.
The Woodland edition scores special trim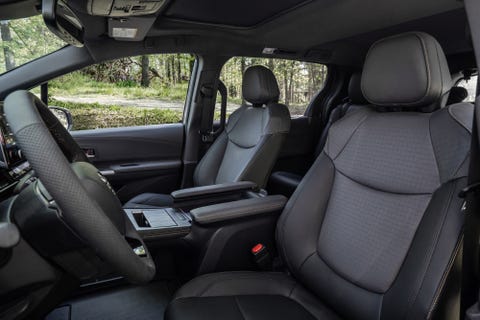 Black sport-trimmed seats come standard, but you'll find the ones in the Sienna Woodland Special Edition boast their very own distinct stitch color.
You want power? You've got it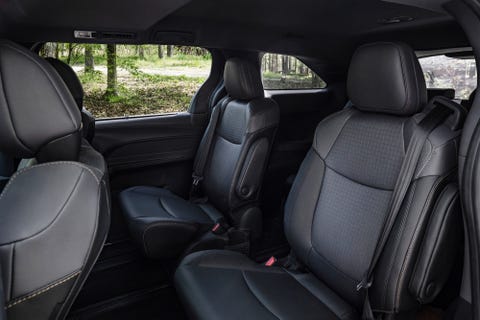 Anyone sitting in either the front seats or the capacious long-slide second row will find themselves with more USB ports than they know what to do with; there are seven to be found across the interior. Of course, when you're car camping, sometimes a USB simply won't cut it; that's why the Sienna Woodland also packs a 1,500-watt 110-volt power outlet.
A few little exterior trim tweaks wrap up the package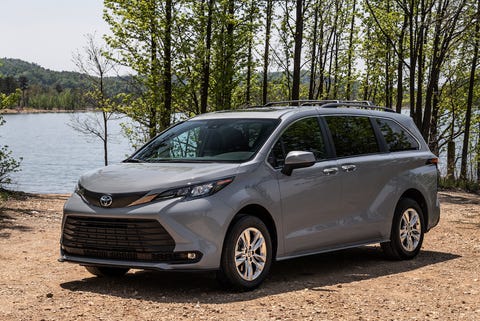 Rounding things out, the Sienna Woodland Special Edition boasts special dark chrome trim and a choice of two exterior colors: Midnight Black Metallic and the gray color seen here, which is exclusive to the model. (Somewhat ironically for the Woodland edition, it's called...Cement.)
Pricing hasn't been announced just yet —it hits dealerships this fall — but we'd expect it to slide in below the $50,000 mark. We do know, however, that whatever it costs, $250 will go to the National Environmental Education Foundation.
The Most Important Pieces of Gear You Need for Car Camping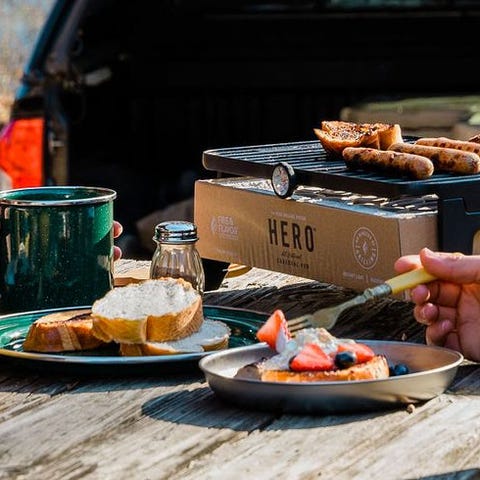 Car camping makes getting away easy as pie. These items make it even tastier.