The Jeep Wrangler 4xe Is the Best Wrangler, Whether You Care About Gas Mileage or Not
More powerful, more efficient and more fun, the 4xe is the Wrangler to buy.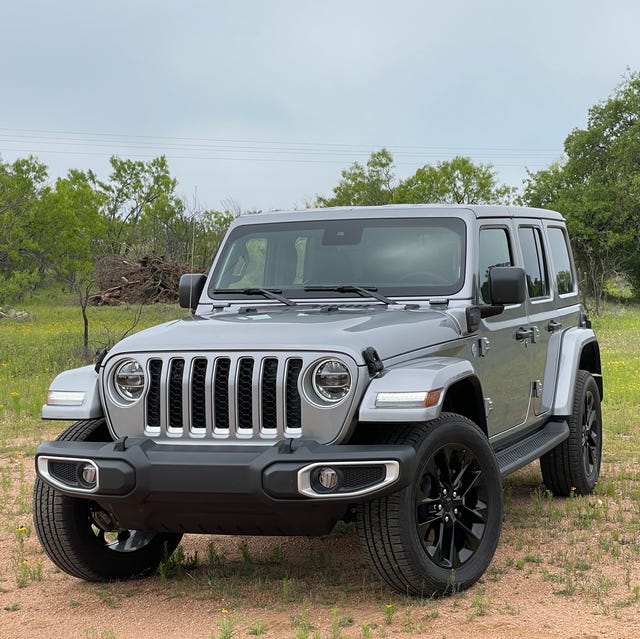 The Jeep Wrangler is many things. Off-roader. Family car. Open-air plaything. Icon. One thing it never has been, though: fuel efficient. Blocky designs, heavy bodies, all-terrain tires and short gearing may all be part of the Wrangler's package, but they aren't great for gas mileage. The fact that Jeep has traditionally outfitted recent Wranglers with anemic, ancient naturally aspirated V6s that have to work overtime in real-world driving only makes things worse.
In recent years, Jeep has tried to bolster the Wrangler's power in a few ways, adding the optional turbocharged inline-fours and turbodiesel V6s that seek to augment the SUV by offering more torque at more usable engine speeds. But 2021 sees that trend taken to the next level, with the addition of two new versions: the V8-powered Wrangler 392 and the plug-in hybrid Wrangler 4xe. Both versions deliver substantially more horsepower and torque than other Wranglers — though admittedly in very different ways.
But while the Hemi-powered 392 seems likely to capture the hearts of many an enthusiast...after a day of driving the new 4xe in and around Austin, Texas on all sorts of terrain, I can confidently say it's the PHEV that deserves most of the accolades. In fact, it's the best Jeep Wrangler ever made.
The Wrangler 4xe looks just like every other Wrangler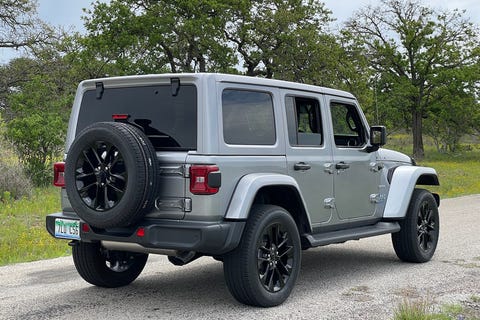 You'd be hard-pressed to tell the difference between the PHEV Wrangler and its fossil fuel-only siblings — especially if, like the silver Sahara trim version I spent most of my time gallivanting across Texas Hill Country in, it lacks the Rubicon 4xe's blue-trimmed decals on the hood and the blue tow hooks found on both Rubicon and fancy-pants High Altitude versions.
Every 4xe boasts a sprinkling of blue trim; the "Trail Rated" badge and "Wrangler Unlimited" logo on the side are painted cerulean, as is the little "4xe" on the tailgate. Otherwise, the only clue to this Wrangler's alternative powertrain is the subtle black door for the charging port found at the base of the A-pillar. This design has been evolutionary-not-revolutionary for 80 years, after all; why mess with success?
But for the first time, you can drive a Jeep without burning gas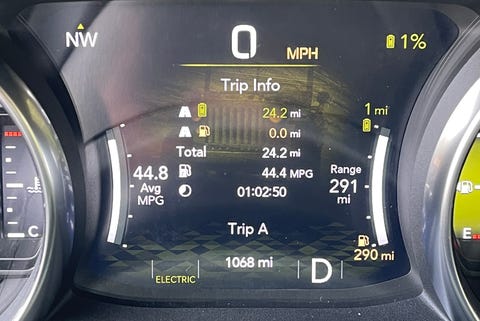 With the 17-kWh battery fully charged up, the EPA claims the Wrangler 4xe can travel 21 miles on electricity alone before the gas engine needs to rear its head. In practice, though, you can expect to do better. I managed to squeeze out nearly 25 miles on battery power alone.
Granted, that was under pretty ideal conditions: ambient temperatures in the 50s, in largely urban stop-and-go traffic, with speeds rarely breaking 50 miles per hour. Still, those are the sort of circumstances millions of Americans deal with every day on their way to work or while running errands, so odds are good you could probably replicate that without trouble. If your commute runs 20 miles each way and there's a charger at your work, you might only wind up using gasoline on the weekends.
Three drive modes, one for every occasion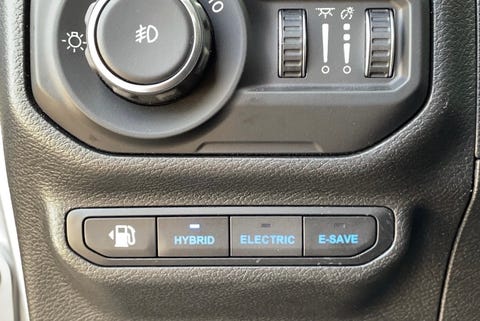 Jeep's version of plug-in hybrid drive modes is delightfully simple, consisting of just four buttons. The main trio, seen here, let you choose how you want to use your electrons: "Hybrid," the default mode, blends electricity and gasoline power (with a bias towards the former until the battery runs dry); "Electric," as you'd expect, keeps the Jeep in battery-only driving until it runs out of charge (and it can stay in EV mode even at highway speed); "E-Save" keeps the 4xe from using any more battery power, enabling it to hang onto that for later.
The fourth button, somewhat strangely located between "traction control off" and "Mute" near the stereo controls, is the regenerative braking control. Dubbed "Max Regen" (and not to be confused with Max Power), it switches on one-pedal driving — or rather, comes close to it, as while it will slow the Jeep when you lift off the throttle, it won't bring it to a complete stop.
I generally found the full-regen mode helpful in town, but on the open road, the Wrangler felt happier with it off, where you could lift off the right pedal and let the car's ample mass yank it down hills without fighting the motor's attempts to pump electricity back into the battery.
More importantly: the Wrangler 4xe is way more fun to drive than its siblings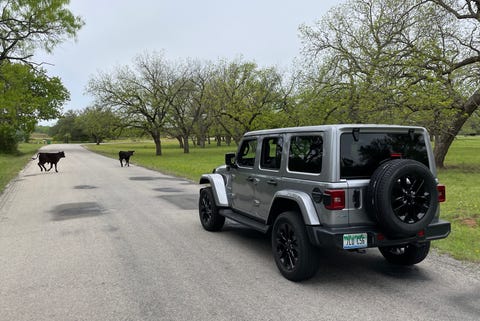 The arguably bigger advantage of the Wrangler 4xe's powertrain, though, is the total power output. Bring both the turbo four and the electric motor to bear, and the 4xe cranks out 375 horsepower and 470 lb-ft of torque. Those stats outclass the Dodge Charger R/T, as well as basically every Jeep that isn't powered by an SRT-sourced 6.4-liter Hemi. (Indeed, the torque figure actually matches the Wrangler 392 and Grand Cherokee SRT, and even outdoes the new Grand Wagoneer.)
As I learned while tooling around the hat's enough oomph to transform the staid Wrangler into a dynamite dirt road plaything. Leave it in two-wheel-drive and turn off the traction control, and it's delightfully easy to coax juicy drifts out of this rig, as the electric motor's instantaneous torque makes moderating your slides easy as pie. If the Duke boys decided to make a comeback in 2021 and decided to shop outside the Dodge showroom, the 4xe would honestly make one hell of a solid choice.
More importantly for most people, though, that power means the 4xe is the first Wrangler in ages (perhaps ever) to actually feel at home on the highway. Where other versions need to hang near redline in moaning displeasure for even the most tepid of high-speed passing maneuvers or merges, the PHEV just goes. It's not so much that it brings pleasure over driving other Wranglers on the street so much as it brings relief from a source of stress you didn't even know was burdening you.
Once the battery runs dry, though, mileage is mediocre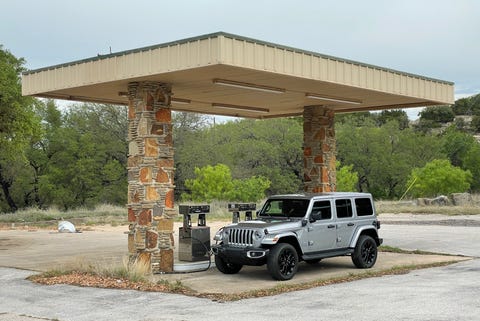 After the battery gives up its juice, however, you're left with a 4-door Wrangler with the 2.0-liter turbocharged inline-four and a couple hundred extra pounds of battery and electric motor to lug around — which means the fuel economy winds up falling down to regular Wrangler levels.
Indeed, the EPA rates the 4xe at 20 mpg combined under gas operation — landing it closer to the V6's 19–21 mpg combined than the non-hybridized turbo four's 22-23. (And anyone who's planning a ton of cross-country road trips in their Wrangler would probably still be better-suited with the diesel, which gets a claimed 29 mpg highway in non-Rubicon form.)
My driving showed the EPA's numbers seem reasonably on-point; after 209 miles of driving in town, in traffic, on the highway and on dirt roads, my overall economy came in at 21.1 miles per gallon while coming back with a bit more than a quarter-tank of gas. Take away the 24 electric miles I drove using the charged battery, and that's roughly 12 gallons of gas to travel 185 miles — or close to 15 mpg, which seems likely closer to what you can expect in mixed-but-highway-centric driving if you never charge the battery.

Charging doesn't take long, luckily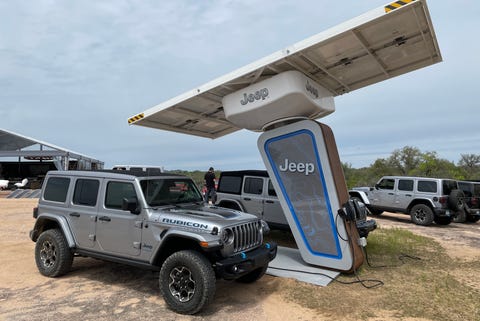 The flipside of a small battery, of course, is that it doesn't take long to charge. Plug it into a Level 2 charger, and the Wrangler 4xe's lithium-ion cells can go from zero to hero in two and a half hours; leave it connected to a conventional 120-volt wall outlet, and it can fully charge in a little more than 12 hours.
And while Level 2 chargers are far more ubiquitous than their Level 3 fast-charging relatives, Jeep is making them even easier for Wrangler 4xe to find with their own network of chargers at off-road trail heads. Called, not surprisingly, the Jeep 4xe Charging Network, these self-sustaining solar-powered L2 plugs have already been set up by the Rubicon Trail and Big Bear in California and in Moab, Utah, with more planned to appear near other off-road meccas this year.
They're free for Jeep customers to use, and for the time being, at least, exclusive to them — so no worrying about F-150 PHEV and Rivian drivers blocking them up when you roll up to the trailhead. Indeed, even with Jeep rolling out more 4xe models that can tackle the trails — a Grand Cherokee 4xe came out this year, and a Wagoneer / Grand Wagoneer PHEV seems basically inevitable — finding one that's occupied seems likely to be more rare than the opposite.
It's still every bit a Wrangler off-road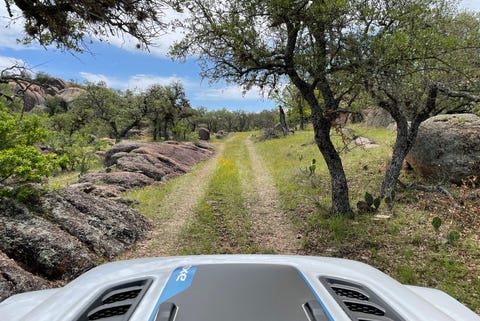 There probably would have been riots at Jeep Jamborees if the brand had compromised the Wrangler's off-road capabilities when they made it a PHEV, so Jeep made absolutely sure that the 4xe can do every bit as much as the other four-door members of the Wrangler stable.
After strapping each of us journalists into individual Wrangler Rubicons that had been topped up using the solar panels of the charger seen above and making sure we were locked into low range with our sway bars disconnected, Jeep's off-road guides immediately led us into a creekbed nearly three feet deep to prove that, no, we wouldn't short the vehicles out (or electrocute ourselves).
Electric off-roading is truly a revelation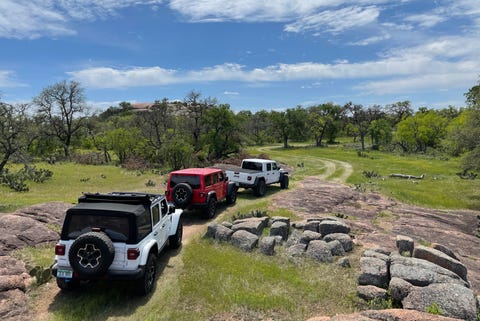 As Jeep's own employees were keen to point out to us during the drive, off-roading is actually a fairly low-power activity by automotive standards; vehicles are generally traveling pretty slowly, and so long as the wheels have enough torque to break the inertia, progress is possible. (Hence why iconic Land Rovers managed to succeed with utterly wimpy powerplants).
So while that the Wrangler 4xe's battery may not be much by the standards of BEVs — it's only one-third the size of the smallest powerpack found in a Tesla — it's enough for around three to four hours of off-roading fun. "It'll do the entire Rubicon Trail with the gas motor off," Jeep's Dan Frye told journalists.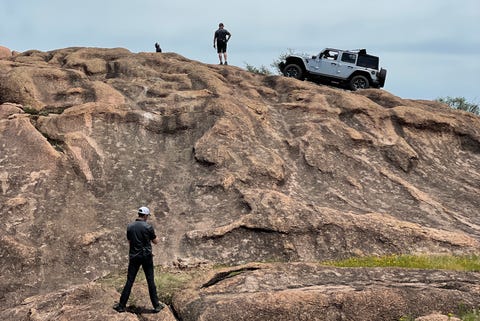 What the specs don't reveal, though, is just how delightful it is to go off-roading in an open-top Jeep without the grumble or moan of an internal-combustion engine. ICE powerplants are treats for the senses in many cases, but slowly crawling over rocks and dirt in an open-air car that lets all that idling noise and exhaust flow in ain't one of them.
With the Rubicons locked into EV-only mode, however, the world around you comes even closer than ever. Crawling through 30 inches water feels more like crossing a river on foot, Vietnam War-style, than driving through it, while the regular pauses that come with rock-climbing and other technical forms of off-roading become a chance to savor the sounds and scents of nature.
Driving a Wrangler off-road in EV mode is like mountain bike riding without the burning quads, horseback riding without the aching tailbone. Sure, other EV off-roaders are sure to offer a similar experience — but none of the ones coming soon will also combine that with the ability to remove not just the roof, but even the doors and the windows.
4WD comes standard, of course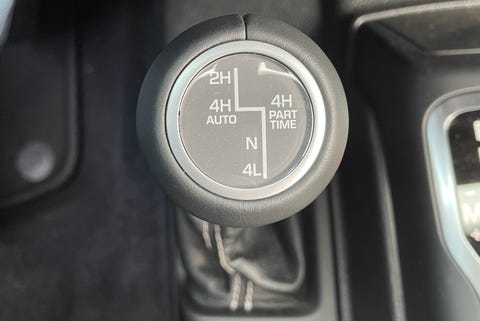 As you'd expect of a Wrangler, every 4xe packs four-wheel-drive, which is still delightfully controlled using a secondary shift lever next to the driver's right knee. The lower right-hand side of the squiggly line is best reserved for off-road use; the upper lefthand, in turn, is designed for on-road driving.
Jeep implicitly and explicitly encouraged us to drive in 4H Auto, as they claimed it produces the best acceleration — all that power, after all, is enough to overwhelm the rear pair of all-season tires on the Sahara, let alone the Rubicon. That said, mileage is a dash better in 2H, so I left it there most of the time. Besides, while shifting into 4H Auto when the ground gets slipper is one more thing to remember, it does give you a chance to use the lever's ever-so-satisfying action.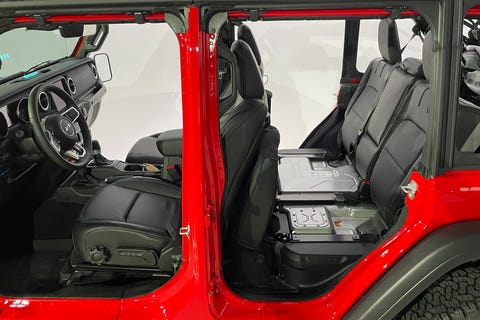 If you've been in a JL-generation Wrangler, then you know what the interior of the 4xe looks like. Apart from those drive mode buttons, the biggest change is largely invisible unless you go hunting for it: the lithium-ion battery pack stowed beneath the rear seat. (That placement also means we probably shouldn't expect a two-door Wrangler 4xe anytime soon.)
Apart from the added mass that goes basically unnoticed, the sole sacrifice required for the battery is a bit less room in the cargo compartment, as the lip of the power pack spills into it a couple inches. It would be all but unnoticeable...except for the fact that the space is now juuust small enough to make stowing the two front panels of the Freedom Top a bit tricky if you want them to lay flat.
The powertrain is a complex way of making big power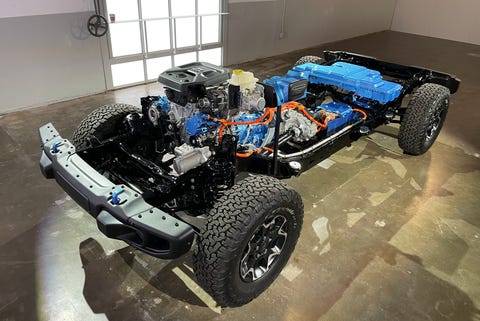 Most plug-in hybrids that crank out a solid amount of power and drive all four wheels do so by using electric motors to run one axle and the gas engine (or the gas motor and a small electric one) to send power to the other. A Wrangler, however, needs to be able to be in four-wheel-drive all the time no matter how it's making its power — so Jeep placed the 4xe's electric motor upstream of the eight-speed automatic gearbox, between it and the 2.0-liter turbo four. Everything from the ZF transmission on down is, effectively, pretty much the same as in other Wranglers.
Paving the way for an unpaved electric future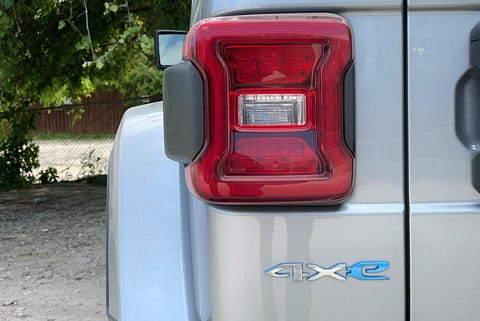 That is —perhaps not coincidentally — the same basic idea Jeep used for the Wrangler Magneto concept, which ditches gasoline power altogether but keeps running the electric motor's output through a conventional drivetrain, including a manual gearbox.
Jeep, like just about all other carmakers, will likely have to switch over to electric power — but if the 4xe is, as Jeep vice-president Jim Morrison put it, "the most capable Wrangler we've done yet," well...just imagine what the future holds.
For now, though, the Wrangler 4xe's combination of hybrid range and power and EV commuting and off-roading capability make it the pick of the lineup — especially since its trim levels only cost roughly $9,000 more than their V6 equivalents.
The added abilities alone would be worth that money, but play your cards right, and you could bring that outlay down substantially. After all, the Wrangler 4xe is eligible for the $7,500 federal tax break, as well as many a state tax credit as well. Plan your withholding properly, and a 4xe could wind up being cheaper than than a conventionally powered 4-door Wrangler Sahara, Rubicon or High Altitude — and once it's home, plugging in regularly means you'll save hundreds or even thousands more dollars per year on gasoline.
More power, more enjoyable off-roading, more money in your wallet. Sorry, folks, it's not up for argument: the Wrangler 4xe is a win/win/win.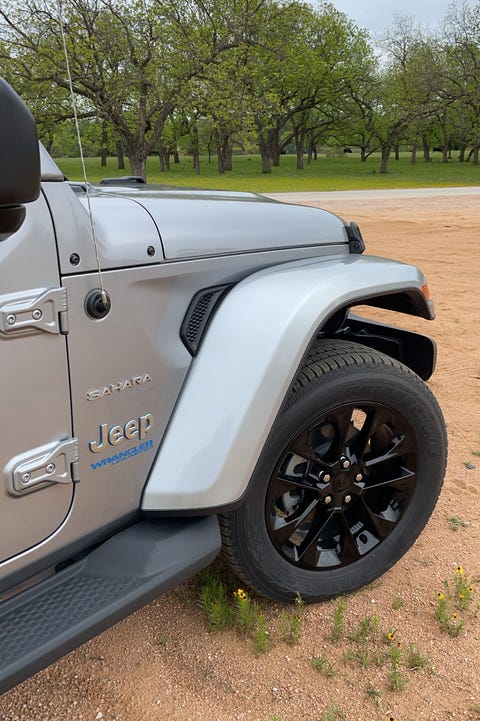 Base Price: $49,490
Powertrain: 2.0-liter turbocharged inline-four + 17 kWh battery / electric motor; eight-speed automatic; four-wheel-drive
Horsepower: 375
Torque: 470 lb-ft
EPA Fuel Economy: 49 mpg-e under electric power, 20 mpg combined under gas power
Seats: 5
These Are the 16 Best Cars to Buy in 2021
Kelley Blue Book has released their best cars to buy awards for 2021. The results may surprise you.