The Lincoln Nautilus Is Comfortable and Competent, But Not Cheap
Lincoln's two-row midsize crossover combines good looks and a comfortable ride...but the options can add up fast.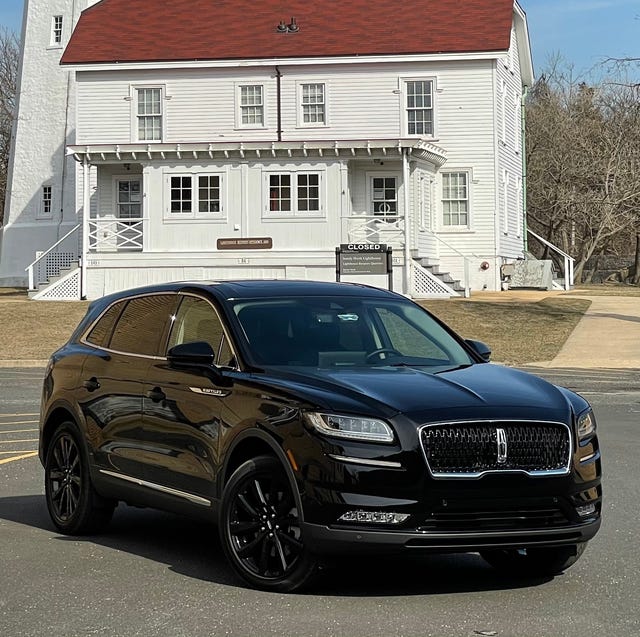 You could be forgiven for being a tad confused as to where the Nautilus falls into the Lincoln lineup. The brand is one of the few luxury carmakers to have resisted the temptation to adopt BMW-style alphanumeric monikers, instead sticking with names that bring to mind the romance of air and sea travel: Aviator, Navigator, Nautilus, Corsair.
Of course, the problem with this is, there's no way of knowing how those models fall in relation to one another. Adding to the confusion is that Lincoln has done an excellent job spreading its design language across its quartet of existing models, making many of them look somewhat alike; the smaller Corsair and Nautilus aren't hard to confuse, and from certain angles, the larger Aviator and Navigator could be mixed up for one another.
So to put this ride in context: the Nautilus is the second rung in the Lincoln ladder, a midsized crossover that's smaller than the (also midsized) Aviator but larger than the Corsair. It's based on the Ford Edge, although Lincoln would probably rather you not talk about that.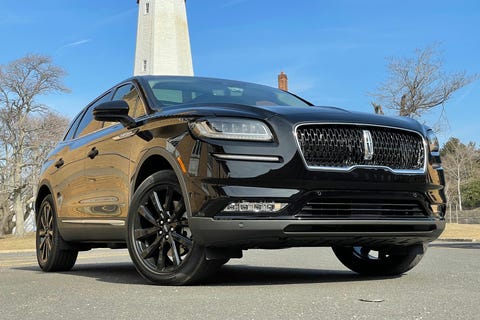 Call it "reheated and refreshed." For the 2021 model year, Lincoln spiffed up its smaller midsize SUV with a mild external makeover (it picked up a larger one back in 2018, when it went from being the MKX to the Nautilus) and a more involved interior revision, featuring new materials, new colors and a revised layout that boasts a 13.2-inch touchscreen infotainment system.
The bones, however, date back to 2015, when the then-MKX and its second-gen Ford Edge twin went on sale as the crossover equivalents of the Ford Fusion / Lincoln MKZ sedans. As such, its bones are a tad aged by the standards of the fiercely competitive luxury crossover set.
What makes the Lincoln Nautilus special?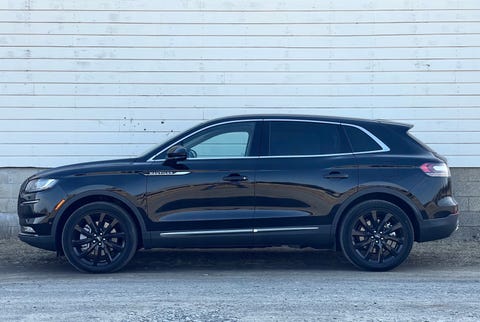 It's a great-looking SUV, for one thing. Lincoln, to its credit, has found its own lane in terms of design, crafting SUVs (yeah, all they sell now is SUVs) that look elegant and rakish without trying to disguise their bulk.
For another, it rips — at least, more than you'd expect of a Lincoln-badged family crossover, when you opt for the larger 2.7-liter twin-turbo V6. 335 horsepower is impressive, but it's the 380 lb-ft of torque that give it a serious kick in everyday driving.
How does the Nautilus drive?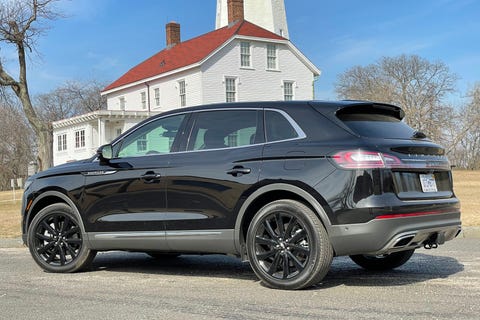 It's smooth and peppy. The aforementioned power of the optional engine means it's potent enough to manifest some torque steer until the all-wheel-drive system catches up with it; it's a mild tug, however, and not nearly a big enough issue to take away from the surprising thrill of mashing the gas and blasting past unsuspecting sports coupes. The eight-speed automatic (which, fun fact, is actually a modified version of GM's old nine-speed slushbox) isn't quite as quick-acting as more modern automatics, but odds are good most people won't notice the slight difference in shift speed or shift harshness versus other luxury rides.
Corner-carving isn't exactly this SUV's speciality; Lincoln, to its credit, has decided not to bother chasing Cadillac and Lexus into the sports-luxury arena, and instead concentrates on delivering a smooth, cosseting ride. Mission accomplished: the Nautilus soaks up bumps with an aplomb found on very few new vehicles. A stretch of New Jersey tarmac that usually rattles my teeth went by all but unnoticed; indeed, it was smooth enough that I genuinely raised my eyebrows in disbelief.
What's the Lincoln Nautilus's interior like?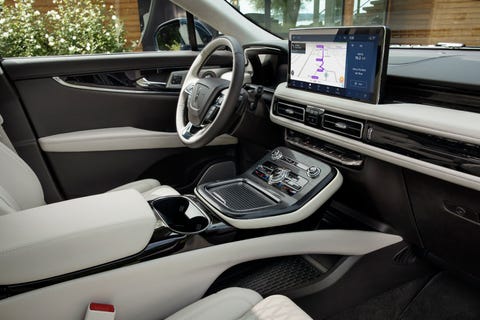 Elegant, like most modern Lincolns. It may not quite be the equal of the Aviator or Navigator, but the mid-level Reserve trim's interior is a pleasant interplay of lines, textures and materials. Muting the effect somewhat was the fact that my test car came with a black-on-black interior, as opposed to one of the lighter choices that intermix tan, brown or gray leather with black trim. (The fancy Flight Blue interior seen here comes on the top-tier Black Label trim.)
The front seats are quite comfortable places to spend the day, with ample support and means of adjustment. (Lincoln calls them "Bridge of Weir Deepsoft™ leather-trimmed seats," which, as far as I can tell, means they're made with semi-aniline, slow-dried, ethically sourced leather from Scottish cows.) I didn't have a chance to sit in back, but from the looks of it, anyone of average size or smaller will probably find it adequate, while tall folks like myself might wind up wishing the driver had bought an Expedition instead.
How much does the Nautilus cost?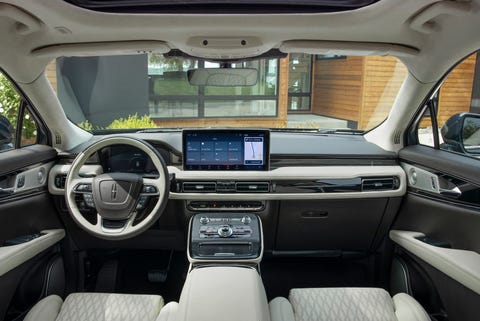 Your basic Lincoln Nautilus with front-wheel-drive and a turbocharged inline-four starts at $43,580; opt for AWD and the Standard I package that brings leather upholstery, which I'd expect most people would, and you're looking at just under $49K.
My tester, however, came loaded up with options to the point of a roughly $67,000 price tag. For that sort of money, you could take home a nicely-equipped six-cylinder BMW X5 or Mercedes-Benz GLE 450 — SUVs with a dash more room and nameplates that are way more likely to impress the neighbors, should you be into that sort of thing.
Or, if you don't need a luxury nameplate but want maximum capability and a very nice interior, a four-wheel-drive Ford F-150 Platinum or Ram 1500 Limited can be yours for similar money. Or, if you want something that's even more fun but still packs crossover utility, a BMW X3 M is only a couple grand more. Or, if you're really wedded to a Lincoln, the newer, more powerful Aviator Reserve can be had for similar money — and the plug-in hybrid Aviator Grand Touring is just a tad more than that.
Point is, it's a competitive price point, and the Nautilus feels a tad outmatched in that rarefied air above $65,000. Go easier on the options to bring the price down, however (and maybe find a good lease deal on it), and you'll have a surprisingly satisfying crossover for everyday life.
2021 Lincoln Nautilus Reserve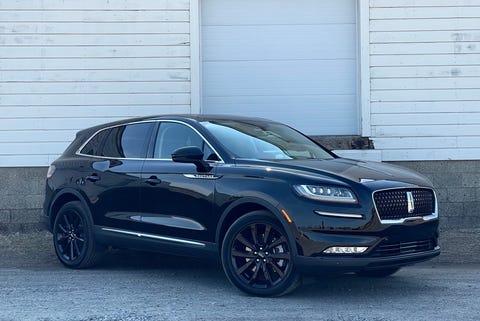 Base Price: $52,945
Powertrain: 2.0-liter turbocharged inline-four, eight-speed automatic, front-wheel-drive (base price versions); 2.7-liter twin-turbo V6, eight-speed automatic, all-wheel-drive (my test car)
Horsepower: 250 / 335
Torque: 280 lb-ft / 380 lb-ft
EPA Fuel Economy (mpg):
Seats: 5
These Are the 16 Best Cars to Buy in 2021
Kelley Blue Book has released their best cars to buy awards for 2021. The results may surprise you.
This content is created and maintained by a third party, and imported onto this page to help users provide their email addresses. You may be able to find more information about this and similar content at piano.io