5 Ways the Lincoln Aviator Grand Touring Black Label Is Better Than Air Travel
In fanciest form, Lincoln's plug-in hybrid SUV is a fine substitute for cashing in those frequent flier miles.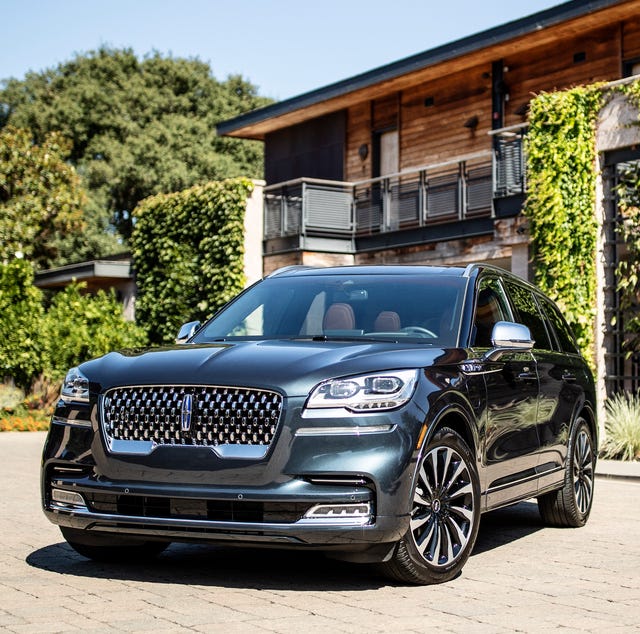 It seemed like a great idea at the time. Back in late summer of 2020, my girlfriend and I were making our plans to attend a Halloween wedding in Chicago, and we decided our best bet would be to drive. Neither of us had set foot on a plane since the novel coronavirus had begun its dark reign over the world, and while the science suggested we'd be fine so long as everyone obeyed the mask rules, neither of us were particularly keen on the idea of climbing aboard.
We were heading to a wedding, so we'd need something upscale; it'd be a 12-hour drive each way, so we'd want something comfortable; and since we were planning on driving about 1,600 miles, we wanted something that was ideally at least somewhat fuel-efficient. Which meant the Lincoln Aviator Grand Touring Black Label —the fanciest version of Lincoln's midsize plug-in hybrid SUV, channeling the best of the excellent Navigator in the same rear-wheel-drive-based, vaguely Mustang-related platform used by the new Explorer, seemed like an ideal choice.

As you might have guessed, things didn't go quite according to plan. Spiking COVID rates in the Midwest led us to cancel the trip at the last moment. Instead of flying a third across the country in our roadgoing alternative to an Airbus, we wound up piloting the Aviator on routine missions in and around New York City — buying groceries, seeing sights, etc. Still, that was time enough to learn a few things about it...and make me wish I'd had the chance to log some serious miles.
The Aviator Grand Touring gets solid gas mileage (even if you can't plug in)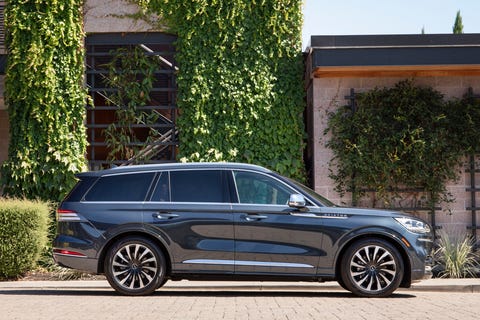 Like most plug-in hybrids, the Grand Touring does it best work with a full charge pulled out of a wall and into its battery. Topped up with electrons, it can travel around 20 miles without touching the gasoline tank, averaging the electric equivalent of 56 miles per gallon.
Unfortunately, here in New York, chargers (especially non-Tesla ones) are few and far between. More irritatingly, the Grand Touring can't drink from fast-charging spigots; it tops out at Level 2 charging, which means charging up the 13.6-kWh battery would take hours. As a result, I wasn't able to add any power to the Lincoln during my days with it, other than what little the gas engine slid back into the battery as it was doing its business.
Yet even after the initial charge was exhausted, the Grand Touring's fuel economy was better than I expected. Here, our decision to skip the long road trip likely paid off; instead of 1,600 miles of open road driving, the Aviator dealt with a 100-plus of mixed urban and highway driving, something much more suited to a hybrid's skill set. I clocked roughly 25 miles per gallon overall, mostly while leaving the car in the default "Normal" drive mode. (There's also "Conserve," "Excite," Slippery," "Deep Conditions," as well as "Pure EV" and "Preserve EV," in case you're wondering.)
In Normal, the gas engine spends a surprising amount of time offline, even at highway speeds. Under a light right foot, the Grand Touring can reach roughly 80 mph on the EV motor alone; even on the bustling New Jersey Turnpike, the V6 spent a good amount of time taking catnaps. And while having an internal combustion engine firing up once or twice a minute might sound annoying, the Lincoln's solid build and sound insulation meant little clattering or rattling made its way inside.
A modern Boeing 737, for the record, averages 84.8 miles per gallon per passenger — if it's filled. Fit four adults into the Aviator, and you'll likely at least match that...but you'll be much more comfortable during the ride.
The Aviator packs a punch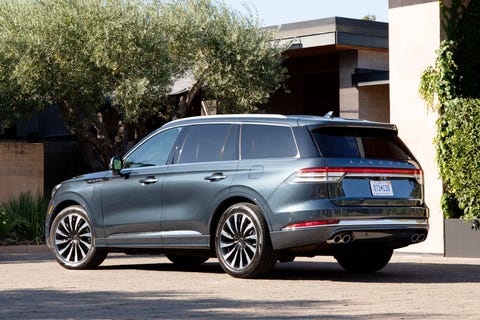 The Aviator Grand Touring's battery pack, electric motors and other hybrid accoutrements may have added an extra 650 pounds versus the pure-internal combustion version, but luckily, it makes up for that with added power. Between the 3.0-liter twin-turbo V6 and the electric motor, it musters up a maximum of 494 horses and 630 lb-ft — enough to punch this beast from 0-60 miles per hour in five seconds, according to Car and Driver. In the real world, the electric motor and twin-turbo engine combine to create a steady stream of building power; combine that with the Aviator's tendency to pitch its nose upwards under power, and it does indeed give it a feeling a little reminiscent of take-off.
The added weight doesn't do much for the Aviator's handling prowess, but let's face it, nobody buys a Lincoln because they want to see how tight a line they can take on the on-ramps. It did, however, likely contribute to the smooth, steady ride, which felt practically Bentley-esque.
The Aviator makes quite a statement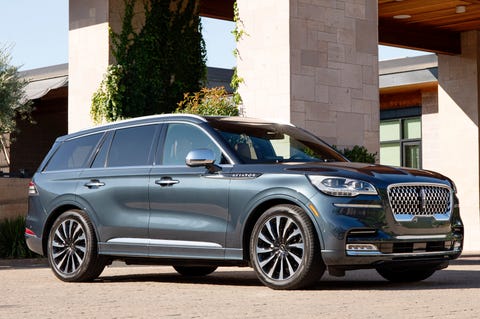 The Aviator's design may not be quite as imposing as the Navigator, which uses its bulk to full visual impact, but it's still impressive. In traditional Lincoln terms, think of it as the Continental to the Navigator's Town Car: a little sportier, a little sleeker, but still a big, bold machine.
Grab the door handle and you instantly get the sense of how serious Lincoln is. The handle itself is fixed; your fingers click a button inside it to unlatch the door, which makes the heavy door feel even more solid as it swings open on well-greased hinges, feeling nearly as substantive as the portal of a G-Class. It's a small detail, but it shows that Lincoln went to the trouble of sweating the small stuff.
The Gear You Absolutely Need for Car Camping
Car camping makes getting away easy as pie. These items will make it even tastier.
The Black Label interior is truly spectacular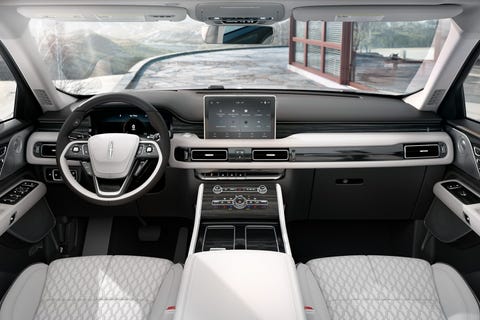 It's the interior of the Aviator Black Label that really sells it as an ideal alternative to hopping aboard a United flight from LaGuardia to O'Hare, however. If you haven't been in a top-shelf Lincoln before, it's a far cry from the guts of those floaty boats your grandparents drove. The leather is rich and delightful, and soft-touch materials abound; your fingers are unlikely to be offended the way they might be in, say, a Ford.
The design is, overall, well-designed and elegant, with the flowing horizontal theme only interrupted by the awkward placement of the infotainment screen. The push-button shifter (a Lincoln hallmark for years now) isn't as convenient as a good old-fashioned lever, but it certainly does free up space in the center console.
If there's a big ergonomic faux pas in the interior, it's the placement of the button that activates the voice command system, be it the car's own or the one that's part of either Apple CarPlay or Android Auto. On an airplane, sticking the button that activates the pilot's mic atop the yoke makes sense; here, though, it lands in a vulnerable spot that your thumb is bound to make contact with accidentally, interrupting your music or navigation.
Seriously first-class accomodations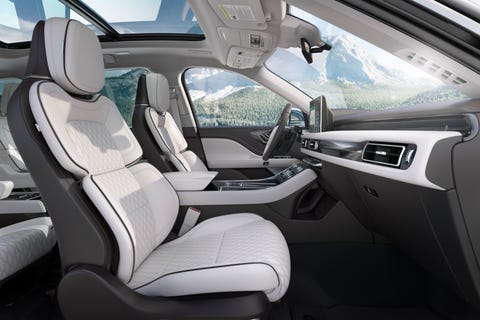 Special mention deserves to be parsed out to the "Perfect Position" seats up front, which do a damn fine job living up to their name. Credit their 30-way movement, which enables you to fiddle with the position of even such pieces as the height and length of the individual thigh bolsters and the cradling ability of the shoulder rests. They may not lie flat like the ones in international business class (or the new F-150), but otherwise, they're damn fine places to pass the miles.
Aviator uses a slightly older version of the Sync infotainment system than the newest Fords like the Mustang Mach-E, which looks a bit dated by comparison; still, the aforementioned 10.1-inch touchscreen works fine, especially if you're primarily using it for Apple CarPlay or Android Auto the way most of us likely do. And it certainly doesn't hurt that the 28-speaker stereo it controls can distract you from any minor foibles that poke at you.
While the Black Label trim admittedly commands a steep price, it does come with the benefit of coming fully loaded in a way few luxury cars do these days. Unless you really feel like forking over $1,800 for second-row entertainment screens (which you don't need), all you have to do is choose your color (or in the case of the interior, your "theme") and whether you want a second-row bench or captain's chairs.
Or, think about it another way: drive this instead of flying, say, 100 times over the course of four or five years, and it's practically paid for itself, right?
2020 Lincoln Aviator Grand Touring Black Label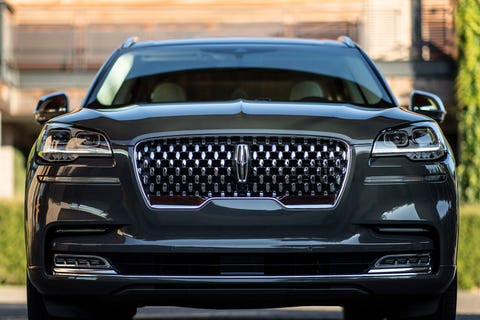 Price as Tested: $91,825
Powertrain: 3.0-liter twin-turbo V6 + 13.6-kWh battery and 75-kW electric motor; 10-speed automatic; all-wheel-drive
Horsepower: 494
Torque: 630 lb-ft
EPA Fuel Economy: 56 mpg-e (battery charged) / 23 mpg (battery drained)
Seats: Four very well, five nicely, seven in a pinch
The 12 Best Travel Mugs Money Can Buy
When you're on the go or off on a big adventure, a top-notch coffee keeper is critical — and these picks are just perfect.