The 2021 Mercedes-AMG E63 S Wagon Is Still Just About the Perfect Car
The classic merger of power and practicality keeps on improving.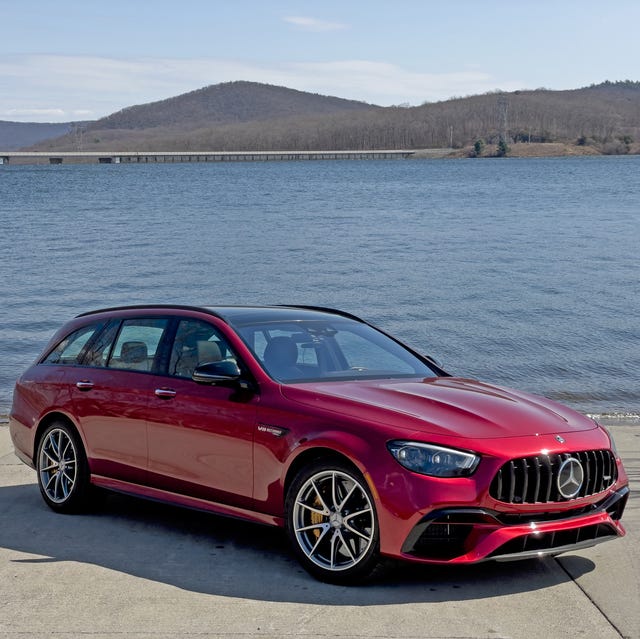 For the longest time — or at least what felt like the longest time to Americans obsessed with fast station wagons — the Mercedes-Benz E-Class AMG was the only game in town when it came to buying a new sports wagon in the United States. First arriving here roughly a decade and a half ago as the E55, it quickly became an object of lust among enthusiasts who loved its combination of supercar-baiting speed and family-friendly practicality (and, of course, station wagon anonymity).
These days, though, we're living in an era with a comparative plethora of two-box super-speeders. Audi has finally brought the lust-worthy RS 6 Avant to our shores; Porsche, meanwhile, now offers an entire range of powerful Panamera Sport Turismo models with the punch to play in this sandbox: the 473-hp GTS, the 552-hp 4S E-Hybrid, the 620-hp Turbo S and the the 690-hp Turbo S E-Hybrid. (And let's not forget that the Taycan now comes in a station wagon version, too.) There's also the veritable fleet of super-fast SUVs that are practically kissing cousins to fast wagons — and we haven't given up hope that BMW might bring the M3 Touring Stateside at some point, too.
So now that it's no longer the default choice in station wagons packing absurd performance, we took AMG's draggin' wagon — now formally known as the 2021 Mercedes-AMG E63 S wagon — out for a spin to see how it holds up there days.
Spoiler alert: it's still stellar.
Is the Mercedes-AMG E63 S Wagon new?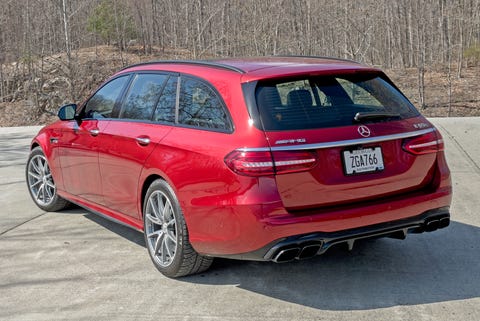 What's the E63 S wagon like to drive?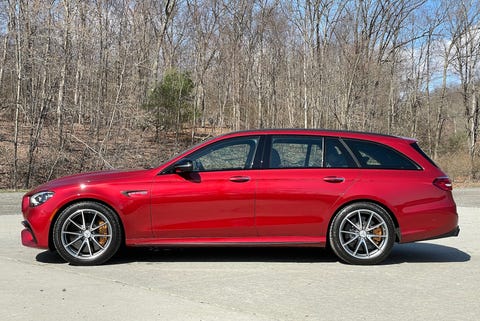 As my autocorrect would put it, Deeeeee-lightbulb. AMGs used to be Bavarian muscle cars — straight-line rockets that fell behind BMW M3s and M5s in the turns — but these days, they're as good at going left and right as they are at picking up speed in a straight line. And damn, does it pick up speed quick; between the mighty twin-turbo V8's 603 horses and 627 lb-ft, the nine-speed automatic's ability to keep the engine in the heart of the power band and the all-wheel-drive, limited-slip diff and traction/stability control's ability to make the most of all that oomph, there's little that can keep up with the likes of this family wagon — at least, in the real world, where speeds rarely climb high enough for the wagon's added mass and less-slippery shape to truly stymie it against sports cars.
Still, the first word in the car's name is Mercedes, so the E63 is also happy to cruise along comfortably and gently when you don't feel like embarrassing 911 Carrera S drivers. The ride never quite goes full-on luxo-barge cushy — those tires are proud of their thin sidewalls, and the suspension is clearly tuned first and foremost for sporty purposes — but so long as the pavement is on the good side of post-apocalyptic, the ride is firm but pleasant.
Oh, and did I mention you can turn off the safety systems, shunt all the power to the rear wheels alone, and kick this AMG into Drift Mode? Seriously. Mercedes call it Drift Mode. The only better name for it would be "Teenage Dream Come True Mode."
What makes this Mercedes special?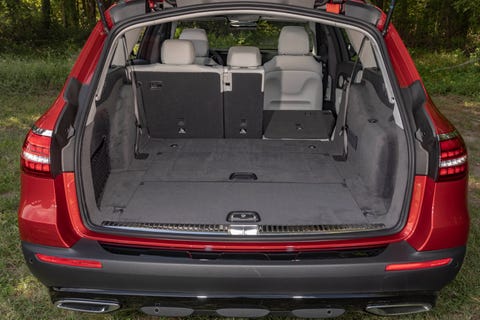 The combination of AMG performance and that once-dorky station wagon body — or, more specifically, the space it provides. (The E450 All-Terrain is pictured here, but the cargo bay is effectively the same.)
Even with all five seats up and available for human occupation, there's still room for 35 cubic feet of gear — and most of that can be used without impugning on the aftward visibility. If you need more, fold down some or all of the second row, and you can have up to 64 cubes at hand — as well as a nearly flat load floor that you could probably sleep on in a pinch. (And if you're now picturing yourself car camping out of an E63 wagon, you're in good company.)
What's the Mercedes-AMG E63 S Wagon like inside?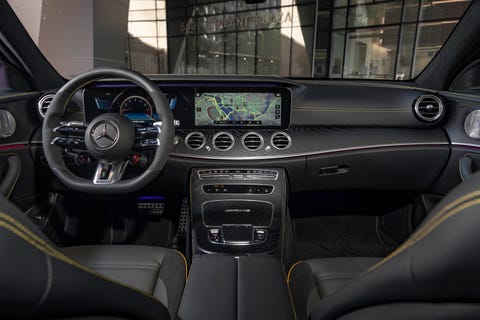 Sybaritic, elegant and comfortable. The interior is where Mercedes made most of the most notable changes to the E63 for the 2021 model year, and while the updates aren't obvious at first glance, they're notable. Out goes the old clickwheel-controlled infotainment system; in comes a new touchscreen version that also lets you swipe around with a trackpad — which, honestly, is a bit of a downgrade from the old COMAND wheel — or issue voice commands by saying "Hey Mercedes"...or, all too often, just "Mercedes." I suggest deactivating it...or at least learning to refer to the car as a "Merc."
There's also a new steering wheel — one of several new tillers offered on the 2021 E-Class. Gone are the physical buttons and satisfying metal drums; in come haptic feedback controls that lie flush and immobile with the four horizontal spokes of the wheel. They work better than similar buttons from some other brands, but still lack the satisfying tactile je ne sais quoi of old-fashioned controls.
That said, the new wheel certainly looks very cool, what with its thin parallel spokes and drive model control knobs that boast tiny screens to tell you how the car is set up without diving through the menus of the infotainment screen. Indeed, the whole interior overall remains an excellent example of the breed, replete with elegant designs and sweeping curves, supple and supportive leather seats, and a crystal-clear digital instrument panel that offers a delightful array of ways to customize it to your needs.
What might I cross-shop the E63 S wagon against?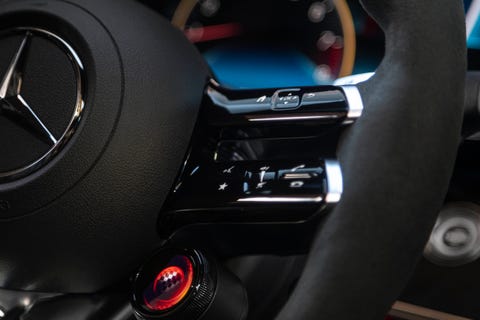 Well, as previously mentioned, the Audi RS 6 Avant is basically as close to an arch-rival as anyone could have pictured for the E63, coming in at an extremely similar size, packing very similar power and performance, and costing right around the same amount of money. (The RS 6 is $3,455 cheaper, but given the six-figure pricetags of these rigs, that works out to just a 3 percent difference.)
Porsche's Panamera Sport Turismos also offer a compelling alternative, but as is typical of the other brand from Stuttgart, they're a little pricier than their power-equivalent AMGs. The GTS version of the Porsche starts around $137,000, but only makes 473 horses to the E63's 603; the Panamera Turbo S Sport Turismo's twin-turbo V8 packs 620 hp, but it starts at $183,050.
But just remember: none of those cars have Drift Mode.
The 2021 Mercedes-AMG E63 S Wagon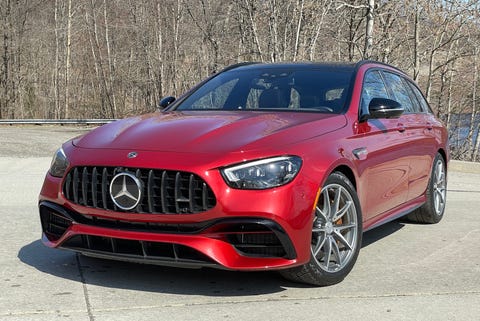 Base Price: $113,500
Powertrain: Twin-turbo 4.0-liter V8; nine-speed automatic; all-wheel-drive
Horsepower: 603 hp
Torque: 627 lb-ft
EPA Fuel Economy: 16 mpg city, 23 mpg highway
Seats: 5
The Most Important Pieces of Gear for Car Camping
Car camping makes getting away easy as pie. These items make it even tastier.