The Porsche Taycan Cross Turismo: Tomorrow's Sports Car, But Make It Outback
All the greatness of the Taycan, now with even more versatility.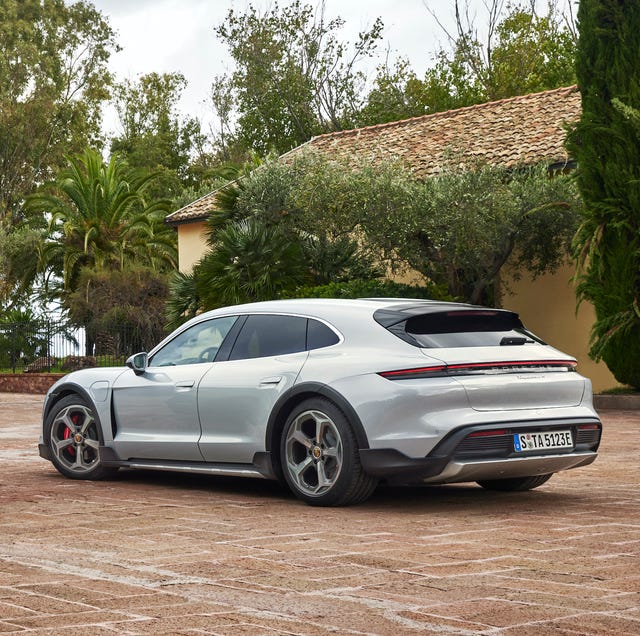 The Porsche Taycan is, above all else, a statement of intent. It's living proof (so to speak) that Porsche is serious about staying not just relevant in a new automotive world dominated by electric vehicles, but that it intends to try and reign over that world much as it has over the internal-combustion sports car (and sporty car) ecosystem.
Of course, if there's one thing Porsche well does besides making some of the most involving cars in any class, it's find new ways to crank out variants and versions of said cars. Since the car launched a bit more than a year ago, Porsche has rolled out one new trim level after another, starting from the top-dog Turbo and Turbo S and by now working down to the regular entry-level Taycan.
Now, however, Porsche is adding a second body style to the Taycan — one that seems likely to make it way more appealing for many people. Meet the Porsche Taycan Cross Turismo.
The Taycan Cross Turismo is a badass electric station wagon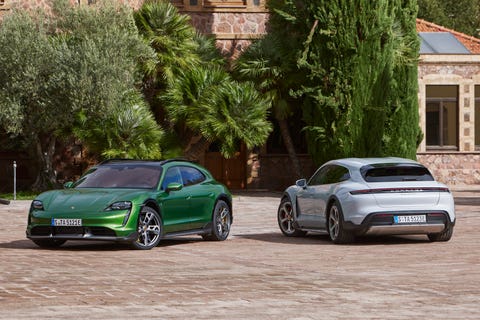 In case it weren't obvious by now, this new Porsche is a station wagon variant of the Taycan, which is ostensibly a sedan but in actuality comes closer to the idea of a four-door coupe than any other vehicle to boast the name.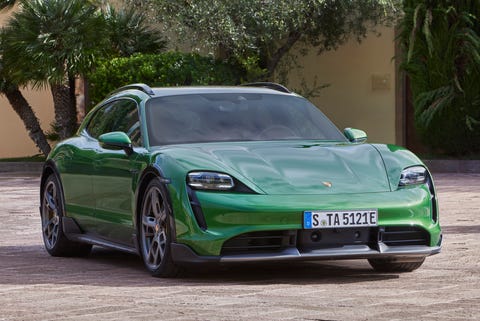 That two-box roofline pays dividends for the back-seat occupants, who net a much-appreciated 3.6 inches of additional headroom. It also is a boon to the rear cargo bay, which now measures 14.3 cubic feet in Turbo and Turbo S models (like this green one) and 15.7 cubic feet in 4 and 4S models. (Blame, we assume, the larger rear motor in Turbo models.)
Not enough? Fold the rear seats down, and the cargo volume opens up to as much as 42.8 cubic feet. And, of course, there's still the 2.9-cubic-foot frunk for spillover.
Cross Turismo is Porsche-speak for "Allroad"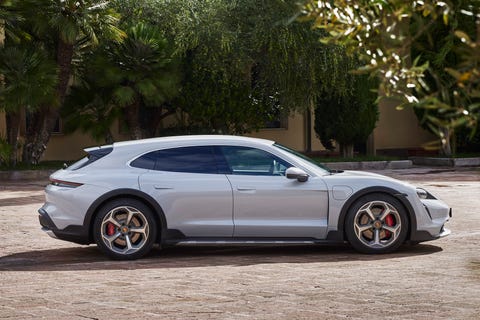 The idea of a station wagon version of an existing sedan isn't a new one to Porsche; after all, they've been doing it with the Panamera Sport Turismo for years. What makes the Taycan version a Cross Turismo instead of a Sport Turismo are a modicum of crossover-esque traits — standard all-wheel-drive, a dash of body cladding, rugged-looking design tweaks and an active air suspension among them. (Think of it as Porsche's version of the Audi Allroad trims — or perhaps as their Subaru Outback.)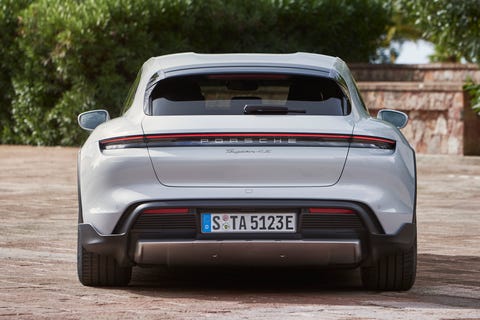 The standard Taycan Cross Turismo rides 0.78 inches higher than the regular Taycan sedans. Unless, of course...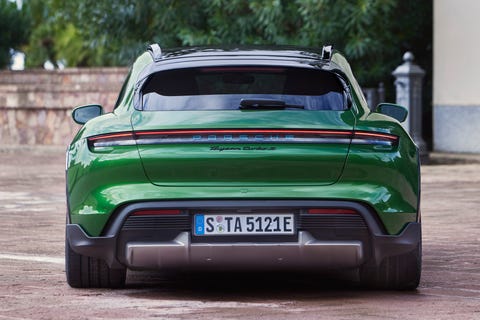 ...you opt for the the Off Road Design Package, as seen on the Taycan Cross Turismo here. Do that, and your Taycan wagon will ride 1.2 inches higher than your run-of-the-mill three-box Taycan.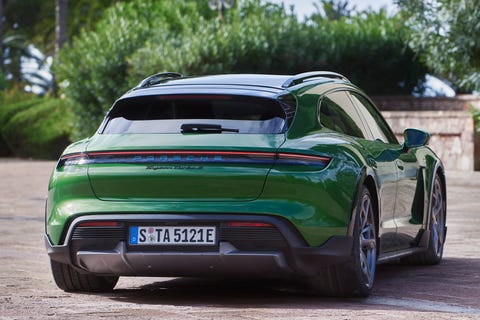 Opting for the Off Road Design Package also brings added body cladding to the party, which normally we'd consider a cardinal sin (remember the Pontiac Aztek?) but in this case actually works very well with the car's general vibe. There are also 20-inch Off-Road Design wheels for a dash of added sidewall.
The Gear You Absolutely Need for Car Camping
Car camping makes getting away easy as pie. These items will make it even tastier.
It's a soft-roader, not an off-roader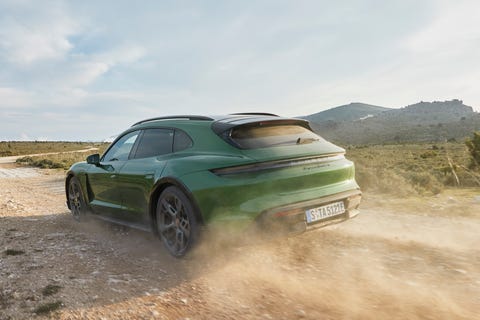 Anyone looking for a true electric off-roader would be better-suited bringing their cash to Rivian or GMC, but for those of us who just need to navigate the occasional dirt road or rough unpaved-but-smooth surface, the Taycan Cross Turismo should be more than up for the task. All Cross Turismos net an additional drive mode called "Gravel," which optimizes the car's systems for driving on loose terrain and pops the suspension up an additional 0.4 inches
It's a Porsche. Of course it's fast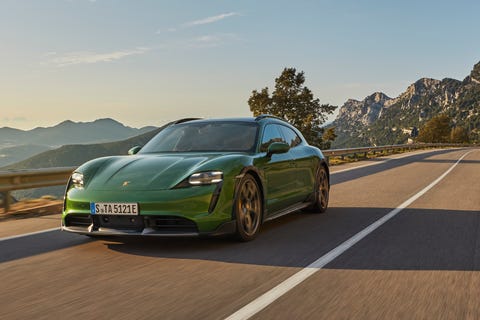 The Taycan Cross Turismo launches in four trim levels, three of which are more or less the same as the sedan in terms of powertrain. Starting from the top of the lineup, we meet the Porsche Taycan Cross Turismo Turbo S seen here in green, which maxes out at 750 horsepower and 774 lb-ft of torque in "overboost." (It makes a mere 616 horsepower in continuous operation.)
According to Porsche, the Cross Turismo Turbo S sprints from 0 to 60 mph in 2.7 seconds — one-tenth of the chronograph behind the sedan version. Of course, Porsche's acceleration figures are usually conservative; we'd guess it'll actually do that sprint in 2.5 flat.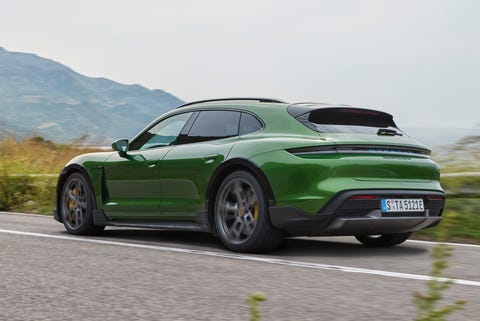 Next down the lineup is the Taycan Cross Turismo Turbo, which makes the same continuous max of 616 horsepower as its big sibling, but can launch control boost that up to 670 horses. Torque stands at 626 lb-ft, and 0-60 takes a claimed 3.1 seconds.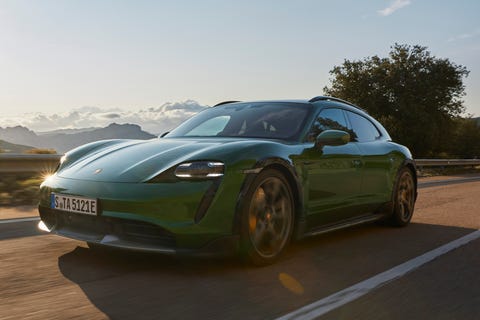 One step below that lies the Porsche Taycan Cross Turismo 4S. Like the sedan, this will likely be the sweet spot in the line, offering the best bang for the buck in the real world. Power maxes out at 562 horses in launch control mode and 482 in continuous operation, while torque stands at 479 lb-ft; Porsche says the 0-60 sprint takes 3.9 seconds, but trust us, the Taycan 4S feels quicker in the real world than the numbers lead you to believe.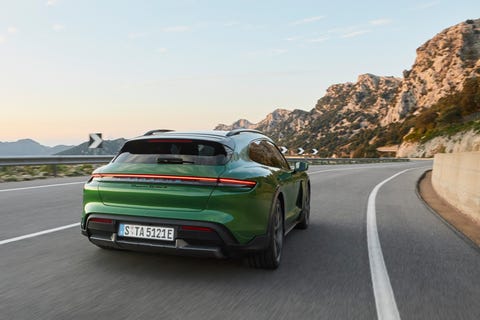 Rounding out the lineup is the Taycan Cross Turismo 4. Unlike the base model Taycan sedan, the entry-level Cross Turismo has standard all-wheel-drive, with an electric motor on each axle just like the rest of the Taycan wagon family. In this case, they combine to make 375 hp in normal operations and 469 for launch control ops, as well as 368 lb-ft of torque. 0-60 happens in a claimed 4.8 seconds.
Also, while lower-level Taycan models make you pay extra for the larger, more powerful battery, the 93.4-kWh lithium-ion pack that Porsche calls Performance Battery Plus comes standard on all Cross Turismos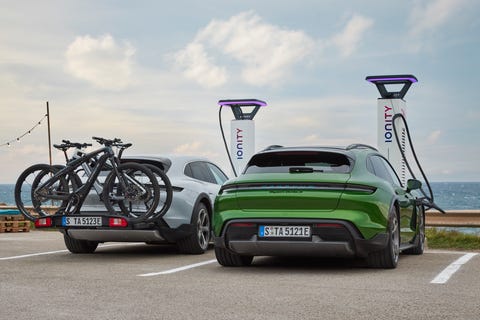 The Taycan Cross Turismo 4 starts at $92,250, while the Cross Turismo 4S starts at $111,650, the Cross Turismo Turbo at $154,850 and the Cross Turismo Turbo S at $188,950. All of those are a dash more expensive than their sedan equivalents, the actual amount varying by trim.
Of course, as Porsche is quick to point out, the wagon version comes with all sorts of standard features that are optional on their sedan equivalents, from the aforementioned big battery to the standard active suspension and panoramic roof — and, in the case of the starter Cross Turismo, a second motor up front.
Also standard, of course, is a modern, elegant interior, wireless Apple CarPlay and three years of free charging at Electrify America stations. It's still a Porsche, though, so you will of course be able to add tens of thousands of dollars worth of options to the bottom line if you so desire. Deliveries are expected to kick off this summer here in the U.S.
(And yes, in case you were wondering, the car configurator is already online.)
Oh, and those bikes you see on the back of that Taycan on the left? Yeah, they're the new e-bikes Porsche is also rolling out this spring to go with the new car. More on that to come.
The 16 Best Cars to Buy in 2021
Kelley Blue Book has released their best cars to buy awards for 2021. The results may surprise you.