The McLaren 765LT Is a Fighter Jet on Wheels
Feel the need for speed? Be ready to be blown away by this Macca.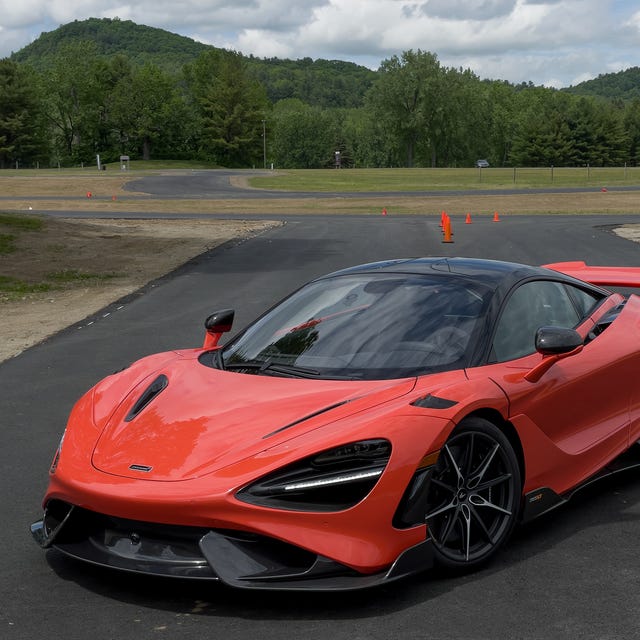 The world today is blessed with a plethora of fast cars. Even discounting all those speed machines that came before but can still be found on the used car market, it's safe to say that today's car buyers have never had a better spread of options when it comes to putting something peppy in their driveway. These days, a Honda Accord is about as quick as a 30-year-old Corvette or a 15-year-old Ford Mustang GT; a new Corvette bolts from 0-60 miles per hour faster than a Ferrari Enzo did.
Still, even amongst today's increasingly wild cars...the McLaren 765LT manages to stand out.
The McLaren 765LT is made to rip tracks apart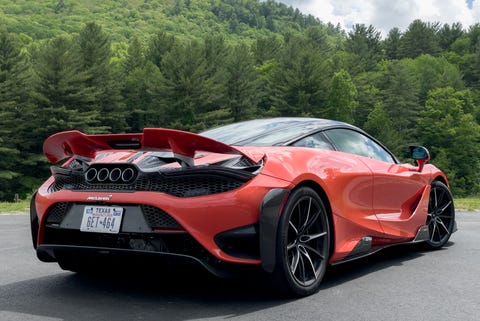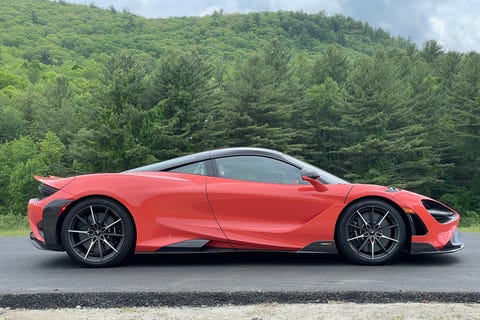 Just as impressive — or arguably even more so — are its rolling acceleration times. Mash the gas at 30 mph, you'll be doing 60 in 1.2 seconds. Floor it at 40, you'll be doing 80 in 1.9. Mat the accelerator at 60, and you'll be doing 100 in 2.3 seconds — and 130 miles an hour just 2.5 seconds after that.
Numbers are cold, clinical ways of expressing just how fast the 765LT is, however. It's far better to use words — or rather, expletives, because that's what wound up coming out of my mouth when I toed into the throttle. 30 to 60 is holy shit, 40 to 80 is fucking hell, 60 to 100 is Jesus Christ! The Bugatti Chiron is the only car I've ever driven that can quite compare to the explosive, immediate power of this McLaren, and even there, it's blunted by the Bug's additional mass; sure, the Chiron may make roughly twice the Macca's 755 horses, but it also weighs around 1,300 pounds more than the 765LT's 2,952-pound curb weight. The only times the Chiron will feel appreciably faster is when you're already going fast enough to wind up in the traffic ticket version of the Hague.
And if you're worried about bleeding off all that easily accumulated speed, don't sweat; the 765LT uses the same carbon-ceramic brakes as the McLaren Senna, which, according to the carmaker, can drag this car from 62 mph to a dead stop in 98 feet — less than six and a half car-lengths. Practically speaking, a full-brake panic stop feels like nothing so much as rear-ending another car. Again, expect more expletives.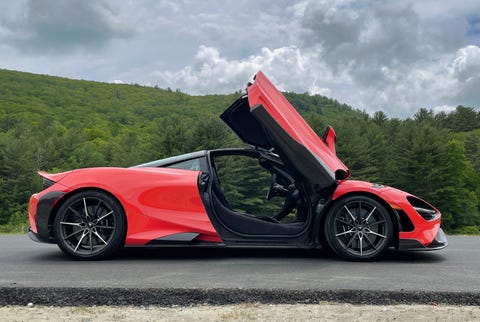 Straight-line speed is cheap these days, though; in an era when we're on the verge of 1,000-hp electric Hummers doing the 0-60 in three seconds, even the Macca's absurd figures don't seem quite as wild as they once might have (or, really, should be considered). What distinguishes a true supercar or super sports car from the muscle machines — battery- and gas-powered alike — is how well they can take turns.
A quick refresher, for those of you who may not be as familar with McLaren's nomenclature: the LT at the end of 765LT stands for Long Tail, which is Macca's shorthand for its higher-performance variants — think Porsche's GT cars, or AMG's Black Series models. (The name is a reference to the McLaren F1 GTR Longtail, a version of the F1 racecar with an extended rear end for added high-speed stability — but some modern LTs have also had their butts extended.) In the case of the 765LT versus the 720S, McLaren sharpened the car by slashing weight — lighter seats, thinner windows, lighter wheels, less carpet, and, of course, a kickass titanium exhaust system — while simultaneously juicing the twin-turbo 4.0-liter V8's output by 45 ponies over the 720S's 710. Add in a host of aerodynamic changes to improve downforce, and bam, you're done.
And, for the record, the 765LT is longer than the 720S. By just 2.5 inches, but still.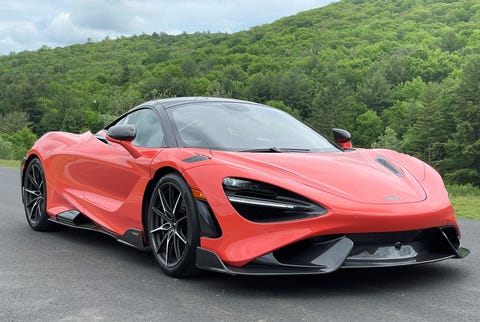 To test the limits of the 765LT requires taking it to a place where you're unconstrained by pesky things like, say, speed limits and oncoming traffic. (To be fair, that's really the case with any McLaren — or other modern supercar — but it goes double for the 765LT.) So, I took it northward from New York City to the top-left corner of Connecticut, where historic Lime Rock Park lies.
Sadly, historic Lime Rock Park's 1.9-mile track was filled with historic race cars the day I went, and while they said they'd be happy to let me on the course with them, the prospect of accidentally demolishing a vintage car and its driver with the weapons-grade Macca felt like too big a chance to take. (Also, I forgot my helmet.) Luckily, however, the kind folks at FCP Euro were more than happy to give me exclusive access to their recently acquired autocross course that fills much of Lime Rock's infield.
Autocross, in a way, is a particularly trying test for a car like the 765LT, because it largely neutralizes the supercar's power advantage, instead forcing more attention on the handling and balance. I ran most of the course in second gear, occasionally short-shifting into third just to see how the engine behaved at lower revs.
The 765LT probably would have rather been on a bigger track, but it proved a well-balanced delight on the autocross, with an immediacy of turn-in and reaction that was just as delightful at parking-lot-fun speeds as it was on the occasional high-speed on-ramp blasts I managed to sneak in. Like the 720S, this Macca boasts the Proactive Chassis Control II Suspension that does without traditional anti-roll bars, instead using interlinked hydraulics to keep the car preternaturally level and balanced even when being hustled. And while the idea of a sports car at this level going without a limited-slip differential seems baffling in principle, McLaren's brake-based open differential alternative — which slows the inside wheel with the brake caliper instead of speeding up the outside wheel via LSD — works damn well in principle. Bottom line, not only is the 765LT quick — it's fun.

The 765LT's wild looks exist for good reason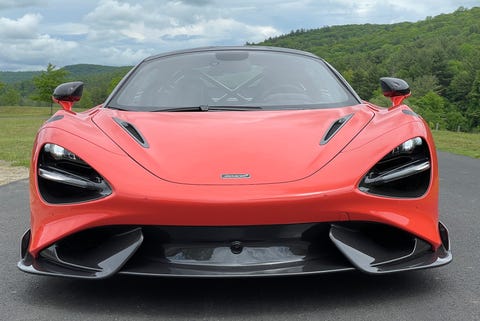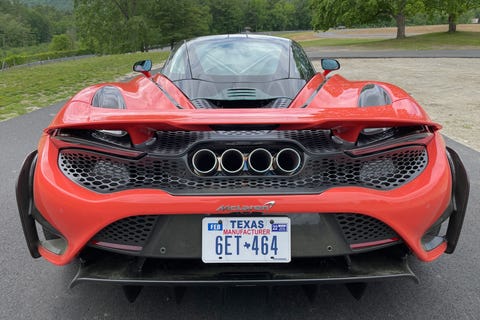 The 765LT, though, has aerodynamic protuberances and growths in spades, jutting from the lower half of the bodywork this way and that to twist the flowing air in manners that help push the car down more the quicker you go.
Beauty is in the eye of the beholder, but at least in this beholder's baby blues, the overall effect makes the 765LT more appealing than the 720S. It's raw, elemental, pure of purpose and irrepressibly confident. Like an F-15 fighter jet, every curve and line is designed first and foremost for the mission; the fact that it looks good almost feels like delightful happenstance.
The 765LT is no torture chamber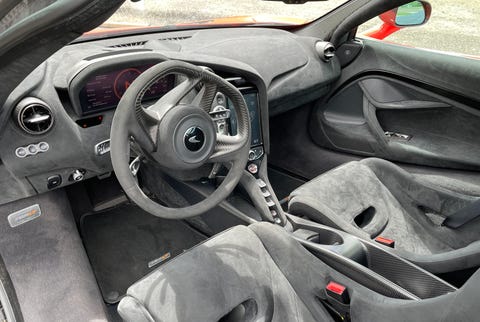 Many track-focused cars trade away all kinds of comfort features in the name of slicing off excess poundage, but the 765LT manages to still keep a decent amount of creature comforts for such a stripped-down supercar. Sure, if you really want to save as much weight as possible, you can opt not to have the infotainment system or air conditioning, but trust me — I don't think I could have survived even my brief autocross session in 90º summer heat and pre-thunderstorm humidity without the balm of the A/C. Losing the vertically oriented infotainment system would be less of a burden — it's admittedly one of the weaker such systems out there, with no Apple CarPlay and an occasionally frustrating interface — but doing so would also mean you couldn't opt for the 12-speaker Bowers & Wilkins stereo that provides a nice alternative to the engine note over long drives.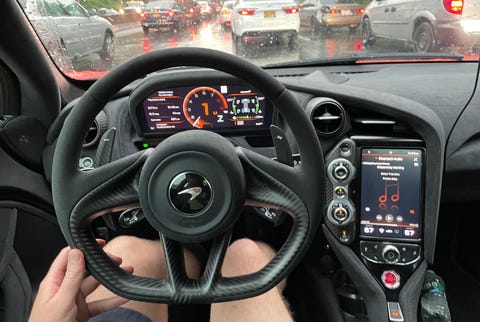 In case you need additional testimonial evidence as to the 765LT's comfort: in my day with the car, I spent around six hours in the driver's seat, broken up very sporadically (mostly just to take the pictures you see here), yet I had few of the complaints that often arise after a long stretch in a two-seat sports car.
Most importantly for long-legged me, the Macca's sculpted, deep seats serve up a shocking amount of legroom — enough that even my 36-inch-inseam never felt cramped. (Those who are particularly wide of saddle might have an issue with them, however.) While the paddles should be used as much as possible if you want to feel close to the car, there's also no shame in clicking the powertrain drive mode switch all the way to Comfort and turning on the automatic shift function when you're jammed up in traffic. And while that remarkable suspension may not be confused with the one of an S-Class, it's never punishing.
Visibility, as in other McLarens, is excellent in every direction save directly behind, especially with the 765LT's additional structural supports behind the driver. (And while it may be unabashedly awesome, the spoiler-cum-air brake blots out whatever rearward visibility exists when you go hard on the left pedal.)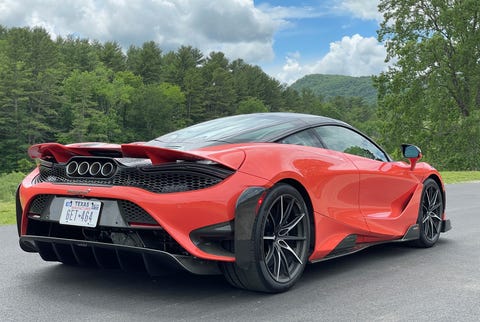 Now, that's not to say that the 765LT is meant to fill the niche of, say, a Porsche 911 Turbo or even a Ferrari 812 Superfast. It may be willing and able to putter around town, with ample space for the long-limbed and an automatic mode for the transmission that makes this tiger a kitten in stop-and-go traffic, but this is not a car meant for everyday use.
No, the 765LT is a supercar in both the old and new definitions of the term: an utterly over-the-top statement piece like the Diablos and Testarossas of yore, and an aerodynamically optimized, hyper-capable track-slaying weapon, just a rung down from the likes of bespoke mind-benders like the Senna or Aston Martin Valkyrie or Mercedes-AMG Project One. And at a price tag that's far, far below any of them, suffice it to say, it's practically a bargain. Especially if you have a track — or at least an autocross — handy.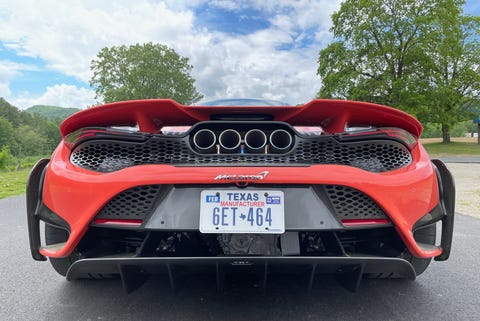 Base Price: $363,500
Powertrain: 4.0-liter twin-turbo V8; seven-speed dual-clutch automatic; rear-wheel-drive
Horsepower: 755
Torque: 590 lb-ft
EPA Fuel Economy: Irrelevant
Seats: Two
The 16 Best Cars to Buy in 2021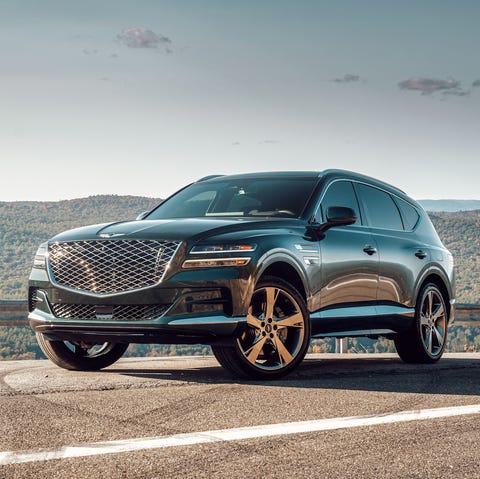 The results may surprise you.