The 2021 Jeep Grand Cherokee L Makes Luxury SUVs Feel Overpriced
The Summit Reserve Grand Cherokee L may have the best luxury SUV interior — period.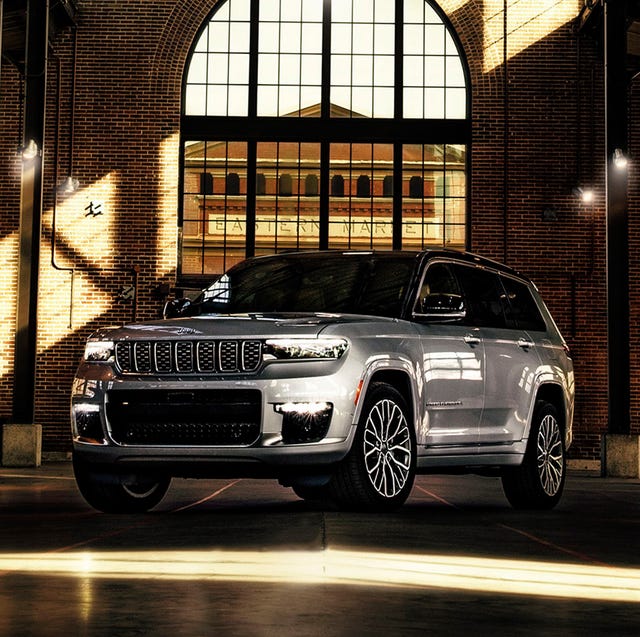 Jeep launched the all-new fifth-generation Grand Cherokee this year. They put out the three-row Grand Cherokee L version first. Why start with the three-row model? Basically, Jeep needed it — asap. The Grand Cherokee is the brand's best-selling and arguably most important vehicle. Buyers love it. But families were outgrowing the flagship two-row model and Jeep had nowhere for them to go. Now they do.
The Grand Cherokee L is not the brand's first foray into three-row SUV territory — Jeep tried to make the big and uber-boxy Commander happen to no avail in the 2000s — and they are hoping the market, currently obsessed with three-row crossovers, will be more receptive to a similar concept this time around. It probably will.

Jeep let me behind the wheel of the sumptuous Summit Reserve trim Grand Cherokee L to cruise around Detroit on a steamy day last week. The new SUV is great to drive. It's spectacular to sit in. And it will redefine what you think of Jeep, which has progressed from humble adventure vehicles to being a full-on luxury brand.
What is the Grand Cherokee L Summit Reserve interior like?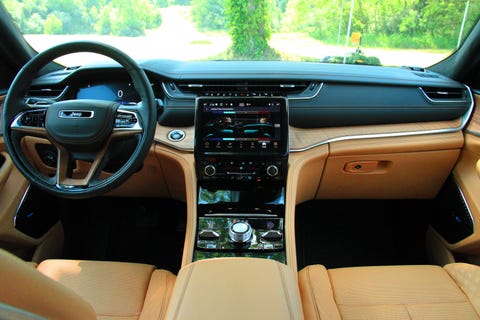 Stunning. I don't often lead off a review discussing a vehicle's interior. But the inside is the value add for the Grand Cherokee L and what will distinguish it in a crowded segment. Jeep wanted the Summit Reserve trim to match up with any car interior on the market. And, outside of Rolls-Royce and Maybach, Jeep can credibly make that claim.
The Summit Reserve features hand-wrapped and quilted Tupelo Palermo leather, a step up from the lesser Nappa and Capri leathers offered on lower trims. Jeep pairs that with a trim-exclusive open-pore Waxed Walnut wood. As impressive as the material quality is the detail and texture with almost every button and knob. You stop and ponder the incredible craftsmanship that went into integrating the start button into the wood panel. Then you realize Jeep put that much effort into a feature obscured by the steering wheel no one will ever see.
Kia made the $40,000 Telluride feel like a $60,000 SUV. Jeep made the $65,000 Summit Reserve Grand Cherokee L feel like a $100,000 SUV. I've driven a Maserati SUV that cost nearly three times as much and was not nearly as swanky.
How are the McIntosh speakers in the Jeep Grand Cherokee L?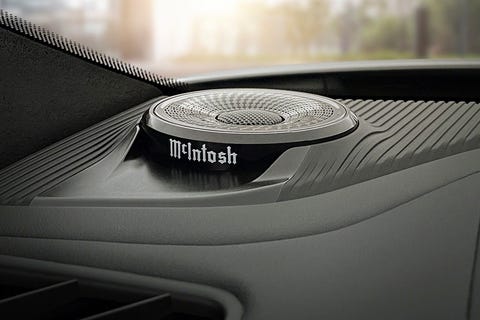 Every automaker has a branded sound system these days. But Jeep is the only one working McIntosh. The Grand Cherokee L is the first production vehicle to get the high-end audio provider's full 19-speaker treatment. Coming at this from a non-audiophile perspective, it's phenomenal. I've never owned expensive home audio equipment — heck, I don't even have a soundbar for my TV — but I don't think I have ever heard piped-in music sound as clear or rich, in a car or elsewhere.
The McIntosh system is the aural equivalent of having a genuinely high-end 4KTV, where the video input from cable or streaming isn't good enough to flesh out what it can do. We had to pipe in audio from a USB stick to get the sound full bore. And unlike when other manufacturers do that, you could tell the difference here.
My only slight quibble was I did not have time to figure out how to get the trademark McIntosh blue analog meters graphic to show up.
How does the Jeep Grand Cherokee L drive?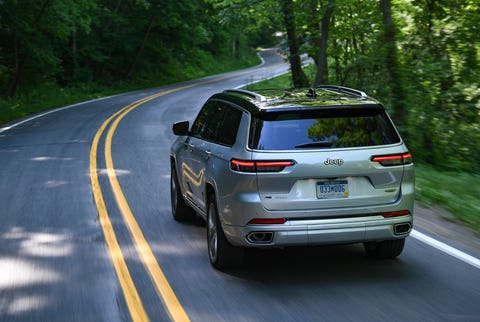 The Grand Cherokee L switches to a new platform. But – for now – the Grand Cherokee L carries over the same engines from the last generation, Jeep's ubiquitous 290 horsepower 3.6-liter V6 and the 5.7-liter V8 pushing out 357 hp.
I drove both versions. The 5.7-liter V8 felt smooth and potent by comparison. But it also was averaging less than 15 mpg combined (17 mpg combined per EPA) when I checked, with not that much city driving. The V6 does not feel quite as robust and gratifying but it delivers about four more miles on every gallon of gas and will be enough for most drivers.
Differences from the last generation — which was already excellent — come at the margins. The Grand Cherokee L chassis is stiffer. It employs some lighter-weight materials. It has a wider track for better stability. Jeep tweaked the electronic steering to be more direct and "point and shoot." The Grand Cherokee L is a supremely comfortable highway cruiser, which I note after driving it in Detroit on the new 21-inch Summit Reserve wheels. And it's halfway decent on twisty back roads, for a not especially grippy SUV with a bit of body roll.
How does the Jeep Grand Cherokee L handle itself off-road?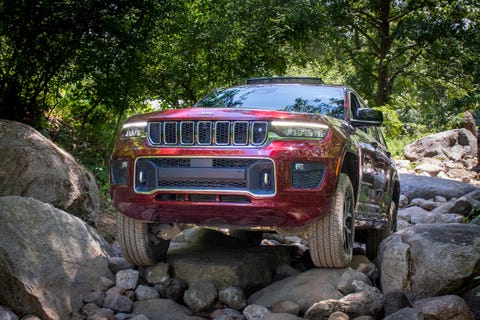 In Jeep parlance, the Grand Cherokee L earned the seven-slot grille. We switched to the Overland trim for off-roading. That's the trim that — with the optional off-road package — earns Jeep's "Trail Rated" badge. I hiked the adaptive suspension up to the maximum 10.9 inches of ground clearance. I shifted into 4 low and clicked on rock mode. And I took off on the off-road event course set up at Jeep's Chelsea Proving Grounds.
Jeep, confident in its SUVs, uses tougher off-road courses for the media than almost any other manufacturer. The Grand Cherokee L made it through with minimal sweat. We clambered over logs. We waded through more than a foot of water. We ascended and descended steep grades. We surmounted all manner of moderate rock courses. The Grand Cherokee L is not a Wrangler, but — when Trail Rated — it will do all of the dirt business a reasonable family would ask of it.
For those going off the pavement, I do offer one slight caveat. I followed my navigation system up a dead-end dirt path I needed to back out of. Unfortunately, that path had long blades of grass, which kept tripping the rear camera sensor and resulted in hard brakes to avoid phantom collisions every couple of seconds. So be advised if you're maneuvering in reverse on a tight trail or dune path.
Does the Grand Cherokee L offer Level 2 autonomous driving?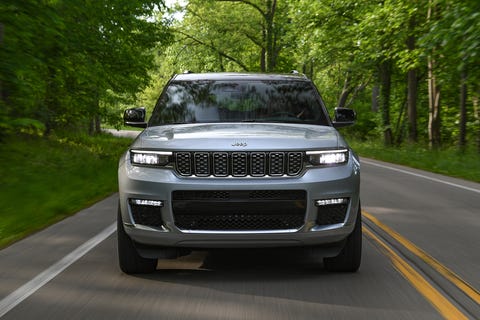 Kind of. Jeep, like almost every manufacturer, is launching a Level 2 partially autonomous driving system. Jeep's is called Active Driving Assist. Like GM's Super Cruise, the system combines adaptive cruise control with lane centering. But, unlike Super Cruise, you have to keep your hands on the wheel for now. The hands-free version won't arrive until late 2021 on 2022 model year Grand Cherokee Ls.
I gave the temporary system a brief run on the highway. I found it a bit nebulous. Super Cruise is very clear-cut. Here, working in concert with the car makes it hard to parse out what the car is doing vs. the driver and who needs to react when. I got jumpy and overrode it when confronted with lane-sidlers. I also had an instance where the car seemed to be doing an automated lane change when I signaled...then kept going.


The Complete Jeep Buying Guide: How to Discover the Best Jeep for You
What is the best Jeep model for you to buy? Start your research process here.
How much space is in the Jeep Grand Cherokee L third row?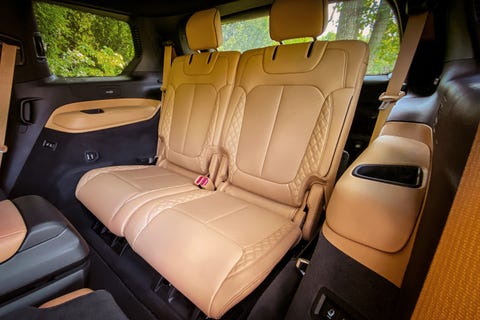 Quite a bit. Jeep tried to make the rear seats "not feel like a penalty box." They succeeded. The second row feels spacious and nearly as luxurious as the front. Two adults can still fit comfortably in the third-row, albeit with raised knees. Jeep had a 6'4" employee sit back there without issue. I'm a few inches shorter than 6'4" and sat behind myself and then behind myself again in the third row with ease. Just remember this isn't a full-size SUV. Don't expect to fit much luggage behind the third row when it's in use for passengers.
What are some Jeep Grand Cherokee L alternatives?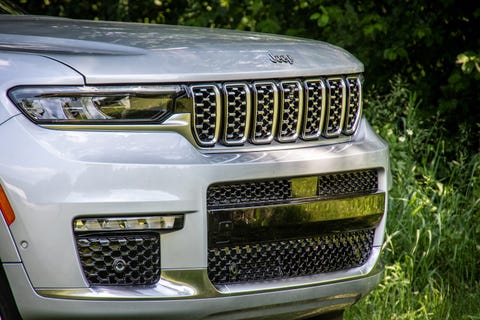 How much does the Jeep Grand Cherokee L cost?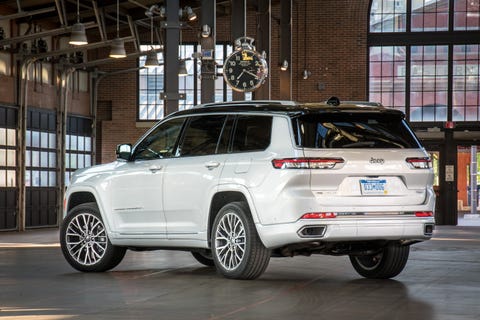 The base Grand Cherokee L Laredo starts at $36,995 MSRP. Though if you want 4x4, that's $38,995. And then Jeep charges a $1,695 destination charge, so that would come out to $40,690. The Summit Reserve trim begins at $61,995 for the V6 or $65,290 for the V8 before the destination charge.
2021 Jeep Grand Cherokee L Summit Reserve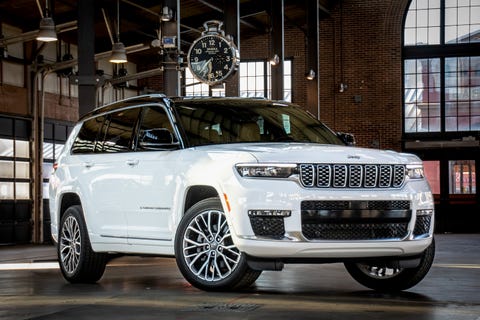 Powertrain: 5.7-liter V8; 8-speed automatic; 4x4
Horsepower: 357
Torque: 390 lb-ft
EPA Fuel Economy: 14 mpg city, 22 mpg highway
Towing: up to 7,200 lbs
Seats: 6-7

The Best All-Terrain Tires Money Can Buy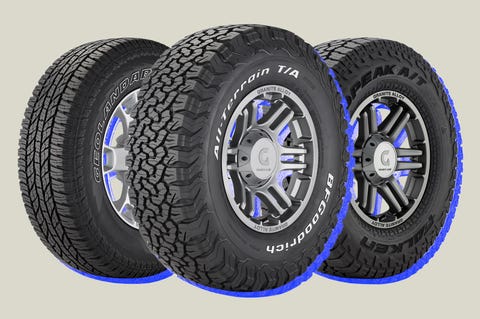 Because you should give your Wrangler or Gladiator the fancy rubber it deserves.
This content is created and maintained by a third party, and imported onto this page to help users provide their email addresses. You may be able to find more information about this and similar content at piano.io