The Complete Jeep Buying Guide: How to Discover the Best Jeep for You
What is the best Jeep model for you to buy? Start your research process here.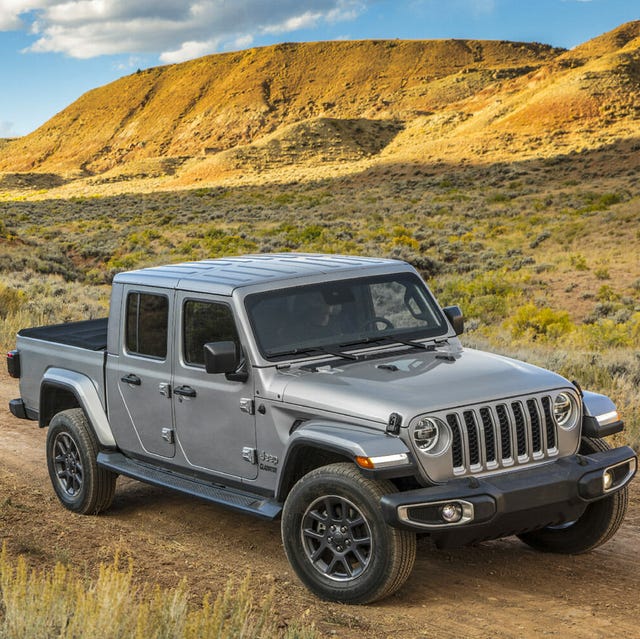 There are many different types of SUVs (and one pickup truck) on offer at Jeep. That, of course, leads to the question: what is the best Jeep for you to buy?
Well, it's important to start with a solid foundation of knowledge and research. Here, we present a complete overview of the Jeep model lineup from off-roading trucks and SUVs to family crossovers, including the brand's history and terminology.
This guide covers everything you need to know before buying a Jeep, to help you arrive at the dealership prepared, confident...and possibly more knowledgeable than the sales associate you deal with.

The History of the Jeep brand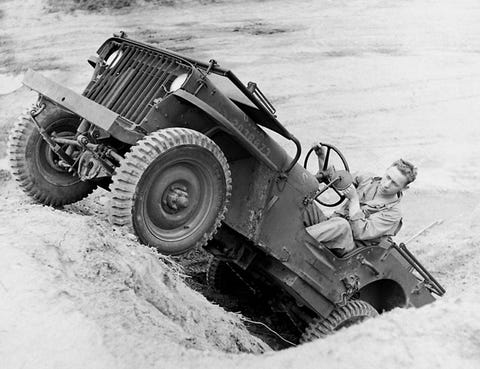 Jeep is an American SUV and truck manufacturer, and a division of Stellantis. The company started when Willys-Overland began producing civilian jeeps, commonly abbreviated to "CJ," after World War II. Willys received the trademark for "Jeep" in 1950 and merged with Kaiser Motors in 1953 to form Kaiser-Jeep. That company was later bought by American Motors Corporation in 1970, then Chrysler in 1987. Fiat Chrysler merged with Group PSA to form Stellantis in 2021.

WWII-era Jeeps were designed to go anywhere. That plucky off-road capability has defined the Jeep brand since. The first CJs were boxy, two-door off-roaders, modestly upgraded from their military versions. Jeep expanded its oeuvre in later years, producing wagon-style SUVs like the Cherokee and Wagoneer. In recent years, Jeep has branched out further into road-dwelling crossovers. On various occasions, Jeep has also dabbled with pickup trucks.

Jeep helped initiate two massive automotive industry trends: accessorized off-roading and the-SUV-as-family-vehicle. Recent moves to bring Jeeps more upmarket and make them more practical have led to the division's strongest sales ever.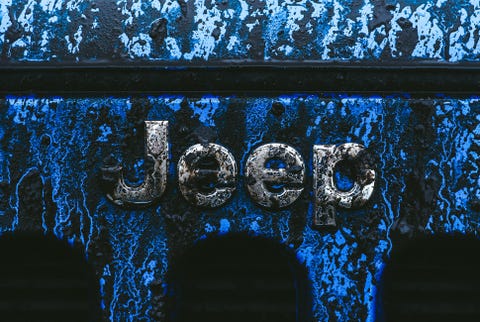 4xe: Pronounced "4-by-eee." This is the branding for Jeep plug-in hybrids such as the new Wrangler 4xe.
Aftermarket: Parts and accessories manufactured by a third party.
Desert Rated: New badge created for the Gladiator Mojave that adds intense heat and sand resistance to Jeep's Trail Rated testing.
Jeep Wave: A social convention where Jeep Wrangler owners acknowledge one another on the road with a quick wave. Not applicable to other Jeep vehicles. Also a Jeep owner membership program with select benefits.

OEM: Original Equipment Manufacturer. Jeep has been a forerunner of OEM customization, grabbing profits from the robust Wrangler aftermarket by accessorizing its vehicles in-house.

Solid Axle: The Wrangler uses a dependent "solid axle" suspension, instead of the independent suspensions found in most cars. Opposing wheels are connected by a bar into a single unit. This setup offers advantages for off-roading. It is simpler and easier to repair. But it also hampers on-road ride quality, which is why other Jeeps converted to independent suspensions.

Trail Rated: Badge given to off-road capable Jeep vehicles that meet a five-standard test for traction, water fording, maneuverability, articulation and ground clearance. Wranglers and Gladiators have a Trail Rated badge. Crossovers will have a Trail Rated version better for off-roading.
Some of Jeep's Unique Trim Levels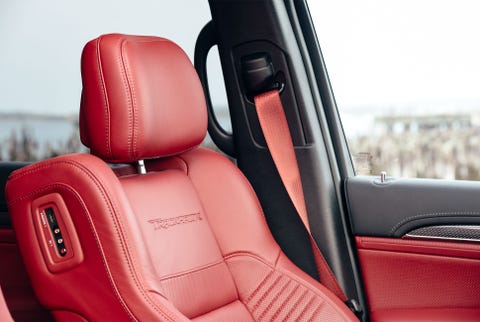 Jeep offers many trim levels, often with names that sound evocative but don't explain what they are. (And sometimes they combine them into new trims — i.e. the Sahara Altitude merges those two trim levels into a separate one). Here are a few examples to help clear things up.

Altitude: An appearance upgrade offering slick, trendy blacked-out detailing.
Black and Tan: A Wrangler variant with black paint and a tan top and upholstery.

Freedom: A variant of the Wrangler Sport S that pays tribute to members of the armed services.

High Altitude: A high-end luxury edition.

Jeepster: A variant of the Renegade Sport with visual upgrades.

Mojave: Like the Rubicon, but designed more for high-speed desert running. Only available on the Gladiator, for now.

North Edition: Models with cherry-picked features for colder climates, like heated seats and tow hooks.

Overland: A premium luxury trim offered for the Grand Cherokee, Cherokee, and Gladiator.

Rubicon: A premium off-road performance trim for the Wrangler and Gladiator. These vehicles come loaded with upgraded 4×4 systems and heavier-duty components for leaving the pavement.

Sahara: A premium trim.

Summit: A top-tier luxury trim for the Grand Cherokee starting above $50,000.

Trailhawk: An upgraded trim level for the Grand Cherokee, Cherokee, Compass and Renegade. It offers a distinctive off-road style and an enhanced off-road capability not found on the standard model.

Upland: A styling variant trim for the Grand Cherokee, Cherokee, Compass and Renegade. It incorporates off-road style from the Trailhawk without the performance upgrades.
Willys: A retro-inspired off-road trim for the Wrangler.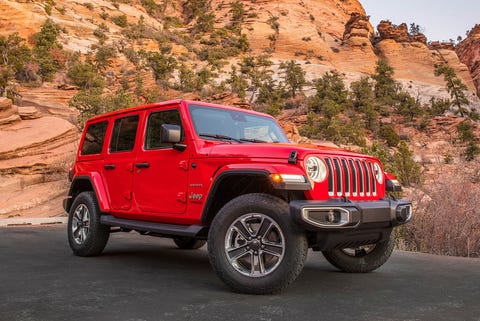 The Wrangler is Jeep's iconic body-on-frame SUV, descended from the original CJ line. The latest "JL" generation debuted for the 2018 model year. The Wrangler is the most off-road capable SUV of Jeep's lineup. Its capability and ample charm have outweighed concerns about efficiency and on-road driving dynamics. The Wrangler has among the best resale values of any vehicle in the U.S.
Jeep offers two Wrangler body styles: the two-door and the four-door "Unlimited" model. The latter has become the preferred option for around 90% of buyers. There are three combustion engines, a hybrid and a diesel. The 3.6-liter V6 has a six-speed manual transmission option. All other Wranglers have an eight-speed automatic.
Engines: 2.0-liter inline-four turbo (270 hp, 295 lb-ft), 3.6-liter V6 (285 hp, 260 lb-ft), turbo-diesel 3.0-liter V6 (260 hp, 442 lb-ft), 2.0-liter inline-four turbo PHEV (375 hp, 470 lb-ft), 6.4-liter Hemi V8 (470 hp, 470 lb-ft)
Transmissions: 8-speed automatic, 6-speed manual
Models: Sport, Willys Sport, Sport S, Islander, Willys, 80th Anniversary, Freedom, Sport Altitude, RHD, Sahara, Rubicon, Sahara Altitude, High Altitude, Rubicon 392

Base Price: $28,900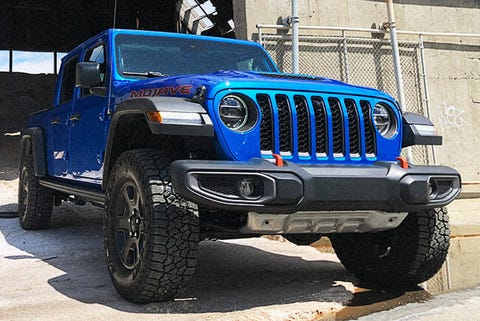 The Gladiator is Jeep's Wrangler-based midsize pickup. The truck is intended to be a direct competitor for the Toyota Tacoma and the Chevrolet Colorado ZR2. It's projected to rival the Taco and the Wrangler for the best resale value of any used vehicle in the United States, which should make it affordable to lease.
Jeep fits the Gladiator with two engine options, a 3.6-liter V6 or a turbodiesel 3.0-liter V6. Like the Wrangler, the Gladiator can have a six-speed manual with the 3.6-liter V6 engine.
Engines: 3.6-liter V6 (285 hp, 260 lb-ft), turbodiesel 3.0-liter V6 (260 hp, 442 lb-ft)
Transmissions: 8-speed automatic, 6-speed manual
Models: Sport, Willys Sport, Sport S, Willys, 80th Anniversary, Freedom, Overland, Rubicon, Mojave, High Altitude

Base Price: $34,040

LEARN MORE

The Jeep Wrangler 4xe Is the Best Wrangler, Whether You Care About Gas MIleage or Not
More powerful, more efficient and more fun, the 4xe is the Wrangler to buy.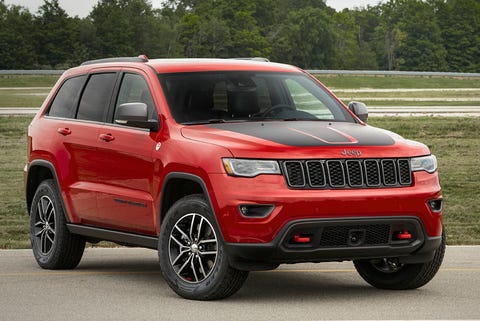 The Grand Cherokee is Jeep's range-topping midsize SUV. The fourth-generation Grand Cherokee, which launched for the 2011 model year, has been Jeep's best-selling and most profitable vehicle. Lower trims use a 3.6-liter V6 engine making 295 hp. Upper trims can be optioned with a 5.7-liter V8 making 360 hp. The Grand Cherokee can come with either 4WD or RWD.
The Grand Cherokee has two additional on-road performance editions. The SRT uses a 6.4-liter V8 making 475 hp. The Trackhawk edition employs a supercharged 6.2-liter Hemi V8 making 707 hp and accelerates from 0-60 miles per hour in 3.5 seconds.
Jeep will phase out the current fourth-generation Grand Cherokee after the 2021 model year. The fifth-generation, three-row Grand Cherokee L has been revealed. The new two-row version will launch later this year.
Engines: 3.6-liter V6 (290 hp, 260 lb-ft), 5.7-liter V8 (360 hp, 390 lb-ft), 6.4-liter V8 (475 hp, 470 lb-ft), 6.2-liter supercharged V8 (707 hp, 645 lb-ft)
Transmission: 8-speed automatic
Models: Laredo E, Freedom, Laredo X, Limited, 80th Anniversary, Limited X, Trailhawk, Overland, High Altitude, Summit, SRT, Trackhawk
Base Price: $34,970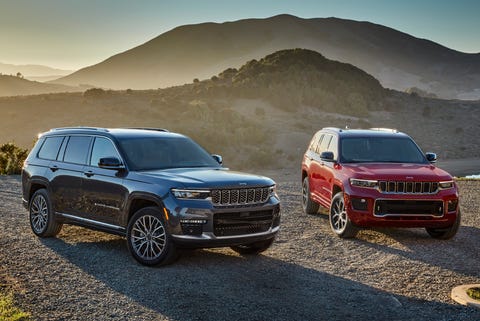 The Jeep Grand Cherokee L: Everything You Need to Know
Jeep's sales beast SUV has a big change in store for 2021.
Jeep Wagoneer / Grand Wagoneer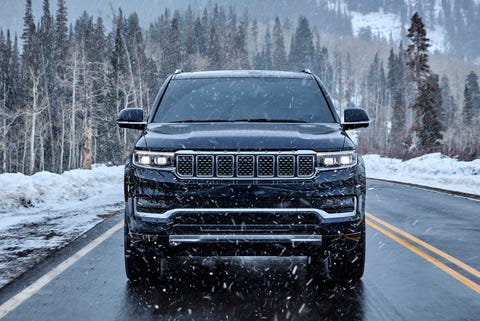 The Wagoneer is Jeep's all-new full-size luxury three-row SUV, with a super-lux Grand Wagoneer version designed to compete with the Cadillac Escalade. It's a body-on-frame vehicle riding on the Ram 1500's pickup platform. The Wagoneer and Grand Wagoneer should arrive at dealerships in fall 2021.
The Wagoneer will have a lot of screens, tech and premium finishes as well as the McIntosh audio system. The top-trim Grand Wagoneer Series III will start at a staggering $105,995. Does that all sound a bit much for a Jeep? Well, Jeep apparently thought so too. The vehicles won't carry any Jeep branding on them.
Engines: 5.7-liter V8 (392 hp, 404 lb-ft), 6.4-liter V8 (471 hp, 455 lb-ft)
Transmission: 8-speed automatic
Models: Wagoneer Series I, Wagoneer Series II, Wagoneer Series III, Grand Wagoneer Series I, Grand Wagoneer Series II, Grand Wagoneer Obsidian, Grand Wagoneer Series III
Base Price: $59,995
The Jeep Grand Wagoneer and Wagoneer Are Everything We Hoped
Jeep's new giant SUVs pack power, space, tech and luxury to spare.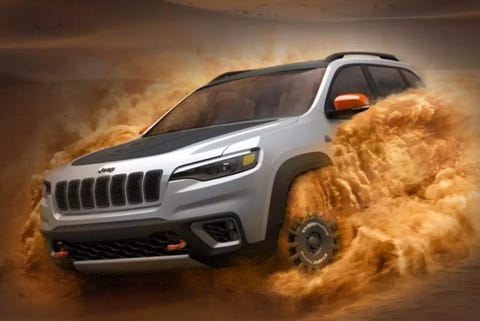 The Cherokee is a storied nameplate in Jeep history. The XJ generation (1984-2001) modernized the SUV with its unibody construction. That vehicle then spent two generations as the Liberty before Jeep revived the Cherokee name for the fifth generation.
The modern Cherokee is a compact crossover. It looks much improved after a 2019 facelift. It has three engine options and is available in either FWD or 4WD.
Engines: 2.4-liter inline-four (180 hp, 171 lb-ft), 3.2-liter V6 (271 hp, 239 lb-ft), 2.0-liter inline-four turbo (270 hp, 295 lb-ft)
Transmission: 9-speed automatic
Models: Latitude, Freedom, Latitude Plus, Altitude, Latitude Lux, 80th Anniversary, Limited, Trailhawk, High Altitude

Base Price: $27,455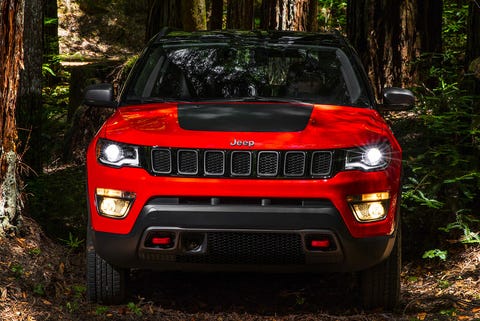 The Compass is Jeep's less venerable compact crossover. It's shorter than the Cherokee; the seating is more cramped seating, but it does offer more cargo capacity. A second-generation redesign in 2016 greatly improved the aesthetics, converting it from a Dodge Caliber look-alike into a baby Grand Cherokee. Not coincidentally, sales improved dramatically.

There's only one Compass engine option, the 180 hp 2.4-liter inline-four known internally as "Tigershark." Jeep eliminated the manual transmission option for the 2021 model year. The Compass can be equipped with FWD or 4WD. The Trailhawk model provides more extensive 4WD settings.
Engine: 2.4-liter inline-four (177 hp, 172 lb-ft)
Transmission: 9-speed automatic
Models: Sport, Latitude, Freedom, Altitude, 80th Anniversary, Limited, Trailhawk

Base Price: $24,495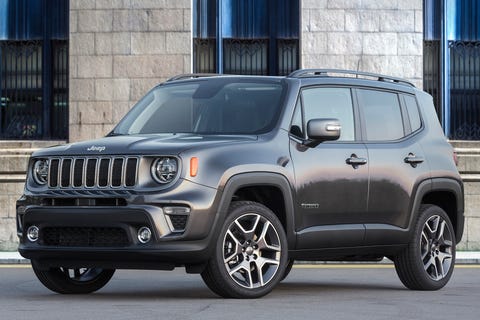 The Renegade is Jeep's entry-level subcompact crossover. It's the smallest vehicle in the Jeep lineup, sharing more Italian DNA than its brethren. It is the only Jeep vehicle manufactured entirely outside North America.
Jeep facelifted the Renegade for 2019, including two big changes. The company added a 1.3-liter turbocharged inline-four engine option. Jeep also dropped the Renegade's six-speed manual transmission. The Renegade can come in FWD or 4WD.
Engines: 1.3-liter inline-four turbo (177 hp, 210 lb-ft), 2.4-liter inline-four (180 hp, 175 lb-ft)
Transmission: 9-speed automatic
Models: Sport, Jeepster, Latitude, Upland, Freedom, 80th Anniversary, Islander, Limited, Trailhawk

Base Price: $22,850

LEARN MORE
The Jeep Gladiator Was the Most Important Vehicle of 2019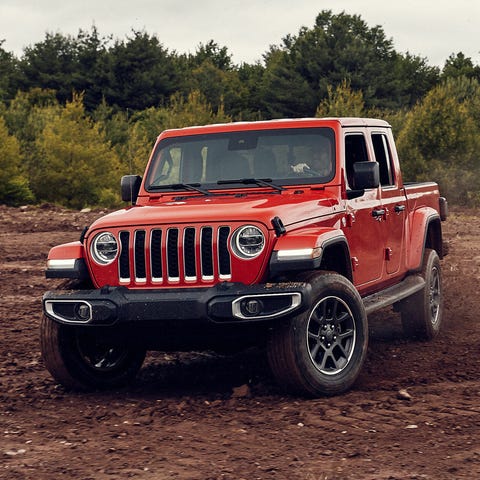 Merge the best parts of a Wrangler and a pickup truck, and you've got the most notable new vehicle on sale.
This content is created and maintained by a third party, and imported onto this page to help users provide their email addresses. You may be able to find more information about this and similar content at piano.io