Every product is carefully selected by our editors. If you buy from a link, we may earn a commission.
2022 Volkswagen GTI First (Track) Drive: Still a GTI, Still Awesome
VW didn't stray too far from the Mk7. And that's a good thing.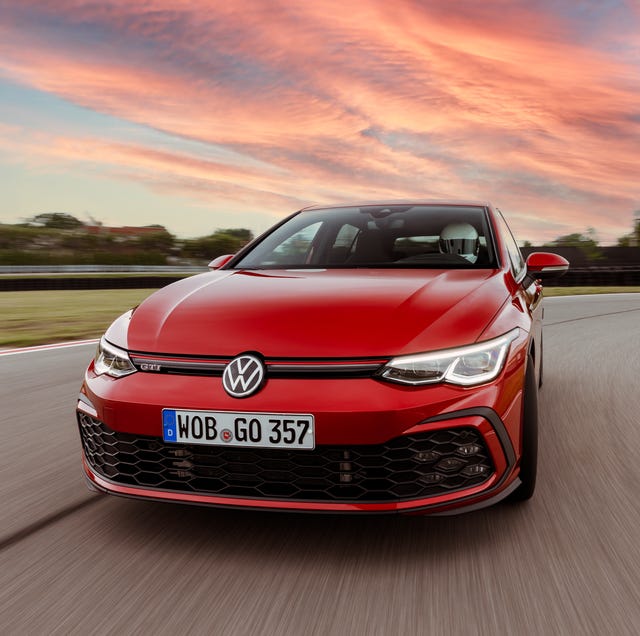 Full personal disclosure time: the Volkswagen Golf GTI is one of my absolute favorite cars. When VW invited me to drive the Euro-spec version of the new Mk8 alongside the outgoing Mk7 version on track, it sounded amazing.. Then I realized the event was being held at the racetrack located 12 minutes from my house.
Making me wonder even further whether VW had somehow read my mind and designed this event specifically for me, a National Coney Island food truck was there when I arrived waiting for my order — a coney dog with everything, chicken fingers, coney cheese fries, obviously. I half expected someone to hand me a neat Macallan after I finished my final run.

But a fun-sounding afternoon does not an optimal car evaluating session make. This was the Euro-spec car, so not precisely what Americans will be able to buy come late 2021. You can't tell as much about a car in a few laps on a 1.4-mile track as you could driving it for a week on a loan.
And that's particularly true for the GTI — which, while sporty, isn't primarily a track car. The GTI is built to balance performance with comfort; it's a car that's fun to drive home from the track, and it's a car that you can climb into while wearing a size-XL racing helmet and not bonk your head on the door sill.
We'll reserve our full impression of the Mk8 for when we can get a bit more time in a less-structured environment, but it made a spectacular first impression. The Mk8 GTI should be more or less what everyone was hoping for: not dramatically different, just packing a few handling tweaks and a little more power.

Broadly, the 2022 GTI is very similar to the outgoing Mk7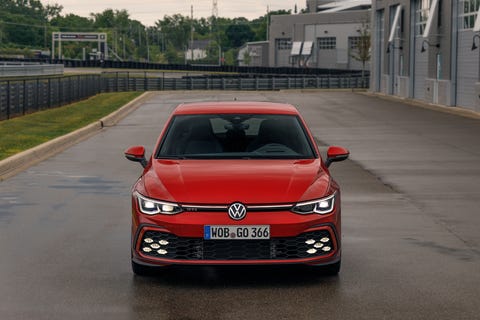 Combustion cars are on the way out, and VW is going electric. The company isn't plowing resources into overhauling a relatively low volume combustion hatchback — especially one that was already legendary.

The new Mk8 GTI uses the same platform, same engine (with a slight power bump) and same transmission options as the old Mk7. It occupies almost the same spatial footprint; the wheelbase on the Mk8 is 0.2 inches longer, and length, width and height measures are within an inch of its predecessor. To a layperson, they look very, very similar.
That similarity should be welcome news. My (and many other GTI-lovers) biggest worry was that VW would try to do too much and ruin what it had going with the Mk7.

But VW did make some significant changes for the Mk8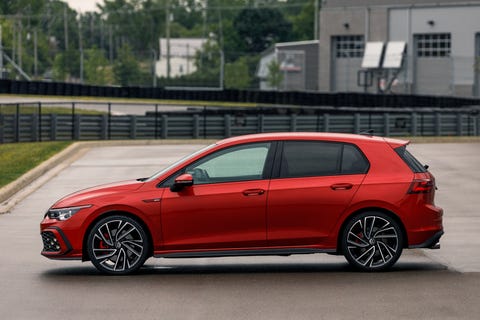 The changes VW did make involved a lot of fine-tuning. Volkswagen stiffened the chassis a bit and reworked the suspension for more performance (while maintaining daily driving comfort). A myriad of software updates includes a new Vehicle Dynamics Manager — which VW likened to a quarterback — that coordinates the electronic stability control, electronic differential locks and adaptive damping simultaneously.

For the driver? You can now customize the drive modes on a far more granular level (although I didn't have time to play with that). Plus, you get more control over the ESC; the GTI now has an ESC Sport mode that gives you more leeway before kicking in, and — though it requires hopping through multiple infotainment menus — you can disable it completely.
Direct comparision between the Mk8 and Mk7 GTI was difficult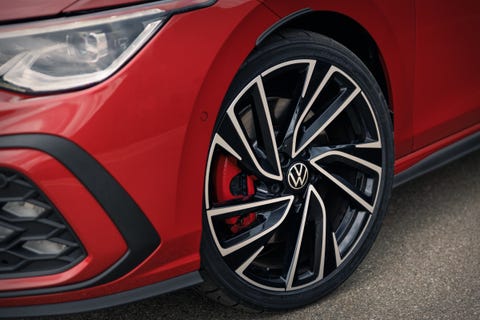 VW let us take manual and automatic versions of both on track and an autocross course, but tire supply chain issues marred that comparison. See, VW couldn't source new factory tires for all the Mk8s, so they resolved this in perhaps the most flattering way possible: fitting the Mk8 fronts for the Autocross with Bridgestone Potenza RE-71Rs — about the most grippy street-legal track tire they could have fitted on the car. And one that VW doesn't offer from the dealer.
So the autocross was, shall we say, a foregone conclusion. Drivers were consistently getting about a two-second difference over a 35-40-second autocross course. Plus, he Mk7, by the time I drove it, had absolutely shot stock summer tires that were flaking off bits of rubber.

As for the bigger loop: the M1 course where VW held the event is a short track, and we got just three laps with the auto and manual. The Mk8 felt a bit more confident and consistent entering and exiting corners. The extra horsepower seemed to add a few miles per hour down the straight. But again, we're talking modest improvements to a truly excellent Mk7 — and I'm not sure how many will translate to real driving.
A modern interior is not necessarily a better one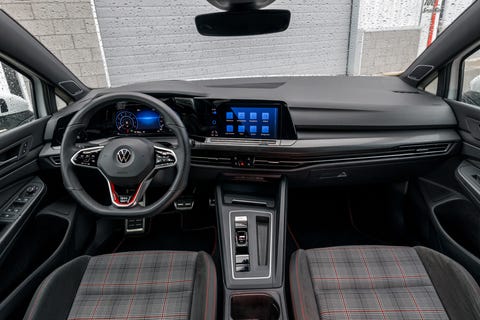 VW modernized the 2022 GTI's interior to something along the lines of the new ID.4. Digital cockpit with a new digital instrument cluster. New infotainment system. New steering wheel with haptic buttons. A significant reduction in buttons.
It takes time — that I didn't get — to evaluate a user interface, but my early impression was that more modern is not always better. The aesthetics are cleaner, but doing away with things like the volume knob makes interacting with the car tougher.

Another example of the car's quirks: two of the three Mk8 GTIs I entered — on a 90º day with pre-downpour humidity — had their heated steering wheels on. They did that because the touch-sensitive heated steering wheel button is about a millimeter and a half from where you rest your palm if you're holding the wheel at 9 and 3. It's almost impossible not to graze that when you are hustling the car around. (I did the same in the new Golf R, which features a similar wheel.) And if we're really nit-picking, VW also altered the shift knob from a full golf ball to a clunkier feeling half golf ball which was not ideal.
Still, of course...I'll have to wait until I can spend a week (or more) with the GTI before I can render any final judgements.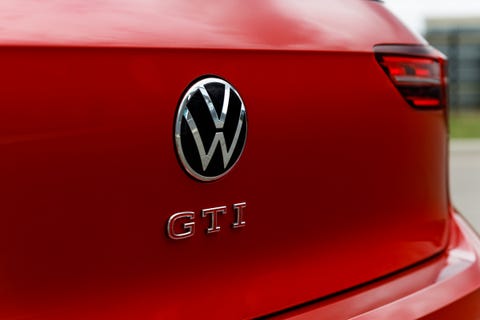 Powertrain: Turbocharged 2.0-liter inline-four; six-speed manual or seven-speed dual-clutch automatic; front-wheel drive
Horsepower: 242
Torque: 273 lb-ft
EPA Fuel Economy: TBD (24 mpg city, 32 mpg highway for the Mk7)
Seats: 5
These 10 Cars Are More Expensive to Buy Used Than New Right Now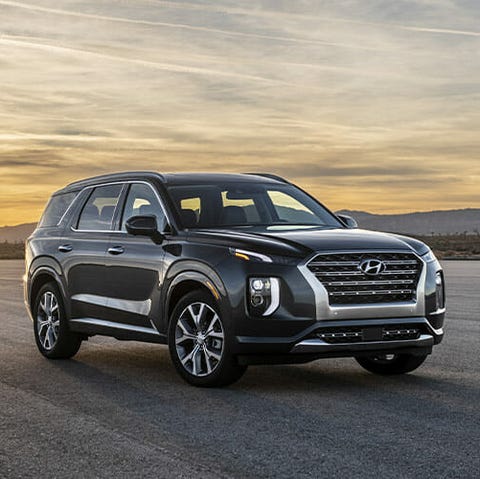 We've often joked that used Tacomas cost more than new ones, but now, that's actually true.