Every product is carefully selected by our editors. If you buy from a link, we may earn a commission.
The 2021 VW ID.4 Is the Beta Version of Volkswagen's Future
VW's first electric crossover excels in many ways, but a few pieces still feel half-baked.
To hear Volkswagen tell the tale, the new ID.4 electric crossover (or, in foreign markets, the closely related ID.3 hatchback) is the biggest thing for the brand since the Beetle. Not the New Beetle with the flower vase, mind you — the original Beetle, the one that sold more than 21 million copies over more than 60 years and set the stage for Ferdinand Porsche's "people's car" project to eventually become one of the world's largest automotive conglomerates.
No pressure, then.
To be fair, the ID.4 is the start of a whole new era for Volkswagen. It's the first of a slew of all-new electric vehicles that will redefine the brand for the latter three-quarters of the 21st Century. Gasoline and diesel are on the outs at VW, and electrons are in; by 2029, the carmaker expects to have sold 20 million cars on the electric MEB architecture that the ID.4 inaugurates.
On paper, the new Vee-Dub seems like it has what it takes to carve out a place for itself in the market: a super-popular compact crossover body style, well over 200 miles of range, fast-charging capabilities like adding 60 miles of range in 10 minutes and one of the lower base prices among current EVs, starting at $39,995 before destination charge or potential tax credits. How does that play out in the real world? We borrowed the car for a weekend to find out.
The VW ID.4 certainly is a looker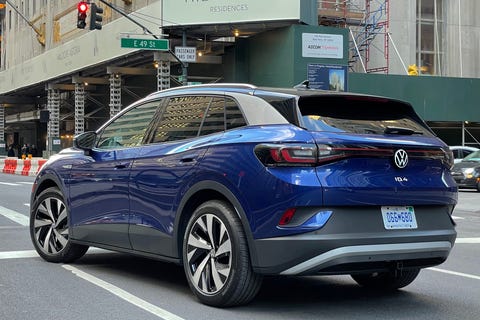 To Volkswagen's credit, the ID.4 is a handsome crossover. It's much sleeker and more organic than the brand's gas-powered SUVs, looking more like something drummed up in Mercedes-Benz's design studio than the sort of car you'd expect to see on a lot between a Jetta and a Passat.
Still, the brand didn't stray far from the conventional school of design that's forced to reckon with a big lump of metal powering the car somewhere between the bumpers. The hood up front may look a tad short, but it certainly looks like the sort of place you'd expect to find a thrumming engine that drinks liquid fossils and spits out power.
That's not a bad thing, of course; most other EV-makers have chosen to do the same, assuming (likely correctly) that car buyers only have so much appetite for change at once. Future VWs like the ID.Buzz (a.k.a. VW Bus 2: Electric Boogaloo) will likely make more imaginative use of the more flexible packaging of an electric vehicle's powertrain.
It's fairly roomy, at least for people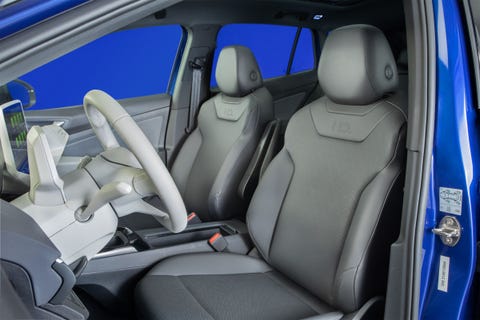 In spite of its proportions, there's a good bit of room
It feels even more open than it is, too, thanks to the lack of a transmission tunnel or drive shaft splitting the cabin and the expansive (if sadly fixed) glass roof found on all but the base ID.4. Many cars of this size force my lanky legs into awkward positions, but my six-foot-four frame had no trouble finding a comfortable spot behind the wheel — and with enough room behind me for an average full-sized adult.
But even electric cars can't fight the laws of physics; a crossover two inches shorter than a Honda Civic sedan only has so much room to work with, and between the ample seating area and the sweeping coupesque roofline, the ID.4 takes a hit in terms of luggage space. The cargo bay couldn't even fit my 30-liter Yeti cooler without removing the cover — and with it gone, the Yeti would have blocked much of the view out the back. (I chose to put it in the back seat instead.) If you're hoping to take three friends on a road trip and want to be sure you can see out the back window, make sure you pack light.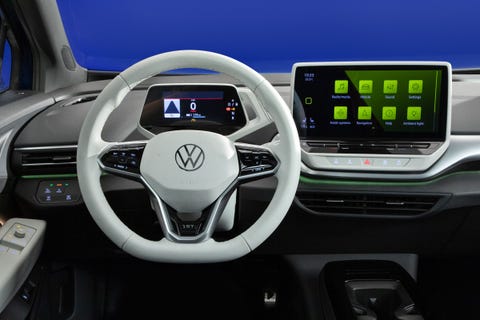 There are some ergonomic issues, however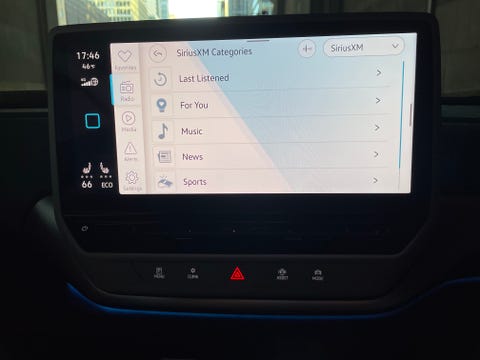 The control layouts, however, seem in some cases as though they were changed simply for the sake of change — to make this forward-facing car seem even more futuristic. Take a look at the picture above, which snapped in a dim-but-not-dark tunnel. Can you spot the temperature controls? Unless your father was an owl, probably not — because they're not illuminated.
If the ID.4 used rheostats to control the temperature, this wouldn't be as big of a deal — but the car uses fixed "buttons" without any good way to find them by touch. Given that the ID.4 marks the debut of the Siri-like "Hello ID" voice command system, I'm guessing the German engineers figured people can simply say "Hello ID, I'm cold" if they want to change the temperature, but anyone who's ever used a voice assistant knows the value in having redundant controls.
The strangeness continues elsewhere. The electronic shifter isn't a series of button or a traditional lever; it's a trapezoid hidden behind the right side of the wheel. Rotate the bottom towards you, and it goes into drive; rotate it the other way, it goes into reverse. I didn't think much of it, until a parking garage attendant sheepishly had to ask me to move the car because he couldn't figure out how to put it in gear.
And the driver's window switches, bizarrely, don't offer four individual controls like every other four-door car on sale; instead, there are two, which default to the front windows but can be switched to handle the back pair at the press of a (again, fixed and difficult to find without looking) button. Like the shifter and the climate controls, it feels like the solution to a problem that didn't need to be solved.
Want an all-wheel-drive ID.4? Sorry, not yet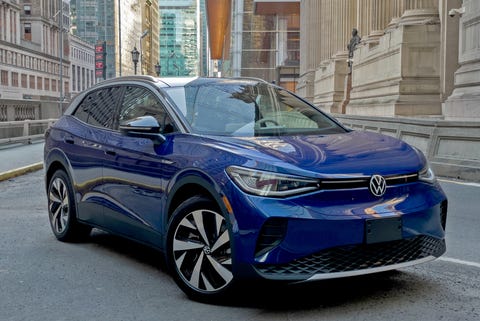 The decisions of Volkswagen's product planners are transparent only to those in the halls of Wolfsburg, but the decision to push the ID.4 into showrooms solely as a rear-wheel-drive car seems, well, unfortunate. Americans, after all, are ga-ga for AWD; even if a good set of snow tires will provide more help for many drivers, the added grip of four driven wheels instead of two provides peace of mind in addition to extra traction for accelerating and turning.

And for electric cars, all-wheel-drive often provides benefits it wouldn't in a gas-powered car. Since most EVs achieve AWD simply by adding a second motor, thereby boosting their power; and as Tesla demonstrated with the first AWD Model S, having two motors can actually make an EV more efficient during crusing and other low-load maneuvers.
Yet the first ID.4s to go on sale only send power to the rear wheels. Motivation comes from a 201-horsepower, 228-lb-ft motor mounted at the rear axle. (An all-wheel-drive version making 301 horsepower is coming, VW says, but not until Q4 of 2021.)
The ID.4's aft-mounted electric motor isn't a wimp; acceleration is satisfactory for a compact crossover, and it even feels peppy around town due to the instantaneous response. Still, 82 kWh of lithium-ion batteries aren't light; this compact VW weighs in at around 4,700 pounds, so once you add in two occupants, you're at or over two and a half tons.
Range, certainly, shouldn't be a problem. The EPA says the ID.4 should do around 250 miles on a charge, and while I didn't have a chance to road trip it, I saw no evidence to dispute that; the car showed up at my doorstep with a claimed 230 miles available after the 20-ish mile drive from the press fleet garage.
As with all electric cars, though, filling up on the go is still not quite where it needs to be. Every ID.4 gets three years of free charging on VW's Electrify America network, which can take the car from 5 percent to 80 in a claimed 38 minutes on the 150-kW plugs. Still, that network's chargers are congregated along major highways and around (but not necessarily in) cities — and a substantial number are in the middle of Walmart parking lots, so hope you like browsing superstore aisles while you wait for your car to charge.
And the more prevalent Level 2 chargers commonly installed at places like grocery stores and malls so they seem EV-conscious simply don't have enough power to add significant range in the amount of time drivers use them. I plugged the ID.4 into an L2 charger at 3:32pm with 74 percent in the battery; when I came back 55 minutes later, having done my leisurely grocery shopping and dallied through the liquor store, the car was at...78 percent. "It's the thought that counts" is a nice saying, but it won't help cram electrons into the car any faster when you're 100 miles from home and the only charger around will take five hours to add that much range.
As I've previously said, this isn't a specific problem with this electric car — it's a common compromise that exists for all of them, and one that will be rectified in the next couple years.
And then there's the price. At $39,995 plus destination, the base ID.4 is priced at almost exactly the average new car price — one of the very few EVs capable of offering 200+ miles of range at that price. A starter Mustang Mach-E costs $42,895 before destination, and only offers 230 miles of claimed range; the Hyundai Kona EV and Kia Niro EV start at $37,190 and $39,090 before destination, respectively, but while both offer comparable range to the VW, they also suffer from designs that are less appealing than the ID.4 boasts. Train your gaze solely on early-2021-vintage EVs, and the ID.4 seems solid.
Viewed with a wider lens, however...it's hard not to see this tiny, 201-hp crossover as the most expensive vehicle in the Volkswagen lineup. Cross-shop it against anything besides the limited number of comparable EVs, and the ID.4's case starts to weaken. VW itself admits the ID.4 is the size of a Tiguan (at least inside), but its pricing is more in line with mid-to-high-level trims of the significantly larger Atlas.
And once you start looking at other family crossovers, it's even more difficult to justify the price. A loaded Honda CR-V Hybrid still gets 38 mpg combined, leaves you without any charging anxieties, and costs almost $10,000 less to start. The Toyota RAV4 Prime is only a tad cheaper than the ID.4, but is quicker, roomier — and if your daily commute is less than 40 miles, you'll use as much gas most days as you would in the VW, which is to say nil. And both of those offer all-wheel-drive right now, rather than leaving you waiting six months or more for your sure-footed crossover.
(What about that much-ballyhooed $7,500 tax credit? Well, that can help, of course...but keep in mind, it only applies against your taxes owed for the year you buy the car — you can't convert any of that into a refund. If you don't owe at least $7,500 come April 15, you're not gonna see the full benefits — and if you owe nothing or get money back, you'll pay full price. If you're buying an EV, you better change your withholding as soon as you take delivery.)
Bottom line: with the ID.4, you're still paying a premium to go electric — even if it's less of a sacrifice than it once was. Even a with range that are closing on comparable to ICE cars and all the advantages EVs have over gas-powered rides (reduced maintenance, thrilling torque, the ability to add range at home overnight), the ID.4 still doesn't quite feel quite able to make a strong enough case for itself without resorting to the virtue-signaling tact of "it's better for the planet" — which electric cars will need to be able to do if they're ever to achieve widespread success.
Then again, this is Volkswagen's first crack at a modern electric car, and they don't exactly have a reputation for giving up. I feel pretty confident saying the next ID will be even better, and the following one better still. Give it a few years, and I'm betting the reasons not to choose an electric Volkswagens will be vastly outweighed by the reasons to do so – regardless of green cred.
The 2021 Volkswagen ID.4 1st Edition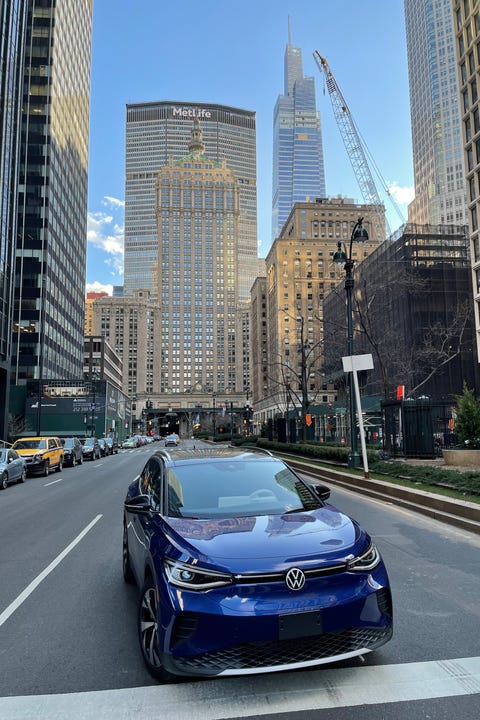 Base Price: $45,190 (1st edition is sold out; regular ID.4 models start at $41,190)
Powertrain: Electric motor; single-speed electric motor, rear-wheel-drive
Horsepower: 201
Torque: 228 lb-ft
EPA Fuel Economy: 104 mpg-e city / 89 mig-e highway
Seats: 4 to 5, but only if they pack light