McLaren's Newest Car Is Illogical, But We Love It Anyway
A track-focused convertible is a bit oxymoronic...but who cares when it's this cool?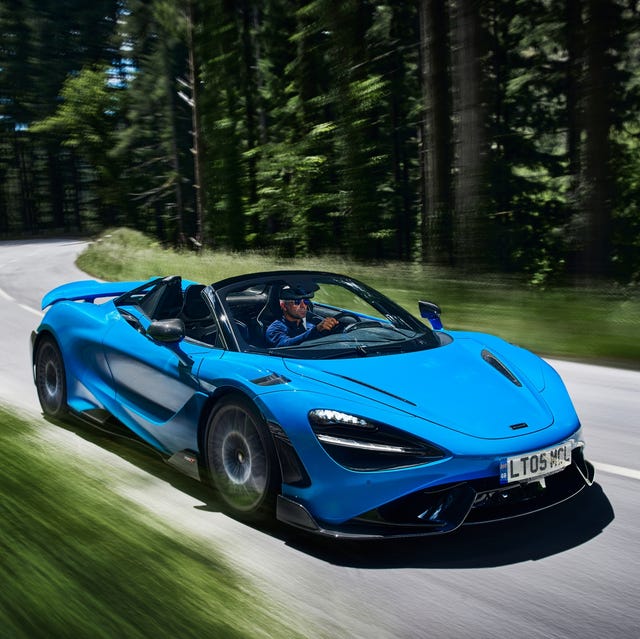 Generally speaking, most cars designed to do their best work on race tracks have fixed roofs. Sure, you have purpose-built exceptions like Formula 1 race cars and IndyCar racers that forgo roofs and windshields altogether in the name of cutting as much weight as possible, but when it comes to cars that are either street-legal or based on street-legal cars, they generally have fixed tops. Permanent, immobile roofs offer two primary advantages: they're lighter than convertibles (as most convertibles have to have both a more complex, moving roof and the added mechanical gear to make it go up and down), and they have
Which is to say, the idea of McLaren taking the super-track-capable 765LT and whipping up a Spider version with a retractable convertible top seems a tad counter-intuitive to the car's declared mission of conquering road courses. Yet, even so...we're a little bit in love with it. After all, most buyers probably won't be spending much time on the track — and as we found with the 720S Spider (and many other fast convertibles), offering the ability to go topless means you can have more fun at semi-legal speeds.
The McLaren 765LT Spider doesn't give up much to the coupe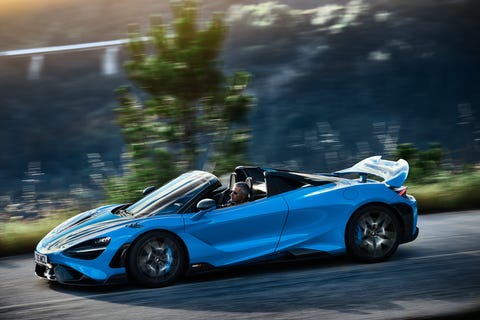 108 pounds. That's how much more the 765LT Spider weighs than the McLaren 765LT coupe. Plop even the lightest adult passenger in the right-hand seat of the hardtop, and you've likely added more weight than that.
In other words, the change in performance is all but unnoticeable in the real world. Or rather, all but unnoticeable, period: McLaren quotes a 0-60-mph dash of 2.7 seconds and a 0-124-mph time of 7.2 seconds for the Spider, same as the coupe. With the roof raised, so long as you can squeeze your helmeted head inside, it should be almost exactly as capable as the fixed-top version.
But the 765LT Spider lets you better savor the flavor of the twin-turbo V8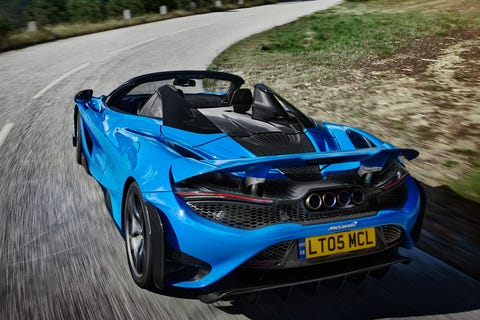 Of course, in the coupe, you can't rip off those absurd acceleration runs with nothing between your head and the sky. As with the 720S Spider, the top is a single-piece affair that slides away in 11 seconds flat, even at speeds as high as 31 mph. Doing so means your ears can take in the scream of the high-mounted quad exhaust more easily...and if it happens to rain but you still want to listen in to the banshee howl, you can also keep the roof raised but drop the rear window separately.
Like all McLarens, you can add on plenty of bespoke content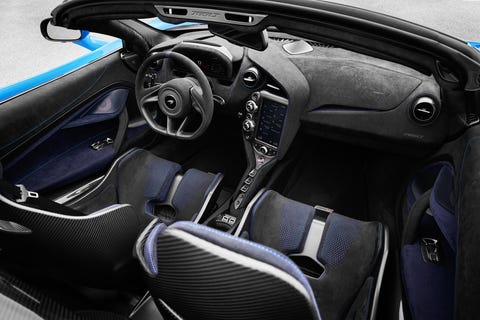 If you're a purist, you can have your 765LT without air conditioning or a stereo to save weight — but unless you're into a very specific brand of masochism, odds are good you'll want those no-cost options.
Should you want to add some options that do cost money, McLaren is happy to hook you up with all sorts of additional features, like unique colors for both interior and exterior. There are also options from the company's Special Operations division, such as the performance-enhancing MSO Clubsport Pack and the blacked-out trim of the MSO Black Pack. (Or, of course, you can just hand MSO a blank check and let them come up with all sorts of bespoke colors and features for your ride.)
If you want a 765LT Spider, be prepared to act fast (and pay up)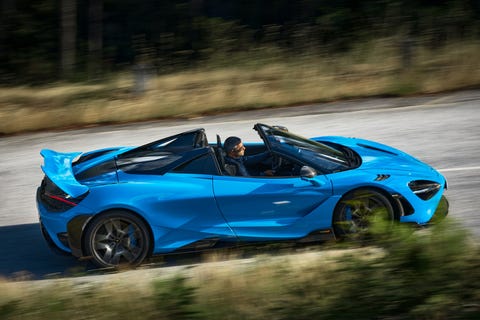 As was the case with the coupe, McLaren plans to build just 765 examples of the 765LT Spider for the entire planet to share — and they've already sold out of 2021's planned production run. That said, with a base price of $382,500 and the aforementioned wealth of options, you might need that extra time to sock away the cash to bring it home, anyway.
The McLaren 765LT Is a Fighter Jet on Wheels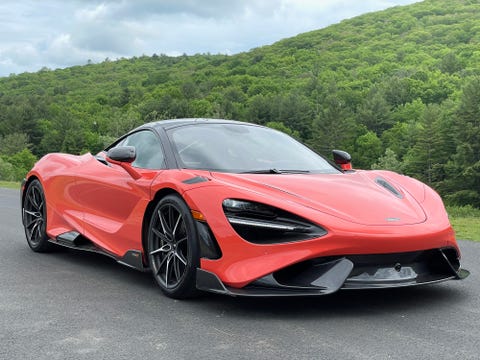 Feel the need for speed? Be ready to be blown away by this Macca.
This content is created and maintained by a third party, and imported onto this page to help users provide their email addresses. You may be able to find more information about this and similar content at piano.io