The BMW Alpina B8 Gran Coupe Is an Exceptional 4-Door Grand Tourer
And hey, you really don't need to worry about your neighbors having the same car.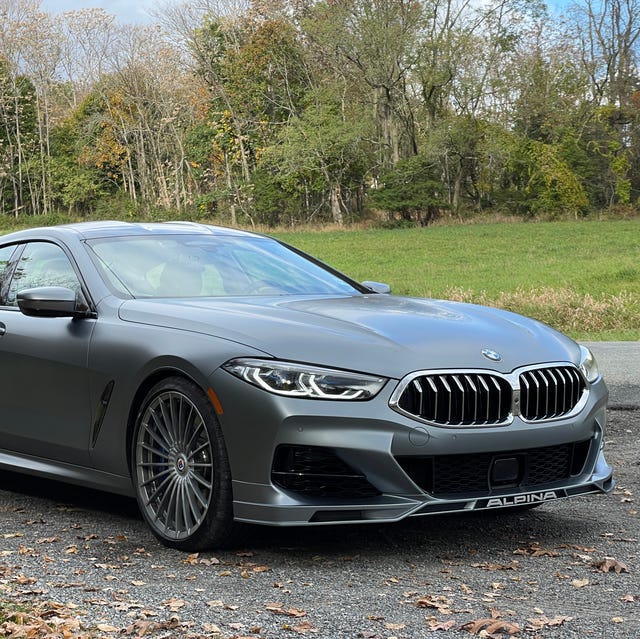 You could be a BMW Alpina person and you'd never even know it.
Let's start with a couple questions. When you lust after cars, do you crave straight-line acceleration most of all, or the feel of lateral g-forces as you slide through turns? Do you find more joy in a long road trip down a fast highway with nary a cop in sight, or in tearing up a road course or empty back road? Do you like running below the radar, or do you want everyone to know what you've brung when you roll up to a stoplight?
Well, if your answers to the above questions tended more towards the former choices than the latter ones, you just might be a future Alpina client.
See, Alpinas have always been a choice not just of cognoscenti, but of people who want to be a little different; it's never the default, always an intentional choice. Their cars tend to be more subtle than the likes of BMW M cars; apart from available bespoke colors and wheels that only declare their nature to Those In The Know, the only outside evidence of their status is a subtle aerodynamic body kit and the word "ALPINA" spread low on the front bumper.
While Europeans can choose from plenty of Alpina models — including some truly sweet station wagons — here in America, we're relegated to three: the Alpina XB7 crossover, the B7 sedan, and the Alpina B8 Gran Coupe sedan, the newest addition to the portfolio — and the one I spent a week with last fall.
Is the BMW Alpina B8 Gran Coupe new?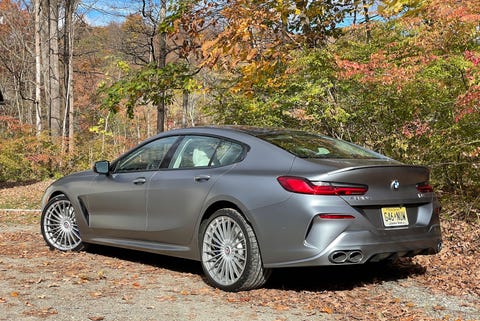 Somewhat. BMW introduced the current-generation 8 Series back in 2018, but it wasn't until 2021 that the team at Alpina managed to turn their version loose on the world.
What makes the Alpina B8 Gran Coupe special?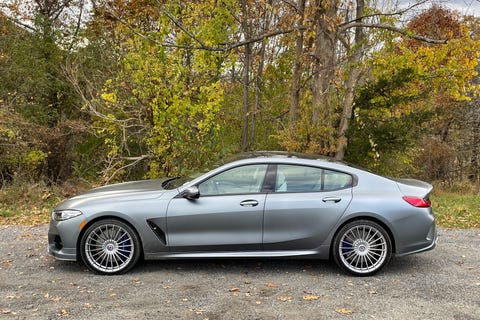 Well, every Alpina is special — that's part of their appeal. They're designed to be the ultimate grand tourers — vehicles made for covering long distances with ease, and ideally, in places unencumbered by speed limits. The B8 Gran Coupe can lope along at 140 miles per hour at 3,000 rpm, and after spending a few days with it, I have no doubt that it'd feel as comfortable cruising there until the tank runs dry as it would at 40.
It's also very, very good-looking — especially in the Frozen Bluestone Metallic matte paint my test car wore, which accents the inherently appealing form of the 8 Series. Even people who don't know what an Alpina is are liable to catch sight of this car and realize it's something special.
What's this Alpina like inside?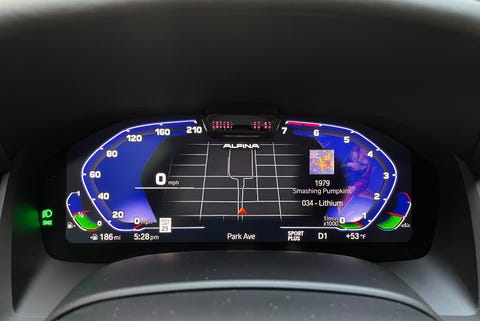 Like all Alpinas, tasteful and elegant. The company's changes to the interior over the regular 8 Series are subtle — indeed, even more subtle than the tweaks the company makes to the exterior, and that's saying something. Blue and green are Alpina's trademark colors, and they're both found inside; the stitching on the leather is green, and the digital cockpit instrument panel glows blue — or blue and green, when you slide the car into Sport. Alpina badging can be found etched onto the glass iDrive controller and in the center of the steering wheel, plus in the form of a very official-looking micro-plaque sits on the center console.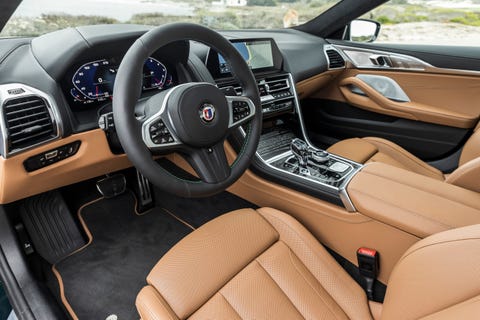 As with other versions of the 8 Series, the interior is roomy enough even for very tall folks — so long as you don't mind taking the driver's seat well into the legroom normally set aside for the rear passengers. It's possible for tall folks to squeeze back in the second row, at least in the outboard positions — I wouldn't try to squeeze three people back there except in emergencies — but only if whomever is up front is on the short side.
My test car came outfitted with the Ivory White Full Merino interior — which is to say, white leather and a white headliner. It looked gorgeous, but I'd be worried about how well such a look would age. Even with only a few thousand miles on my car, the white floormats were already stained — and based on past experiences, white leather car seats have a bad habit of picking up a cerulean shade from blue jeans over the course of even a few months. (Fortunately, Alpina offers quite a few other upholstery choices.)
And of course, the Alpina B8 Gran Coupe has all the high-tech features you'd expect of such a big, expensive Bimmer, from convenience ones like gesture control and Active Traffic Jam Assistant (basically, lane-keeping cruise control for stop-and-go driving) to active safety features like lane-keep assist and blind spot warning. How much you choose to use them is up to you, however; for all their foibles, BMW also does a good job of letting drivers opt out of the systems they don't like, even letting them set up a less-restrictive version of all the nannies available with a single button press. Hell, BMW still lets you program manual radio preset buttons if you want.
What's the Alpina B8 Gran Coupe like to drive?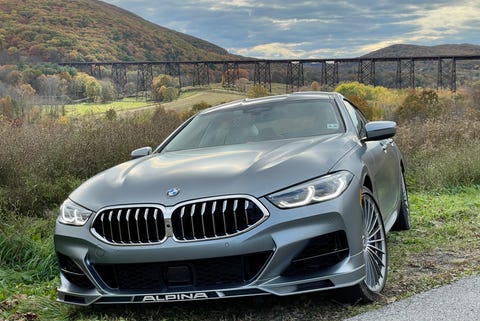 Uh, fast. BMW quotes the twin-turbo 4.4-liter V8 as making 621 horsepower and 590 lb-ft of torque, but I'd swear this thing is cranking out at least 700 ponies based on the way it picks up speed when you slam on the gas, the way it explodes forward both in the midrange and towards the top of the tach. Forget 60 miles an hour; leave your foot in it a beat too long and you'll blast through 100 mph before you know it.
It's also very very quiet at speed, which makes picking up remarkable speed even easier. Indeed, maybe even too easy; keeping up with traffic on the New Jersey Turnpike, I thought I was doing a sedate 65 or 70 miles per hour, until I looked at the speedometer...and saw 88.

Even knowing it's an Alpina, not an M car, the B8 packed a softer suspension than I'd expected. There's more body roll in turns than you're used to with cars of this level of performance and price these days. It's a bit off-putting at first; I'm used to modern super-sedans like the E63 S and RS 7 that behave almost like sports cars in the corners, so it feels like a bit of a throwback to days of yore, when sport sedans weren't quite as hard-edged. Still, while it may roll a bit in the twisties, the overall limits of the car are still remarkably high.
The flip side, of course, is that soft suspension also makes for a delightfully creamy ride. Small bumps and the like vanish beneath it. There are limits: hit a big pothole or exposed drain or other serious obstacle, and it'll slam that 20-inch rim against the bump stops with enough force to make you curse, same as any other car with a short-travel suspension and giant wheels.
What does this BMW compete against?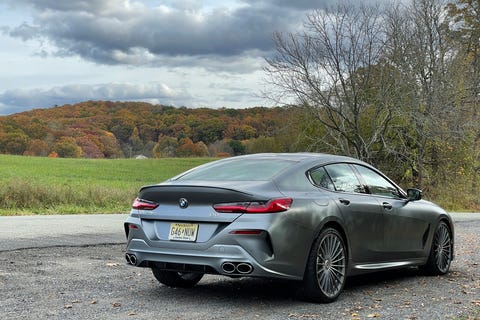 Some buyers might be tempted to cross-shop it against an M5 or M8 Gran Coupe, but those cars really are for people who want to push harder in the turns. A Porsche Panamera GTS or Turbo S delivers similar looks and accelerative force, as does a Mercedes-AMG GT 63 — but like the M models, they trend more towards the sport side of the equation. Whenever AMG rolls out a new S63, that might strike the similar balance between thrust and luxury as the B8 — but it'll be a good size larger, which might be a turn-off for some.
Indeed, in exclusivity and character, the Alpina B8 almost feels closer to the likes of a Bentley or Aston Martin — a four-door alternative to the likes of a DB11 or a Continental GT. It's certainly not a car for everyone — personally, I'd still lean more towards something with an M badge — but for those who like what it's putting out, it's sure to please them every time they climb behind the wheel.
2022 BMW Alpina B8 Gran Coupe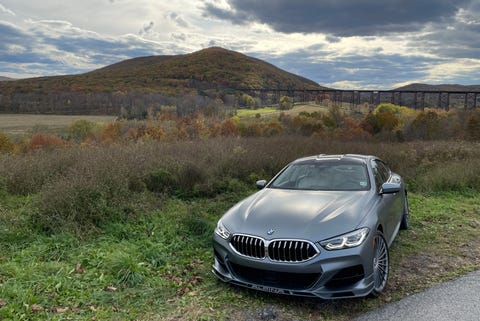 Base Price / Price as Tested: $140,895 / $155,895
Powertrain: 4.4-liter twin-turbo V8; eight-speed automatic; all-wheel-drive
Horsepower: 617
Torque: 590 lb-ft
EPA Fuel Economy: 17 mpg city, 24 mpg highway
Seats: Four, maybe five if you really had to
The BMW M8 Gran Coupe Is a Sexier, Better M5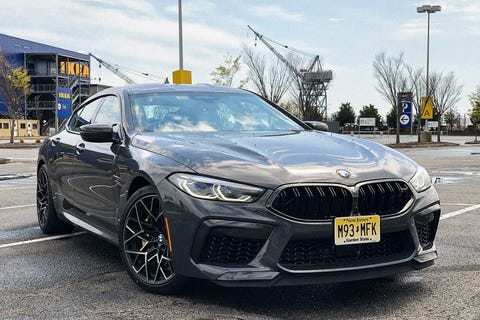 Take an amazing sport sedan, and make it look better? That's gold, Jerry. Gold!
This content is created and maintained by a third party, and imported onto this page to help users provide their email addresses. You may be able to find more information about this and similar content at piano.io