The Bentley Continental GT Speed Is the Grandest Tourer
All the goodness of the Continental GT, now with added fun.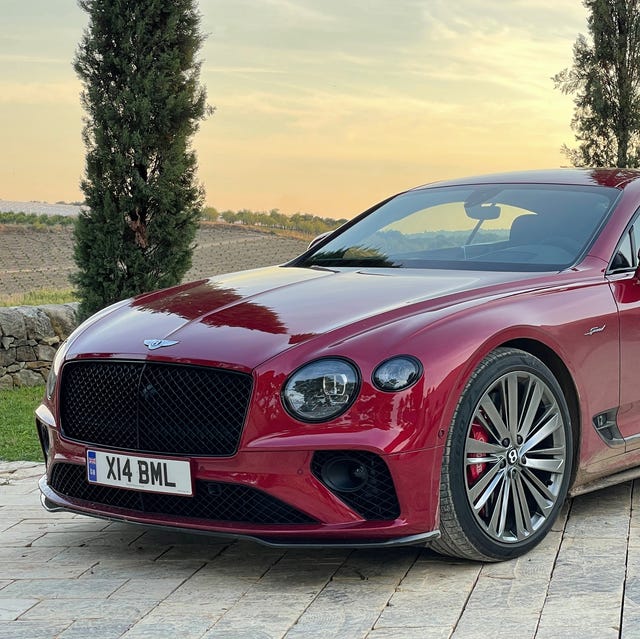 If you pay any attention to cars at the pricier end of the motoring spectrum, odds are good you're familiar with the Bentley Continental GT. It's not too grand a statement to claim that it's the car that saved Bentley from extinction back in the early 2000s, when it redefined the carmaker for the 21st Century — lifting it up from being the purveyor of badge-engineered Rolls-Royce duplicates to a company putting out some of the finest grand tourers the roads have ever seen.
There were several aspects to the Conti GT's success: its timeless and now-iconic design; its superior build quality (thanks, VW ownership); its modernized-but-still-luxurious interior. One of the greatest, however, was its engine. At launch, the 6.0-liter twin-turbo W12's 552 horsepower, 479 lb-ft output was even more astounding than it seems today; after all, back in 2003, a Porsche 911 Turbo made just 414 horses and a Ford Mustang GT put out a mere 260. By early Aughts standard, the W12 was practically a rocket motor.
Sadly, here in 2021, that regal twin-turbo 12-cylinder engine isn't all that much longer for this world. Bentley has vowed to go all-electric by the end of the decade, with the first part of that move being a transition to an all-hybrid-and-EV lineup by 2026 — and given that the carmaker's other engine already come in plug-in hybrid form (either in the Bentley lineup or elsewhere in the VW Group continuum), the W12 is all but assuredly set to be the first internal-combustion motor to go.
But the crew at Crewe aren't quite done having fun with it yet. Hence, the latest W12-powered rendition of the Conti GT: the 2022 Bentley Continental GT Speed. Yet while its 12-cylinder heart may be up on power versus the regular Continental GT, it's not even the most interesting aspect of this car's character. Indeed, it's other pieces of the Speed pie that make it one of the most entertaining Bentleys to drive yet.
Is the Bentley Continental GT Speed new?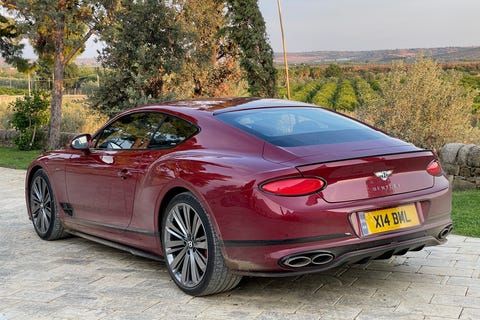 A little bit. The Conti GT revealed in 2018 was redesigned on a shared platform with the Porsche Panamera, a move that helped boost responsiveness and performance while keeping the proportions, looks and solidity that made the car such a hit. The GT Speed receives a handful of small-but-substantive changes designed to make it even more of a driver's car.
What makes the Continental GT Speed special?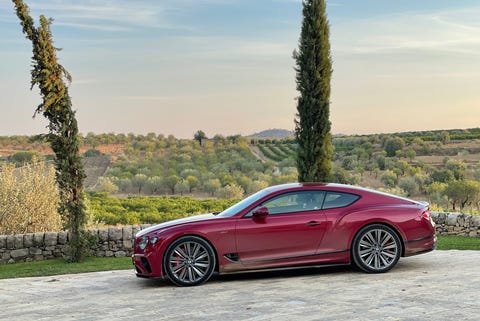 Uh, it's a Bentley — it's basically special to its core. But if you interpret that as "what sets it apart from other Bentley Continental GT models," well, that would be its emphasis on handling. The GT Speed boasts Bentley's first production car use of an electronic limited-slip differential to help actively distribute power between the rear wheels, as well as four-wheel steering for sharper handling at lower speeds and added stability at high ones.
What's this Bentley like to drive?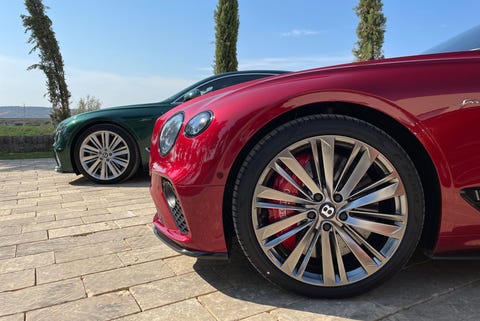 In a word: delightful. All Bentleys are pleasant from behind the wheel, especially when puttering through traffic, rolling down the highway or making epic time along a fast, winding two-lane road. But the Continental GT Speed's tweaks make it downright playful in a way most Bentleys past (or present, even) haven't been.
The 650-horsepower engine and eight-speed dual-clutch gearbox make a killer combination; much like Porsche's version of the DSG, the Bentley arguably knows when to hold gears and when to shift better than you do (though it's still good fun to click through the cogs using the hefty metal paddle shifters from time to time.) Launch it from a stop, and you'll snap from 0 to 60 mph in a couple stopwatch ticks over three seconds, but even that doesn't fully prepare you for the ever-growing shove of space shuttle acceleration that comes as the tachometer winds higher and higher.
And when the time comes to slow down the GT Speed's hefty mass — remember, it weighs in around two and a half tons even before you climb aboard — you've got the largest front brakes found on a production car to help bleed off speed: carbon-ceramic discs 17.3 inches wide tied to 10-piston calipers. (Yes, there are also rear brakes, their specs are just less impressive.)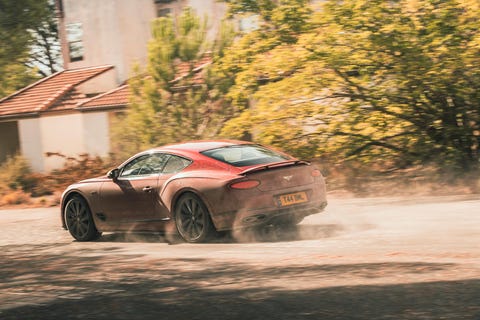 To give us a taste of the Conti GT Speed's agility, Bentley carved a course out of an abandoned nuclear missile base in Sicily, where we — under adult supervision, sadly — could push the car without risk of taking out cyclists, elderly Mafiosi or battered Fiat Pandas. In tight, low-speed switchbacks better made for a Miata, the rear-wheel-steering admirably tightens up the car's line, as if this lengthy coupe had a shorter wheelbase then it does.
Tap the ESC button once to unlock dynamic mode, and the limited-slip diff enables the car to whip donuts on the base's dusty parking lot, or lets the tail slide out playfully around the tight turns of the faux suburban subdivision streets where NATO soldiers and their families used to live under the constant menace of atomic vaporization. (Cold War logic: if you live somewhere near nuclear weapons aimed at the USSR, odds are good the Soviet Union has their own nukes pointed at you.)

Once you're comfortable with it, you can chuck this massive Bentley around almost like a Subaru WRX — catching slides, using the all-wheel-drive to drag you through turns once the front tires bite, leaning on the gas as the car straightens out and letting all the torque rocket the car forward like its proverbial hair is on fire and there's a pond straight ahead. It left me craving another chance to drive this beast on more familiar roads. (Please, Bentley?)
What's the Continental GT Speed like inside?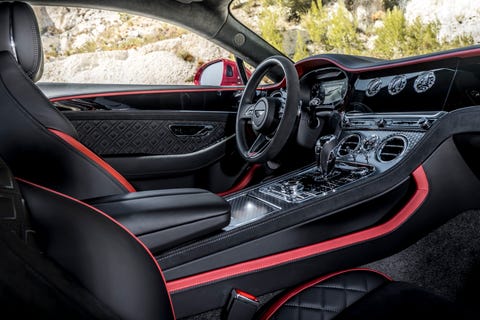 Again, it's a Bentley — it's pretty damn nice. The Crewe team made relatively few tweaks to the interior for the GT Speed; the biggest is the availability of large swaths of Alcantara trim on the seats and elsewhere. Of course, if you're not into grippy microsuede, you can also opt for leather — or, if you're willing to toss enough money Bentley's way, probably any fabric that doesn't come from an endangered species.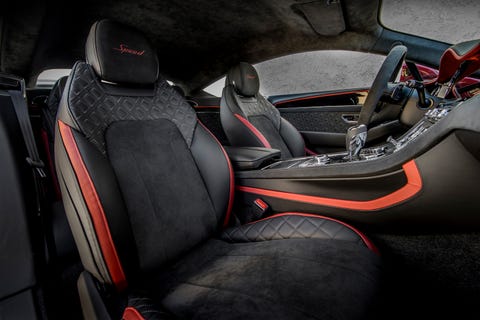 As with the rest of the Continental GT lineup, the interior is perfectly made for two people, offering ample room for even tall folks up front. The exquisite controls all fall right where you'd like them, and the driving position strikes an excellent balance between long-trip comfort and corner-carving stability. And while the optional three-panel rotating display that switches, James Bond license plate-style, between infotainment screen, analog dials and seamless veneer may have been around for a few years now, but it's still one of the coolest options you can buy on a new car today.
The second-row, of course, is another matter; while you could probably squeeze a couple five-footers back there if the front occupants were similarly-sized, it's not a particularly great place to stay. Elegant, impeccably designed, masterfully crafted? Sure. Comfortable? Not so much. If you need a Bentley with room for four, buy a Flying Spur. You're better off using the second row as additional storage to supplement the decently-sized trunk; pack smartly, and you could easily fit a week or two of luggage into this Bentley.
How much does the Continental GT Speed cost?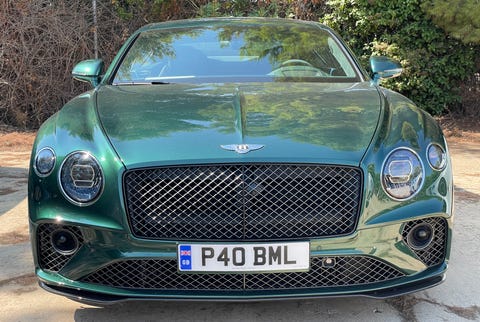 If you want to take home one of these fun Bentleys, be prepared to write a check for at least $274,900 – plus destination and of course, any options you'd like to add on top of the basic car. Realistically, you're gonna be paying at least $300,000 — and quite possibly a good bit more, if you decide to go buckwild on the comprehensive car configurator.
What does the Bentley Continental GT Speed compete against?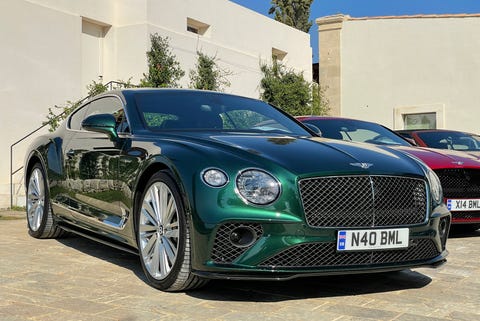 Assuming you're not committed wholeheartedly to a Bentley from the get-go, odds are good you'll want to also take a look at the Aston Martin DBS, which packs more power but less room inside. The Ferrari Roma, Portofino M, 812 GTS and GTC4Lusso all rumble around in the same general area as the Conti GT Speed, although which one floats your boat is a matter of price, proportions and performance. And anyone exploring fun-to-drive sports car / gran turismos would be remiss if they didn't at least take a look at the Porsche 911 Turbo S.
Then again, if you're shopping in this price range, you might just buy all of the above.
The 2022 Bentley Continental GT Speed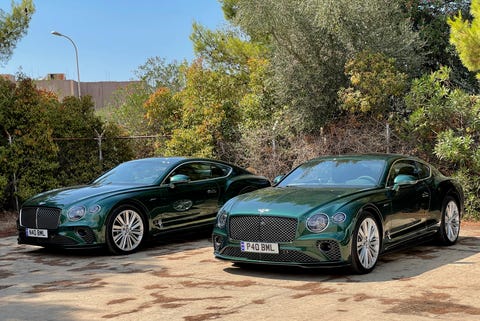 Powertrain: 6.0-liter twin-turbocharged W12; eight-speed dual-clutch automatic; all-wheel-drive
Horsepower: 650
Torque: 664 lb-ft
EPA Fuel Economy: Do you really care?
Seats: Two, plus rooms for two small folks in a pinch
The Bentley Flying Spur Is Made for Escaping the Daily Grind
Any car can help you go somewhere — but some make the journey better than others.