Meet the All-New 2022 Ford Ranger...At Least, the Non-U.S. Version
Here's what the new Ranger will look like.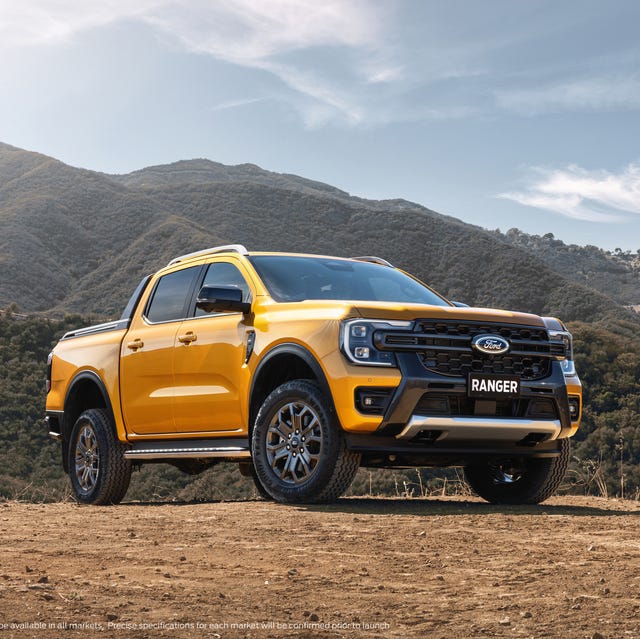 Ford is launching a new edition of the Ranger midsize pickup. We haven't seen the American truck yet, but Ford has just revealed the global edition Ranger, which will be sold worldwide in more than 180 markets.
It's worth reiterating: this truck is not the version that will arrive Stateside. But as with the current version of the truck, the American Ranger will be substantially similar to this one. And this reveal should offer a preview — particularly visually — of what we can expect when Ford brings the Ranger to the U.S. market.
This is what the new Ford Ranger looks like
The global Ford Ranger is two inches longer and two inches wider than the current model. It also gets a more commanding, boxier front end. The C-shaped LED lights and larger grilles tie the Ranger in appearance-wise with the all-new Maverick and the revamped F-150.
The global Ford Ranger does have a V6...but it's a diesel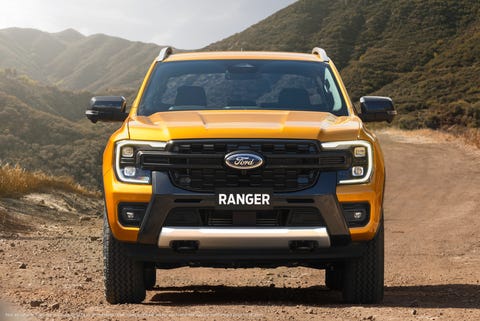 Ford is offering the global Ranger with three different diesel options: turbocharged and twin-turbocharged 2.0-liter versions and a turbocharged 3.0-liter V6. All three engines can be paired with either a 10-speed automatic or six-speed manual transmission.
Ford may bring one of those diesel engines to America, but we'd expect the base engine in the U.S. will be the same 2.3-liter gas-powered turbocharged inline-four as the current model. We expect some form of hybrid engine, either at launch or shortly afterward. An eventual Ranger Raptor may pack the 2.7-liter twin-turbo V6 from the Bronco.

While you can get the 2.3-liter EcoBoost with a stick shift abroad, we don't think Ford will offer a manual transmission option for the Ranger in America. But, you never know.
The new Ranger gets an updated interior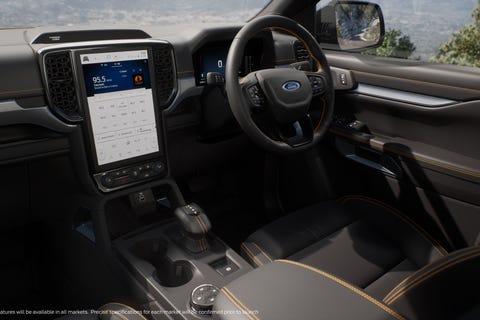 Ford dramatically overhauled the global Ranger's interior. Changes include an available 12.1-inch portrait-oriented touchscreen with Ford's Sync 4 system, a digital instrument cluster and a smaller short-throw e-shifter. Ford improved storage with a larger center console and storage behind and beneath the rear seats.
The new Ranger here looks fancier than the Maverick, and not quite as plush as the F-150. Expect the changes in the American version to be similar.
The new Ranger may hit America in 2023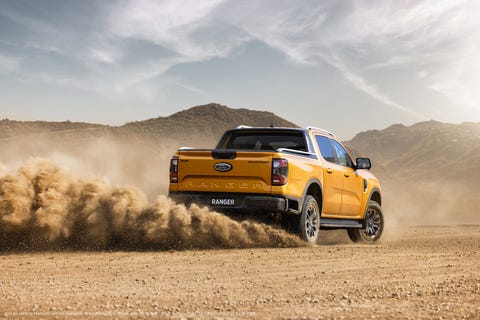 Ford says it will begin taking orders for the new Ranger in Europe in late 2022 with deliveries starting in early 2023. Ford made no mention of an American timeline. But Car and Driver still anticipates the Ranger will be a 2023 model year vehicle.
The 2024 Toyota Tacoma: Here's Everything You Need to Know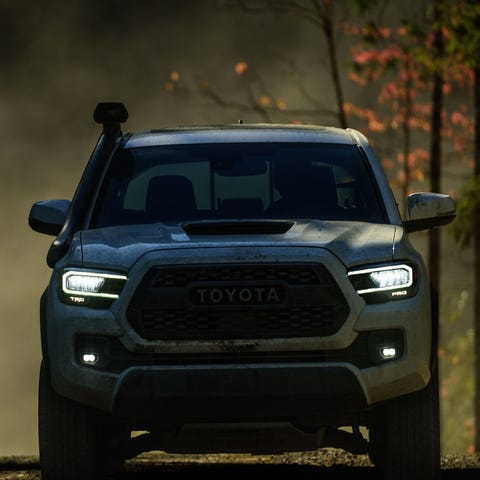 What we know so far about the most-eagerly-awaited midsize truck.