Every product is carefully selected by our editors. If you buy from a link, we may earn a commission.
The 2022 Ford Maverick Is the Small Truck You Didn't Know You Needed
As with its big brother, the F-150, just about anyone can find a reason to buy a Maverick.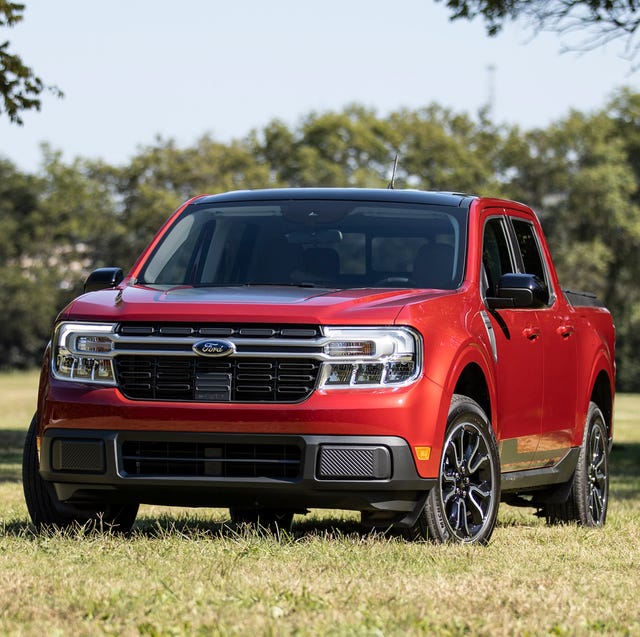 It's been a big year for Ford launches. After years of anticipation, Ford finally let me drive the Bronco this year. And I got to ride in the new all-electric F-150 Lightning before President Biden did, albeit not behind the wheel. But Ford's most exciting 2021 car launch for me — a committed car nerd — may be the new Maverick small pickup.
The Maverick isn't the flashiest vehicle in the Ford lineup, but it's a segment-bending new small truck that may redefine what a truck can be. It's the first affordable, practical and fun new people's car to emerge in a long while. And if that weren't enough, the base model Maverick is now the cheapest electrified vehicle on sale in the United States.
The Maverick looks a bit like the Ford F-150. And like its big brother, it offers a compelling use case for just about everyone.
Do you miss cheap trucks? The Maverick starts just above $20,000. Do you miss small trucks you could park without cringing in fear? The Maverick is about the size of a midsize car. Do you wish trucks were more efficient? Ford estimates the Maverick hybrid may earn 40 mpg in the city.
Need a vehicle that can haul some adventure gear, tow your trailer or be versatile for your small business? Check out the Maverick. Want a cheap lease car for your teenager or college student they won't complain about? Boom, Maverick. Maybe you're just a young single dude bored with the endless compact crossover cacophony? Let's talk Maverick.
The Maverick is exceptional — at least, in theory. But Ford recently brought me out to Nashville for a couple of days to test it out in practice— and the Maverick is exceptionally solid in almost every respect. I won't tell you the Maverick is everything you ever dreamed of — really, you can dream a bit bigger than a reasonably-priced Ford — but it may be the comparatively pint-sized truck you didn't know you needed.
What is the Ford Maverick?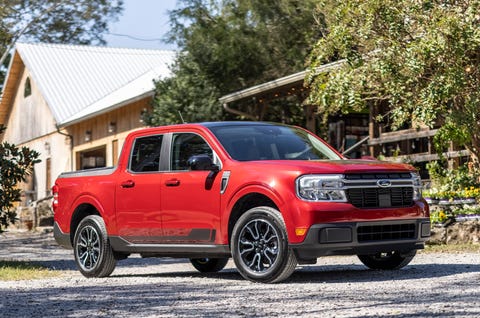 The Maverick is a four-door compact pickup truck. It uses a modified version of Ford's unibody C2 platform, which underpins both the Bronco Sport and Escape crossovers. Ford could have gone either way with the marketing — the Maverick straddles the line between crossover and truck — but the brand has embraced it as part of the "Built Ford Tough" truck family.

The Maverick comes with two engines: a 191-hp 2.5-liter inline-four hybrid (front-wheel-drive only) and a 250-hp 2.0-liter inline-four (FWD or all-wheel-drive). The former mates with a CVT, while Ford paired the latter with an eight-speed automatic.
How big is the Ford Maverick?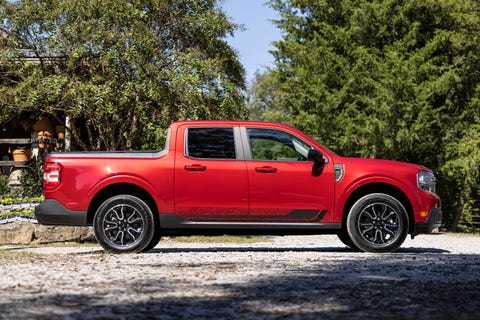 It depends on your reference point. Compact, for trucks, means smaller than a midsize truck, and the Maverick is indeed smaller than the Ford Ranger. Measured lengthwise, the Maverick is 11.1 inches shorter. It's 4.6 inches shorter height-wise, 5.2 inches narrower than the Ranger — and its bed is 5.6 inches shorter than even a short-box Ranger.
So, you might wonder, the Maverick is like the old third-gen Ranger then? Well, not quite. It's about a foot longer, due to the crew cab and looks noticeably longer than older midsize trucks in person. And from a crossover perspective, the Maverick would hardly be considered small. It's about an inch longer than Ford's three-row, midsize Explorer and it has a two-inch longer wheelbase.
How does the Ford Maverick drive on road?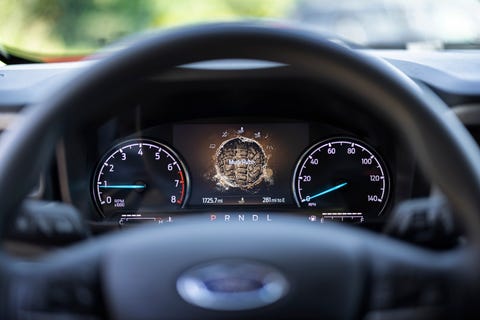 Quite well. Manufacturers can tell journalists a lot about a car's performance by what they will and won't let them do with it on a car launch. Ford was confident. They gave us access to every Maverick and ample unstructured time to drive all of them. After doing so, there isn't much to complain about.
The Maverick is super-light for a truck, weighing 3,563—3,731 lbs depending on spec. That's more or less on par with the Bronco Sport and about 900 pounds lighter than a Honda Ridgeline. At the same time, the wheelbase is 121.1 inches, which is 16 inches longer than the Bronco Sport.
So you get a vehicle that is both lightweight and agile but also very sure-footed with the long wheelbase. Ford tuned the steering and suspension to a pleasant Goldilocks zone. You don't get Porsche-level road feedback, but then again, you wouldn't anticipate (or necessarily even want) that on a truck.
Both Maverick engines have their strengths but can seem coarse when pushed outside their comfort zones. The hybrid can drone on. but it delivers ample power. The only time it labored — and just a little bit — was going uphill from a stop with a full pallet of mulch in the bed. The 2.0-liter EcoBoost drove a lot like the Bronco Sport Badlands, which shares the same engine. It's comfortable in everyday driving, and there's a lot of oomph there. But hammering the long throttle to access it can make power delivery feel delayed and imprecise. Ultimately, the choice between engines will be less about power and more about whether you want efficiency or all-wheel drive.
Does the Ford Maverick really get 40 mpg in real-world driving?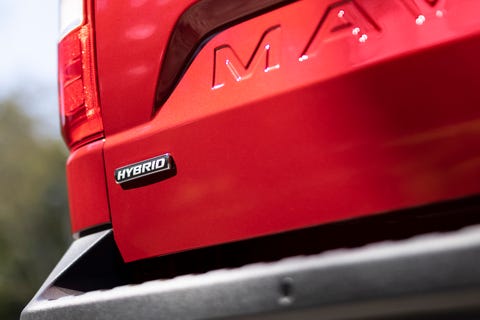 Yes, and potentially even better. My first hybrid sting was a spirited hustle down the scenic, curvy and well-paved Natchez Trace Parkway. I put it in Sport mode, yadda yadda yadda, I averaged 38 mpg. Then, on my second trip testing payload capacity with the aforementioned pallet of mulch, the Maverick earned 36.5 mpg. On my final trip, I kept the Maverick in normal mode for a leisurely drive. Things got a bit too leisurely when I missed a turn while on an important phone call with my wife, which led me on a 30-minute Google reroute detour. When I made it back to base — in time to make my airport shuttle, thankfully — I had averaged 42.5 mpg.

What I didn't do was go full-on eco-warrior mode for maximum mileage. But the Ford guys told tales of others who did that on the trip approaching 60 mpg.
How does the Ford Maverick drive off-road?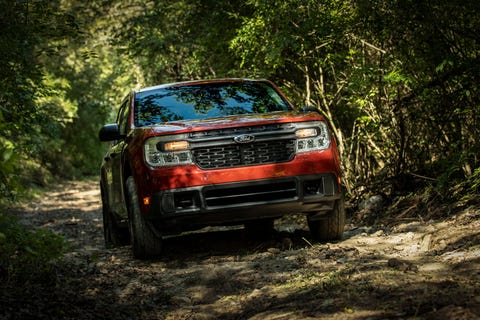 Well enough. Ford portrayed the Maverick as the vehicle that brings you to your adventure. That's automaker code for, it's fine on dirt roads but isn't a real off-roader. Still, you can fit an AWD Maverick with an FX4 package, including all-terrain tires, some underbody production, added Mud/Rut and Sand driving modes and hill descent control.
Our off-road course was a beaten path through a field. There was one moderate uphill climb over some bumps and logs. The Maverick handled everything with aplomb, if not gusto. For what most buyers would want to do with a Maverick — take the kayaks down to the lake or the equivalent — a Maverick will serve them well.
Still, I'd bet we get something akin to the rumored Maverick Timberline trim in the near term. Ford's 2.0-liter has enough on tap to do more capable things — and is used for that purpose in the Bronco Sport Badlands. Owners will be itching to lift the Maverick and beef up the suspension, even if Ford doesn't officially sanction the practice.
What's the Ford Maverick interior like?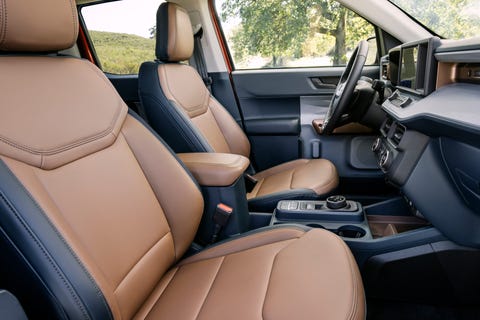 Ford did a commendable job working within its budget limitations. When describing the Maverick interior, Ford's interior design manager Scott Anderson noted, "it's a plastic interior. We're proud of it." And given that preface, it looks great. The design is clean and straightforward. The plastic surfaces employ color and texture to feel interesting and more premium.
Besides looking great, the interior is functional for the people who are going to use it. The standard 8-inch touchscreen isn't Ford's most expensive, but it is clear, and the controls are laid out well ergonomically. Ford incorporated nifty features for the youths like touchdown points for multiple phones on the center console or doors that can clip in extra-large water bottles — Ford sent us home with massive S'well 40 oz bottles to emphasize that.
My only concern — as a dad with two kids in car seats — would be the rear seat space. The Maverick's rear doors are larger than the actual opening. There was enough vertical room back there to sit behind myself easily, but there isn't a tremendous amount of space horizontally for installing a rear-facing car seat. I suspect the Maverick won't reel in straight A's on the Car Seat Fit Report Card.
Can the Maverick do truck stuff?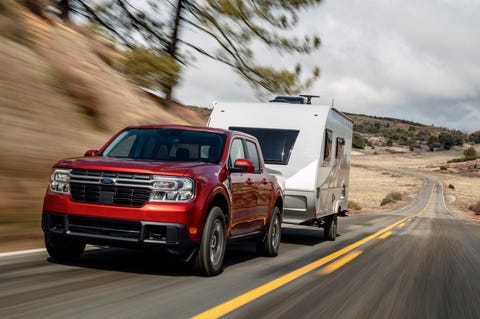 You bet. The Maverick is a unibody vehicle, like sedans and most crossovers, but it has a max payload of 1,500 lbs — which makes it competitive with midsize trucks. Both engines come standard with a 2,000-pound tow rating, but you can bump that to 4,000 lbs on the EcoBoost engine with the 4K Tow Package.
Essentially, you can haul whatever you can fit in the Maverick's short bed, and there's enough towing capacity for a well-equipped camping trailer or a small boat. Plus, the Maverick not only handles those loads, but drives fairly normally while doing so.
Do you like to DIY? Get a Ford Maverick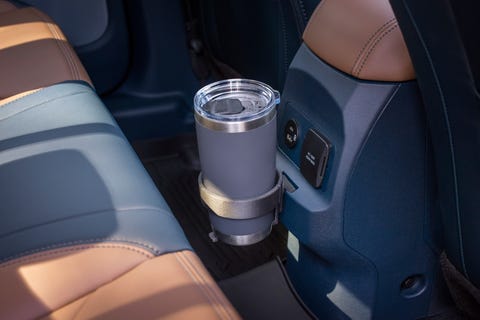 Of course, Ford plans to sell accessories for the Maverick, but they also described their target Maverick customers as "doers and makers." And the Maverick will provide opportunities inside and out for them to build their own storage solutions.
Inside the Maverick, Ford includes the Ford Integrated Tether System (FITS). There are eight matching mounts, one behind the center console and seven under the rear bench seat. Ford sells a $50 FITS accessory package — cupholders, trash bin, cord organizer, grocery bag hooks, under-seat storage dividers. But they are also working on publishing the CAD for the slot design online so buyers can 3D-print their own accessories.
On the exterior, the Maverick comes with a versatile Flexbed. You get an array of cleats, pockets and tie-down points for custom gear storage. Along with its own offerings, Ford is creating an online DIY community — accessible via QR code in the bed — that will offer owners instructional videos on building storage themselves.

The bed also has doer-and-maker-friendly 12-volt power outlets on both sides. And the tailgate has multiple positions, can hold up to 400 pounds and has cleats that double as bottle openers — for soda, of course
How much does the Ford Maverick cost?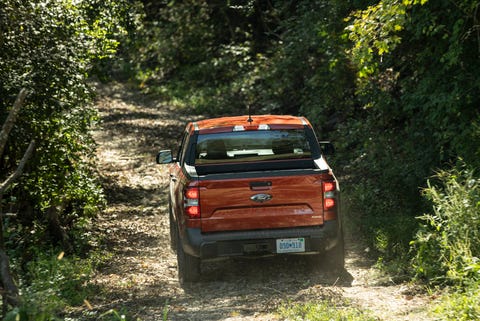 Ford bookended the Maverick between $20,000 and $40,000. Technically, the truck starts at $19,995 MSRP — a little above $21,000 with destination charge included. The most expensive fully-loaded Lariat trim Maverick in the fleet on our trip came out to $38,650 with destination. Most builds came out within $25,000-$35,000.
But to understand what you're getting, let's compare the Maverick to another all-new vehicle that came out this year: the Volkswagen Taos crossover. Both cars are priced roughly the same. The Maverick can offer either a hybrid powertrain that earns 10-plus more mpg in the city or a combustion engine with +92 hp and +93 lb-ft of torque. The Maverick has more off-road capability than the Taos. It can tow. It's more practical than the Taos with the truck bed. It's more fun to drive. And I'd even argue the interior is nicer.
We can debate how Built Ford Tough the crossover-based Maverick truly is. But whatever you want to call the Maverick, it's going to be tough to beat on value.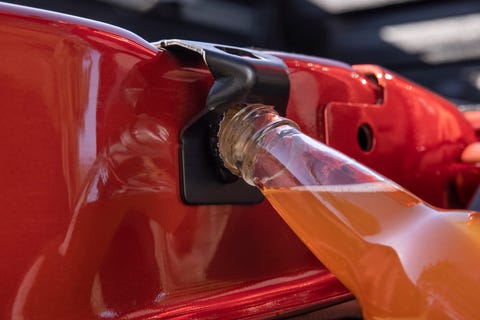 Hybrid Powertrain: 2.5-liter inline-four hybrid, CVT, FWD

Gas Powertrain: Turbocharged 2.0-liter inline-four, 8-speed automatic, FWD or AWD

Horsepower: 191 (hybrid) / 250

Torque: 151 lb-ft (hybrid) / 277 lb-ft
EPA Fuel Economy: TBD (hybrid)/up to 23 mpg city, 30 mpg highway
Seats: 5
The 2024 Toyota Tacoma: Here's Everything You Need to Know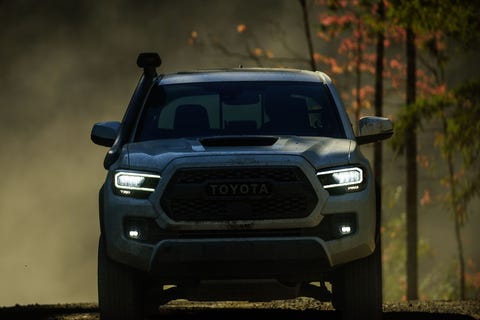 What we know so far about the most-eagerly-awaited midsize truck.