The Porsche Taycan 4S Cross Turismo Is a Killer Everyday Electric Wagon
Porsche's EV station wagon excels on all sorts of levels.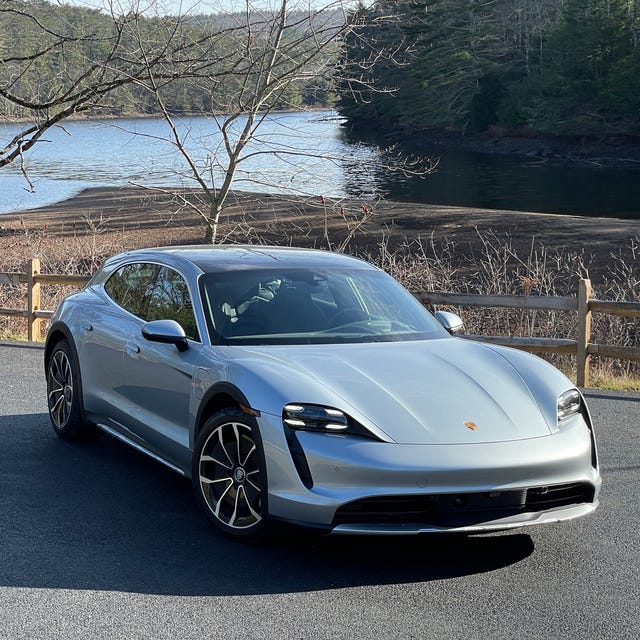 In this writer's opinion, the Porsche Taycan has a way of fooling people about what it is. Most people take one look at the electric Porsche and say, "Oh, it's like a battery-powered Panamera, right?" A logical assumption, but a flawed one. The Taycan is closer to a battery-powered four-door 911 than a Panamera EV, I'd argue; it feels more like a sports car than a sedan, from seating position to reflexes.
That, however, makes categorizing the Cross Turismo version a bit difficult. After all, it's not like Porsche ever made a shooting brake 911 — indeed, that seems about as counterintuitive a thought as exists in auto-dom. Indeed, trying to develop any sort of analogy or direct comparison with any other vehicle on sale today is hard; after all, nobody else makes an all-electric sports wagon that offers the chance to option it with body cladding and a roof rack.
Still, as I found after a few days of driving it around, just because nobody else is doing it doesn't mean there's a problem with the product category. Indeed, the Taycan 4S Cross Turismo offers a delightful blend of performance, style and practicality that makes it an exceptional daily driver — especially if the charging infrastructure where you live makes EV life easy.
The Taycan 4S Cross Turismo remains very much a Porsche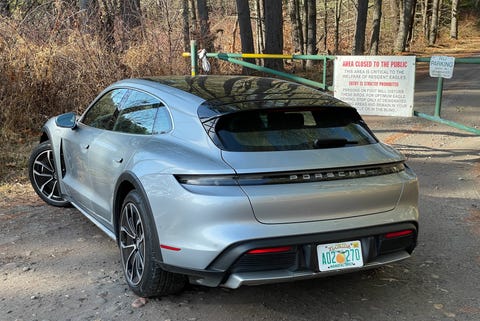 When the Cross Turismo dropped, I described it roughly as the Subaru Outback version of the Taycan. After driving it, however, I can genuinely say I was off the mark there. While it does receive some body cladding around the wheel wells and a slight lift, the lift is inconsequential compared with one of Subaru's soft-roaders; the roofline is 1.2 inches taller than the sedan, and ground clearance upped just eight-tenths of an inch to 5.7 inches — or 6.1 if you opt for the off-road design package and dial the suspension up to max height. To put it another way: its roofline is still lower than a Toyota Camry's.
Suffice it to say, that means it doesn't handle much like a Subaru, either. My test car did without any of the many performance add-ons Porsche has on offer — no Porsche Torque Vectoring Plus, no Porsche Dynamic Chassis Control Sport, no rear-wheel steering, no Sport Chrono Package with its accompanying Sport Plus drive mode — so it wasn't as razor-sharp as the Taycan can be. That said, a Porsche is a Porsche; the body may roll a dash more than expected in turns, but it's still capable of taking them at twice the recommended limit. Plus, the base setup also delivered a wonderfully pliant, comfortable ride, even on the 20-inch Taycan Turbo wheels. (Admittedly, the 19-inch base rims might have tires with more sidewall, but they don't look nearly as good.)
As with the 4S sedan, acceleration is delightfully brisk at any speed; find a gap and smash the right pedal, and the Taycan jumps to warp speed. And when the time comes to slow down, doing so gently will recoup maximum power — but the optional surface-coated brakes of my test car also do a remarkable job hauling this hefty car's mass down to zero velocity lickety-split when need be.

The Cross Turismo body style makes the Taycan much better as a daily driver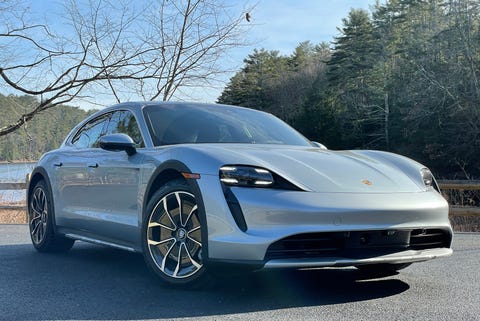 Debating whether the sedan or the station wagon is the more handsome version of the Taycan is a debate every buyer will have to have for themselves; indeed, everytime I wind up seeing one in the wild, I wind up thinking that's the more appealing version until I see the other and change my mind again. The sedan is sleeker and more sporty; the wagon looks more powerful and ferocious, thanks to the added visual weight at the rear.
What's not up for debate, however, is that the Cross Turismo is an easier car to live with every day than the sedan. First and foremost, opting for the wagon turns the back seat into a usable space for adults; instead of curving down at a spine-twisting angle, the roofline now goes straight back, providing ample room for heads. (Legroom remains tight, but there's enough there to squeeze the average American in there without trouble.)
And while the Cross Turismo may not have much of a paper advantage over the sedan in terms of trunk space — there's 15.8 cubic feet in back to the sedan's 14.3 — the space is much more square, making it more conducive to carrying large items. Sure, you might have to block off your rearview mirror if you're really loading it up, but hey, it's a Porsche; whatever's in the rear view doesn't matter.
The Taycan 4S Cross Turismo is also a great electric car...even if charging can be a pain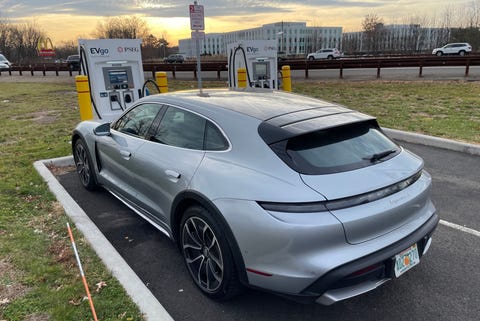 Anyone who's read my prior stories knows I tend to bang the drum fairly hard on the inconveniences and tribulations of charging electric cars, but that's for good reasons: for many people, the next EV they buy will be the first EV they buy — and the more knowledge they have about what the experience will be like, the less likely they are to be shocked by the challenges it throws up along the way and swear off EVs.
As I have in the past, I used the crowd-sourced app PlugShare to sniff out public fast charging stations when battery started falling low after a day of driving around New York and New Jersey. My first stop, a sole 50-kW charger at a Nissan dealership, refused to even so much as recognize the Porsche. My second stop, an Electrify America terminal at a Target, seemed more hopeful — EA is the official free-charging partner for new Taycans, and the "station" had several fast-charging stands — but it too proved fruitless; one charger was dead as a doornail, and the others refused to pair with the car or accept my credit card. (I've noticed that to be a fairly common occurrence with EA stations, so make sure you have the app if you want to use them.)

PlugShare then directed me to an EVGo station at a gas station along the Garden State Parkway, which I was hopeful about, having had success with that network before. Unfortunately, the directions in the app were off by about a mile, causing me to sail past the rest stop unwittingly before I realized my mistake. Getting back involved exiting the highway (and paying a toll) and maneuvering around a rat's nest of suburban Jersey streets at rush hour before finding my way back to the highway. And all that was just for a 50-kW charger, which still took 40 minutes to deliver just 30 kWh of power — less than the energy in one gallon of gasoline.
None of those problems lie at the feet of Porsche or the Taycan, however. Like the 4S sedan, the Cross Turismo is capable of knocking out around 250 miles on a charge when driven somewhere between normally and conservatively, assuming temperatures aren't too cold. One-pedal driving isn't on the menu here, but having spent time in EVs that offer that feature and ones that don't, I wouldn't consider that a dealbreaker; besides, it's not like you won't be recapturing power when slowing down, you'll just be doing it with the brake pedal instead.
The 2022 Porsche Taycan 4S Cross Turismo
Base Price / Price as Tested: $111,650 / $136,370
Powertrain: 93-kWh battery (84 kWh usable) + front and rear electric motors; single-speed gearbox front, two-speed gearbox rear; all-wheel-drive
Horsepower: 482
Torque: 479 lb-ft

EPA Efficiency: 75 mpg-e city / 75 mpg-e highway
Seats: Four, maaaaybe five in a real pinch
The Porsche Taycan GTS Sport Turismo Is a Station Wagon Stunner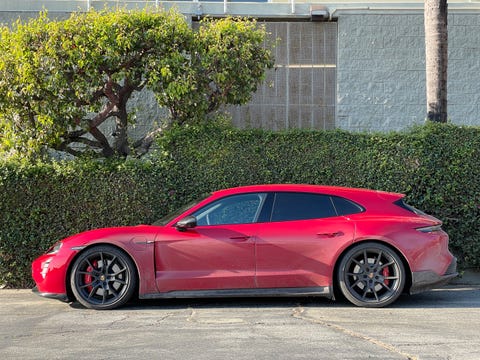 The fact that it's electric is just icing on the cake.
This content is created and maintained by a third party, and imported onto this page to help users provide their email addresses. You may be able to find more information about this and similar content at piano.io