The 2022 Subaru Forester Wilderness Is Born to Be Wild
Subaru's newest Wilderness model is made for living your best outdoor life.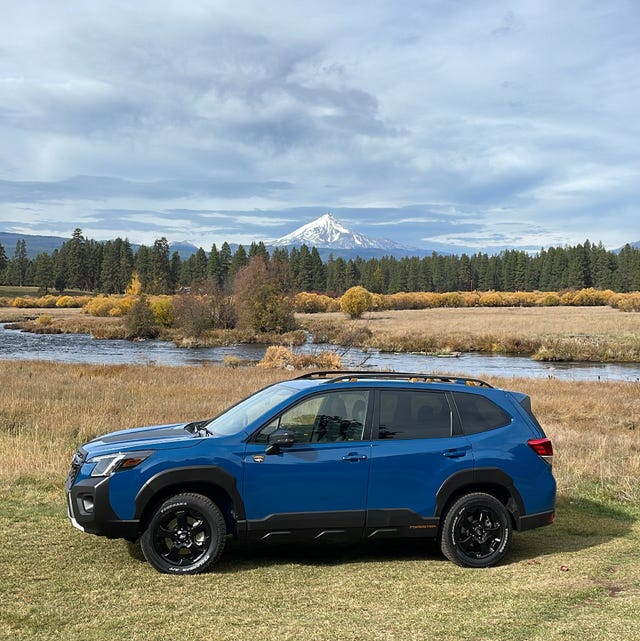 For all its success — and one glance at Subaru sales figures for the last couple decades are all it takes to see just how big a success it's been, as the carmaker has moved more than 2.3 million copies since it debuted — the Subaru Forester has always, in a way, languished in the shadow of the Outback. The Outback was the trailblazer, helping define not just its parent company's path forward from the Nineties but the very concept of the crossover that would go on to dominate the automotive world. The Forester, in turn, was arguably just a variation on the theme — a little taller and shorter than the Outback, a little more traditionally SUV-like in style, but ultimately designed to appeal to the same sort of buyer.
Not that their similarities have hurt either of them. Come 2021, both Outback and Forester have been happily living side by side in Subaru dealerships for nearly 25 years. So when the Outback received a fancy new Wilderness variant earlier this year that seemed perfect for the growing legions of people seeking respite and escape in the great outdoors, it was only a matter of time before the Forester followed suit.
As it turns out, that "matter of time" worked out to be about six months.
Is the Subaru Forester Wilderness new?

Yes — in particular, the "Wilderness" part. All Foresters score a mild mid-life refresh for the 2022 model year, receiving, among other things, a new front bumper, grille, fog lights and headlights, version 4.0 of Subaru's EyeSight active safety suite, revised suspension tuning and an updated X-mode for low-traction situations. Still, you could be forgiven for not picking up on the differences between 2021 and 2022 Foresters — except, that is, for the Wilderness variant.
What makes the Subaru Forester Wilderness special?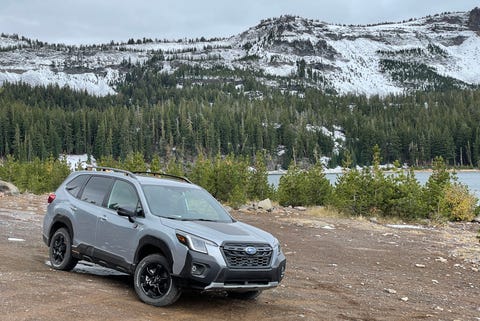 The Forester Wilderness boasts a similar upgrade kit as the Outback Wilderness does: improved approach and departure angles, more aggressive all-terrain tires, extra ground clearance, more aggressive-looking front and rear ends and a dash of added visual panache in the form of black body cladding (which works way better here than it does on the new WRX).
Versus the regular 2022 Forester, approach, breakover and departure angles climb 3.5º, 1.4º and 0.8º to 23.5º, 21º and 25.4º, respectively, while ground clearance rises half an inch to 9.2 — 0.3 inches lower than the Outback Wilderness. (The reason it's less? 9.2 in of ground clearance makes the Forester as tall as a vehicle can be and still roll off the assembly line in Japan, a problem that doesn't affect the made-in-America Outback.)
The Wilderness doesn't see any boost in power over other Foresters; it uses the same naturally-aspirated boxer-four as the rest of the line, which leaves it down 78 horses and 101 lb-ft of torque against the turbocharged Outback Wilderness. That said, the CVT gearbox has been significantly adjusted when compared with the regular Forester, giving it a broader range of ratios to play with — primarily at the low end, for better acceleration off the line and at low speeds.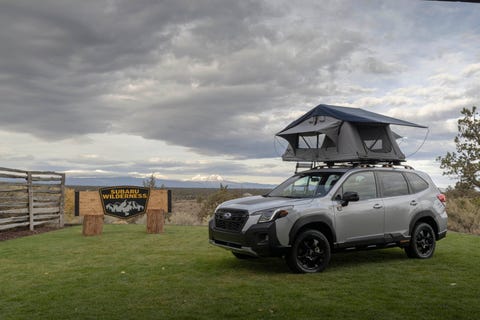 Also like the Outback Wilderness, the Forester Wilderness boasts tweaks designed to make life easier for folks who want to actually live their lives like people in Subaru ads.
There's a full-size spare on a wheel that's identical to the four found on the corners, so a blowout won't leave you high and dry when off-road. (It's also a nice pushback against the trend of ditching spare tires for inflator kits, which, in this writer's opinion, needs to stop.) The adjusted gearbox helps double towing capacity to 3,000 lbs — enough for a small camping trailer. And the roof rack has been pumped up to allow 220 pounds when the vehicle is in motion and 800 lbs when parked — enough to easily accommodate a rooftop tent.
What's the Forester Wilderness like to drive?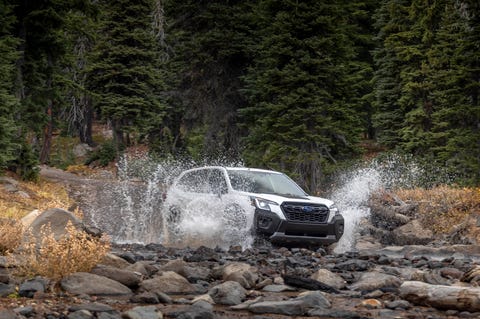 Plenty acceptable. Driving involvement isn't the name of the game here (if you want that, go buy a BRZ); like most modern Subies, the Forester feels a little disconnected from behind the wheel. That said, it feels a bit more dialed-in than the Outback Wilderness; driving them half a year and one whole continent apart makes pinning down the differences a bit tricky, but I'd say the Forester feels more composed on winding roads, with a bit less body roll and more accurate, more direct steering.
The naturally-aspirated boxer-four may be a long way off from the idealized flat-sixes found in Porsches, but the Forester never felt underpowered over the course of several hours of driving around Oregon, even when dashing around at altitudes of a mile up. Granted, it never came close to feeling overly powerful, either — I found the paddles handy to help hold revs mid-tach when climbing long hills — but for long highway slogs, daily drives and so forth, it's plenty potent.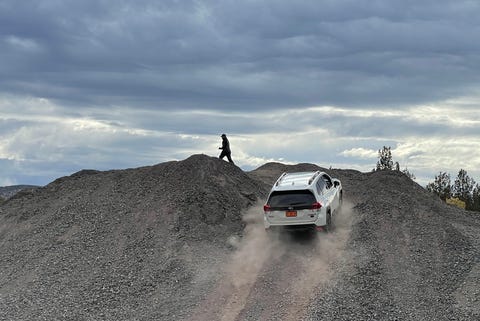 Subaru — perhaps more confident than I might have expected about this crossover's capabilities — gave us a bounty of off-road time behind the wheel during our day with the Forester Wilderness, including both an off-road course where we could test the limits of the X-Mode system and a 10-plus-mile drive down old logging around carved across the side of a mountain that offered up an almost worrisome number of chances to test the penetrative protection of the engine underguard (a $130 option that seems well worth it, as do the other pieces of available steel protection for the belly of the car) and the durability of the Yokohama Geolandar all-terrain tires.
To its credit, the Forester powered through everything we could throw at it — sand, silt, mud, snow, dirt, rocks and so forth — without so much as a care. The shorter gear ratios supply more torque to the wheels at low speeds, which, combined with the grippy off-road tires, makes powering through most off-road situations easy; just choose your line well, and try not to wince when you hear rocks bang off the aforementioned skid plate. (Again, spend the money on the undercarriage body armor.)
What's the Subaru Forester Wilderness like inside?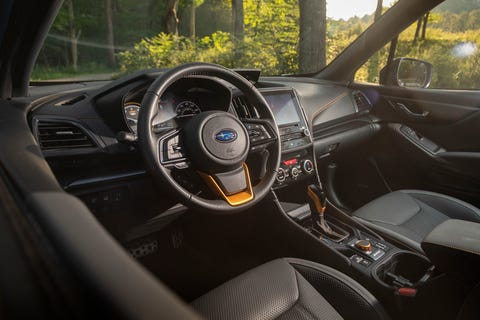 Pretty familiar if you've been in any Subies lately. Up front, it's roomy and generally well laid-out, with a good balance between physical controls for HVAC and drive modes and touchscreen inputs for other, less important stuff. The Starlink infotainment system, while still a hefty improvement over Subaru's prior setups, is adequate, if not quite class-leading; it doesn't respond quite as quickly or look quite as nice as some other such setups, and certain tasks require more digging around in menus than seems necessary. The small second display mounted above the primary one is a handy feature, however, putting secondary vehicle data up near the driver's eye line. (That said, why in God's name does the view from the wide-angle front view camera display there, instead of on the main screen, where you could actually make out any detail in the image?)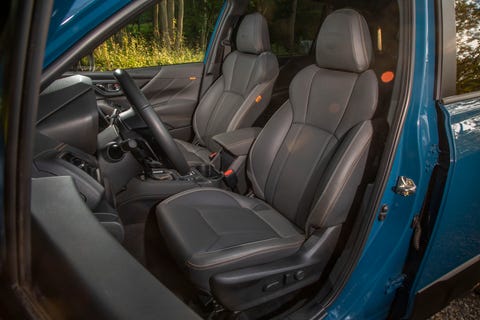 As with the Outback Wilderness, the seats are upholstered in water-resistant upholstery which should fear no mud nor liquid; likewise, standard thick, rubber floormats catch whatever gunk is on your feet instead of letting you grind it into the carpet. The rear seatbacks are also washable, so pets and playthings tossed in the cargo area shouldn't leave nasty stains.
Space inside is plenty ample, so long as you're not looking to transport more than three very tall people. And the cargo bay's height helps offset some of its lack of depth compared with some other crossovers; so long as you don't mind stacking high, you should be able to fit plenty of gear back there.
What does the Forester Wilderness compete against?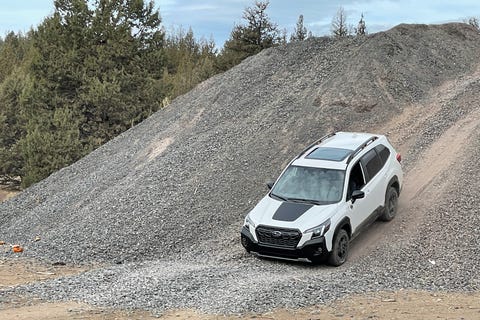 The off-road-angled compact SUV market is a fairly competitive one these days. The Ford Bronco Sport Badlands, Toyota RAV4 TRD Off-Road and Jeep Cherokee Trailhawk represent the closest competitors, though I wouldn't be shocked to see more than a few folks cross-shop it against the similarly adventurous lifestyle-aimed Hyundai Santa Cruz.
Arguably, however, the closest competitor is right alongside the Forester on the lot: the Outback Wilderness. The Outback has more power, ground clearance and interior space going for it; that said, it's not that much more (at least, of the latter two), and you'll pay $4,1175 over the Forester for it. Unless your active lifestyle includes regular instances of needing turbocharged power — if most of your adventures take you well above 5,280 feet, or if you plan on towing on a regular basis — the Forester Wilderness will likely fill your needs just fine.
The 2022 Subaru Forester Wilderness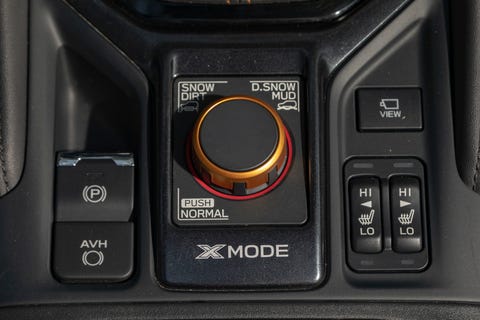 Base Price: $33,945
Powertrain: 2.5-liter flat-four; continuously variable transmission; all-wheel-drive
Horsepower: 182
Torque: 176 lb-ft
EPA Fuel Economy: 25 mpg city, 28 mpg highway
Seats: 5
The Subaru Outback Wilderness Doubles Down on the Formula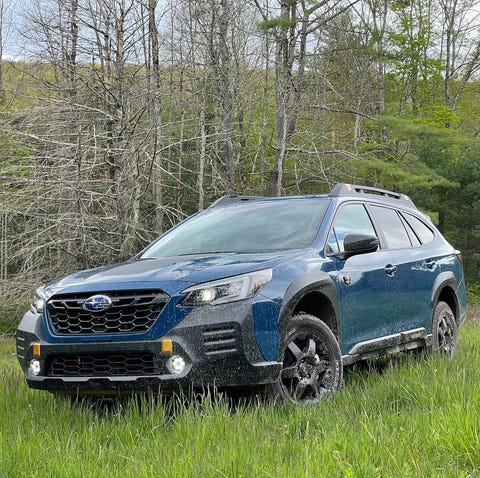 Subaru's newest car packs the extra off-road prowess Outback buyers have been craving.