2022 Detroit Auto Show Highlights: 6 Cool New Cars, and Dinosaurs
The hottest new rides, revealed.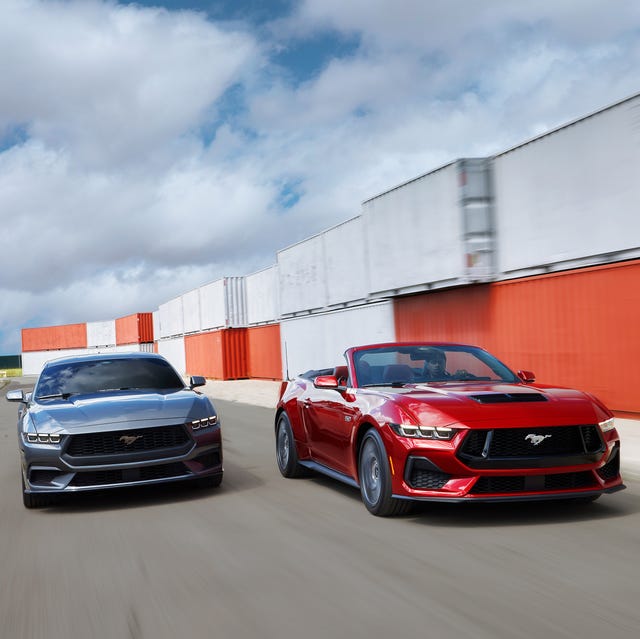 Meet the all-new 2024 Ford Mustang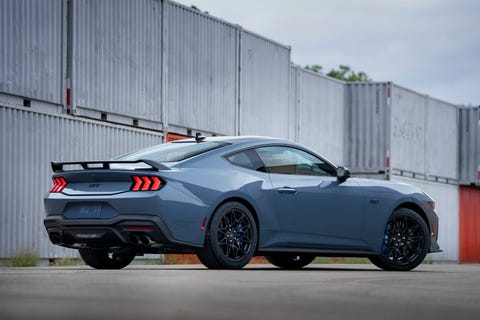 Ford unveiled the new seventh-generation Mustang at the Mustang Stampede event in downtown Detroit. They described it to us as "edgy, sexy and disruptive." But in reality, it's more of an evolutionary than a revolutionary change. And for what will probably be the last combustion Mustang, that's probably what most buyers will want.

You can now buy a fancy cop car Chevrolet Tahoe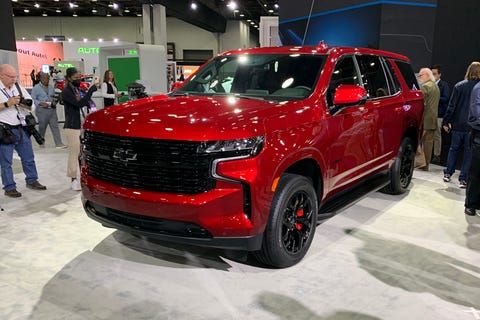 Chevrolet unveiled the 2023 Tahoe RST Performance Edition. It adds performance induction and exhaust systems that bump the 6.2-liter V8-powered Tahoe to 433 hp (+13 hp) and 467 lb-ft of torque (+7 lb-ft). It also includes a lowered suspension, Brembo front and rear brakes and police-spec chassis, suspension and tires. The total package will let you accelerate from 0-60 mph in under six seconds and come to a complete stop from 60 mph in just 133 feet.
This will be one pricey Tahoe, however. The 6.2-liter V8 Tahoe RST starts at $70,415. And the Performance Edition package adds an extra $8,525.
Jeep has a new entry-level Wrangler Hybrid, the Willys 4xe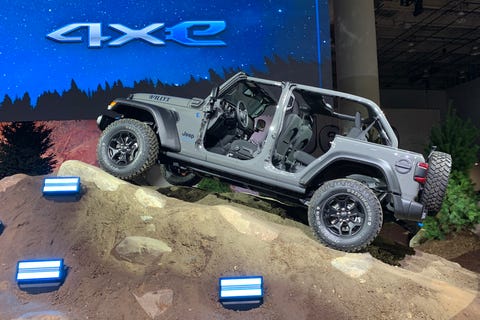 Jeep started its 4xe plug-in hybrid off with upper-level trims. But the brand now has a new entry-level 4xe Wrangler, the Willys 4xe. It includes the standard 4xe powertrain with 375 hp and 470 lb-ft of torque and some off-road goodies like a factory lift to 10.1 inches of ground clearance and mud-terrain tires.
Alas, if you were hoping for the Wrangler 4xe to become more affordable, you will be disappointed. The Willys 4xe will start at $53,995, only $600 less than the cheapest Sahara 4xe.
The Chrysler 300 is going out with a 6.4-liter bang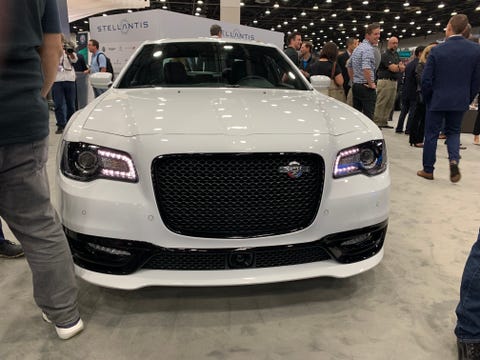 The Chrysler 300 entered the automotive scene in 2005 with style. It's departing next year with more power. Chrysler will build a limited run of 2,200 300C vehicles for the 2023 model year. They will pack a 6.4-liter Hemi V8 with 485 hp and 475 lb-ft of torque. That engine will propel the 300 from 0-60 mph in just 4.3 seconds. And Chrysler will throw in some Brembo brakes to help you stop.
Jeep is celebrating the Grand Cherokee's 30th anniversary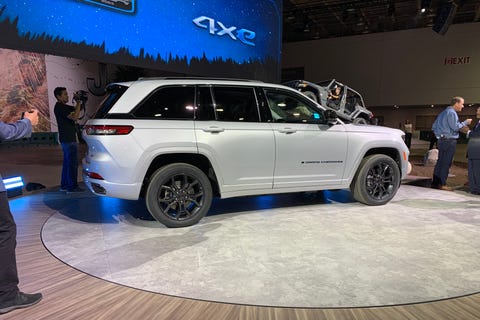 The first Jeep Grand Cherokee crashing through the glass in 1992 may be the landmark moment for the Detroit Auto Show. Jeep is celebrating the SUV's 30th anniversary with an aptly named 4xe 30th Anniversary edition for 2023.
Basically, it's a $4,700 appearance package added to the base 4xe that incorporates some blacked-out detailing, body-color cladding and other features.
Lincoln updated the Corsair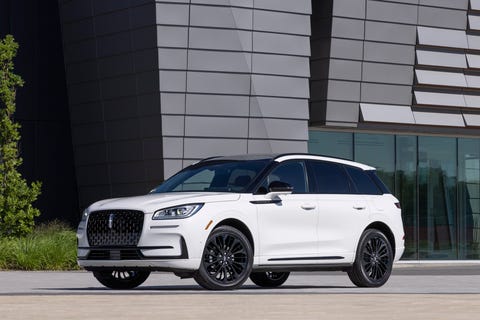 Lincoln unveiled its "elevated" 2023 Corsair, which adds its next-gen ActiveGlide (yes, it sounds like lubricant) hands-free driving system. Features include lane changing with a tap of the turn signal and a vehicle repositioning feature that subtly moves the vehicle away from larger cars in adjacent lanes to help the driving feel more natural.
Believe it or not, Fiat still sells cars in America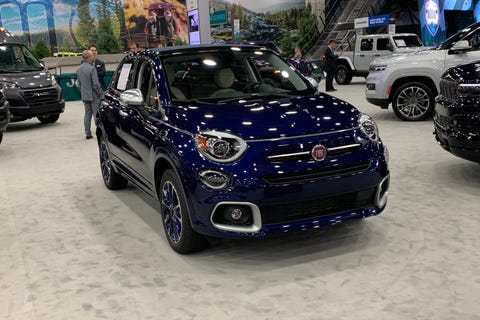 All of the Stellantis brands selling cars in America made an appearance. That, incredibly enough, still includes Fiat. The Italian brand dropped the 500 model in the U.S. and the bargain sleeper 124 Spider convertible. But the 500X crossover remains on sale for 2023. And we found it nestled in amongst some much larger Jeeps.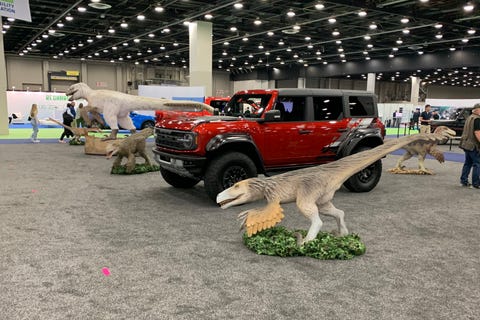 The typically full event floor at NAIAS this year was sparse, as many manufacturers chose to sit the show out. Those brands that did show up had ample space to fill. In addition to indoor drive tracks for the Bronco and F-150 Lightning, Ford devoted space to its Raptor vehicles — and several dinosaur statues of raptors and other species.
We're pleased to report that Ford is keen on the latest dinosaur science and the raptors had feathers. We also saw someone walking around in a giant T. rex costume for unclear reasons.
The 2024 Toyota 4Runner: Everything You Need to Know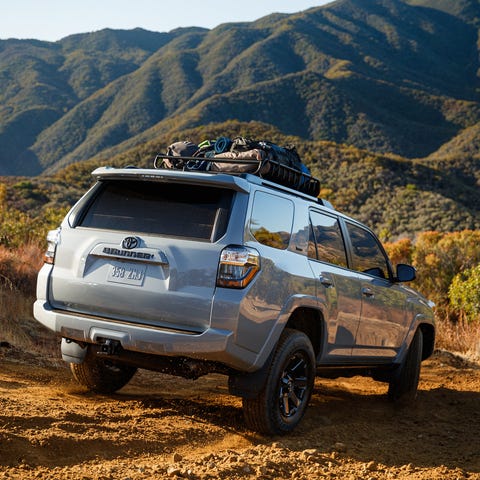 The 4Runner is due for a redesign. Here's what to expect.