The Lamborghini Huracan Sterrato Is a Lust-Worthy Off-Road Supercar
It'll be so popular, Lamborghini probably won't be able to build enough of them.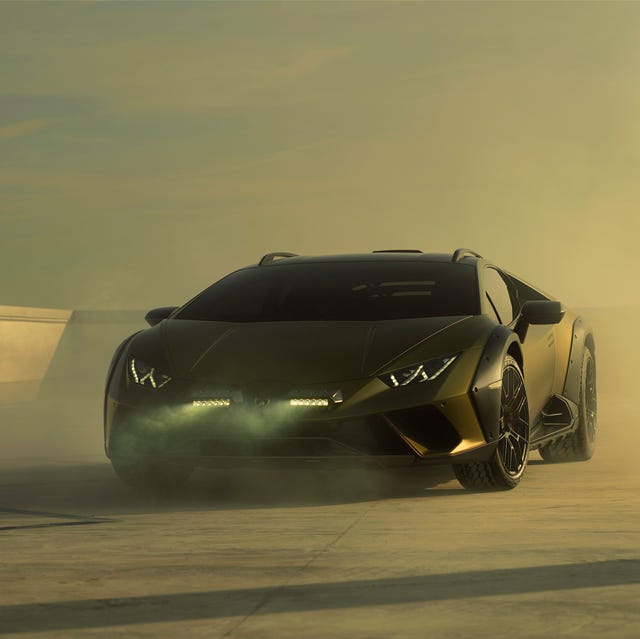 A little while ago, Lamborghini tantalized us with the wild Huracan Sterrato concept, an off-road modified version of the Huracan sports car. You no longer have to be excited it's happening...because it's finally here.
Lamborghini unveiled the production version, the 2023 Huracan Sterrato, at Art Basel in Miami at the end of November. And while it's not your typical offering from Lamborghini, it will be a rollicking way for the brand to bid farewell to internal combustion. Lambos from here forward will move to electrified and electric powertrains.
Here's what you need to know about the 2023 Lamborghini Huracan Sterrato — with some context provided from our conversation with Lamborghini Chief Technical Officer Rouven Mohr.

The Huracan Sterrato is off-road-modified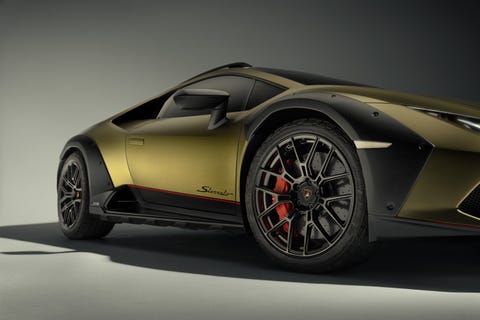 Lamborghini lifted the Huracan by about 1.7 inches to make the Sterrato. It has a wider track by about 1.2 inches in front and 1.3 inches in the rear. The 103.5-inch wheelbase is about 0.3 in longer than the standard Huracan. Lamborghini added aluminum underbody protection up front, reinforced sills and studier wheel arches and specially developed Bridgestone dueller all-terrain tires.
"It's important to understand that it's not only an aesthetic thing," Mohr told Gear Patrol. "The wheelbase is also longer. The tire diameter is longer. So there are strong modifications of the basic car. So it's not only elevated and that's it. We've spent a lot of effort in the fine-tuning."
...but don't call the Huracan Sterrato an off-roader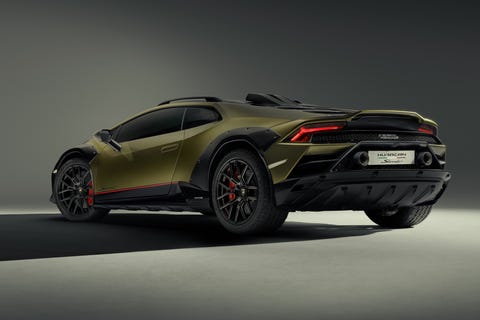 "Off-road sounds for me like off-road park, a little bit of slow driving and some climbing things," Mohr said. "This is not the mission. The mission is to bring the super sport feeling — the fast driving of a car like the STO."
Lamborghini wants to transfer that feeling to "gravel, snow, dust and all the things where we can really fast driving off track," Mohr said. "I call it the off-track experience."
The Huracan Sterrato could, in theory, be capable off-road. But the limited ground clearance limits where it can go. "We made a kind of compromise because we wanted nevertheless to have a kind of super sports feeling. So we wanted to elevate the car, but not too high," Mohr said. From a traction point of view and the capability, the car could do heavy offroad, but it's not possible with the ground clearance."
The Huracan Sterrato is very much a Huracan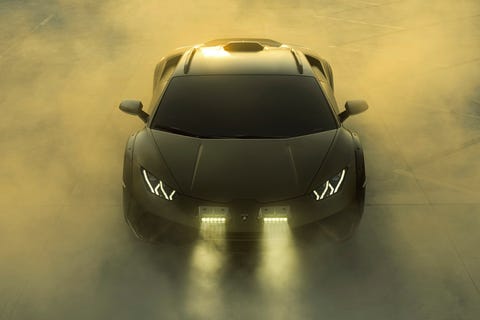 The Huracan Sterrato still features the naturally-aspirated 5.2-liter V10 engine, putting out 602 horsepower and 413 lb-ft of torque. That engine pairs with a seven-speed dual-clutch transmission and all-wheel drive. It still has Strada and Sport calibrations. But the Sterrato also offers a Rally mode for traction on loose surfaces.
Lamborghini says it will accelerate from 0-60 mph in 3.4 seconds and reach a top speed of 160 mph (limited by the all-terrain tires). Mohr said a tire that could provide better performance and the requisite off-road looks and capability "was not available."
The Huracan Sterrato will still hold its own on track. "It's not the fastest car on the track without doubt, but you are still fast," Mohr said. "It's still a fast time and you can have fun on the track day on an asphalt track."
Why did Lamborghini build the Huracan Sterrato?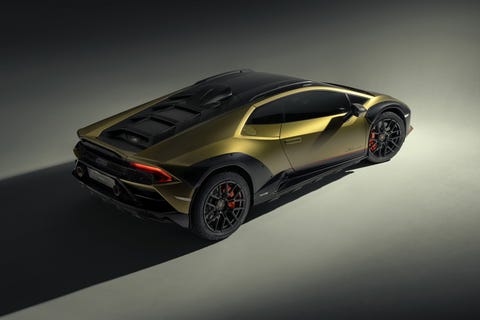 More or less because it was fun — and, per Mohr, the Huracan Sterrato aligned with Lamborghini's brand values of being "brave, unexpected and authentic." Lamborghini engineers knew their cars were fun to drive on gravel from testing(and knew most buyers would never experience that). They built a more optimized prototype from an old durability tester, and it was supremely enjoyable.
"We showcased the car internally. It was only an internal thing from an R&D perspective," Mohr said. "And then everybody jumped out of the car and was so emotional with a big smile."
The Huracan Sterrato may prove more popular than even Lamborghini anticipated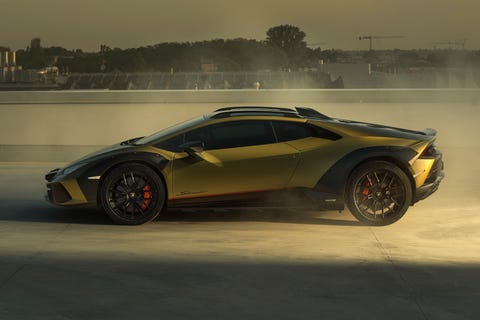 Lamborghini wasn't sure how the public would react to what — recently revealed Porsche 911 Dakar aside — is a new type of production vehicle. "At the beginning it was hard to make an evaluation about the market potential because there are no comparison numbers," Mohr said.
But the Huracan Sterrato is already proving more popular than anticipated. Mohr noted that Lamborghini had increased the initial plan to produce 1,063 Huracan Sterratos to 1,499 units due to high demand.
A key reason, beyond the sheer fun, that Lamborghini has heard from dealer feedback that the modifications make the car more livable daily, whether it's the higher driving position or not having to sweat every speed bump, pothole and awkward parking space entry. "It's the first time that they don't have to fear in their daily usage of the car," Mohr said.
The Huracan Sterrato arrives early next year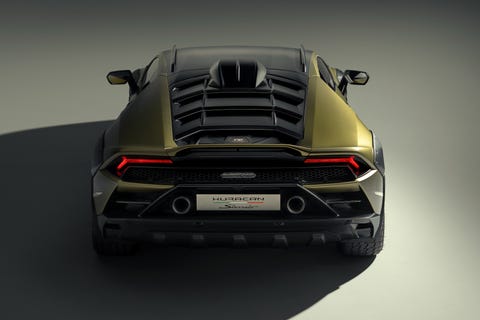 Lamborghini will start the Huracan Sterrato's limited production run in February 2023. Lamborghini has not given word yet about the pricing (we'll bet it's north of the $222,000 911 Dakar).
The Steratto will remain a one-off for the Huracan for now, and Lamborghini must pour a lot of R&D into electrified powertrains. But Mohr "would not say never, never" when asked if Lamborghini would produce future Sterrato models in the future.
The Best Cars You Can Buy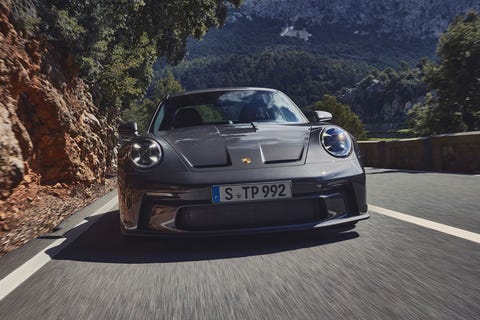 Looking for a great new ride? Start looking here.