The BMW i Vision Dee Concept Packs an Insane Amount of Futuristic Tech
The bold, retro-inspired design is just the beginning.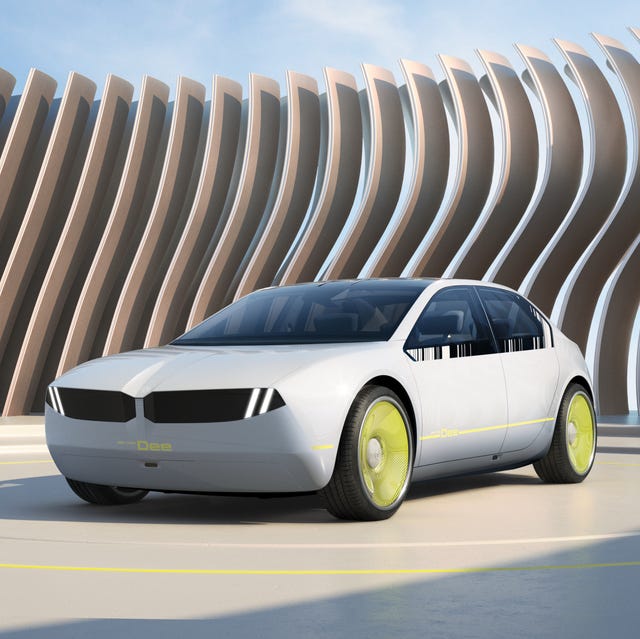 Like pretty much every carmaker these days, BMW is rushing headlong into the electric, autonomous (or at least quasi-autonomous) future. EV models like the iX SUV and i4 sedan/hatchback represent big steps in that direction, but the brand's biggest leap to date will come in 2025, with the arrival of the much-ballyhooed Neue Klasse generation of vehicles.
We knew they would be electric, and we knew they would be important. We didn't know, however, what those cars might look like, or what beyond their expensive new architecture they'd offer in terms of consumer-facing features — that is, until Wednesday night, when the brand reveals the BMW i Vision Dee concept car at the 2023 Consumer Electronics Show in Las Vegas.
The BMW i Vision Dee represents our first look at the Neue Klasse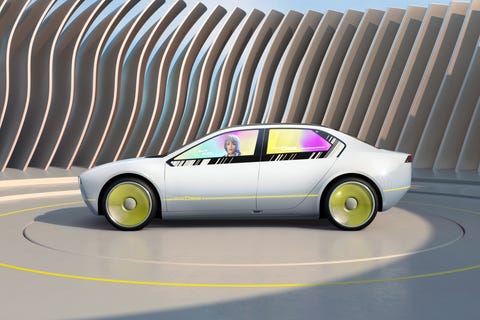 The "Neue Klasse," or "New Class," in case you've forgotten from our previous explainer, will represent BMW's first truly all-electric vehicle architecture. The brand describes it as a groundbreaking leap in technology and efficiency over current models, with BMW CTO Frank Weber describing it as around 25 percent more efficient than even the brand-new i4.
The Neue Klasse will launch in 2025 with two vehicles aimed at the core of BMW's market— one roughly equivalent to the 3 Series, the other equivalent to the X3. BMW hasn't come out and said the design seen here will be the one worn by the EV sedan that will hit the streets in two to three years time...but given that it very much looks different from everything else in the current lineup and would visually represent the sort of mighty leap that's happening beneath the surface, don't be shocked if the first Neue Klasse car looks more like this than, say, the new 7 Series.
"Dee" is all about interacting with the driver — hence the giant head-up display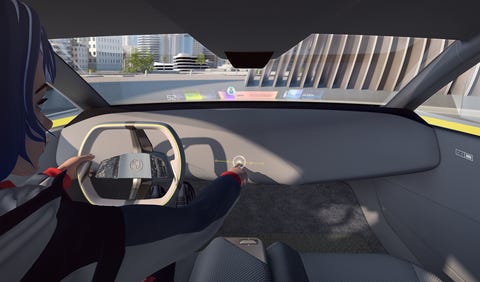 At the car's formal unveiling at CES, BMW made a big deal about "Dee" — which stands for Digital Emotional Experience, and is not, sadly, a reference to the character from It's Always Sunny in Philadelphia — as a natural, interactive virtual assistant sort of technology, the kind with a voice and a personality — having the car argue with (and curse at) Arnold Schwarzenegger in a short promo film, rolling out Herbie the Love Bug and K.I.T.T. from Knight Rider alongside it on stage as examples of the sort of man/machine relationship it aspires to.
While it certainly remains to be seen whether the production version of the Neue Klasse cars will be capable of trading barbs or having a conversation with you, the concept version does reveal some ways we can expect to interact with it. Chief among them is the windshield-wide head-up display, which will be available on Bimmers starting in 2025. Unlike conventional HUD, it's designed to be seen and used occupants in the entire car, not just the driver.
BMW also used it to show off what they called the "Mixed Reality Slider," a control that lets you dial up or down the amount of augmented reality you want on your windshield. At its lowest level, it only reveals the most basic of car-centric information: speed, state of charge, etc. Slide the control higher up the dial, and it begins adding in extra vehicle information, social media feeds, and eventually, superimposes digital projections of virtual environments on top of the scenery in front of you. (BMW executives stressed that such features would be reserved for times when vehicle autonomy was a bit more advanced than today, mind you.)
Oh, the i Vision Dee can also change colors like a chameleon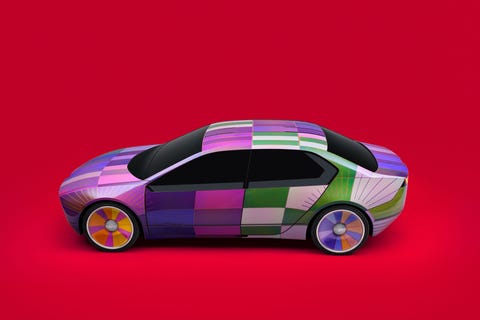 BMW actually revealed not one but two examples of the i Vision Dee at the show — and the second car was the one to steal it, thanks to its color-changing skin. It's a color version of the e-ink exterior seen on last year's iX Flow, which enables the car to cycle between up to 32 shades. But as you can see here, it's not limited to one color across the entire car at a time; each panel is a separate pixel, and can be adjusted individually, creating all sorts of cool effects and liveries. Changing color only takes a few watts of power each time, and once it switches, there's no power needed to maintain the new color — again, it's e-ink, just like a Kindle or ReMarkable tablet.
BMW didn't specify if or when the color e-ink technology will come to production cars; there was no talk of cost, for example. That said, if they can find a way, I'd fully expect them to do it. Trust me: once you see a car flip through shades like this, you're gonna wish yours could do the same.