2023 BMW 7 Series Review: Stunning in Every Way But One
Whether in electric i7 or V8-powered 760i form, the new 7er is a remarkable car...if you can get past the face.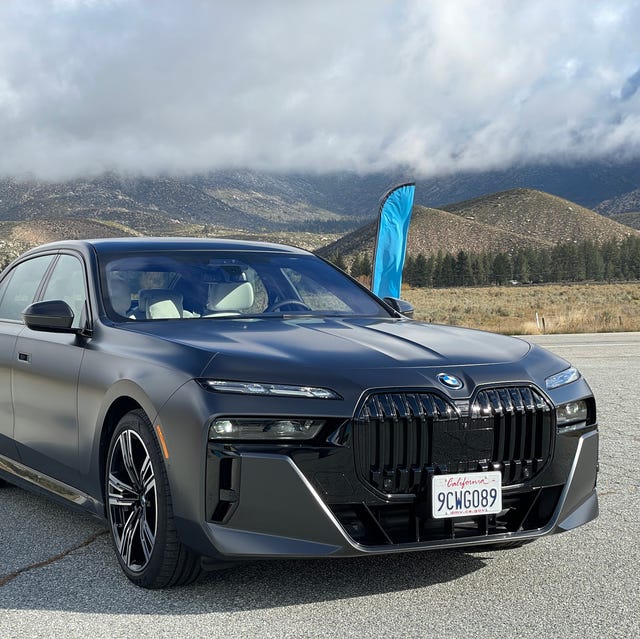 Sedans may not have the market share they used to, but there's one market segment where they still carry plenty of cache: the large-and-in-charge luxury market. America has largely given up on this segment, and Japan and England have slashed back on it as well (unless you're looking to spend the really big bucks on a Bentley or Rolls-Royce), but the Germans are still battling it out with their big, imposing uberraketenschlitten.
Mercedes-Benz may have pioneered this segment with the S-Class, but for the last few decades, rivals BMW and Audi have endeavored to keep pace with the 7 Series and A8, respectively — all of which possess similar qualities of supple ride, prodigious power, top-tier tech and enough legroom to please a giraffe. Whenever an all-new one of these arrives, it's a big deal — and that's even more true today, when companies are under immense pressure to electrify and future-proof their lineups but not abandon the customers who still love their big gas-powered beasties.
So, for the 2023 model year, BMW has rolled out not one but two new full-size range-topping luxury sedans — one powered by gasoline, the other by electricity. For all intents and purposes, however, they're the same car: the 2023 7 Series.
What's new with this new 7 Series?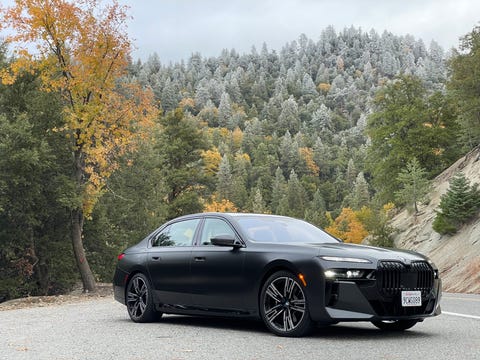 Pretty much everything. The G70 generation, as it's known inside the company, is the seventh version of the 7 Series to grace the highways since the nameplate debuted in 1977. This one is fresh from stem to stern, packed — as is usually the case with a new 7er — with cutting-edge technology designed to make life more comfortable, convenient and seamless for its well-to-do occupants. And not only is it the first 7 to offer an electric version, given Germany's plan to make all new cars be EVs by 2030 and the model lifespan of previous Bimmers, it may well be the last 7 to offer gasoline power, too.
Can we talk about the looks for a second?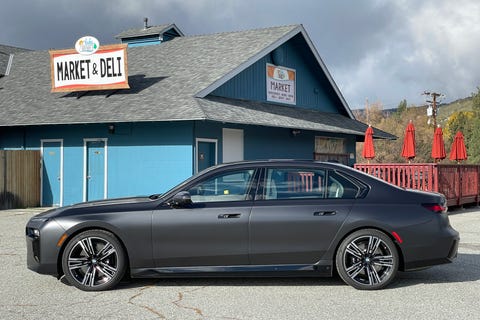 We probably should get that out of the way, shouldn't we. It shouldn't come as a surprise at this point that a new BMW is far from conventionally attractive...but the new 7 Series manages to stand out even from the other new cars found in Bimmer showrooms.
The front fascia legitimately shocks at first, with its unexpected angles and sharp-eyed lights — especially in lighter colors that draw a greater contrast with the blacked-out center portion. (Adding to that is its sheer size; the front end is so tall and blocky, I kept subconsciously expecting an SUV when I caught a glimpse out of the corner of my eye.) The rear, meanwhile, defies convention by protruding its lower bumper way out, almost as though trying to imitate James William Bottomtooth III.
Still, once you spend a little time with it...well, it never looks beautiful, but you start to appreciate how unabashedly bold it is. It looks more proportionate and resolved than the 4 Series and M3 / M4; its grille seems right-sized, and the flanks and roofline bear a slight resemblance to the Rolls-Royce Ghost. Above all else, it's imperious: in the matte black of my electric-powered i7 tester, the face exudes serious Darth Vader vibes. It may not be traditionally handsome, but when people see that front end in their mirror, they'll know to get the hell out of the way.
Tell me more about this electric i7...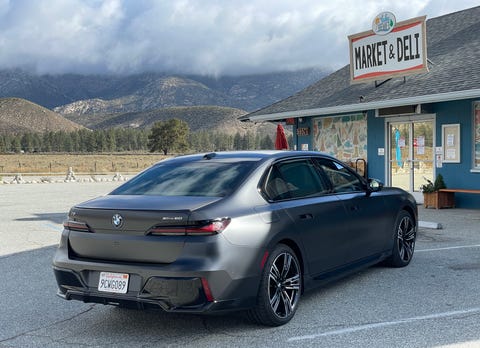 Unlike Mercedes, which has chosen to satisfy the gas and electric markets with two very different full-size luxury sedans — the S-Class and the EQS — BMW is sticking with one car served two different ways.
At launch, the electric i7 comes in xDrive60 form, packing dual electric motors — one for each axle — that combine to spit out 536 horsepower and 549 lb-ft of torque. Thanks to a 101.7-kWh (usable) battery pack neatly tucked away under the floor, the i7 can travel 318 miles on a charge, according to the EPA. Based on my testing, though, that seems quite conservative; assuming the gauge was accurate, it's capable of closer to 340–350 miles of highway range with a full charge.
What about the gas-powered 7 Series models?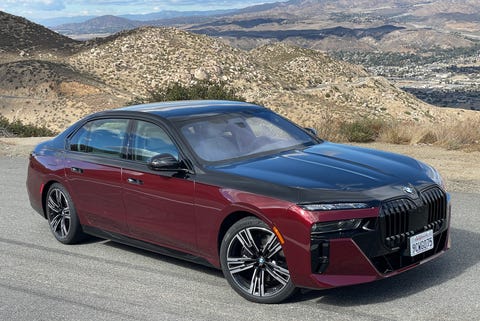 There are two at launch, at least in the United States — and one of them is exclusive to us and Canada. That would be the V8-powered 760i xDrive, which uses BMW's remarkable 4.4-liter twin-turbo V8 to make 536 hp and 553 lb-ft of torque before transmitting it to all four wheels for maximum effect.
If you don't need all that power, you can instead opt for a 740i powered by one of BMW's excellent turbocharged inline-sixes, one that in this case makes 375 horses and 398 lb-ft. (For now, that model only comes in rear-wheel-drive form, but an AWD variant seems inevitable.)
How does the 2023 7 Series drive?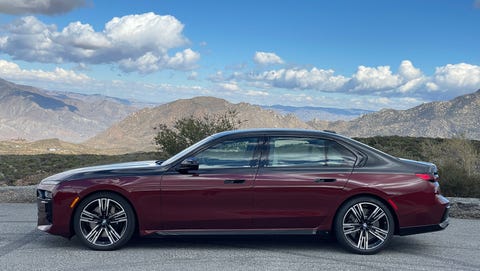 As you might have noticed, both the V8-powered and the electrically motivated 7ers make almost identical power figures. On paper, the 760i has an advantage: it weighs about 900 pounds less. If you did a drag race using launch control, the 760i would almost certainly prove the zippier car.
On the road, though, it's the electric car that feels quicker, at least in day-to-day driving. As with all sorts EVs from Lightnings to Taycans, it's the immediacy of electric motor torque and the lack of downshifts that gives that impression; brush the right pedal and it just goes. To get the same sort of response out of the 760i, you'd have to constantly drive around at 5,000 rpm — and as sweet as its V8 sounds, no one's gonna do that.
By any objective measure, though, either model is damn quick. While chasing a new M4 CSL through the mountains outside Palm Springs, I had the chance to floor it at the same time as the lighter, track-prepped Bimmer ahead; the CSL pulled away, but far more slowly than I would have guessed beforehand.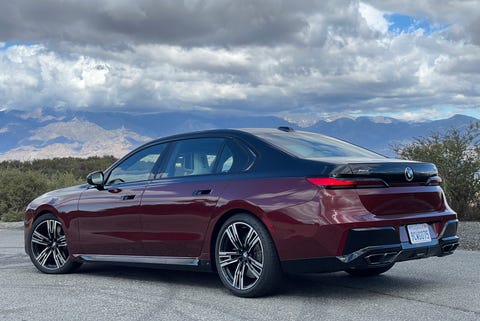 Take to the turns, and it's the i7 that feels a bit more engaging. Some credit goes to where its mass lies; those low-slung batteries bring down the center of gravity, and having its power source spread out between the axles instead of in the nose gives it better balance — its weight distribution comes in at 49 percent front / 51 percent rear, versus the 55 / 45 of the V8 model. In tight turns, the added lump of metal up front lends the 760i a slightly greater tendency to understeer. (Then again, I was hooning along an empty mountain ridge road when I discovered this, so odds are good most buyers will never notice.)
Still, BMW may have aspired to make it the best-driving car in its class, but that class still prioritizes a comfortable ride over razor-sharp reflexes. Both i7 and 760i are capable of making good time through the bends — dialing up Sport mode is a must, though, to button down the suspension — but both feel more content taking the road at 7/10ths than pushing hard.
The flipside of that is the peace and quiet inside. In fact, it's crazy quiet — especially in the i7, where there's no engine noise, just the bespoke Hans Zimmer soundtrack. If anything, it's almost too quiet and too isolating; it can make you feel discombobulated, especially when combined with the pliancy and roll found in the more comfortable driving modes.
What's this new 7 Series like inside?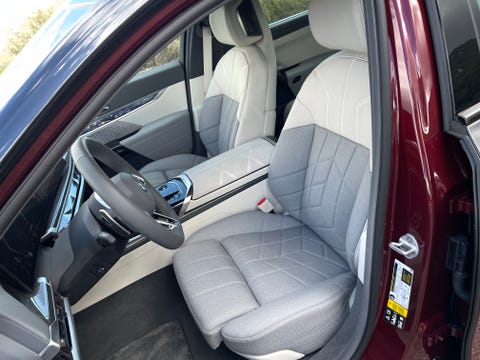 Lavish, sumptuous, swanky — choose your synonym, they all fit. Every time a big luxury car company unveils their latest flagship, they're usually compelled to demonstrate their commitment to luxury by rolling out new features and dialing the sybaritic pleasures up another notch. The new 7 Series is no exception.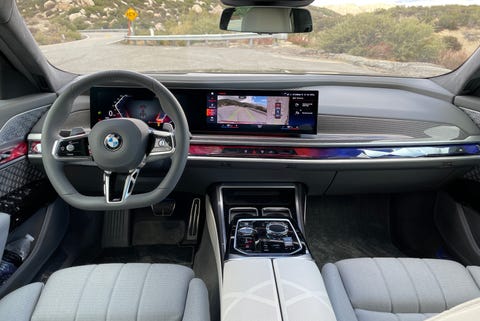 That gray trim you see there? That's a cashmere/wool blend, and it feels absolutely wonderful to the touch — a delightful change of pace from ubiquitous leather. (The seats, of course, are also heated and ventilated.) Some of the 40 speakers (that's not a typo) for the 1,965-watt Bowers & Wilkins Diamond Surround Sound System hide behind metal grilles, revealing themselves in darkness when they illuminate. A backlit crystalline strip that matches the crystal trim on the controls stretches from driver's door to the passenger's and shifts color with the drive mode, while the curved two-panel display on the dash — quickly becoming a BMW staple — serves up crystal-clear graphics, including augmented reality navigation over a video of the road ahead (which, admittedly, is a little distracting, as it forces you to stare at the display instead of the road).
And that's not to mention the movie theater in the back row...
Wait, this BMW has its own movie theater?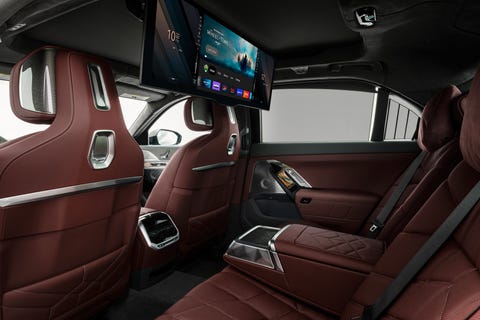 It does, at least if you check the box for the $4,750 Theater Screen package. A 31-inch Amazon Fire-enabled 8K television display slides down from the ceiling, enabling you to stream content over the car's built-in 5G connection. You can wear headphones if you want to be polite to the other occupants, but it's far better to blast it over that fancy expensive stereo you paid so much for.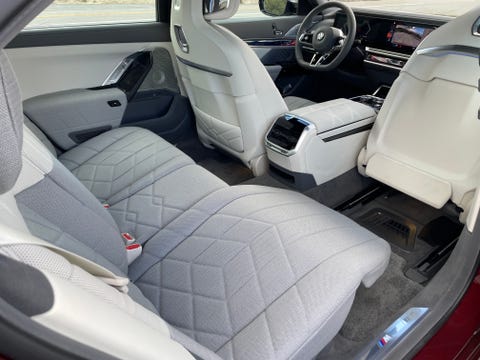 If you really want to enjoy the show, you'll want to also opt for the $3,000 Luxury Rear Seating Package, which brings maximum comfort in the form of ventilation, massage and other features to the rear. The best place to enjoy the view is from the right-rear seat, which offers a recliner function (BMW calls it the "Executive Lounge"); the back reclines up to 42.5º, and the leg rest extends out to support your calves — once you've pushed the front seat forward, which happens automatically, of course.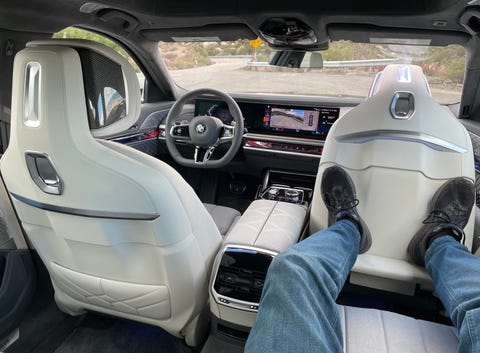 With my 36-inch inseam, it wasn't quite enough space to truly stretch out; if I had, my sneakers would have scuffed the back of that immaculate white seat. Still, if I'd taken off my shoes, it would have been close to ample space. If you're of more average height, odds are good there'll be more than enough legroom for you.
Crazy. What other wild tech does the new 7 have?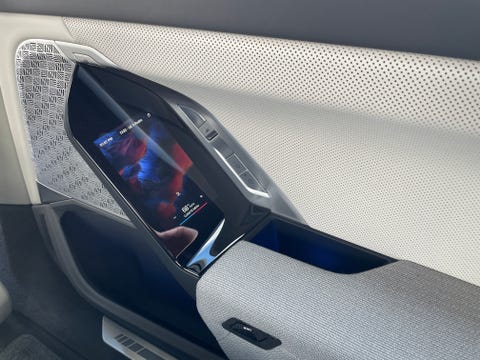 Forget a tablet to control that TV; each rear seat boasts a touchscreen control pad in its door à la Captain Picard's chair, which lets you fiddle with it and all sorts of other on-board features, such as the stereo.
If you opt for the Executive Package, you can open and close the doors at the touch of a button, just like a Rolls-Royce. Go for the $1,250 Parking Assistant Package, and not only will it park itself, but it can remember its recent path and back itself up along the exact same route — just in case you have to park down an alley for some reason.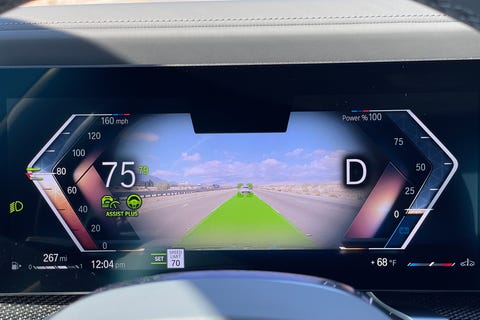 And as is rapidly becoming expected of technologically advanced cars in this day and age, the new 7 Series even offers advanced hands-free-driving aids — in other words, quasi-self-driving. It's not really self-driving, of course; like GM's SuperCruise and Ford's BlueCruise / ActiveGlide, it only works on the highway, uses high-definition mapping to stay on course and depends on the driver to pay constant attention.
I only had a brief chance to test it along a stretch of interstate highway outside Palm Springs, so I reserve judgement on the system until I've had a chance to spend more time using it. Engaging the system is a bit complex; once you toggle on the cruise control, it first offers a choice between passive and active, only revealing the option for hands-free driving once it has a second to realize you're on a road the system likes. The hands-free mode dropped off unexpectedly several times, as well, forcing me to grab back control more than the GM or Ford systems have in the past.
Still, this was an early build version of the setup — the system was only limited to 80 mph, rather than the 85 mph for production — so it may well improve over time. On a lighter note, seeing the augmented reality display in the instrument panel lock onto the car ahead like an F-35 acquiring a target did provide an unexpected moment of joy. (I won't admit to pretending to use the shift paddles to fire a missile, but I won't admit to not doing that, either.)
How much does this BMW cost, and what does it compete against?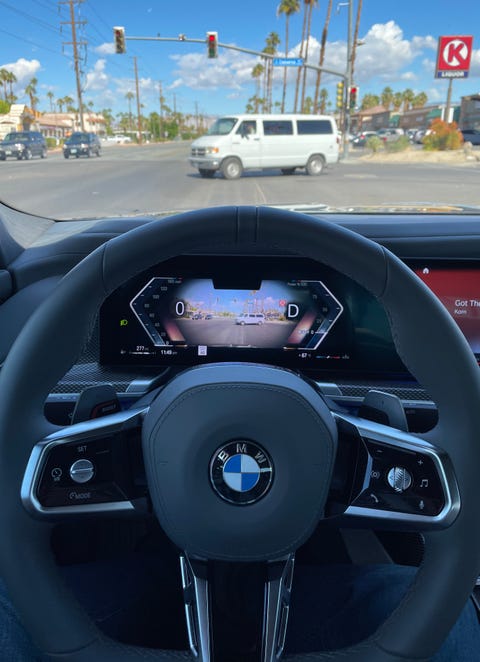 The i7 xDrive60 and and 760i xDrive come in fairly close to one another in terms of price, too; the electric model starts at $120,295, while the V8 starts at $114,595. If you're open to rear-wheel-drive and just 375 horsepower, the 740i can be yours for under $100K — specifically, $94,295. Those prices put it fairly close in line with the Audi A8 and S8, which start at $87,595 and $118,595. The S-Class kicks off a bit higher — its six-cylinder S500 starts at $112,150 — but the V8-powered S560 is more equivalent, starting at $118,750.
If you're looking at electric rivals for the i7, you'll probably be checking out the Mercedes-Benz EQS 580 ($126,950+) and the Lucid Air Touring ($107,000+), and potentially also the Tesla Model S ($106,190+) and Porsche Taycan ($88,150+), though both are a bit smaller inside. Regardless whether ICE or EV, though, the new 7 Series is absolutely worthy of consideration if you're in the market for a large, luxurious sedan. And if you're worried about the looks — hey, you can't see the front end from the driver's seat.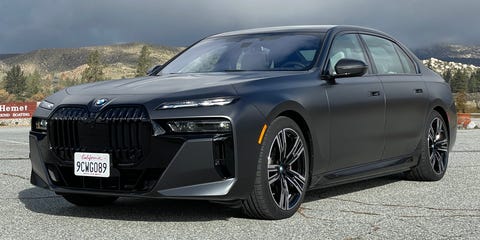 Powertrain: Dual electric motors; single speed gearbox; all-wheel-drive
Horsepower: 536
Torque: 549 lb-ft
EPA-Rated Range: 318 miles
Seats: 4–5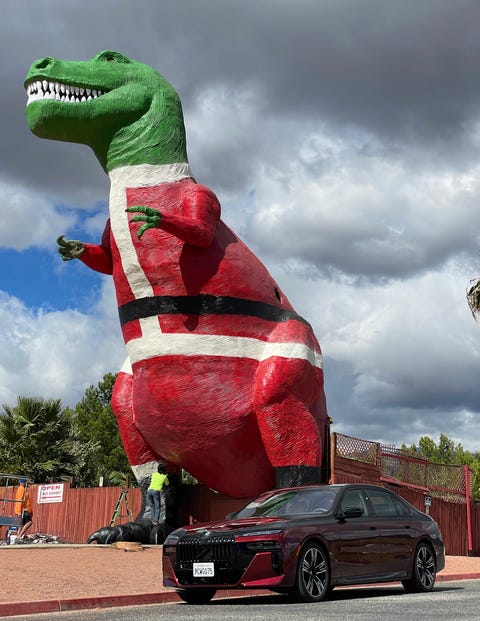 Powertrain: 4.4-liter twin-turbo V8; eight-speed automatic; all-wheel-drive
Horsepower: 536
Torque: 553 lb-ft
EPA Fuel Economy: 18 mpg city, 26 mpg highway
Seats: 4–5
2022 Audi S8 Review: The Large-and-in-Charge Sport Sedan Icon Endures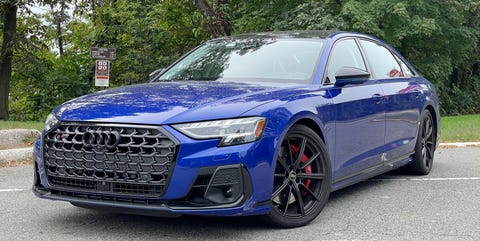 If you need to go fast, stay low-key and stretch out your legs, it's still hard to beat the S8.