2022 BMW iX Review: Meet the Most Noteworthy Bimmer in Years
Going full steam ahead into the electric future.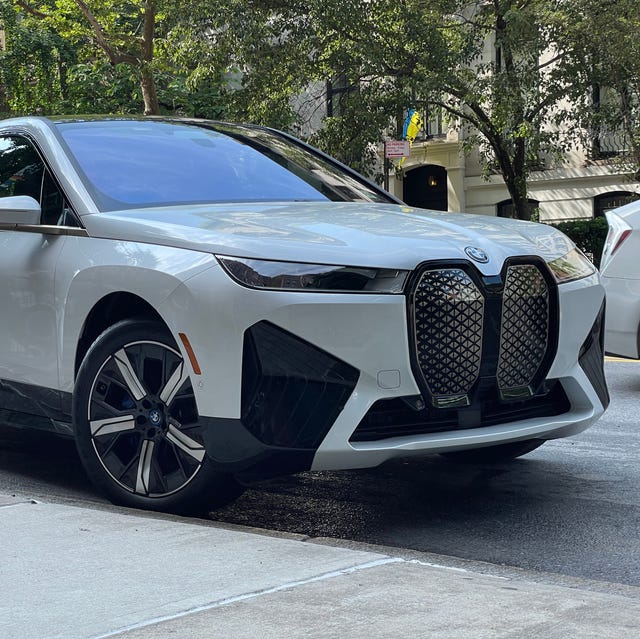 Let's face it: Chris Pine's dramatic line reading of the slogan notwithstanding (that's right, he's the voice in those ads), it's been a long time since BMW could legitimately claim that its cars represent "The Ultimate Driving Machine." Recent years have seen a host of new models that, while certainly fancy and certainly packing plenty of motor, have lacked that fun-to-drive spirit that set Bimmers apart from Benzes and Audis and other mainstream luxury brands for decades.
BMW, in some ways, has been struggling to find a new identity to help define it for the next couple decades. As it just so turns out, though, that search comes at an opportune time: a moment when basically every carmaker on Earth is scrambling to figure out how their character will change as they ditch decades of internal combustion-based charisma for the anodyne hum and anonymous shove of electric power.
And perhaps no vehicle the brand currently sells offers a better look into what that future could be than the all-new BMW iX.
What makes the BMW iX special?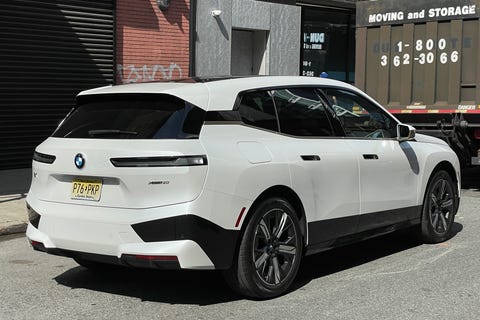 Simply put, it's the first purpose-built electric vehicle from BMW meant for a mainstream audience.
Now, it's not the first vehicle from the i sub-brand, or even the company's first EV; the i3 city car introduced a decade ago was an electric car that, in some cases, offered a gas-powered generator to extend its paltry range. Likewise, the BMW i4 that went on sale around the same time comes bearing electric motors and battery packs in lieu of a Bavarian engine.
But the i3 (and i8 plug-in hybrid sports car) were niche vehicles, and the i4 is based on the same chassis as the gas-powered 3 Series, making it more of a Frankenstein than a true-blue EV. The iX, on the flip side, only exists as an electric vehicle. It also comes — not coincidentally — as a midsize crossover, exactly the sort of vehicle that luxury car buyers in America can't get enough of these days.
The iX's appearance certainly warrants a mention here, as well. Like, well, just about every new BMW today, it's a striking vehicle, with minimalist light fixtures and a mighty grille (though, in this case, it's actually a solid enclosure for sensors, complete with self-healing skin). Somehow, though, the dominating nostrils, squinty-eyed headlights and trapezoidal accents work well here, giving the iX presence without overwhelming its proportions; the details are more cohesive than they look in pictures. Indeed, the design language feels more coherent and appropriate here than on, say, the new M3, where it feels like designers took the handsome 3 Series sedan and performed the precise opposite of putting lipstick on a pig.
What's the BMW iX like to drive?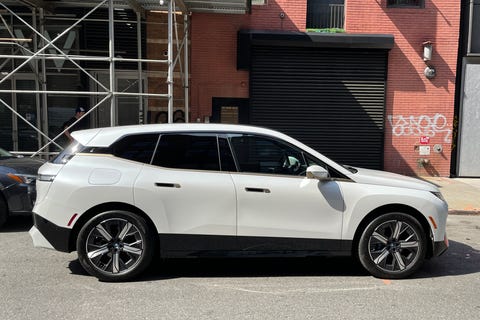 Damn good. With 516 horsepower and 564 lb-ft of torque on tap, it's delightfully quick, both from a stop and on the roll. It's quick enough to enable you to dive into gaps or make other moves you might not have considered before. There's an M60 version that packs even more power, but honestly, it's not needed; the sacrifice in range that comes with it is a bigger loss than the extra juice is a draw
Give the wheel a turn, and you'll find an unexpected surprise — sharp steering and taut handling, more in line with a sedan than most SUVs. Some credit certainly goes to the giant 111.5-kWh battery pack that keeps the center of gravity so low, but plenty also deserves to go to the suspension and chassis engineers whose work keeps this hefty trapezoid's mass so well controlled even under extreme duress. (My tester came with the Sport Package and the Dynamic Handling Package, for what it's worth, so it was about as made to boogie as an iX xDrive50 can be.) If all Bimmers were still this fun to drive, they might be able to claw back some legitimacy for their slogan.
Speaking of said battery pack, it deserves special mention, because its size plays a key role in the iX's downright impressive range. I took the iX on a weekend trip from New York City to Washington D.C. and back again, a journey of about 225 miles, and while I'd planned out primary and secondary fast-charging spots along the way, I needn't have bothered. Even in summer heat with the A/C on, with traffic alternating between fast-moving highways (New Jersey), intolerable stop-and-go traffic (Delaware) and a mix of both (Maryland), the iX's full battery would have carried it around 320-340 miles, based on the display and my calculations. At that point, worries about range anxiety start to fade quickly, at least in my experience.
Slowing down is reassuring and rewarding, thanks to a combo of mighty physical brakes and a regenerative braking system. The active regen feature is especially — and unexpectedly — delightful; by using the cruise control's radar system, it monitors the distance between you and the vehicles ahead, and dials in the appropriate amount of brake regen. If the road is open ahead, lifting off the throttle lets you coast freely; if there's a car in front of you, releasing pressure on the accelerator slows the iX down to match. It's seamless, intuitive, and improves your experience without you needing to think about it — as the best tech always does.
What's the interior of the BMW iX like?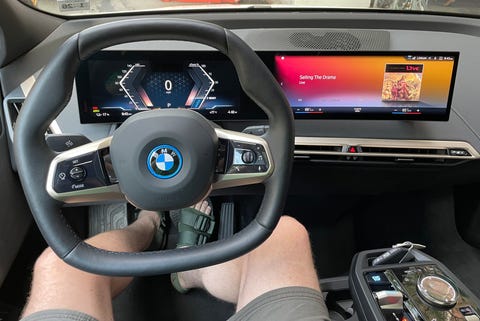 It's as futuristic as the exterior — maybe even more so. The iX is one of the first Bimmers to pick up the brand's new dual-pane infotainment/instrument panel screen setup, which pairs a 12.3-inch display on the left with a 14.9-inch touchscreen one that's also operable via the familiar iDrive clickwheel. (There's voice command too, as with many a modern car; and as with many a modern car, you probably won't use it.)
The rest of the interior is, perhaps, even more futuristic — and certainly more unique than what's found in your average crossover. The floating center console (one benefit of a transmission-free floor) is both stylish and capacious, with perhaps the best wireless phone charger placement I've ever encountered; the wide expanse of leather across the dash looks like a minimalist dream, what with its free-floating screens and waterfall drop to the floor.
Some pieces don't quite feel quite as luxury car-worthy as others, however. The leather on the seats, gold-bronze trim and the crystalline iDrive control knob certainly feel like what you'd expect for the $84,000+ price of admission; the fabric that covers much of the doors and other parts of the interior, though, looks like it came off a mid-price IKEA couch.

What does the BMW iX compete against?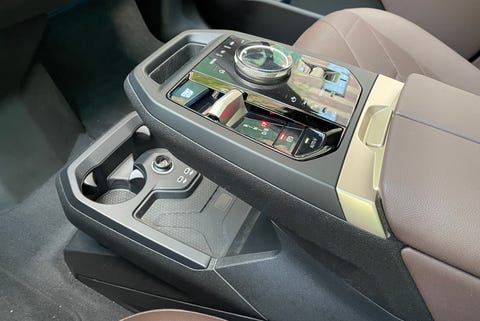 The garden of electric crossovers has just begun to bloom; in a year or two, buyers will be able to choose from electric Mercedes-Benz SUVs to battery-powered Porsche Macans. For now, however, the biggest battery-packed foes are from newer companies: Tesla's Model 3 and Model X, and Rivian's R1S. Once Cadillac's Lyriq arrives in the very near future, it'll likely present a close rival, as well.
For now, though, it's hard not to see the iX as an ideal proposition for anyone seeking out an electric luxury SUV and doesn't plan on going off-roading...which, let's face it, is probably 99 percent of electric SUV buyers. Downright quick and surprisingly fun, visually compelling, and packed with clever tech, it's a car that feels like a breath of fresh air. The iX xDrive50 may not be the most entertaining car you can buy in a BMW dealership today...but it's probably the most relevant.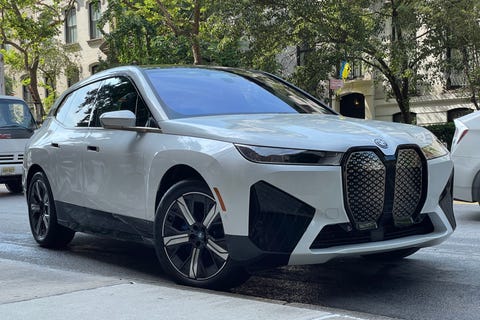 Base Price / Price as Tested: $84,195 / $96,070
Powertrain: 111.5-kWh battery, front and rear electric motors; single-speed gearbox; all-wheel-drive
Horsepower: 516
Torque: 564
Curb Weight: 5,659 lbs
Seats: 5
The Mercedes-Benz EQS 580 Excels As Both EV and Luxury Car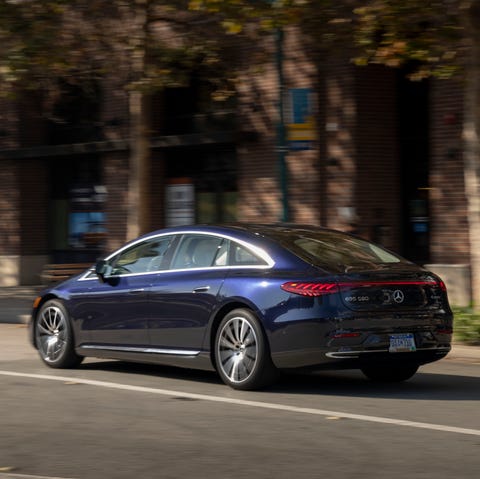 The S-Class of electric cars proves every bit worthy of sitting atop the Mercedes lineup.