2023 Ford Maverick Tremor Review: The Cool-Looking, Off-Road-Capable Baby Truck
It's a great little pickup. But is it the Maverick you should buy?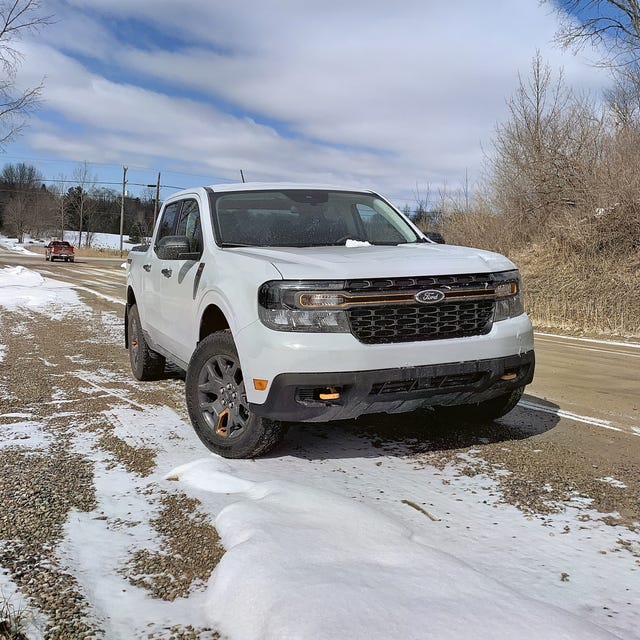 Ford's new compact pickup, the Maverick, has quickly proven to be a major hit. Honestly, that came as no surprise to me — it was a hit from the get-go, when I attended the launch event for the new truck. One of the topics people — including Ford employees — were already geeking out about was how cool it would be if owners could lift and modify the Fx4 version for more off-road capability. Well, for 2023, Ford is letting owners do precisely that with the Tremor package, which — like in the bigger Ford trucks — adds some serious off-road capability without going full-on Raptor.
Ford let me drive a Maverick Tremor around my home in Michigan for a week to test it out. I think the modifications make it the coolest Maverick you can buy (or at least, you can when the order books reopen). But coolness isn't everything.

What does the Maverick Tremor Package give you?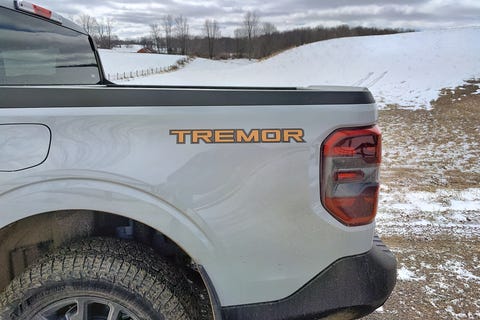 The Tremor package builds on the already available FX4 package. The Maverick Tremor receives a one-inch suspension lift with an off-road tailored front and rear suspension. It gets a new all-wheel drive system with a four-wheel-drive lock, a rear differential lock and the ability to send "virtually all" of the rear axle torque to either wheel.
It also adds Ford's Trail Control off-road cruise control, standard Falken Wildpeak all-terrain tires, steel skid plates and a modified lower front fascia that improves the Maverick's approach angle. You also get cooler-looking wheels and orange tow hooks.
The Maverick Tremor is really good for mild off-roading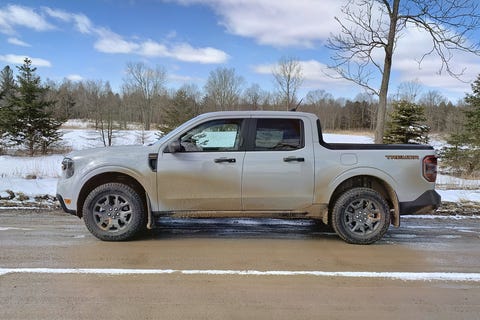 While as much of a truck as it can be, the Maverick is still crossover-based — it's not a vehicle you're going to Moab with. So, I took it to Metamora, Metro Detroit's horse country, for some light off-road testing. It was roads, not trails — but they were dirty, rutted and sloppy with snowstorm melt.
The standard Maverick FX4 felt fairly solid when I drove it off-road on the launch. The Maverick Tremor seemed like that, but enhanced. The tires never lost grip or skidded, despite sub-optimal traction conditions. With permanent 4x4 and the gas engine's 250 horsepower and 277 lb-ft of torque, it powered up steep hills with aplomb.
Ride comfort can normally be the giveaway for an affordable car's hidden compromises. But the Maverick Tremor did a surprisingly great job of keeping bumps and jostles from making it to the driver's seat.
The Tremor package makes the Maverick look cooler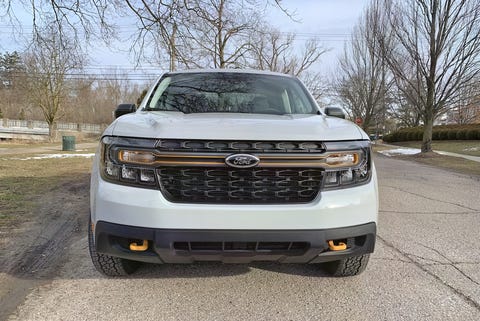 The standard Maverick can be a tad awkward-looking. The Tremor package beefs it up a bit with off-road tires, the orange tow hooks and the suspension lift. The result is a Maverick that's more explicitly truck-like.
My kids — who gush over big trucks — were excited to ride in it. My extended family were asking about it all week. That's not something that happened when I had the standard Maverick. And it's not surprising Ford is also offering a Tremor Appearance package.

But the Tremor package kills the gas mileage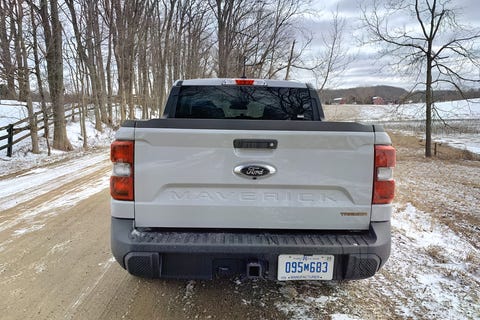 One of the major benefits of the Maverick should be that it's more efficient than a midsize or full-size truck. With the Maverick Hybrid, that's definitely the case. The EPA rates it for 40 mpg in city driving and 37 mpg combined. With the Maverick Tremor? Not so much.
Going with the gas AWD version drops that to 22 mpg and 28 mpg combined. The Tremor Package dips that even further to 20 mpg city and only 21 mpg combined. Over a week of real driving, I averaged 20 mpg, and it took a long stretch of highway driving at the end to get it that high.
And the Maverick doesn't make for an optimal family car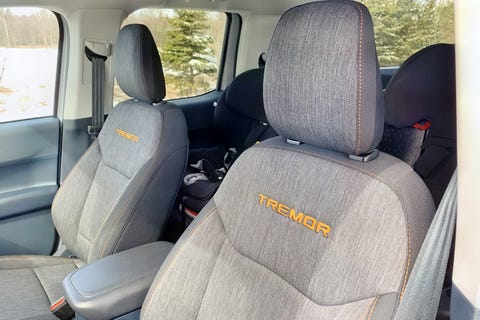 This was my first time doing significant family duty with the Maverick. And, well, the cabin is really not cut out for it. It's vertically spacious, so adults can sit back there relatively comfortably by extending their legs downward. But the cabin is tight horizontally, so there was only just enough space to put two kids in car seats.
It also snowed much of the week, and my tester didn't have a tonneau cover. So that meant cramming backpacks, diaper bags and toys between them in a tiny back seat. I did manage it, but it's clear the Maverick isn't really an ideal family rig.
The 2023 Ford Maverick Tremor: The Verdict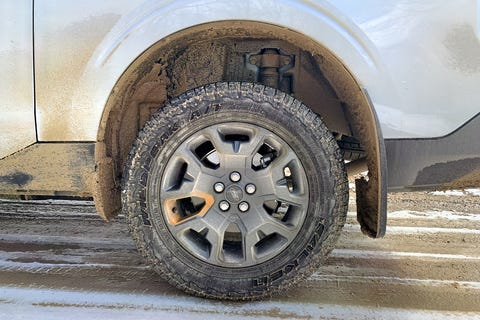 Like most buyers, I love off-road capability and appearance. And the Tremor package definitely enhances the Maverick's appeal. But I still think the hybrid Maverick is the one to buy, with its combination of fuel economy and price.
Hopefully, Ford eventually comes out with an AWD hybrid version of the Maverick. But until then, most buyers can definitely get by with its FWD layout — and a good set of snow tires.

2023 Ford Maverick Tremor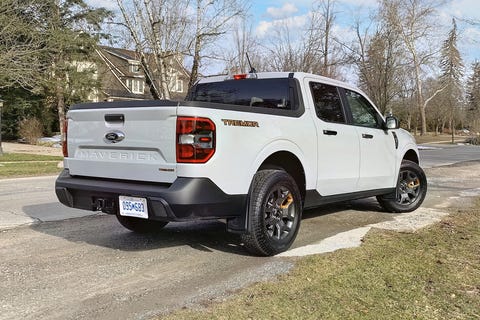 Powertrain: Turbocharged 2.0-liter inline-four; eight-speed automatic; all-wheel-drive
Horsepower: 250
Torque: 277 lb-ft
EPA Fuel Economy: 20 mpg city, 24 mpg highway
Seats: 5
The 34 Electric Cars We're Most Excited to Drive in the Future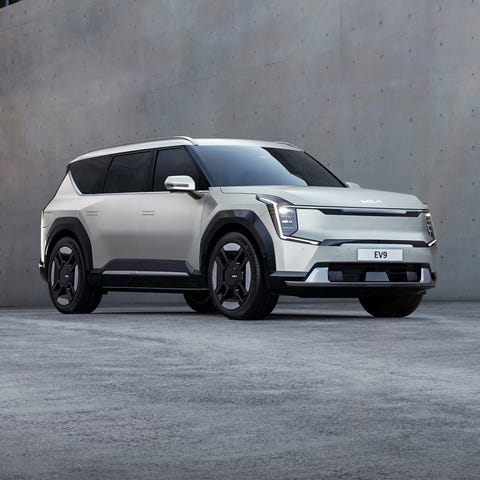 The next few years will be packed with new EVs. These are the ones that have us jazzed the most.