Every product is carefully selected by our editors. If you buy from a link, we may earn a commission.
The 13 Best Running Hats You Can Buy
Enhance your miles with style and shade.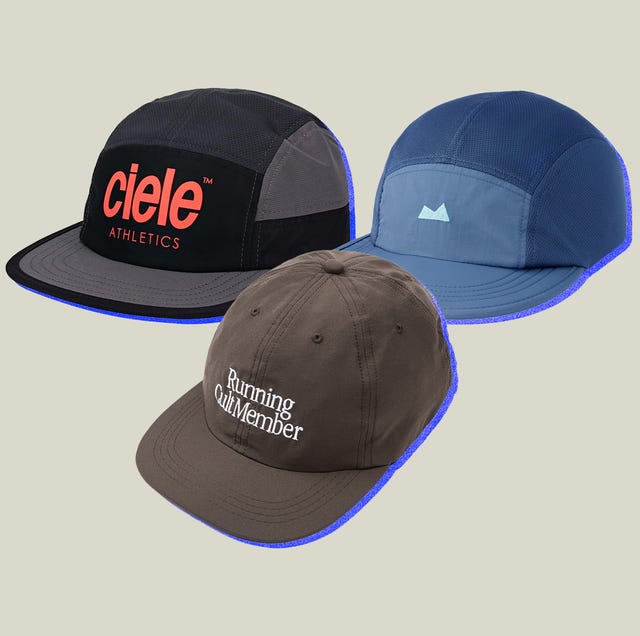 A hat is an essential piece of running gear — a good one can keep sweat and sun out of your eyes (and keep any unruly hair-dos out of your face). By "a good one," we mean light, stretchy, breathable, well-fitting and, of course, stylish. The best running hats are an ideal companion for your favorite performance sunglasses to top off your running kit, whether you're hitting the road for a PR or going for a day on the trails.
To find running hats that not only perform but look good on your dome, you have to take your search a little bit deeper than your basic, globally known brands. The big guys in the running world that make the best running shoes actually aren't always the brands that make the best apparel and accessories. In our opinion, small boutique brands lead the way when it comes to headwear (and socks and shorts), and in a handful of cases, the best come from brands that aren't even running-specific. To make your quest to find the ideal running hat a bit easier, we did the legwork and found some excellent hats that will not only keep your eyes shaded and sweat off your face but will also make you look fly.

What to Look for
As mentioned earlier, you want a running hat to be breathable, lightweight, have a bit of stretch and fit well enough so that you're not fussing with it throughout your runs. They also do the extremely important job of keeping the sun and sweat out of your eyes. (Pair with some performance sunglasses for ultimate protection on the sunniest days.)
Many of the best running hats incorporate mesh, laser-perforated holes or thoughtfully-placed venting to keep airflow at a high level. Even if you are running in the winter, you probably want a hat to have some ventilation — unless it's so cold that you're opting for a beanie or a fleece running hat. Aside from mesh, you'll want to find a hat with premium materials like ripstop (which comes in handy for trail running) or water-resistant materials that are made to withstand the occasional rainy run. A few of the hats on our list are made with nylon, which isn't the techiest, porous material, but it is super lightweight and tough. You definitely want to be able to beat your running hats up a bit.
Another thing to consider is the brim. Some running hats, like the Nike Tailwind, skew minimal, with a fit and feel similar to a cycling cap — a short brim to keep a bit of sun from your face, but nothing obtrusive. Others, like the Lululemon cap on our list, have a longer brim for maximum coverage from the sun. This is largely a personal preference thing, but make sure you keep an eye on the brim length when buying a running hat. In addition to length, decide if you want a brim that is structured, curved or pliable; almost every hat on this list has a different brim that ranges from ones you can smash up and store in your pocket or waistband to structured brims that work well for sun-blocking but aren't going to be easy to store if you want to remove it mid-run.
Finally, make sure the hat will fit your head. Many of the best running hats have a fairly shallow fit, so when a hat is good for those of us with large heads, we've tried to make a special note. The hats we've chosen are all adjustable at the back, though, so that shouldn't be an issue. You may notice different ways of adjusting the size, though; some opt for velcro, some go for a nylon strap and others feature bungee-style bands. We've found that there isn't really a comfort difference between them, so don't let that deter you.
How We Tested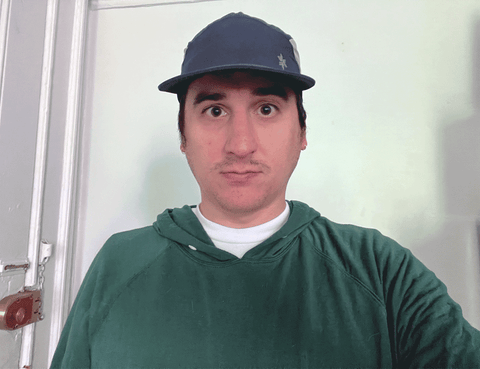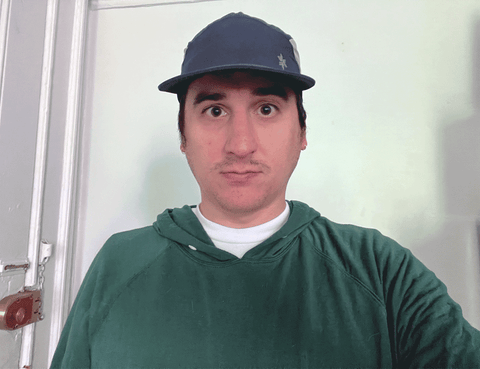 These hats were all worn by our testers on multiple runs in varied weather conditions, from winter to summer, on the road, the track and the trail. While in the end, a hat is a hat — these all did their job — there are a lot of options and we think comparing them side by side and taking a closer look reveals subtle differences that can make or break your run, from training days to race day.
Best Overall Running Hat
GOCap
Comes in a bunch of different colors
Helps you keep cool on hot days
Shows other runners you know your stuff
Doesn't fit as well on bigger heads
Ciele makes all types of hats for running, but its very first, the five-panel GOCap, is still among its best. It's lightweight, very comfortable and machine washable. The UPF +40 COOLwick material keeps your head cool and the pliable brim is easy to shape to your liking. Plus, Ciele is always coming out with new color designs, so consider this a hat you can build a collection around. This hat has a pretty shallow fit, so if you like a deeper-fitting hat, that might be the only drawback.
Best Upgrade Running Hat
PeaceShell Running Cap
The material is second to none
It's probably the most stylish running hat you'll find
Is pretty expensive for an accessory
We are huge fans of Satisfy here at Gear Patrol, and though their running gear is some of the most expensive you'll find, you truly do get what you pay for, whether you're ponying up for some $200 shorts or just snagging some merino wool socks. The name of the game for Satisfy is premium materials and the hats it makes are no different. The Peaceshell cap is the brand's most full-fitting hat (its others are somewhat prone to falling off if you have a big head or thick hair) and it's made with Satisfy's proprietary PeaceShell material which is water- and dirt-resistant and dries almost instantly.
Best Budget Running Hat
AeroBill Tailwind
Lightweight and easy to wear
Made from recycled materials
Doesn't provide the coverage you might want
Reflective details, strategically-placed laser perforations and Nike's iconic Dri-Fit highlight the AeroBill Tailwind cap, which is a minimal, super affordable way to top off your running kit for the warmest workouts. The hat is crafted from at least 50 percent recycled polyester made with recycled plastic bottles, which lowers the carbon emissions of its production by over 30 percent, which is pretty cool if you ask us. You really can't go wrong with Nike.
Looks great, whether you're running or not
The mesh is super breathable
New York-based Noah isn't a running brand, but it has made an excellent running cap that's just as good, if not better, than many of the hats you'll find out there. The menswear brand releases a running capsule a couple of times per year, just in time for the peak running seasons. If you're a style nut that loves to work out or spend time logging miles, this Noah cap should top your priority list. Consider pairing it with some Noah's silky swim trunks and end your run by dipping into the closest body of water.
Black & White Trenton Cap
You'll stay cool thanks to the lightweight mesh
Bungee strap makes for a comfy fit
Not the cheapest hat on the market
Similar to the Noah cap, the Trenton features a nylon brim and front panel, only this time, the top is mesh, matching the sides and back. Talk about breathable. The brand makes some of our favorite sunglasses and running apparel, so it's no surprise that its running hat makes this list. This is also the first hat featured here that uses a bungee at the back rather than velcro or a nylon strap — but we happen to really like the bungee feature, it is flexible and gives a bit of leeway that velcro and nylon just don't. Love this one? Don't forget to snag some of the brand's Japan-made sunglasses, too.
Super well constructed
Great for any outdoor activity
Lacks running-specific features you may want
While this cap isn't from a running brand, Topo Designs has made itself a cap that is not only great for running but just about any other outdoor adventure. Its breathable mesh back allows air to escape and the nylon material keeps it light enough for the hottest days. It also has a buckle on the webbing strap and a small bungee loop, making it easy to clip onto your running belt or vest.
Made from some of the most premium materials around
Fits larger heads well
Brim isn't as pliable as others
This super lightweight cap from Japanese brand Goldwin combines paneled PERTEX ripstop nylon with a superfine mesh back that keeps you cool when the temperatures rise. Plus, the branding is minimal and matches just about anything. Plus, among the hats we tested, this one is one of the most comfortable for folks with larger heads.
Simple design makes for a great looking cap
Has all the performance features you could want
Brim doesn't hold its shape very well
River, Storm and White with Fog are a few of the colors that Myles makes its five-panel Momentum Cap in. Each one has a surprisingly casual look that belies its performance-oriented elements (mesh panels, a moisture-wicking headband). The adjustable snap band stays comfy, no matter how many miles in you are and it's well-suited for any head size or shape.
Lightweight Pacer Hat: Bolt
Only weighs 2.1 ounces
Allover perforation keeps you cool
Not ideal for really sunny days
Newcomer Rnnr brings a spirit to the running world that is hard to deny. Its colorful caps refuse to be ignored and they're actually pretty damn comfortable, to boot. We tested the Lightweight Pacer, one of the brand's more minimal caps that features a shorter brim and perforated mesh that keeps you cool and dries lightning fast. The brim is pliable but keeps its shape and the hat itself only weighs 2.1 ounces. Lightweight, indeed.
Breathable Cinch-Back Running Hat
Comfy cinch-back
One of the most breathable caps around
You probably know this by now, but Lululemon is not just for yoga anymore. Its running apparel is some of the best you'll find and it's not uncommon to see more runners decked out in the Vancouver brand's gear every time you hit the road. The Breathable Cinch-Back hat is just that: breathable as hell and easy to wear. The hat doesn't have a strap in the back but is cinched with a bungee cord instead. This gives it an enveloping feel that is super secure and personalized to you.
Has the ideal fit for a bucket hat
Gives maximum protection from the sun
The RC version is $100 and non-collaboration models still run you $70
We'd recommend any Ciele bucket hat, but specifically this collab it did with Reigning Champ and Ryan Willms — a capsule made for the mountains and the trail. It's deceptively light but has a thick, pliable brim that stays in its place, protecting your face, ears and neck from the sun's harshest rays. It also comes in two sizes and has a handy elastic bungee cord closure to dial in the perfect fit.
Zipper pocket to stash your stuff
Brand works for a good cause
Lacks the style factor many of the other hats on this list have
Janji, which is Indonesian for "a promise or a declaration," not only makes some stellar running gear but does it all for a great cause. The brand's primary mission is to improve access to clean water across the globe and donates 2 percent of every order to clean water projects. The Transit Tech hat features a DWR (durable water-repellent) finish, UPF 50+ and is the only hat on our list to have storage built-in — it features a stealthy zipper pocket big enough to carry a key and some cash. It also comes in a handful of colors, meaning it'll match just about anything.
Honorable Mention
Tracksmith Hat
Has an excellent fit for a dad hat
Shows your commitment to the running life
No performance features, not technically for running
So the Tracksmith hat isn't really a running hat, per se. It's more like the Boston-based brand's take on the perfect dad hat. It is ideal for pre- and post-workout, letting the world know that you 1) have excellent taste and 2) you get after it when you lace up your running shoes. It fits like a dream and features a subtle logo patch at the front. Made from 100% cotton with a sturdy metal closure, you know this hat is going to last a lifetime and continue to get better with age.
This content is created and maintained by a third party, and imported onto this page to help users provide their email addresses. You may be able to find more information about this and similar content at piano.io