Every product is carefully selected by our editors. If you buy from a link, we may earn a commission.
The 22 Best Bourbons to Drink in 2022
Everything you ever wanted to know about America's favorite brown spirit, including, of course, the best bottles you can actually buy.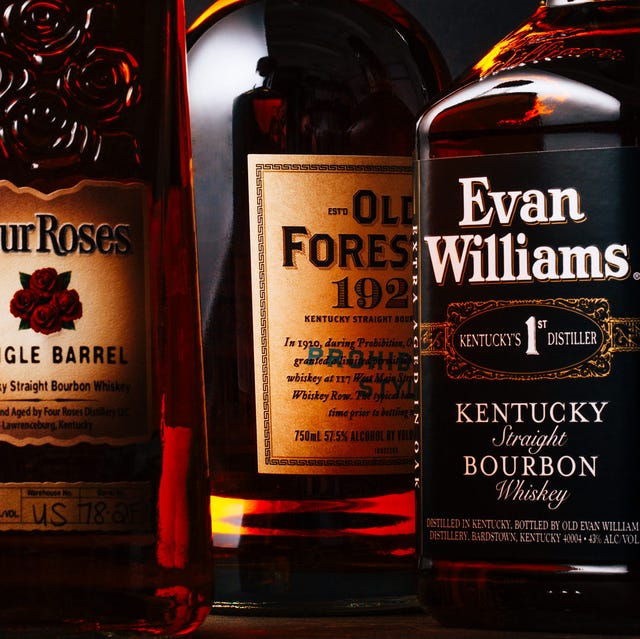 Bourbon, the Great American Spirit, is not as simple as one might think. Despite the increasing demand (and price) for much-hyped bottles, bourbon is an every-person drink. At the end of the day, it's a blue-collar spirit, made by thirsty farmers, for thirsty farmers. But underneath its fundamentals swims a deep sea of factors — additional rules and regulations, hype machines and deceptive marketing, false myths and a boom that began in 2008 and is still going strong today — that make bourbon more complex than it seems. Sour mash and bottled-in-bond, non-distiller-producers and high-ryes. Where's the thirsty modern man, farmer or otherwise, to begin? We asked whiskey personality and author Fred Minnick to uncover which bottles of bourbon lining the shelves are actually worthy of your bar cart. From your daily sipper to the best bottle to bring to a party, here are the best bourbons of 2022.
What Is Bourbon?
Bourbon is a type of whiskey that needs to meet a few criteria to officially be called "bourbon." First, bourbon can only be made in America, and its grain bill must include at least 51 percent of corn. Bourbon always has to be aged in new charred oak barrels at no more than 125 proof (or 62.5 percent alcohol), and it's not allowed to include any additives or colorings. At a minimum, bourbon must be 80 proof (or 40 percent alcohol), with its mash never allowed to exceed 160 proof (or 80 percent alcohol).

What Is the Best Bourbon?
We don't believe there is one "best" bourbon, but there are bottles that are best for certain moments. If you're making drinks, we prefer the light and spicy Four Roses bourbon. If you want craft bourbon, we love New Riff's dedication to Bottled-in-Bond whiskey-making and rich flavor profiles. Looking for something on the cheap? Evan William's Black Label is hard to beat for the money. For our money, the best do-it-all bourbon is Knob Creek's 9-year-old Small Batch offering. Here's the rub.
Bourbon Terms to Know
Straight Bourbon Whiskey: Bourbon that is stored in charred new oak for at least two years. It can be a blend of multiple straight bourbon whiskeys as long as they're all produced in the same state.
Bottled in Bond: Under the Bottled-in-Bond Act of 1897, a bottled-in-bond spirit must be produced by one distillery in the same distilling season, then aged under federal supervision and cut and bottled at 100 proof.
Sour Mash: A fermentation technique used by almost all bourbon distillers that employs pre-fermented mash from a previous distilling in a new mash. The sour mash prevents wild yeast from entering the mash and causing infections.
Proof: The percentage of alcohol, displayed as double that of the alcohol percentage.
High Rye: A bourbon with a higher than normal percentage of mash bill made up of rye (as opposed to using more corn, wheat, or barley, the other main grains used in bourbon mash). This tends to produce spicier flavors in the bourbon.
Wheated: A bourbon with a higher than normal percentage of mash bill made up of wheat (the main grain remains corn). This tends to produce a softer, less spicy whiskey.
Small Batch: A subjective term signaling a bourbon made using a select number of barrels or recipes in a blended bottling.
Single Barrel: A bourbon made using single barrels, providing a higher range of variation in flavor, and the chance at specific, unique characteristics.
Non-Distiller Producers (NDP): Companies that purchase their whiskey from someone else rather than making it themselves. This is not a new phenomenon and it plays a large role in blended bourbons.
The Best Bourbons of 2022
This content is created and maintained by a third party, and imported onto this page to help users provide their email addresses. You may be able to find more information about this and similar content at piano.io