Every product is carefully selected by our editors. If you buy from a link, we may earn a commission.
The 9 Best Flasks for Drinking on the Go
From $15 to $350, there's a tiny bottle of joy for everyone.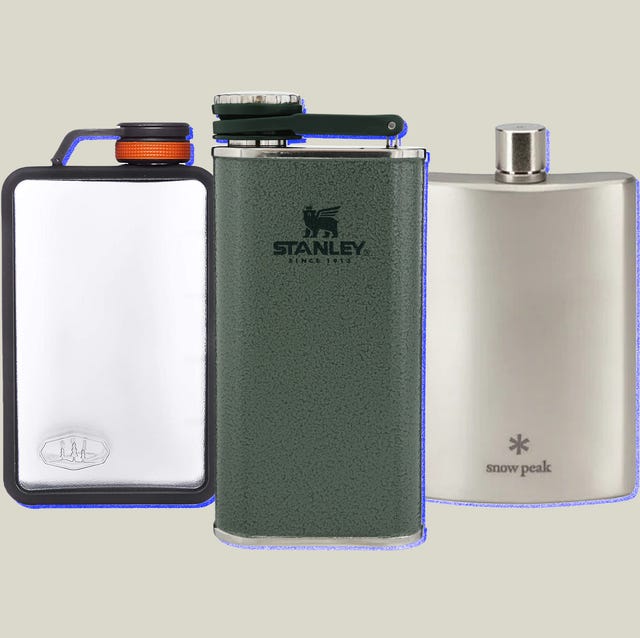 A flask is an exercise in control – its owner must know when it is and isn't appropriate to uncover, and how often. Because it may be carried every day does not necessitate its everyday use, and knowing that is the first lesson one should learn in picking one. After the self-control is in check, then it comes down to where exactly you're taking your flask. If you're trying to bring one to a wedding, you're not going to want a flask that leans on the more rugged side. And the inverse is just as true. You probably don't want to bring a delicate, dainty flask with you on an outdoor adventure. Regardless of the use case, a flask is a must-have. It's a great companion to your favorite travel mug (you probably don't want to drink coffee from the same vessel you keep tequila in) and they're also an excellent gift.
So whether you plan to carry rare Japanese whiskies, Kirkland Vodka (believe the hype) or Pepto-Bismol, these 9 flasks run the gamut of price, personality and prestige.
What to Look for
Hip Flask vs. Pocket Flask
Don't worry, they're pretty much different versions of the same thing. The term pocket flask may have originated when it was common to keep a pocket watch, so it was natural that a flask had to be compact enough to fit in the tighter clothes of the day. Near the time of prohibition, the shape evolved a bit to match the laws of the day — a flask had to be easy to conceal. This is where we began to see the curved shape many flasks are crafted with today.
Cleaning a Flask
The biggest thing is this: don't leave liquids in your flask for a long time. Either drink it all or pour it out, don't let it sit. Over time, this will get skunky and will be much harder to clean. When you do need to clean it (which you should do from time to time anyway), fill it 2/3 with soap and water and swish it around with the cap on and rinse. Get all the soap out or your booze will undoubtedly taste funny. Use a bottle brush if necessary.
Flasks with Cups
Some of our favorite flasks come with their own cups or shot glasses. Usually, these are more geared towards camping and, of course, sharing, so be sure to pick one of these if you're looking to celebrate with friends.
How We Tested
Our group of testers put the flasks through their paces at weddings, on the trail, around the campfire, on cold winter bike rides and just about anywhere else you can imagine using a flask. We always shared with friends and made sure to keep our wits about us until we were able to make some astute observations. Once we had our learnings, though, all bets were off. Then we gathered our observations and gave each flask a superlative, which, we hope, will help you make the best choice possible.
The Best Flasks of 2022