Every product is carefully selected by our editors. If you buy from a link, we may earn a commission.
Finally in the Market for an Air Fryer? These are the 6 Best to Buy
We didn't get the hype about air fryers — and then we tried one.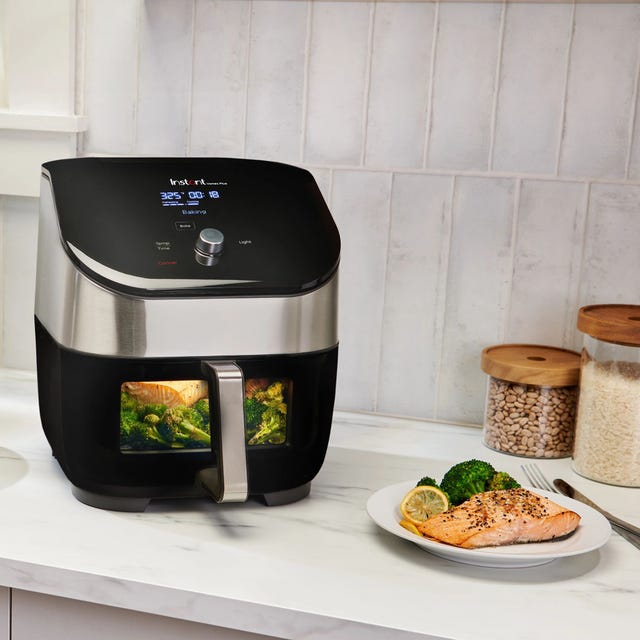 If you haven't heard of an air fryer, we're going to catch you up. Air fryers speed up your cook time and achieve crispier results, which has garnered them a large fan base. The models range from compact pods with fry baskets to ovens with additional features, the latter of which is multifunctional and great for saving time in the kitchen. Before selecting an air fryer you'll want to consider how often you'll use the fryer, how much space you have to store it and how often you'll utilize it.
What Is an Air Fryer?
An air fryer is a kitchen appliance that air fries food by circulating hot air in a small oven or basket. Air fryers use far less oil than methods like deep frying, but still provide a crispy, delicious finished product. Air fryers often have additional settings like bake, roast and reheat so they can be used even if you don't fry food often. Due to their various functions and compact size, air fryers have become popular, especially among small-apartment dwellers and people with busy schedules.
How Does an Air Fryer Work?
Air fryers work by heating the basket or oven area and moving air around to cook food. They have a quick preheat time — usually 5 minutes or less — and tend to cook foods way faster than an oven would. Inside the air fryer is a heating mechanism and a fan system that helps move the heat around the appliance evenly. Some air fryers have additional features that are similar to a toaster oven.
Types of Air Fryers
There are several types of air fryers: some look like Eve from the Disney movie Wall-E, and others look like a mini-oven. Both typically have a range of features for cooking different foods, though the overall prices differ. The two main air fryer models are basket air fryers and oven air fryers.
Basket Air Fryer: Basket air fryers are upright appliances with a basket that slides in and out of the front like a drawer. These baskets typically have a two- to six-quart capacity, though you'll want a flat layer of food for even cooking. These basket air fryers are compact, somewhat portable and convenient. They tend to preheat in only a few minutes and cook faster than a typical oven, though they can also be loud when they are heating and cooking and you cannot see within the basket to check on food.
Oven Air Fryer: An oven air fryer is practically a mini-oven and often has an extensive features list, including settings like toast, bake, broil, roast, air fry and grill. The oven is wider than an upright basket fryer, making it well suited for larger foods and larger quantities. These models take up more counter space, but they also fit more food and allow you to cook everything in one batch or even cook several types of food at once. The oven air fryers also allow you to see through the glass door to check on food.
What to Look for in an Air Fryer
Size
When searching for an air fryer you'll want to consider how much space you have and what features you'll need. If you have a microwave and oven in your home, you'll probably be fine with an upright air fryer because it'll give you another option for cooking foods without taking up much space. If you're looking to cook larger quantities of food, you'll be better off with an air fryer oven. The types of food you want to cook is also relevant. Because air is moving around your food while cooking, you'll want to lay food flat in the basket or on the tray and flip halfway through for an even cook. Some air fryers, like the ones that use baskets, may not be wide enough for all your food to fit evenly, especially pizza, chicken breasts, potato skins and the like. In these cases you might want an oven-style air fryer to avoid having to cook foods in batches.
Features
Different air fryers will have different settings, which may be a factor in your decision. If you plan to use your air fryer to cook meals throughout the day, you may look for models that can also toast, grill, reheat and bake in addition to air fry. If you already have appliances that serve these purposes you may only be looking for a model that air fries. While testing, the models with extensive settings were great for cooking multiple types of food, but some models felt redundant because I already had a toaster, microwave and oven in my kitchen.
The Best Air Fryers of 2022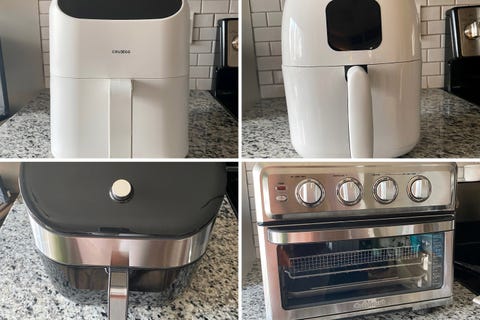 Air fryers can cook many foods in a range of ways. Some of the air fryers we tested could also bake, broil, and toast among other features. The physical width of air fryers also differed, so cooking a frozen pizza in each one wasn't possible. To fairly rate and compare the air fryers, we cooked a range of foods — frozen wings, French fries, pizza, waffles, veggies — to test each model's ability to cook thoroughly and crisp evenly. The air fryers highlighted below all worked well, were easy to use and cooked some excellent meals.
The 6 Best Nonstick Pans for Stick-Free Cooking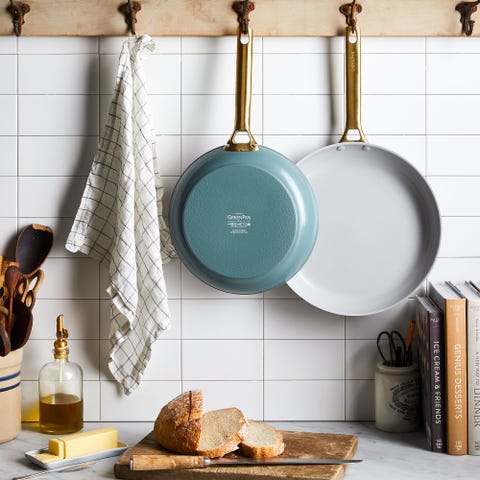 Every kitchen should have a nonstick pan, and these are six to consider for yourself.