Every product is carefully selected by our editors. If you buy from a link, we may earn a commission.
The Best Pizza Ovens to Turn Your Home Into the Best Pizzeria in Town
Pizza ovens that can achieve temperatures up to 950 degrees and can be broken down and reassembled with ease.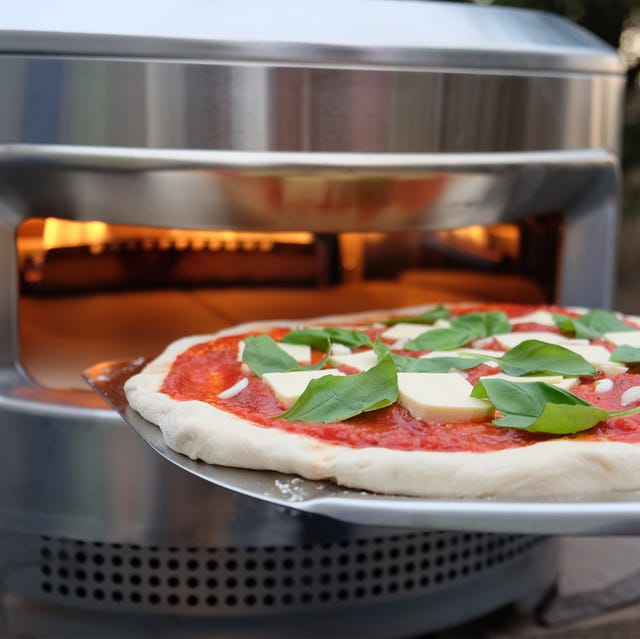 We can argue all day about whether or not mushrooms, pepperoni or pineapple are the best pizza toppings, but here's something we can agree on: These are the best pizza ovens to buy in 2022.
What to Look for in a Pizza Oven
Heat
The reason why the pizzas you make in your standard home oven doesn't compare to pizzas you buy at a pizzeria is simple: Your oven just can't achieve a high enough temperature. The pizza ovens on this list can achieve temperatures up to 950 degrees, while the lowest temperature any one of these ovens can hit is 750 degrees, and that's because it's a unit meant for indoor use. It usually takes about 15 minutes to get up to temperature, which isn't that long to wait for an oven to preheat, and these ovens usually have some sort of insulation to ensure heat doesn't escape over time.
Portability
If you're looking to bring your pizza oven on the go, you can, especially when most of the ones available can be broken down and reassembled with ease. However, no one type of pizza oven is perfect for portability. Gas-powered pizza ovens require you to carry around a propane tank, while wood- or charcoal-powered pizza ovens will be messy and can leave your car looking a little crumby and ashy. Keep in mind the size and weight of these pizza ovens too, because portability can be subjective.
Fuel Type
Gas: Gas-powered pizza ovens are probably the easiest to use. You can either use a propane tank to power your grill, or hire a professional to hook up your pizza oven to your home's natural gas line. Some people choose gas-powered pizza ovens because they're easy to use, and it's easier to adjust your oven's heat. Gas-powered pizza ovens are cleaner than those powered by wood and charcoal, but you also miss out on that wood-fired or smokey flavor.
Wood: We won't say one fuel type is the best for a pizza oven, but there's a reason why "wood-fired taste" is a positive tasting note and why "gas-flavored pizza" is not. Wood will come in the form of pellets, which you'll manually load into the pizza oven to get a fire going. You'll have to constantly work on reloading pellets, and maintaining the fire takes some work, but you'll get that signature wood-fired flavor you desire.
Charcoal: Like wood, some pizza ovens run on charcoal. It imparts a smokey flavor into your pizza, but like wood it requires maintenance, and you'll be left with a bit of a mess to clean up once you're done cooking.
Electric: For indoor pizza ovens, go for electric. Electric-powered pizza ovens may not get as hot as ones powered by gas, wood or charcoal, but they're excellent alternatives for people who don't have access to an outdoor space.
The Best Pizza Ovens of 2022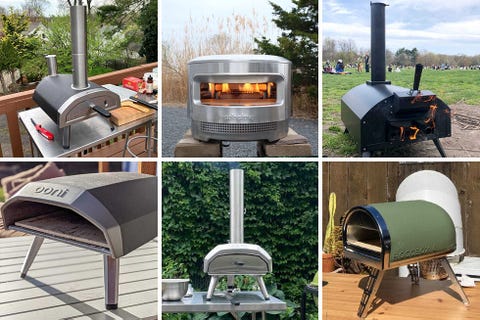 Most of our pizza oven testers weren't well-versed in using a pizza oven — and yet each was able to make excellent pies in no time. Each tester evaluated how easy it was to unbox and assemble their pizza oven, as well as how easy it would be to take the pizza oven on the road. The purpose of a pizza oven is to get to the high temperatures that you can't achieve in a typical home oven. Our testers made note of how hot their pizza ovens could get — getting as high as almost 1,000 degrees — and then they got to actually making pizzas. Testers made note of how easy it was to make a pizza, as well as how well those pizzas turned out. And in pretty much every case, every single one of these pizza ovens pumped out some pretty enviable pies.
Best Overall Pizza Oven
Ooni Koda 12
Heats up quickly
Easy to clean
Portable
Shouldn't store outside
No wood-fired taste
Ooni has become the standout brand when it comes to pizza ovens, and its Koda is probably the best one for most people. Powered by gas, the Koda is easy to use and heats up quickly — our tester found that the oven hit 600 degrees Fahrenheit in just 15 minutes, blasting the oven on medium-high. (Koda actually has the ability to hit 950 degrees in 15 minutes, but that's on full blast.)
Our tester loves using the Koda to make pizzas on a weeknight, mainly because he can churn out about four pies in an hour, making light work out of what one might assume is a long and tedious job (no shade to actually pizza makers). The whole thing weighs just 20 pounds, so it's easy to bring in and out of the house, plus, you can take it to any of your outdoor adventures.
Fuel: Gas
Dimensions: 18.1 x 11.1 x 28.3 inches
Weight: 20 pounds
Preheat Time: 15 minutes
Best Upgrade Pizza Oven
Gozney Roccbox
Gets hot — and gets hot fast
Fun to use
Gas is easy to use and control
Delivers small pies
Requires more attention than other pizza ovens
Have fun lugging around a propane tank
Gozney's Roccbox comes in at $100 more than the Koda, and we feel that the extra Benjamin is worth it. The Roccbox might not be the pizza oven you buy if you're still trying to figure your way around a pizza oven, but it will deliver on some excellent pies. The Roccbox heats up incredibly quickly, delivering heat up to 950 degrees Fahrenheit — and it'll stay that hot for a long time. It'll stay so hot, in fact, that you can churn out pie after pie without worrying about it losing heat, even without a door in front. With the Roccbox, you get both direct and indirect heat, which means you're left with Instagram-worthy charred crusts and perfectly cooked toppings.
Fuel: Gas
Dimensions: 16.3 x 21 x 18.6 inches
Weight: 44 pounds
Preheat Time: 15 minutes
Best Budget Pizza Oven
Ooni Fyra
Both the oven and fuel are portable
Good design
Well built
Easy to transport
Hard to control
Messier than gas-powered pizza ovens
Requires a "recovery time" between pies to come back up to temperature
While it's just $50 cheaper than our best overall pick, the Fyra is still the least you'll want to spend on a quality pizza oven. And at $349, you'll make your money back after a few dozen pies, which, in the grand scheme of thing, doesn't sound like that many pies. Fyra is Ooni's fire-only pizza oven, and it helps to bring that wood-fired taste to your pizzas. On one side, that makes for some really delicious pies, but buying rounds and rounds of pellets is expensive, plus, it makes for messy post-pizza party cleanup sessions. It has its quirks, but it does excel at what it set out to do: make excellent pizza after excellent pizza.
Fuel: Pellet
Dimensions: 26.7 x 18.9 x 9.8 inches
Weight: 22 pounds
Preheat Time: 15 minutes
Best Portable Pizza Oven
Stoke Wood-Powered Pizza Oven
Easy to set up
Yields excellent pizzas
Slower heat time than comparable pizza ovens
Built-in thermometer isn't super accurate
For the constant traveler who wants to make pizza on the road, get the Stoke Wood-Powered Pizza Oven. Because it's not powered by gas — though Stoke makes one of those — there's no need to schlep around a huge propane tank. While pellet-powered pizza ovens are notoriously messy to clean, Stoke's keeps the mess contained so that transportation won't yield ash-laden car trunks. The oven produces excellent pizzas that taste have that signature wood-fired taste, though make sure you remember to rotate your pie or else you'll end up with a half-burnt pizza.
Fuel: Pellet
Dimensions: 23.5 x 19.5 x 13.5 inches
Weight: 37 pounds
Preheat Time: 20-30 minutes
Best Dual-Fuel Pizza Oven
Solo Stove Pi Pizza Oven
Easy to set up
Dual fuel ability (with the gas burner package)
Sturdy base
Ash can get on pizza
Back hatch slot melted
Solo Stove didn't start by making a pizza oven, but its ever-popular fire pit definitely gave the brand the jumpstart on making an excellent pizza oven out of the gate. The standard Pi is a wood-powered pizza oven, but we think it's worth it to buy the optional gas burner to let you cook with a propane tank. It's a bit cumbersome to load pellets, but we do appreciate the wood-fired flavor it provides — gas just makes everything easier, so the fact that you can do both is a huge plus.
Pi is shaped like a cylinder, and its "Demi Dome" construction creates an evenly heated 360-degree cooking surface for perfectly cooked pizzas. Like Solo Stove's fire pit, Pi has the same airflow system that minimizes smoke — without completely eliminating it — and creates a convection effect for better cooking.
Fuel: Wood (Gas burner sold separately or with bundle)
Dimensions: 21 x 15 inches
Weight: 31 pounds
Preheat Time: 18 minutes
Best Pizza Oven for Neapolitan Pies
Ooni Karu
Ooni's Karu 16 has one of the pizza world's top honors: It's the only domestic pizza oven to have the distinction of being "Recommended for Domestic Use" by the Associazione Verace Pizza Napoletana. For a non-pizza fanatic that might not sound like much, but the international authority on Neapolitan pies is the end all be all when it comes to Naples-style pizzas, which are characterized by their strict adherence to where the ingredients must be sourced, as well as their thin, wood-fired crust.
The distinction doesn't apply to the Karu 12, the smaller version of Ooni's Karu line, but it's still a damn good pizza oven. The Karu is easy to set up and helps to churn out pies at lightning speed. The oven, like other Ooni ovens, heats up to about 950 degrees in about 15 minutes, though that timeframe can be a little bit generous. Our tester used the Karu with her toddler-aged nephew and found the overall experience to be a delight. Besides that, the pizzas that come out of this thing are exceptional, and if you adhere to the Associazione Verace Pizza Napoletana's strict guidelines for Neapolitan pies, you might just be the next best pizzeria in town.
Fuel: Wood and charcoal, with the option for gas with the optional Ooni Gas Burner
Dimensions: 19.8 x 13.7 x 29.1 inches
Weight: 44 pounds
Preheat Time: 15 minutes
Best Indoor Pizza Oven
Breville Pizzaiolo Pizza Oven
The Breville Pizzaiolo Pizza Oven is a countertop oven. While every other pizza oven on this list is meant to be used outside, the Pizzaiolo can be used inside. The oven can reach 750 degrees — way above what a conventional oven can achieve — and it'll bake a pizza in just two minutes. The Pizzaiolo mimics the heat generated by a brick oven so that you get a deliciously charred crust along with fully cooked toppings. With the oven's Element iQ system, the oven will use algorithms to ensure that your pizza is baked to perfect every time by monitoring the pizza's cooking performance in real time. The oven promises wood-fired flavor, but just know that there's no wood involved, so take that with a grain of salt.
Fuel: Electric
Dimensions: 18.5 x 18.3 x 10.8 inches
Weight: 37 pounds
Preheat Time: 15 minutes
The 12 Best Charcoal Grills You Can Buy in 2022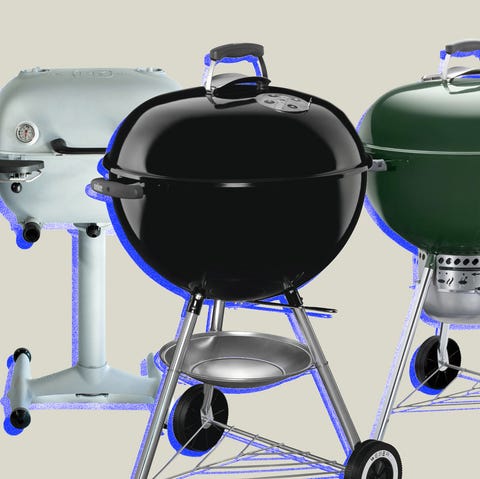 From an affordable Weber to grilling technology of the future, these are the best charcoal grills you can buy at every price point and for every backyard.
This content is created and maintained by a third party, and imported onto this page to help users provide their email addresses. You may be able to find more information about this and similar content at piano.io