Every product is carefully selected by our editors. If you buy from a link, we may earn a commission.
The 12 Best Charcoal Grills You Can Buy in 2022
From an affordable Weber to grilling technology of the future, these are the best charcoal grills you can buy at every price point and for every backyard.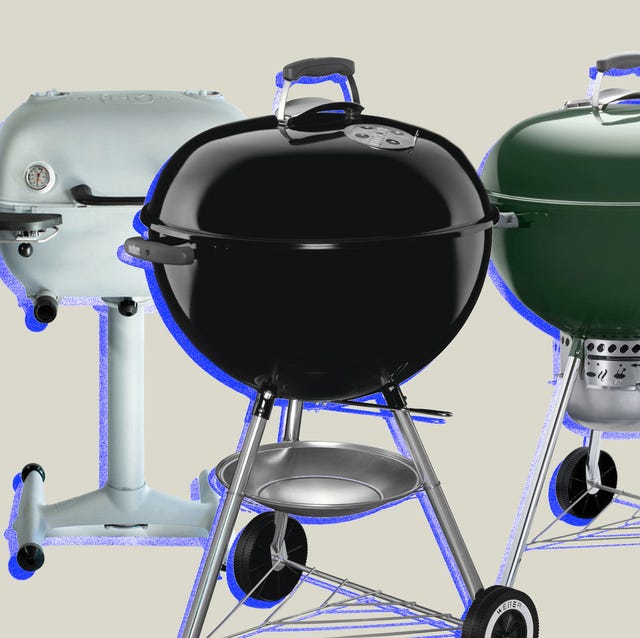 Beyond BTUs, max temperatures and fuel cost, the fundamental difference between charcoal grills and its competitors is convenience. Charcoal grills are inconvenient in every way that a gas, pellet or electric grill is not. This is the fundamental appeal. In the same way many driving enthusiast prefer manuals to automatics, there is carnal satisfaction in direct control, higher failure rates and sky-high potential. Yes, charcoal grills can do things the others can't, but it's the no handlebars process that makes great. From the most iconic backyard toy of the 20th century to something called a Yoder Smoker, these are the best you can buy right now.
What to Look for in a Charcoal Grill
Materials Matter
Whether you're shopping online or in-person, seek out construction information. Does the listing have two dozen bullets touting all the heavy-gauge stainless steel, cast aluminum and enameled iron (or steel)? That's a good sign. If it's not flexing its construction, it's more likely to have rust spots, fail at retaining heat and generally come apart earlier than you'd want.
Beefy Warranties
Buying a grill that's a few hundred dollars and it has a one-year parts warranty? Don't buy it. Something that costs that much should be guaranteed, in part at least, for three to five years. Some of the grills on this guide come with lifetime part warranties.
Adjustable (and Customizable) Grates
Look for a wheel or lever that lets you move the grates or the coal bed up and down — preferably both. This allows for more cooking methods. As an added bonus, some companies offer upgraded grates (or there are aftermarket grates you can buy). We prefer stainless steel for ease of cleaning and more balanced heat distribution.
Vents! Vents! Vents!
In the making of a single meal, airflow determines quality more than great grates, coal quality and construction. It allows for you to feed a fire to sear like you want, keep a medium heat to roast a chicken or smoke ribs nice and slow. The more vents to play with, the better.
Delivery and Setup
This is a simple one. Some grills come fully assembled, others take a full day to set up. Look at this before shipping a 500-pound piece of metal to your house.
Why Buy a Charcoal Grill?
Pros of Charcoal Grilling
Ultra-high heat: other than commercial salamander burners (like this one), no grill type will reach the heat levels charcoal and wood-fired grills will. Expect maximum temperatures over 1,000 degrees Fahrenheit, reaching up to 1,250 depending on your setup.
Versatility: It gets hotter than hell, but it works just as well for low-and-slow cooks. When airflow is handled well and the fire is tended evenly, charcoal grills can hold steady temperature for days.
Fuel Variety: unlike gas or electric (not so much pellet), charcoal grills can cook with affordable Kingsford coals, more premium lump coal, binchotan or even coconut shells.
Cons of Charcoal Grilling
Learning curve: Learning how to properly stack coals, light a fire, hold a steady temperature and control airflow takes time.
A big mess: Expect your hands, your grill and everything in the general vicinity of the grill to have a slight tinge of charcoal dust for the foreseeable future.
Semi weather dependent: Where gas, pellet and electric grills can operate in windy and even rainy conditions, charcoal can struggle. The wind can choke out or puff up a fire to unmanageable levels.
Time sink: Lighting coals takes more time than clicking the go button on a gas grill. Cleaning the grill takes time. If you're looking to grill multiple times a week, a nice gas grill may be a better option.
The Best Charcoal Grills of 2022
This content is created and maintained by a third party, and imported onto this page to help users provide their email addresses. You may be able to find more information about this and similar content at piano.io