Every product is carefully selected by our editors. If you buy from a link, we may earn a commission.
The Best Cooling Pillows to Avoid the Dreaded Night Sweats
Being hot headed has never been a good thing.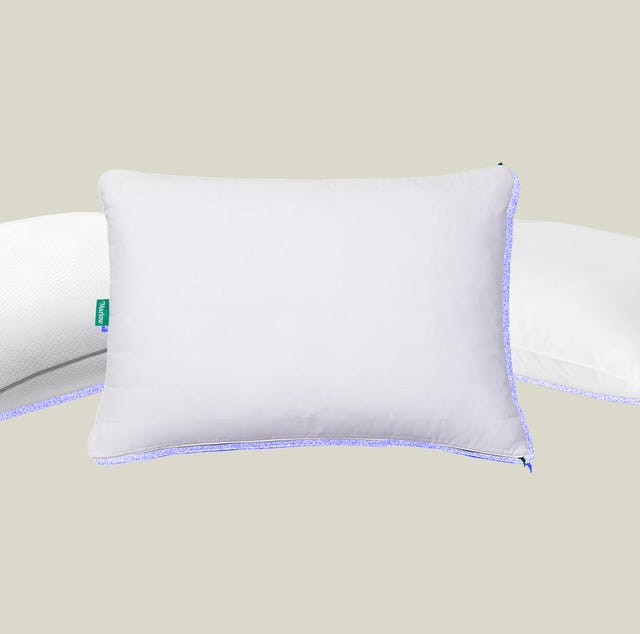 Looking for more vetted bedroom essentials? Check out our guides to the best mattresses, sheets, duvet covers, white noise machines and bed frames.
Second to the mattress, a pillow is probably the most important thing to buy when it comes to your bedroom situation. Your precious head needs somewhere to lie every night, so yeah, we'll put pillows above comforters or even bed sheets. But what about the folks who sleep hot? A non-cooling pillow can trap heat, and that leads to waking up in a pool of your own sweat. Not great. We found seven pillows that are actually good at keeping you cool at night, so you can have the chillest night of your life.
What to Look For in a Cooling Pillow
Material
Material matters when it comes to a pillow's ability to keep you cool. Look for a pillow that has an outer cover that's made of something like cotton or Tencel, which is derived from eucalyptus. Some pillows will have some sort of gel infusion, which further aids in its cooling abilities by drawing heat away from the body. Next, you have to look at fill. Solid memory foam is notorious for the way it traps heat, a downside to its supremely comfortable feel. Shredded memory foam is a better option, since it allows for better breathability, and down or down alternatives also combine comfort with natural coolness.
Cooling Abilities
Unless your pillow has a built-in air conditioner in it, your pillow isn't actually "cooling." At most, a cooling pillow will help pull heat away from your body while you sleep so you don't have to be trapped with your own body heat. Some brands will incorporate gels, moisture-wicking materials or other gimmicks, all of which are designed to make your pillow feel cooler throughout the night.
The Best Cooling Pillows of 2022