Every product is carefully selected by our editors. If you buy from a link, we may earn a commission.
The Best Duvet Covers for a Comfortable Nights Sleep
A protective covering for your comforter and a little extra style for your bed.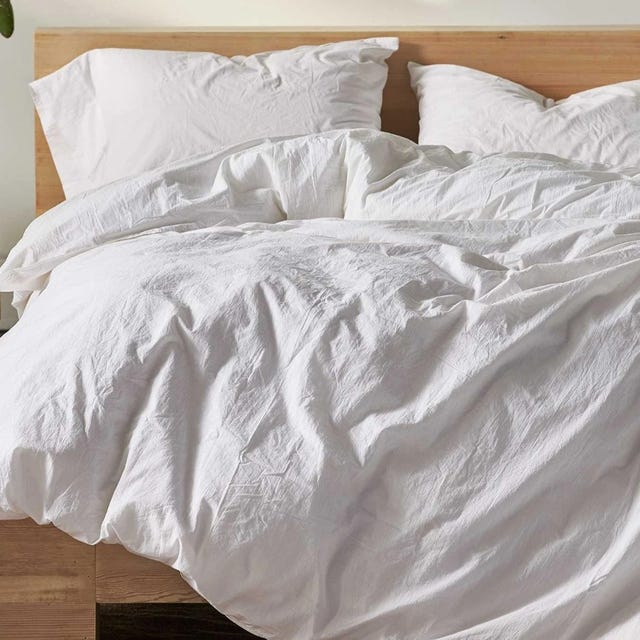 Your bed setup could always use an upgrade. While the first couple things you'd probably get are the mattress and the bed sheets, there are a few more things worth splurging on for a better night's sleep. The first thing is the comforter and then comes the duvet cover. Duvet covers play double duty. They act as a protective covering for your comforter and they're an easy way to add a little extra style to your bed. Like sheets, duvet covers come in a variety of styles, materials and colors, so the best duvet cover for you will be a personal experience. But we think these eight duvet covers are the best for practically everyone.
What to Look for in a Duvet Cover
Material
Everything you considered about the material for your bed sheets should be applied to your duvet cover. Cotton will be the most common duvet material, and if you go that route, you'll be stuck debating between percale — which feels crisp and cool — and sateen — which feels buttery smooth. Then there's linen, which is breathable, but requires some breaking in (i.e. a couple cycles in the washer and dryer) and costs a little more than its cotton counterparts.
Internal Corner Ties
Few things are more uncomfortable than a comforter that gets bunched up to one side within a duvet cover. To combat this, brands will add corner ties inside the duvet cover to secure the comforter inside so it doesn't shift around. Given that, make sure you buy a comforter that actually has loops for those internal corner ties to secure to.
Closure
Now that your comforter is securely inside your duvet cover, you have to seal that thing in. Duvet covers typically use a button enclosure, though some may opt for a zipper. Either way, you'll want to make sure the buttons aren't too obtrusive (unless you're into that look) and ideally, they shouldn't come undone easily.
The Best Duvet Covers